You don't want to spend all day in the kitchen baking when you could be having fun in the sun! In this post you'll discover 20 amazing and easy desserts, perfect for the summertime!
Easy Desserts for Summer
Summer is for sunshine, swimming pools, and vacations! Slaving away in a hot kitchen? No thank you! That's why I've come up with so many different easy options, to get you out of the kitchen and back to the great outdoors!
In this fun round-up posts you'll discover a ton of options for your family gatherings, so hang on for the ride, folks!
Summer is for Fruits!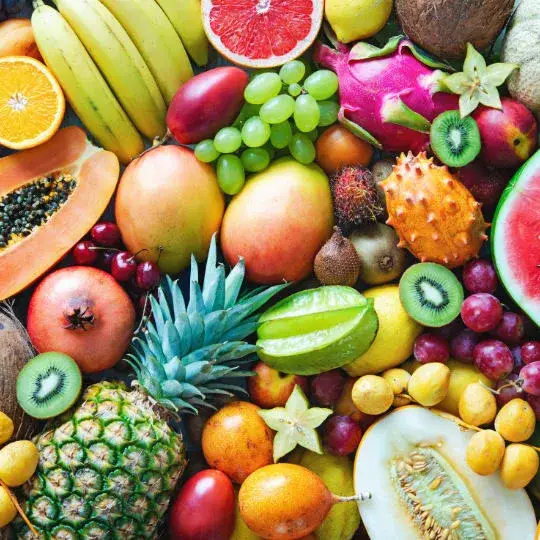 I don't know about you but I love all of the fruity offerings in the summertime. That's why I've decided to break this post down by fruit, so that you can see how many great offerings we have for your summer desserts.
I've listed the fruits in alphabetical order. And I might have throw in one vegetable, too. (See if you can spot it!)
Apple
Some folks would argue that apple desserts are only for fall but I respectfully disagree! I love apples all year 'round.
Here are a few of my favorite apple desserts. Click the photos and the links to go straight to the recipes!
If you love the light, sweet taste of a donut but you're in the mood for the flavor of apples and cinnamon, this is the recipe for you! These Old Fashioned Apple Fritters are out of this world!
Every now and again you stumble across a recipe that changes everything. This apple pie cobbler is one of those. It's luscious, gooey, chewy, and perfect for fall! But it's so easy to make you won't want to wait until then to make it!
Cake in a skillet? No oven required? Yes, thank you! This Apple Spice Skillet Cake was the perfect gift to take to a family member on a cold winter's day. And, while I usually do layered or tiered cakes, this simplistic approach sounded pretty dreamy!
Bananas
If you've followed me for any length of time you know that I absolutely adore bananas! I eat them regularly.
When I have over-ripened bananas on hand (almost always!) I look for new easy recipes. Here are a few of my favorites.
If you're looking for a Hawaiian banana bread recipe that's a cut above the rest, have I got a great one for you! Until today I'd never even heard of Maui Banana Bread. Now that I've tried it, I can't wait to share the recipe!
This Easy Banana Berry Cake is light, fluffy, and filled with the creaminess of bananas and tartness of raspberries. The addition of the luscious cream cheese drip sends it over the edge, to a whole new place! Best of all, this recipe starts with a boxed cake mix!
If you've been on a search for the best banana bread recipe out there, search no more! This one is absolutely perfect! Best of all, this Old-Fashioned Banana bread recipe is super easy to whip up in a hurry! It's loaded with flavor. . .and thanks to a secret ingredient (mayonnaise!) it's moist, flaky, and super tasty!
If you've looking for a terrific recipe to use up those over ripe bananas, I've got the perfect one for you! This banana loaf pairs blueberries and bananas and adds a simple streusel topping that's sure to please!
If you're looking for an amazing cobbler-like banana cake, have I got a treat for you! This luscious banana bread dump cake is gooey-gooey, loaded with rich banana flavor, and simple to whip up!
Your life is filled with bananas. More and more and more bananas. You purchase them and then forget to eat them and they end up speckled, covered in brown spots.
Blackberries
Blackberries have always been a favorite fruit of mine. Several months ago I was blessed by a friend who gave me several flats of berries.
Blackberries are incredibly versatile and can be used in a variety of ways. Here are a few of my personal favorites!
There's nothing like a hot blackberry cobbler to make you feel comforted after a long, hard day. I don't know about you, but the combination of sweet berries, luscious thickened juice, and crisp pie crust is just divine! It's the perfect way to forget your troubles.
If you love a crunchy breakfast bar, loaded with the flavor of blackberries, this is the recipe for you. A rich crumbly crust, a sticky middle, and a lovely streusel topping. . .all in one luscious bite. Best of all, it's not overly sweet!
If you're looking for a luscious pie with both fantastic flavor and a memorable look, you've come to the right place! This blackberry pie is delicious and beautiful.
Blueberries
I love the "pop" of blueberries. They're delicious on their own, but baked into cakes, muffins, bars and cookie? They're delicious!
Enjoy these delicious blueberry treats from Out of the Box Baking!
If you're crazy about lemon and blueberry and you're in the mood for a delicious and simple cookie, this is the post for you! This is one of the simplest recipes I've ever posted. Best of all, it starts with a doctored muffin mix!
If you love the combination of flavors in a lemon blueberry breakfast cake but you're looking for the ease of a bar, this is the recipe for you! These amazing lemon blueberry squares are packed with citrus and berry flavor and best of all, they start with a box of cake mix!
If you love a hearty breakfast muffin with the juicy sweetness of berries, then this is the muffin for you. This delicious muffin is sure to please everyone.
Carrots
I know. . .I know! Carrots aren't a fruit. But let's face it. . .they're sweet and crisp and bake up with such flavor that I couldn't help but throw them into this fruity post.
Enjoy these carrot-themed recipes from Out of the Box Baking!
I know, I know. . .carrots are technically veggies. But they're sweet and crips and are perfect for your summer desserts! They bake up beautifully in cakes, bars and cupcakes. I love using them.
Here are a few of our favorites.
Holiday spice and everything nice! That's what these carrot cake cupcakes are made of! Best of all, they start with a boxed mix!
If you're looking for the perfect Carrot Cake to serve your guests this Easter, have I got a great one for you! This "from scratch" recipe is rich, moist, and covered in tangy cream cheese frosting!
If you love the flavor of carrot cake but the ease of a bar, have I got a treat for you. These luscious carrot cake bars come together in no time. And best of all, they start with a box of cake mix!
Cherries
I've been addicted to cherries for as long as I can remember. They're a go-to, year round! A simple can of cherry pie filling can become any number of sweet, easy desserts!
Here are some of our favorite cherry desserts.
If you're in the mood for a luscious cherry cobbler, laced with a crunchy crust, have I got a recipe for you! This rich cobbler is packed full of flavor and topped with a crisp layer of almonds.
If you want the flavor of a cherry pie but the ease of a quick doctored cake mix, then this is the recipe for you!
These Easy Cake Mix Cherry Pies are perfect for patriotic celebrations, holiday gatherings, desserts, parties, or even as a mid-afternoon snack! They're simple to make but filled with flavor and texture. Best of all, they start with a white cake mix!
This luscious No Bake Cherry Cheesecake Pie is one of the tastiest–and easiest–things I've ever made! You're going to love the combination of sweet and tart, creamy and crunch. Best of all, you won't have to bake a thing!
Coconut
I'm crazy about coconut and boy, do I have some great coconut offerings!
Coconut is sweet and has the loveliest texture!
In this post I'm going to show you how to make my very favorite pie of all time: Coconut Cream Pie. It's lush, rich, sweet, and loaded with coconutty goodness! Perfect for special occasions or any day of the week!
If you're a fan of those yummy Mounds bars you find in the supermarket, you're going to flip over this simple recipe. These easy Chocolate Coconut Balls as just as good and simple to make!
Coconut cake is a popular offering in the south, but there's no reason why we need to limit it geographically! This luscious cake is perfect for families across the globe and great for Christmas, Easter, and every day in-between!
Lemon & Lime
Luscious lemons and delicious limes! They're tart, they're tangy, and they're absolutely perfect for summer!
Enjoy these delicious lemon and lime desserts!
They're tart, sweet, crisp and creamy. These luscious lemon bars are all of the above. . .and then some!
If you love the light, bright flavor of lemon in a rich trifle-like dessert you're going to adore this lovely Lemon Oreo Lush. It's simple to make and loaded with your favorite cookies—Oreos!
They're light, they're fluffy, and they're packed full of lemony goodness. These little Lemon Pound Cake Cookies are delicious and incredibly easy to make!
In France, they call this lovely Lemon Yogurt Cake a French Granny Cake (or a Gateax de Mamie). It's a luscious cake with a distinct tart flavor, thanks to the addition of lemon zest and a very simple ingredient. . .yogurt.
If you love delicious coffee cake and you're also a fan of blueberries, I've got an amazing recipe for you. This easy bundt cake is the best of both worlds, a luscious blueberry coffee cake made with rich sour cream!
If you're in the mood for some tropical flavors in the ease of a bar, have I got a special treat for you! You're going to adore this simple lemon coconut bar. Best of all, it starts with a box of cake mix!
The juicy berries, the tartness of the lemon zest. . .wow! Talk about a flavor explosion! I simply loved these (so much so that I had to pass them on to a family member to keep from eating the whole batch. They're definitely not Weight Watchers friendly!)
If you love the tart creamy goodness of a key lime pie but the simplicity of an icebox pie, have I got a treat for you! This easy no-bake key lime pie is simple but delicious!
If you love the light, tart flavor of lime and the luscious creamy texture of cheesecake, you're going to love this simple key lime pie. It's an easy-bake pie you're sure to adore!
Peaches
Here in the south we love our peaches! I live in peach country so I don't have to drive very far to find some of the best.
If you love peaches you're really going to enjoy these delicious peach-themed desserts!
If you're in the mood for an easy, quick peach cobbler, one loaded with warmth and spice, you've come to the right place! This recipe comes together easily, but it doesn't feel like a "cheat" dessert. It tastes like you slaved over the stove for hours. This is truly one of the best peach cobblers I've had in a while!
If you love the flavor of fresh peaches and caramel you will love this easy bundt cake! It comes together in minutes and starts with a box of cake mix.
36. Snickerdoodle Dump Cake
Is it a gooey cobbler, a pie, or a dump cake? Call it what you like, friends, but this delicious Snickerdoodle dessert is easy to make, loaded with cinnamon-apple flavor, and perfect for your next gathering.
Pineapple
I love the sweet tartness of good pineapple. The texture. The taste. It's truly a heavenly fruit and it's the perfect addition to many of my favorite dishes!
If you're in the mood for a summery cake filled with tropical flavors, you've come to the right place. This delicious Pineapple Coconut Cake with Lime will make you feel like you're on a Caribbean beach, ocean waves crashing in the background.
Every now and again you want something so classic, so comforting, that nothing else will do. This easy Pineapple Upside Down Dump Cake is cobbler-like in texture and it's truly one of the most flavorful desserts you'll ever eat.
It's so easy to turn a yellow cake mix into this easy Pineapple Upside Down Cake! One can of sliced pineapple rings, 1 cup of brown sugar, some maraschino cherries, and the usual ingredients for a boxed cake mix. . .and you're good to go. Talk about an easy dessert!
Strawberries
I love red juicy strawberries. And I especially love that you can find them in such abundance in the summertime.
Strawberries are the perfect fruit for baking. They're great in pies, cakes, and even in bars. If you love these lucious berries you're going to adore these recipes!
The tartness of the lemon cake. The sweetness of the strawberry. The tang of the lemon curd. The delicious balance of strawberry preserves and fresh strawberries. And, on top of it all–homemade whipped cream, stabilized with lemon pudding. Yes, please! This Strawberry Lemonade cake is visually stunning and (truly) one of the best cakes you'll ever put in your mouth.
This recipe is just in time for the summer! Whether you're looking for something to take to a Memorial Day picnic or another summertime event, this is a perfect option!
42. Strawberry Cheesecake Bars
These rich bars have a strawberry crust, a cream cheese filling, and a luscious strawberry topping. They are truly delicious.
BONUS! 4th of July Treats
If you love a tender shortbread crust with a creamy cheesecake topping, you've stumbled across the right recipe! This luscious fruit pizza has a buttery crunch on bottom, is rich and creamy in the middle, and is covered with fruit to give it an extra burst of flavor on top.
If you're looking for sweet treats to serve at your family's next patriotic picnic or event, you've come to the right spot! In this post I'm going to give you ideas for cookies, cakes, cupcakes, chocolate-covered Oreos, and much more!
---
That's it for this post, friends! I hope you enjoyed this delicious recipe.
See this recipe at
---
About the Author
Janice Thompson is an author, baker, and all-around mischief maker! She has overcome a host of baking catastrophes, including a toppled wedding cake, to learn more about the baking process. Janice has published over 150 books for the Christian market but particularly enjoys writing recipes and baking devotions. To learn more about Janice or to drop her a note, visit her About the Author page.