If you love the idea of fruitcake but you're not a fan of the taste or texture, have I got a treat for you! This Depression-era fruit and nut cake will win over even the non-fruitcake-lovers out there! It's packed full of texture and flavor!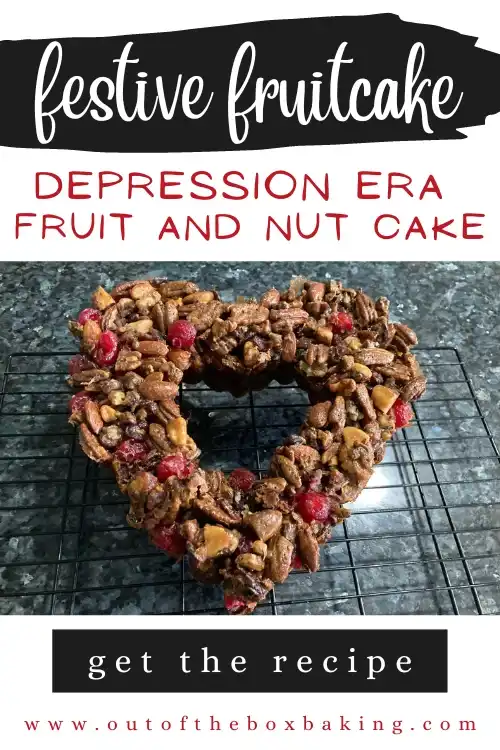 Once again I have to start with a big "Thank you!' to my step-mom, Jeanene, for this recipe. On a recent road trip she told me all about a holiday cake that she made that totally blew her away. She called it a fruitcake but was quick to add "it's really more of a nut cake."
Well, I don't know about you, but I'm nuts about nuts. I think I've proven that conclusively with most of my other recipes. And I'm not a fan of traditional fruitcake. I don't like the heavy texture and the flavor is (to my way of thinking) off-putting.
I was won over by the description of this cake, however. And when I saw pictures. . .I was in! This is an old family recipe that has been around for generations, so you know it's going to be good!
What is Fruit Cake, Anyway?
According to Wikipedia:
Fruitcake (or fruit cake or fruit bread) is a cake made with candied or dried fruit, nuts, and spices, and optionally soaked in spirits. In the United Kingdom, certain rich versions may be iced and decorated. Fruitcakes are typically served in celebration of weddings and Christmas.
My version isn't soaked in spirits (though, if the spirit leads you. . .go ahead). This version is as much or more about the nuts as it is about the fruit.
Why Does Fruit Cake Get a Bad Rap?
There are some funky fruitcakes out there, y'all. Not all of them are good. (I speak from personal experience. I was never a fan!)
Apparently, neither was Johnny Carson, the long-time star of The Tonight Show.
For those old enough to remember this amazing comedian, you might also remember his iconic fruitcake joke. Carson once quipped:
"The worst gift is a fruitcake. There is only one fruitcake in the entire world, and people keep sending it to each other."
Fruitcake is one of those things that you either love or hate. So, where did this unusual cake come from, anyway?
History of Fruitcake
Before I share this recipe I want to take a little trip backwards in time to discover the origins of fruitcake.
When in doubt, go to the source! I went to the Smithsonian's website for a perusal down memory lane so that I could discover the true history of this festive (and fascinating) thing we call fruitcake. Here's what I found:
A Trip Back in Time
The ancient Romans made a mishmash of barley, pomegranate seeds, nuts and raisins as a sort of energy bar; however the modern fruitcake can be traced back to the Middle Ages as dried fruits became more widely available and fruited breads entered Western European cuisine.
But variations on the fruitcake started springing up: Italy's dense, sweet-and-spicy panforte (literally, "strong bread") dates back to 13th century Sienna; Germany's stollen, a tapered loaf coated with melted butter and powdered sugar that's more bread-like in consistency, has been a Dresden delicacy since the 1400s and has its own annual festival; and then there's black cake in the Caribbean Islands, a boozy descendant of Britain's plum pudding where the fruit is soaked in rum for months, or even as long as a year.
Throughout history, this dense cake has been served as a wedding cake, a holiday cake, or even for breakfast on Christmas morning!
Traditional Fruit Cake Has Been Around Forever!
Y'all, this is a cake that has been around for centuries. And centuries. And I agree with the description that traditional fruitcake is "strong." That's one way to put it. A typical fruitcake is usually heavy enough that you could use it as a bowling ball.
This luscious cake is dense, too, but it's not like any other fruitcake you've ever eaten. There's just enough flour and sugar in the recipe to coat the nuts and fruit. What you end up with is something akin to sugared pecans with a bottom layer of rich cake.
Enough chit-chat! Let's start baking!
Fruitcake Ingredients
You will find a full printable recipe card at the bottom of this post. But for now, here's a peek at what you're going to need to make this yummy holiday cake.
NUTS
Brazil nuts (halved)
pecan halves
walnut halves
almonds
FRUIT
chopped dates
maraschino cherries (drained, can be all red or half red, half green)
raisins (or Craisins, my choice)
DRY INGREDIENTS
all purpose flour
sugar (granulated or brown sugar, your choice)
salt
OTHER INGREDIENTS
How to Make this Wonderful Fruitcake
This was one of the easiest cakes I've ever made but it was also one of the most unusual. I can't tell you how many times I used the phrase, "This can't be right!" as I mixed it up. It just didn't seem like there was enough "cake" in the cake, if that makes sense.
Still, it all worked out in the end!
Start by preheating your oven to 300 degrees Fahrenheit.
Grease your pan. Add parchment paper to bottom and sides and grease it, too.
NOTE: You can use two loaf pans or a 9 x 13-inch baking dish. I opted for a bundt pan, which meant I couldn't use parchment paper. I sprayed mine down with Baker's Joy and it came out just fine.
Put all of your nuts into a large bowl.
Add chopped dates, Craisins, and maraschino cherries (drained).
In a separate medium bowl combine sugar, flour and salt.
Add dry ingredients to nuts and fruit.
Stir well, making sure everything is completely coated in the flour mixture. (Mutter the phrase: This can't possibly be right!)
In a separate small bowl mix eggs and add vanilla extract.
Pour egg mixture over the fruit and nuts. (Again, use the phrase: This can't possibly be right!)
Mix well.
Pour into prepared pan. (You know the drill. Use the phrase again.)
Place in preheated oven and bake for one hour and fifteen minutes. (Times may vary depending on the type of pan you choose.)
Remove and place pan on a wire rack to cool.
When you can safely handle the pan flip it and allow the cake to release. At this point you can use the phrase "Oh, wow. I guess the recipe was right, after all."
Leave cake on the wire rack to cool completely. Do not attempt to slice while warm.
Once you can manage it, place on flat surface and cut into slices. I use cake drums from Amazon as a base for most of my cakes. I highly recommend them because they can hold the weight of the cake.
Store in an airtight container in refrigerator. I used a ziplock bag but you can wrap in plastic wrap if you prefer. Commercial fruitcakes are often stored in metal tins, so that is an option, too.
Unlike traditional fruitcake, this one doesn't have alcohol so it won't last as long. (You can keep an alcohol-infused fruitcake for ages, which might be one reason I'm turned off by them!)
What to Expect from this Tasty Cake
I think I've driven home the point that this cake is different from anything else I've ever made. I will also add that it's one of the prettiest!
Check out those colors. I put a picture on social media and everyone went mad! The dried fruit adds a chewy texture and the nuts are loaded with crispy (sweet!) crunch.
I love, love, love nuts and (as mentioned above) half of this cake is a lot like sugared pecans or sugared walnuts.
The other half is more cake-like, but definitely dense. I can't explain how or why the nuts and fruit settle as they do, but I can say that cutting it was a bit of a challenge. You'll want to make sure it's completely cool before cutting and you'll also want to make sure it's on a flat surface (not the wire rack).
Ask me how I know. Hahaha. If you cut it on the wire rack the nuts and fruit want to disengage from the cake.
Variations on this Fruitcake:
Because this holiday fruit cake recipe was such a new and fresh idea for me, I felt a little overwhelmed as I tried to imagine how I might change it up.
Still, here are a couple of ideas I came up with to help you dress up your annual Christmas cakes:
Use dried cherries or currants in place of Craisins or raisins for a slightly different flavor.
Add ginger, cinnamon, or other favorite holiday spices to your batter.
Add a few tablespoons of rum to the cake to add additional flavor.
Soak the finished cake in a light dousing of rum.
Pour fruit juice over the cake. (Pineapple juice might be nice. Or maybe a little of that leftover syrup from the maraschino cherries? What about orange juice?)
Go tropical! Add dried mangoes, pineapple, citrus peel, or other tropical fruit to the cake.
Cake Mix Fruitcake: I haven't tried this but I'm guessing you could use a dry spice cake mix in place of the dry ingredients. (Yum! I might have to try this one!)
Use your fruitcake as a festive centerpiece for your Christmas dinner!
Turn this recipe into a mincemeat pie. Sweeten your fruit and nuts and bake in pie form (double-crusted).
I'ms are there are a host of other options. If you come up with your own, let me know in the comments below! No matter how you make you, this is a great Christmas gift for friends or loved ones.
Other Nutty Favorites from Out of the Box Baking
I mentioned above that I'm nuts about nuts. Here are a few recipes to prove it.
That's it for this post, friend. I hope you enjoyed this new-to-me fruitcake recipe! You can wow your friends during the Christmas season with this festive treat!
See this recipe at
---
About the Author
Janice Thompson is an author, baker, and all-around mischief maker! She has overcome a host of baking catastrophes, including a toppled wedding cake, to learn more about the baking process. Janice has published over 150 books for the Christian market but particularly enjoys writing recipes and baking devotions. To learn more about Janice or to drop her a note, visit her About the Author page.
Festive Fruitcake
Cook Time:
1 hour
15 minutes
Total Time:
1 hour
30 minutes
If you love the idea of fruitcake but you're not a fan of the taste or texture, have I got a treat for you! This Depression-era fruit and nut cake will win over even the non-fruitcake-lovers out there! It's packed full of texture and flavor!
Ingredients
NUTS
1/2 cup Brazil nuts (halved)
2 cups pecan halves
1 cup walnut halves
2/3 cup almonds
FRUIT
1 8 oz package chopped dates
1 cup maraschino cherries (drained, can be all red or half red, half green)
1/2 cup Raisins (or Craisins, my choice)
DRY INGREDIENTS
3/4 cup flour
3/4 cup sugar (brown or white, your choice)
1/2 teaspoon salt
OTHER INGREDIENTS
3 eggs
1 teaspoon vanilla extract
Instructions
How to Make this Luscious Fruitcake

Start by preheating your oven to 300 degrees Fahrenheit.
Grease your pan. Add parchment paper to bottom and sides and grease it, too.
NOTE: You can use two loaf pans or a 9 x 13-inch baking dish. I opted for a bundt pan, which i sprayed with nonstick spray.
Put all of your nuts into a large bowl.
Add chopped dates, Craisins, and maraschino cherries (drained)
In a separate medium bowl combine sugar, flour and salt.
Add dry ingredients to nuts and fruit. Stir well, making sure everything is completely coated in the flour mixture.
In a separate small bowl mix eggs and add vanilla extract.
Pour egg mixture over the fruit and nuts.
Mix well.
Pour into prepared pan.
Place in preheated oven and bake for one hour and fifteen minutes. (Times may vary depending on the type of pan you choose.)
Remove and place pan on a wire rack to cool.
When you can safely handle the pan flip it and allow the cake to release.
Leave cake on the wire rack to cool completely. Do not attempt to slice while warm.
Store in an airtight container in refrigerator. Unlike traditional fruitcake, this one doesn't have alcohol so it won't last as long. (You can keep an alcohol-infused fruitcake for ages, which might be one reason I'm turned off by them!)