If you love to bake with the kiddos around the holidays, this is the post for you! In this post I'm going to give you dozens of ideas for Christmas cookies, bars, cakes, and candies that are easy to bake and fun for grownups and kids, alike!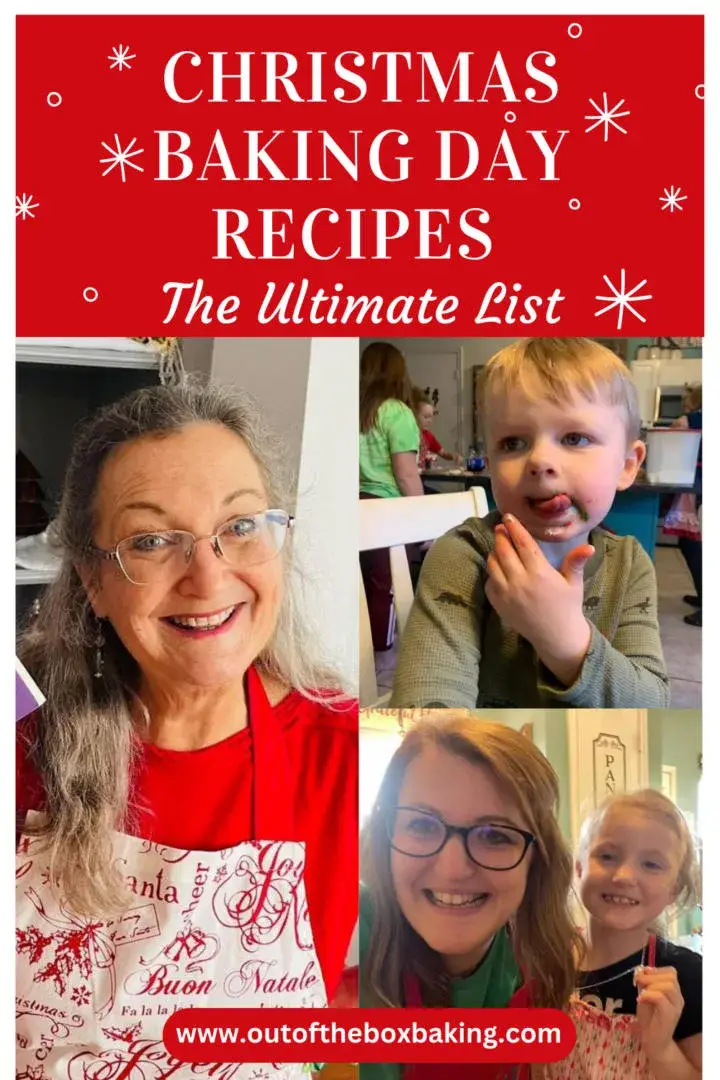 Baking with the Family During the Holidays: the Perfect Gift
The older I get (ahem) the more I value the little things, like a fun day around the kitchen island with the kids and grandkids.
Some of my favorite memories of childhood took place around my grandmother's small dinette table (formica, of course). We made candies together every year.
My mom was a Christmas baker. In fact, I'm going to share a couple of her recipes below.
The whole point of this post is to compile a list of treats so simple that the kids could whip them up. And, with your help, you'll have the time of your lives in the kitchen together.
So, invite grandma over. Get the kids, grandkids, and cousins together. Then grab those Christmas aprons and start baking!
Ready, Set. . .Bake!
I'll arrange these sweet treats in groups: cookies, candies, bars, etc. So, look for them in groups. And now, without further ado–here are dozens of wonderful Christmas recipes, perfect for baking with the children!
Christmas Family Baking Day Recipes for 2023
Gather your loved ones this Christmas. Pull out those matching aprons! And whip up some sweet treats perfect for your Christmas celebration!
That's it for this post, friends! I hope you're able to enjoy some of these delicious and simple Christmas dessert recipes this holiday season. There truly is no better place to make memories than in the kitchen!
Check out this fun Gingerbread House recipe from Yummly! Talk about a festive treat! And take a peek at my Peanut Butter Blossoms, another fun recipe, perfect for Christmas. Just drizzle them with red and white royal icing for a festive Christmas treat.
About the Author
Janice Thompson is an author, baker, and all-around mischief maker! She has overcome a host of baking catastrophes, including a toppled wedding cake, to learn more about the baking process. Janice has published over 150 books for the Christian market but particularly enjoys writing recipes and baking devotions. To learn more about Janice or to drop her a note, visit her About the Author page.
Note: This post may contain affiliate links. This means that I make a very small commission off of items you purchase at absolutely no additional cost to you. Please check out my policy page for more information about this blog and the ads that run on it.