If you love a rich, gooey bread pudding but you're also a fan of cherry pie, this recipe is going to make you flip! It's a combination of both of those two things in one easy and flavorful dish!
What is Bread Pudding?
Bread pudding is a sweet treat that dates back multiple generations. Home cooks would take leftover bread, tear it up into bread cubes, pour a milk, sugar, and egg mixture over it, and bake it into a golden brown dessert, then pour a velvety sauce on top.
Are you swooning yet?
Back in those days, folks were very resourceful. Instead of wasting that loaf of stale bread and that last cup of milk, they would turn it into a treat. And remember, this was back in the days when sweet treats weren't as easy to afford.
Bread Pudding is one of those dishes that some folks might call "poor man's food" but in the 21st century has become a staple once again, and s even seen as trendy.
Cherry Pie. . .in Pudding Form
This recipe takes a simple bread pudding and puts a cherry pie twist on it!
By adding a can of cherry pie filling, you can take the traditional sweet flavors of a bread pudding and add the flavors found in a cherry pie. . .but without having to fuss with a crust.
I'll share more about how this dish turned out later, but let's go ahead and take a peek at what you're going to need to make this Cherry Bread Pudding.
(This is an original recipe and I never know if those are going to turn out, so I'm tickled this one did!)
Cherry Bread Pudding Ingredients
You will find a full printable recipe card at the bottom of this post but here's a quick peek at what you're going to need. These are simple ingredients you might already have on hand in your pantry or refrigerator.
Brioche or French bread
granulated sugar
whole milk
butter, melted
eggs, whisked
salt (if you use unsalted butter)
cherry pie filling
vanilla extract
VANILLA CREAM SAUCE
heavy cream
brown sugar (Packed)
cornstarch
large egg
salted butter (or unsalted, your choice)
vanilla extract
How to Make Cherry Bread Pudding
A bread pudding comes together so easily.
Make sure you're working with dry (or mostly stale) bread.
Break it into pieces and place in a large bowl. Let it dry overnight if possible.
Whisk eggs in a small bowl and set aside.
In a large bowl combine milk, melted butter, sugar, vanilla, and salt.
Mix well.
Work in the whisked eggs.
Add the cherry pie filling.
Stir it in until well combined.
Pour the egg and cherry mixture over the bread.
Stir bread mixture well, then add (optional) pecans.
Transfer to baking dish and let it sit out to soak for at least an hour. (If you prefer, you can use a little cooking spray or butter on the bottom of the dish first. Though, I didn't find that this bread pudding really stuck to the bottom without it.)
Preheat oven to 350 degrees Fahrenheit.
Place the bread pudding into the oven and bake for a full hour until it is set.
Remove and place on a wire rack to cool.
How to Make Vanilla Cream Sauce:
Grab a small saucepan. In the pan, whisk the corn starch with a quarter cup of heavy cream. Now slowly work that into the rest of the cream until it's fully incorporated.
Add brown sugar and egg to the cream and whisk until fully incorporated.
Heat over low temperature, stirring until the sugar dissolves and the mixture starts to slightly thicken.
Add the butter and vanilla. Whisk well!
Set aside to cool until thickened.
Pour over the (slightly cooled) bread pudding.
Check out that creamy sauce! It's soaking its way down into that warm bread pudding, giving it the most delicious flavor you can imagine!
Serve and enjoy!
Keep leftovers in refrigerator in airtight container or tightly covered with plastic wrap.
Bread pudding should stay good for 2-3 days. The flavors only get better on the 2nd and 3rd days!
(Rewarm in the microwave.)
What to Expect from this Cherry Bread Pudding
Y'all, I took this dish to a friend who absolutely loved it.
She sent me some pictures but I suspect they devoured it, based on her comments.
This bread pudding is so incredibly rich and gooey. That vanilla sauce is perfection, and it merges so beautifully with the cherry filling. Now I see why our grandmothers loved it!
I don't think bread pudding should be considered an old-fashioned recipe any more. It's absolutely exquisite and has earned a place on every table as an impressive dessert.
This is one of those great recipes you'll use again and again. And best of all, its a make-ahead recipe. You can prep it earlier in the day and let it sit for a while before serving. The flavors deepen over time.
Variations on this Recipe
This recipe is divine. Talk about the perfect comfort food! But you know me: I love to change things up. Here are a few ideas floating around in my head.
Fresh cherries: You can use pitted fresh cherries in place of the pie filling if you like, but you might want to prepare them in a saucepan with a bit of cornstarch and sugar. Or not. Your choice!
Blueberry: If you can use cherry pie filling, why not blueberry?
Peach: I would absolutely love to try this recipe using peach pie filling. I love peach cobbler and I suspect this would have those same flavors.
Apple Pie: I've already made this variety and let me just tell you. . .it's amazing!
Chocolate: I think chocolate bread pudding would be delicious. Next time I might skip the cherries and throw in a couple cups of chocolate chips before baking. Or. . .leave in the cherries and add the chocolate chips!
Extra egg yolks: Want your bread pudding to be even richer? Add a couple of extra egg yolks.
Other Cherry Recipes from Out of the Box Baking
I love baking with cherry pie filling. Cherry has always been a favorite fruit. Here are some of my favorite cherry desserts.
---
That's it for this post, friends! I hope you enjoyed this delicious recipe.
If you make this recipe and love it, don't forget to leave a review and a comment below. And while you're at it, go ahead and pin some photos to your Pinterest boards!
---
See this recipe at
---
Learn more about doctored cake mixes, the theme of this blog.
For the master list of all doctored cake mix recipes on this site, visit Doctored Cake Mix Recipes, Master List.
---
About the Author
Janice Thompson is an author, baker, and all-around mischief maker! She has overcome a host of baking catastrophes, including a toppled wedding cake, to learn more about the baking process. Janice has published over 150 books for the Christian market but particularly enjoys writing recipes and baking devotions. To learn more about Janice or to drop her a note, visit her About the Author page.
Note: This post may contain affiliate links. This means that I make a very small commission off of items you purchase at absolutely no additional cost to you. Please check out my policy page for more information about this blog and the ads that run on it.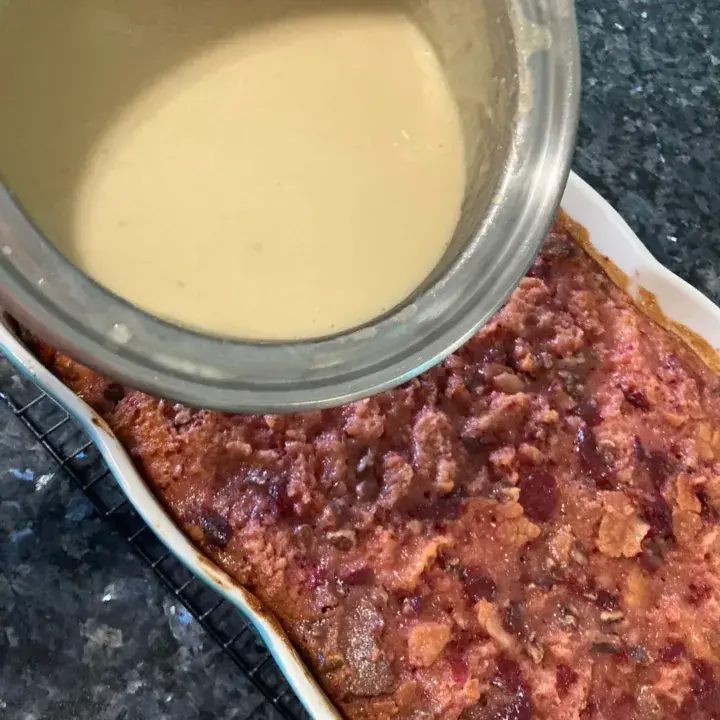 Cherry Bread Pudding
If you love a rich, gooey bread pudding but you're also a fan of cherry pie, this recipe is going to make you flip! It's a combination of both of those two things in one easy and flavorful dish!
Ingredients
Cherry Bread Pudding
1 loaf Brioche or French bread
1 1/2 cups granulated sugar
3 cups whole milk
1 stick butter
5 eggs, whisked
3/4 tsp. salt (if you use unsalted butter)
1 can of cherry pie filling
1 tbl. vanilla
VANILLA CREAM SAUCE
1 1/2 cups heavy cream
1/2 C Brown Sugar (Packed)
1 Tbl. Cornstarch
1 Lg Egg
2 Tblsp salted Butter
Vanilla Extract
Instructions
How to Make Cherry Bread Pudding
A bread pudding comes together so easily.
Make sure you're working with dry (or mostly stale) bread.
Break it into pieces and place in a 9x13-inch baking dish. Let it dry overnight if possible.
Whisk eggs in a small bowl and set aside.
In a large bowl combine milk, melted butter, sugar, vanilla, and whisked eggs, as well as salt.
Mix well. Add eggs and stir.
Add the cherry pie filling.
Stir it in until well combined.
Pour the egg and cherry mixture over the bread.
Mix well.
Let it sit out to soak for at least an hour.
Preheat oven to 350 degrees Fahrenheit.
Place the bread pudding into the oven and bake for a full hour.
Remove and place on a wire rack to cool.

How to Make Vanilla Cream Sauce:
Grab a small saucepan. In the pan, whisk the corn starch with a quarter cup of heavy cream. Now slowly work that into the rest of the cream until it's fully incorporated.
Add brown sugar and egg to the cream and whisk until fully incorporated.
Heat over low temperature, stirring until the sugar dissolves and the mixture starts to slightly thicken.
Add the butter and vanilla. Whisk well!
Set aside to cool until thickened.
Pour over the (slightly cooled) bread pudding.
Serve and enjoy!
Keep leftovers in refrigerator in airtight container or tightly covered with plastic wrap.
Bread pudding should stay good for 2-3 days. The flavors only get better on the 2nd and 3rd days!
(Rewarm in the microwave.)