If you love cherries and you enjoy baking, this is the post for you! I'm going to share some of my very favorite cherry recipes, guaranteed to bring a smile to your face and joy to your tummy!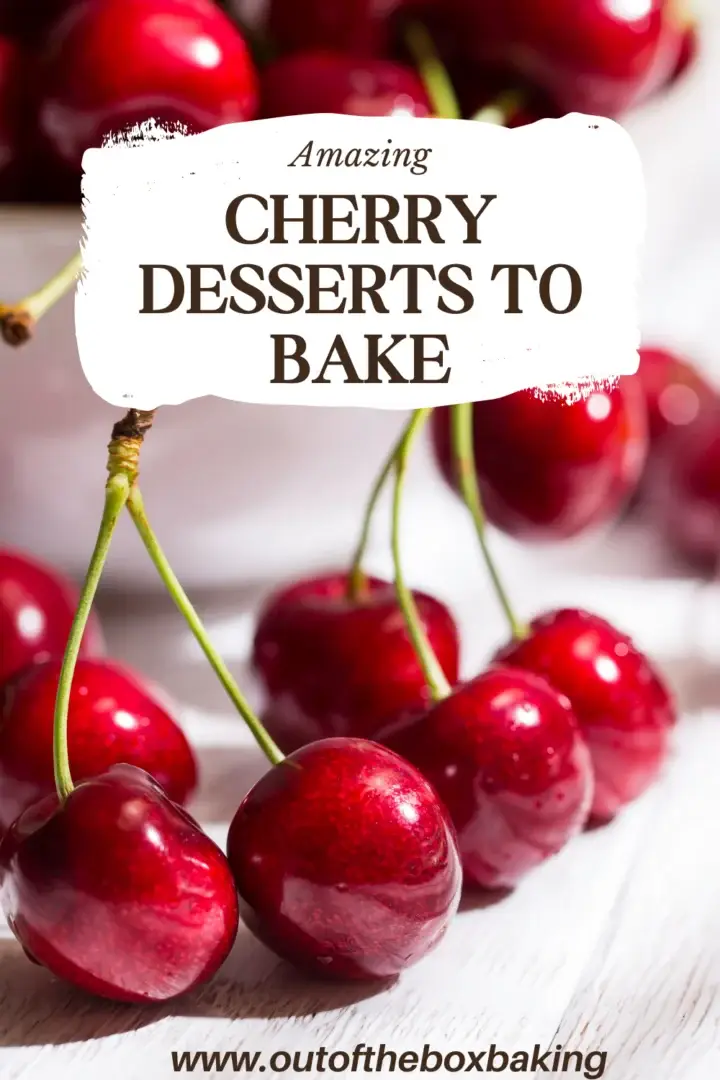 What are Cherries, Anyway?
You might think you know cherries, but let's start with a deep-dive to discover what they are and why they're perfect for baking!
Fresh cherries are small, round, typically red or black fruits that grow on trees. Ask any cherry lover and they'll say, "I love 'em because of their sweet and tart flavor!"
It's this combination that makes them absolutely perfect for baking! You'll see cherries used in all sorts of baked goods like pies, jams, preserves, and so on. Some folks eat them plain, as a snack.
They're not just yummy in baked goods!. Cherries are often used in beverages like cherry juice and cherry liqueurs.
What are the Types of Cherries?
You might think that all cherries are created equal but that's not the case! There are actually two main types of cherries:
Sweet Cherries (like Bing, Rainier, and Lambert).
Sour Cherries (which are more tart in flavor, making them perfect for baking pies, tarts, etc.) Examples might include Montmorency.
Cherries don't just taste great; they're also nutritious. They're packed full of vitamins, minerals, and antioxidants. Research their potential health benefits and you'll find that they're great for reducing inflammation, improving sleep quality, and aiding in muscle recovery. In short, they're incredibly good for you!
Cherries in Baking
When you use cherries to bake you'll either use fresh pitted cherries, canned cherries, or cherry pie filling. Of course, you can also use frozen cherries, but it's always good to that them before mixing or your batter or dough might seize up!
For over a year now I've been on a quest to discover all of the cherry recipes I can. Cherries have been a personal favorite from the time I had my first thumbprint cookie as a kid! (And don't even get me started on cherry pie. Yum!)
Most of the recipes you'll find in the roundup below are from Out of the Box Baking, but I've asked a handful of other great food bloggers to join me in sharing their favorites, as well. So, enjoy a few recipes from Southern Home Express and Back to my Southern Roots, as well as a great one from Southern Style Recipes. Don't forget to check out their sites, which are filled with great recipes to enjoy!
So, settle back! Grab a cup of coffee and dream of all the cherry delights you're about to experience. Then make a baking to-do list! You're gonna need it!
That's it for this post, friends! I hope you enjoyed these delicious cherry dessert recipes. If you don't already own a cherry pitter, this might be a great time to grab one! And whether your working with canned or homemade cherry pie filling, you'll love the rich cherry flavors! These desserts will certainly satisfy your sweet tooth.
If you make any of these recipes and love them, don't forget to leave a review and a comment below. And while you're at it, go ahead and pin some photos to your Pinterest boards!
---
See this recipe at
---
Learn more about doctored cake mixes, the theme of this blog.
For the master list of all doctored cake mix recipes on this site, visit Doctored Cake Mix Recipes, Master List.
---
About the Author
Janice Thompson is an author, baker, and all-around mischief maker! She has overcome a host of baking catastrophes, including a toppled wedding cake, to learn more about the baking process. Janice has published over 150 books for the Christian market but particularly enjoys writing recipes and baking devotions. To learn more about Janice or to drop her a note, visit her About the Author page.
Note: This post may contain affiliate links. This means that I make a very small commission off of items you purchase at absolutely no additional cost to you. Please check out my policy page for more information about this blog and the ads that run on it.