You've got a box of cake mix on hand but you're not sure what to do with. In this master list you'll discover dozens of different ways to bake up that cake mix into something delicious and unexpected!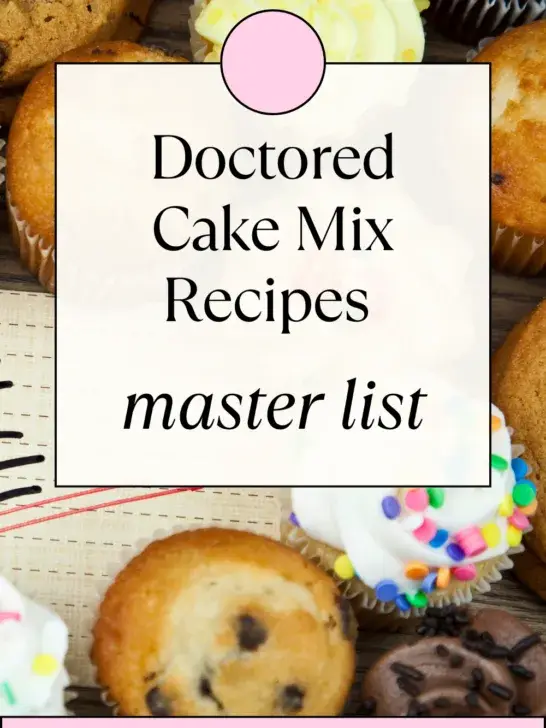 Make Cake Delicious with a Doctored Cake Mix
If you've been following this site for any length of time you know I'm all about taking a simple box of cake mix and turning it into something spectacular.
I covered a lot of my tips and tricks in my post, How to Doctor a Boxed Cake Mix. There are literally dozens of ways to make a cake taste better.
The secrets to making a boxed cake mix taste homemade can be found in that post.
Make Other Sweet Treats from a Box of Cake Mix
Cake mixes can be used to to create other non-cake-like treats. That's why I wrote a post called A Dozen Sweet Treats that Start with a White Cake Mix. In it, I shared a ton of ideas for other sweet treats you can make using a box of cake mix.
It's been nearly two years since this journey started and I've spent much of that time experiments. In many ways I feel like a would-be scientist in my kitchen.
I've been creating and tweaking and trying all sorts of new an imaginative things.
Doctored Cake Mix Recipes are the Best!
All of those recipes are now listed on this blog. But I thought it might be fun to put them all into one post.
This will be a quick go-to master list you can turn to when you've got a box of cake mix in your pantry but don't know what to do with it.
With this comprehensive recipe list you really can turn that mix into something spectacular if you use your imagination!
I've broken this post down by category, starting with the obvious: cake! So, let's dive right in.
Master Recipe List Below
Follow the links in the pictures to discover the recipes to all of these doctored cake mix recipes!
Doctored Cake Mix Recipes
Here we go! Dozens of cake-mix infused recipes, simple and tasty!
That's it for this post, friends! I hope you enjoyed this master list of delicious doctored cake mix recipes.
If you make any of these recipes and enjoy them, don't forget to leave a review and a comment below. And while you're at it, go ahead and pin some photos to your Pinterest boards!
---
See these recipes at
---
About the Author
Janice Thompson is an author, baker, and all-around mischief maker! She has overcome a host of baking catastrophes, including a toppled wedding cake, to learn more about the baking process. Janice has published over 150 books for the Christian market but particularly enjoys writing recipes and baking devotions. To learn more about Janice or to drop her a note, visit her About the Author page.
Note: This post may contain affiliate links. This means that I make a very small commission off of items you purchase at absolutely no additional cost to you. Please check out my policy page for more information about this blog and the ads that run on it.