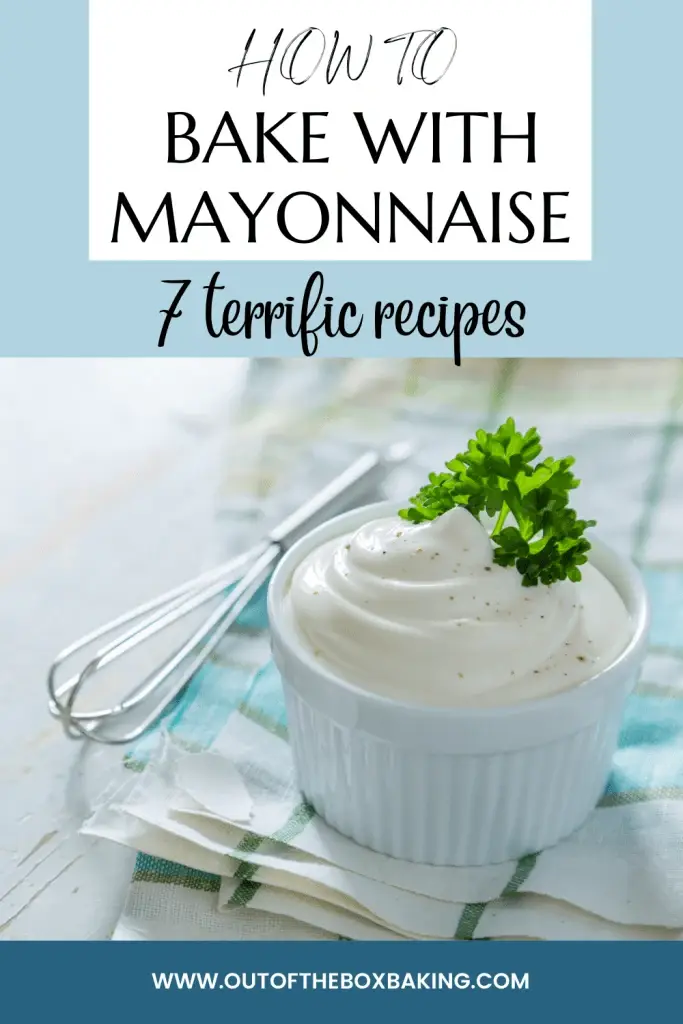 Baking with mayonnaise is a terrific idea. It's the secret ingredient that makes your baked goods turn out perfect every time!
Whether you're making cake, bread, or biscuits. . .adding mayo will help! And if you're short on ingredients like eggs, butter, or oil, it's really going to come in handy!
Don't believe me? Keep reading!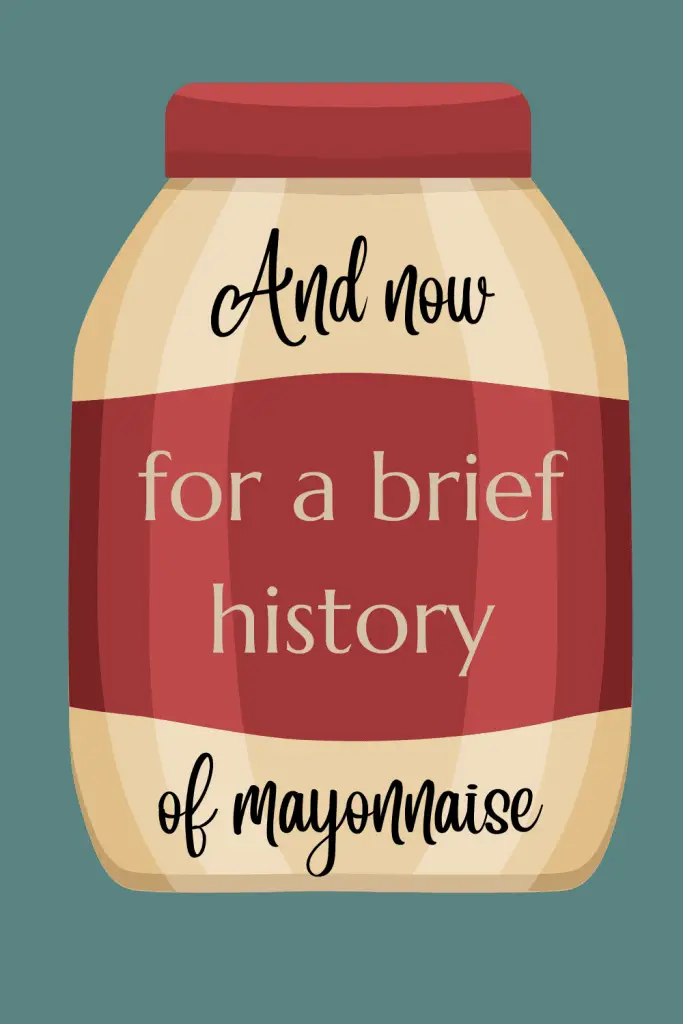 Let's delve into the history of this familiar product found in most American homes. What is mayonnaise, anyway, and when did it become popular?
Mayonnaise … is ketchup's dark twin—loved by some, reviled by others, setting brother against brother wherever it is spread," wrote the novelist Gabriel Roth (a friend of mine) in a 2003 column for the San Francisco Bay Guardian. As I detail today in "Mayo-phobia", there are some people who despise mayonnaise "with the passion of a thousand burning suns," as one inflamed mayo critic recently attested on YouTube, while others (like me) adore the sauce and incorporate it into our bodies with piggish abandon.
(slate.com)
There are some arguments over where and when mayonnaise was created. Some believe it dates back to the Duke de Richelieu in Spain in 1756. Others believe it originated in the town of Bayonne, in the southwest of France, and was called bayonnaise.
No matter which story you believe, it's clear that this creamy concoction dates back multiple generations and was likely used as a replacement for cream. It gained popularity with the French, then made its way to American pantries by the 1920s.
In 1923, President Calvin Coolidge told the press that he couldn't live without his Aunt Mary's heavenly homemade mayonnaise. No doubt the stuff really took off after that!
But, when did people start baking with mayonnaise. . .and why?
Why Bake with Mayonnaise?
Mayonnaise is a combination of three things: eggs, oil, and vinegar. All three are common ingredients in baking. But, why swap out mayo for those ingredients? What's the backstory?
Baking with Mayonnaise dates back to the depression era and to WWII when foods were being rationed. Eggs and butter were harder to come by but every home cook had a jar of mayonnaise in her cupboard.
So, home cooks started adding mayo to their recipes in place of the missing ingredients.
Mayo is a Great Substitute
Things really took off when a booklet titled Cakes and Cookies with Personality: Exciting New Recipes for Cakes, Cookies, and Frostings was produced in 1937. It included a recipe for a cake that called for ready-made mayonnaise as a key ingredient.
The rest, as they say, is history. The idea just took off like lightning!
And who can blame cooks for adding it? When you toss in mayonnaise, you're adding richness, flavor, and moisture. And, believe it or not, mayo makes the finished product lighter.
And, to answer that question that's on the tip of your tongue: No, you don't taste the mayonnaise.
Funny Quotes about Mayonnaise
A lot has been said about this creamy condiment over the years. Here are some of my favorite quotes about mayonnaise.
Mayonnaise is a lot like men, it can make everything much better, adding flavor and ease to your life. Or, it can just be sticky and gross and make you nauseous– Keeping the Moon (Sarah Dessen)
I have always wanted to write a book that ended with the word 'mayonnaise.' (Richard Brautigan)
Gentiles are people who eat mayonnaise for no reason. (Robin Williams)
The Japanese have become so smitten with the Western condiment – its texture as silky as a kimono, its tang as understated as the tang of Zen – that today they have a word for mayonnaise junkie: mayora. (Tom Robbins)
I spent my childhood eating. The only exercise I got was trying to twist off the cap of a jar of mayonnaise. (Richard Simmons)
I've been craving peanut butter-and-mayonnaise fried cheese sandwiches. (Anna Nichole Smith)
---
This would be a fun point to remind you guys of that infamous salad dressing scene in I Love Lucy. It wasn't technically mayonnaise, but I still laugh every time I watch it!
---
And Now, without Further Ado: 7 Sweet Treats Made with Mayo
I've been baking, baking, baking over the past couple of weeks, and many of the products I've made have been infused with mayo. It's been an interesting experiment, to say the least! But I'm tickled pink to share the following seven sweet treats:
I was visiting a friend and she came up with an idea to bake a chocolate mayonnaise cake. I loved it so much that I came home and made one of my own. I even included a chocolate frosting with mayo. (Who knew there was such a thing?)
To say I was shocked by the way this cake turned out would be the understatement of the century. It was richer, tastier, and creamier than I expected!
And even though I have an amazing Ultimate Chocolate Cake Recipe of my own, I have to say…this one was decadent and almost as easy to make! (Shocker!)
I've been on a search for the perfect banana bread recipe for months now. I've come really close in the past. In fact, I absolutely love my Easy Banana Chocolate Chip Muffins.
But when I stumbled across this Old-Fashioned Banana Bread recipe that included mayo, I couldn't turn away. I had to give it a try.
And, y'all. . .It's perfect. As in, absolutely, positively perfect.
Somewhere between a roll and a biscuit, these light and fluffy biscuits with mayo are a new favorite! You can bake them in a muffin tin or as drop biscuits. They've got a lovely texture, soft and perfect. And they taste amazing, too!
I absolutely love this new doctored cornbread mix that includes mayo. (I had no idea you could add mayonnaise to cornbread.)
The final product was super tasty, with an added bit of moisture you don't always find in cornbread muffins.
I highly recommend adding mayo to your mix for a wonderful outcome.
I'm nuts about Bisquick inspired recipes. Don't believe it? Check out my Easy Copycat Bisquick recipe to see all of my ideas.
But when you don't feel like going the Bisquick route, you can still make some amazing Copycat Red Lobster Cheddar Bay Biscuits. And guess what? They have mayonnaise in them!
Oats and Blueberries together in a muffin? Yes, please! And thanks for the addition of mayonnaise, this is a moist, tasty muffin!
I made a batch of these and shared them with the kids at church.
I just whipped up a batch of these super easy cookies. They're light, fluffy, and loaded with flavor from the brown sugar and pecans. (I can't believe I didn't think of this sooner, y'all!)
I think these cookies would be yummy with vanilla ice cream sandwiched between two of them!
To recap, here are my top seven recipes including mayo:
Other Mayonnaise Recipes & Hacks:
I scoured the web looking for more mayonnaise infused recipes. Here are a few I found.
Thanks for checking out this post, friends! I hope you're inspired to bake your next sweet treat with mayonnaise!
---
About the Author
Janice Thompson is an author, baker, and all-around mischief maker! She has overcome a host of baking catastrophes, including a toppled wedding cake, to learn more about the baking process. Janice has published over 150 books for the Christian market but particularly enjoys writing recipes and baking devotions. To learn more about Janice or to drop her a note, visit her About the Author page.