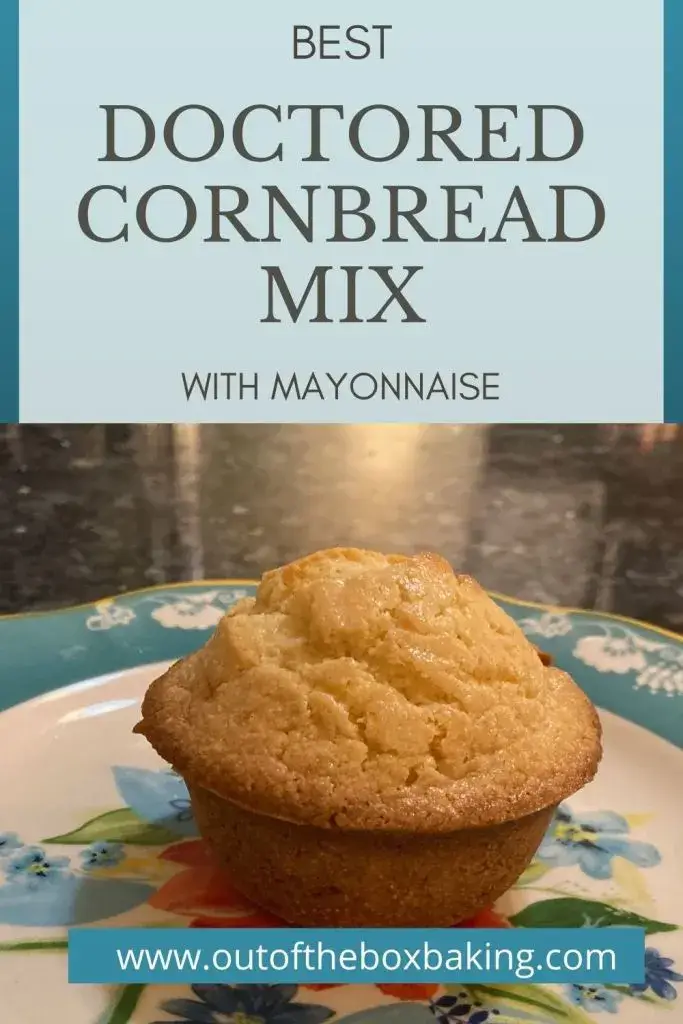 Whether you like your cornbread plain or sweet, in muffin form or baked in a square pan, you've come to the right place. This doctored cornbread mix is super easy and so incredibly tasty. And, thanks to the addition of a very special ingredient (full fat mayonnaise) it's rich and decadent.
And you know my motto: starting with a boxed mix is always a good idea!
Pass the Mayo, Please!
If you've been following my blog for a while you'll notice I'm on a mayonnaise kick. I baked up a Chocolate Mayonnaise cake recently and nearly swooned at how delicious it was. Next, I added mayonnaise to a Banana Bread recipe.
Y'all. I just can't even. That Banana Bread was the best I've ever eaten.
Then I baked up a batch of Light and Fluffy Biscuits using mayonnaise in the recipe. (I know. It seems impossible, but the result was out of this world! They were truly lighter than air and loaded with flavor.)
The same is true with these moist muffins. The mayonnaise makes all the difference in the world! I am a believer. This is truly the best way to make cornbread. (How am I just discovering this now??? This sweet cornbread is the bomb!)
Why Bake with Mayonnaise?
I covered this to some extent in my Chocolate Mayonnaise Cake post, but the long and short of it is this: During the Depression when eggs, oil, and milk were being rationed, women began to bake with mayonnaise. In one jar they found everything they needed to make their baked goods light and fluffy–oil, eggs, and vinegar.
Something prompted me to look up recipes for cornbread with mayonnaise. Honestly? I wasn't sure I would find any, but I did! The first one I stumbled across was this Jazzed-Up Jiffy Cornbread Muffins recipe at Southern Bite. (The author of the post says it's the best jiffy cornbread recipe!)
I happened to be working with the Corn Kits brand. If you'll allow me to take a little trek down memory lane, I'll explain why.
Bake Cornbread Like Mama Used to Make
I stood in the store, staring at the cornbread mixes. Overcome with emotion, my gaze traveled to the Corn Kits brand. I was reminded, in a flash, of my mother in the kitchen, baking up her favorite cornbread muffins. She swore by Corn Kits.
Mama passed away in 2017 and I've only made cornbread a handful of times since, but every time I've used her favorite brand. I have a hard time letting go of it. So, I decided to use it for this recipe, too.
Mama used to bake her cornbread in a cast iron skillet (or a cast iron mold that looked like ears of corn.) I decided to go with muffins because I always have my cupcake pans nearby.
As I mentioned in an earlier above, mayonnaise is basically eggs, oil, and vinegar. All of those things are common ingredients in baking. So, I knew it would probably be just the ticket for these muffins. I also knew, based on how my banana bread turned out, that these muffins were likely to be the best I'd ever baked.
I wasn't wrong.
These doctored cornbread mix muffins are absolutely delightful! I added a bit of brown sugar to mine because I was in the mood for sweet cornbread, but you could just as easily make a savory version. Check out the bottom of this post for some other ideas for how to doctor up a cornbread mix. I have all sorts of ideas for next time!
Have I enticed you? Are you ready to start baking? Great! There's a full printable recipe at the bottom of this post but here's a quick peek at what you're going to need:
Doctored Corn Bread Muffin Ingredients:
1 package Corn Kits cornbread mix (or box of Jiffy mix)
1/2 cup mayonnaise
1/4 cup melted butter (or vegetable oil, your choice)
2 tablespoons brown sugar (optional)
2 large eggs
Simple, right? This is one of the best recipe ideas I've tried in a while!
Now, I know what you're thinking. You might be tempted to skip the brown sugar if you're in the mood for a traditional cornbread, but I can assure you these addition of the brown sugar will do two things: first, it adds a caramelized feel and taste, and second, it'll make you swoon.
No, really. I actually swooned.
Well, sort of. If you count inhaling a muffin in five or six bites swooning.
How to Make These Easy Cornbread Muffins
Are you wondering how to make these easy cornbread muffins? They're so simple you'll wonder why you didn't try it before! It's truly a delicious cornbread recipe.
Preheat oven to 350 degrees Fahrenheit.
Place butter and brown sugar in microwave-save bowl and melt the butter. (I left mine in the microwave for 30 seconds. It was nearly melted, but not quite.)
Combine wet ingredients and dry ingredients in a large bowl and stir until well mixed.
There's no need to use an electric mixer or stand mixer. Just mix it with a wooden spoon or rubber spatula.
Prepare a muffin tin by spraying six of the muffin cups with baking spray. If you prefer, you can use an 8×8-inch dish or cast-iron skillet.
Use an ice cream scoop to place equal amounts of cornbread batter to the cups.
Place in preheated oven and bake at 350 degrees for 15-20 minutes or until golden brown.
Place your muffin tin on a wire cooling rack for a few minutes until they cool enough to be touched. (I ate mine warm with butter and a drizzle of honey.)
The crispy edges were perfect and the insight was light a fluffy. (You can thank the mayonnaise for that! I've learned that baking with mayonnaise always results in a light, fluffy product.) This is truly the best cornbread I've had in ages, better than any homemade cornbread I've ever eaten.
How to Store this Cornbread
Store in an airtight container for 2-3 days. You can freeze any leftovers up to two months.
Variations on this Cornbread Muffin Recipe
This is a fluffy cornbread, one I can't wait to serve to my family and guests. The mayonnaise adds extra moisture, which is nice. (So many times boxed recipes end up with dry cornbread, but that's not the case with this recipe!)
Because this southern cornbread recipe is so good, I'm already thinking of ways to up my game by adding even more to it!
If you don't have access to mayonnaise, you can make the cornbread according to the package's directions but add sour cream in place of milk. You can also use plain Greek yogurt. (It will add a twang!)
If you like the addition of brown sugar and want to sweeten things up a bit more, add an additional tablespoon of brown sugar along with half a cup of chopped walnuts or pecans. (Sounds delicious!)
Skip the brown sugar and add half a cup of drained corn or cream style corn.
Want a spicy cornbread option? You can also stir in a chopped jalapeño (or green chilies) with the corn, if you want to spice up your muffin.
Look for another savory option? For a little extra flavor add chives and sharp cheddar cheese. (Yum!)
Want to go super-sweet? No problem! Add brown sugar, cinnamon, and pumpkin pie spice.
Wanting something tropical? Make Hummingbird corn muffins. Add coconut and drained pineapple, along with 1/4 cup chopped pecans.
Make your own DIY honey butter (merging butter and honey) and slather it on.
Maple bacon: Add half a cup of cooked, diced bacon, along with half a teaspoon of maple extract (or two tablespoons maple syrup).
Use the same herbs you would put in your Thanksgiving stuff: parsley, sage, rosemary, and thyme. (These would be perfect as a side dish with your holiday meal.)
Want to go Italian? Add chopped pepperoni and gouda (or parmesan) cheese, along with a tablespoon of olive oil.
Want a super tender cornbread? Try adding buttermilk to the cornbread mix in place of milk.
Looking for a tasty breakfast muffin? Add a cup of breakfast sausage, along with half a cup of grated cheddar.
Other Muffin Recipes from Out of the Box Baking
If you're not in the mood for cornbread muffins, no worries. Check out all of my muffin offerings!
Easy Cinnamon Streusel Muffins with Pecans: If you're looking for an amazing cinnamon streusel muffin with crunchy topping you've come to the right place. This recipe, which features a streusel topping over a moist cinnamon-y muffin, is perfect.
Healthy Bran Muffins with Peanut Butter: If you're looking for a tasty muffin that you won't have to feel guilty about, you've come to the right place. These bran muffins start with ground oats and finish with a dash of peanut butter, just enough to add flavor and texture.
Double Dark Chocolate Espresso Muffins: You love chocolate. You love coffee. You love muffins. These amazing, gooey Double Dark Chocolate Espresso Muffins merge all three of those things into one delicious bite! You'll swoon, I promise!
Monkey Bread Muffins: If you love caramel apples, apple pie, or monkey bread… You're going to absolutely love this new recipe for apple pie monkey bread biscuits. You can whip them together in minutes just like traditional monkey bread but this recipe focuses on individual portion sized muffins that you can share with your friends and family without the mess!
---
Thanks for visiting. I hope you enjoyed this new cornbread recipe! I can't wait to hear what you think. I was super excited to share this recipe over at Miz Helen's Full Plate Thursday. Check it out!
When you serve these cornbread muffins to your friends or family and they ask, "What in the world did you put into these muffins? They're awesome!" just respond with, "That's my secret ingredient!"
---
About the Author
Janice Thompson is an author, baker, and all-around mischief maker! She has overcome a host of baking catastrophes, including a toppled wedding cake, to learn more about the baking process. Janice has published over 150 books for the Christian market but particularly enjoys writing recipes and baking devotions. To learn more about Janice or to drop her a note, visit her About the Author page.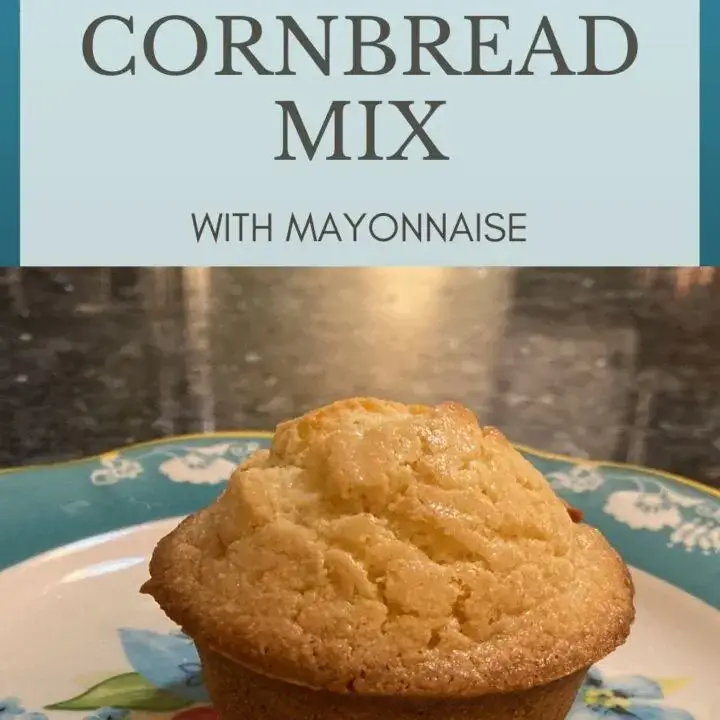 Best Doctored Cornbread Mix (with Mayonnaise)
Ingredients
Doctored Corn Bread Muffin Ingredients:
• 1 package Corn Kits cornbread mix (or other brand, your choice)
• 1/2 cup mayonnaise
• 1/4 cup melted butter
• 2 tablespoons brown sugar (optional)
• 2 eggs
Instructions
How to Make These Easy Cornbread Muffins
Are you wondering how to make these easy cornbread muffins? They're so simple you'll wonder why you didn't try it before!
Preheat oven to 350 degrees Fahrenheit.
Place butter and brown sugar in microwave-save bowl and melt the butter. (I left mine in the microwave for 30 seconds. It was nearly melted, but not quite.)
Combine all ingredients in medium bowl and stir until well mixed. There's no need to use an electric mixer or stand mixer. Just mix it with a wooden spoon or rubber spatula.
Prepare a cupcake pan by spraying six of the muffin cups with baking spray.
Use an ice cream scoop to place equal amounts of cornbread batter to the cups.
Place in preheated oven and bake at 350 degrees for 20 minutes or until golden brown.
Place your muffin tin on a wire cooling rack for a few minutes until they cool enough to be touched. (I ate mine warm with butter and a drizzle of honey.)
The crispy edges were perfect and the insight was light a fluffy. (You can thank the mayonnaise for that! I've learned that baking with mayonnaise always results in a light, fluffy product.)