If you're crazy about the flavor of peanut butter and love the idea of using it in your cakes, cookies, muffins, and candies, have I got a treat for you. In this post I'm going to share recipes for a dozen different peanut butter infused desserts, guaranteed to please!
Peanut Butter Lovers, Unite!
You're going to love this extensive list of peanut butter desserts from Out of the Box Baking!
Can I Bake with Peanuts?
Oh, my friends, you can! And you should! (Unless you're allergic, of course, in which case you're going to want to skip right over this post and head to something peanut free, like my Old-Fashioned Pound Cake or my Traditional Cut-Out Sugar Cookies. )
If peanuts aren't a problem for you, you're going to love this post. I'm going to show you a plethora of different recipes–everything from cookies, to muffins, to candies.
Baking with Peanut Butter
Peanut butter is one of those things that takes us back to our childhood. I can't taste peanut butter without remembering all of those PB&J sandwiches I ate as a kid. I also remember the first time I decided to use peanut butter for baking. Whipping up those first peanut butter cookies was a revelation!
One of the best things about baking with peanut butter is the addition of fat to the recipe. Nut butters are often used in place of (or in addition to) butter or shortening.
Another terrific advantage of peanut butter is how well it pairs with others flavors. . .like chocolate. (The Reese's Peanut Butter Cup is a favorite for a reason!) Apples are also great with peanut butter. So are salty snacks like pretzels!
In the following recipes you're going to discover a plethora of flavor profiles that work beautifully with a simple jar of peanut butter.
What Type of Peanut Butter Should I Use?
Should I Use Creamy Peanut Butter or Crunchy Peanut Butter?
Most of my recipes call for creamy peanut butter (my personal favorite). Several of these recipes would work just fine with crunchy, so it's your choice! I wouldn't recommend baking with natural peanut butter unless you process it in a food processor or mixer first to fully incorporate the oils.
Regardless of which type of peanut butter you choose, you're sure to love baking with this favorite childhood treat!
---
Without further delay, here are 12 of my favorite peanut butter desserts!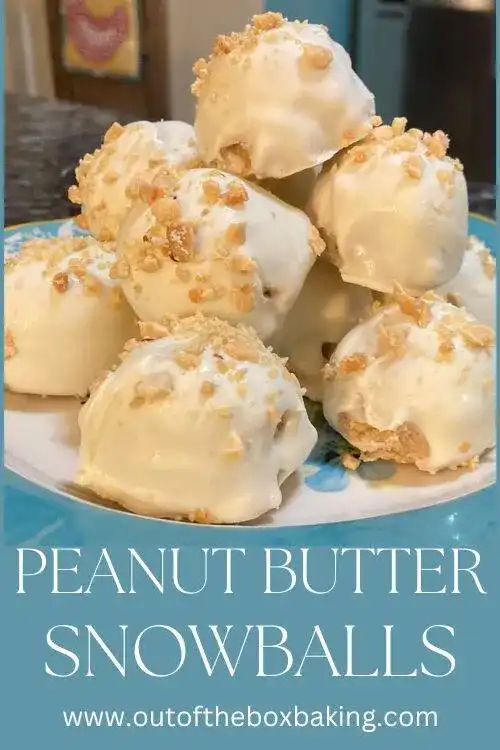 If you're looking for the perfect Christmas candy, one rich with flavor, you're going to love these delicious snowballs! This is such an easy recipe but the flavors and textures really pack a punch. These aren't just good for the holidays. . .they're yummy all year round! Best of all, this is on of those no bake desserts that doesn't even require an oven! If you love peanut butter cups, this is the dessert for you. (And talk about a yummy nutty flavor!)
If you love the combination of peanut butter and chocolate, you've definitely come to the right place. Today's recipe is those soft, fluffy peanut butter cookies with luscious Hersheys Kisses on top. (You'll love this chewy peanut butter cookie!)
Chocolate and peanut butter just go together. This yummy duo provides the perfect combination of sweet and salty.
If you love the flavor and texture of a great peanut butter cookie but don't have the time or the ingredients, you're going to love this simple recipe! These soft peanut butter cookies are light, fluffy, loaded with flavor, and best of all, they start with a white cake mix! (This is such an easy cookie recipe, and if you like you can throw in some chocolate chips or peanut butter chips for fun!) You could also make these as peanut butter cookie bars!
If you're looking for a tasty muffin that you won't have to feel guilty about, you've come to the right place. These bran muffins start with ground oats and finish with a dash of peanut butter, just enough to add flavor and texture. (Talk about simple ingredients!) Throw in some milk chocolate chips if you like. The sky's the limit!
I started to call these my "Everything but the Kitchen Sink" cookies because I (literally) throw everything in them that you can think of. Crunchy. Salty. Sweet. Savory. It all goes in these yummy Peanut Butter Ranger Cookies. You're going to love them because they hit all of the notes. Literally, all of the notes.
These Peanut Butter Chocolate Chip Muffins are sweet, tasty, and rich with protein. Best of all, they're easy to make. You've probably got the ingredients in your pantry right now.
I made up this Peanut Butter Pretzel Cookie recipe on the spur of the moment and fell in love! They're loaded with peanut butter, pretzels, and yummy semi-sweet chocolate chips. Talk about a flavor explosion! There's something about that salty and sweet combination that makes me swoon! These are the peanut butter dessert recipe!
Peanut butter and chocolate were just meant to go together, which is why these Peanut Butter Nutella Sandwich Cookies really hit the spot. You're going to love the peanut butter flavor in these!
This is by far my favorite peanut butter cookie recipe ever! Still, it's a bold move, to claim that my Peanut Butter Cookies are perfect. I mean, perfection is sort of an unattainable goal for the baker, right? But in the case of these traditional cookies, they're about as close to perfection as anything I've ever baked.
And they turn out beautifully every single time. (Hey, I've even deliberately tried to mess them up, but couldn't!) Talk about the perfect classic peanut butter cookies! (Hint: Peanut butter cookie dough can be frozen in a tube shape so that you can have slice-n-bake whenever you like!)
If you love the crisp sweet flavor of brittle with the yummy crunch of peanuts, this is the recipe for you. This brittle is a family recipe, passed down over multiple generations. It's easy, and definitely one you'll pass on to your friends and loved ones.
(Hint: You can cover peanut butter with a thin layer of milk chocolate for a toffee-like treat!) The best thing about this peanut brittle is how easy it is to make and serve. Store peanut brittle in an airtight container to maintain freshness.
It's beginning to look a lot like. . .snowmen! If you're a fan of Nutter Butter cookies and you're in the Christmas spirit, I've got a great tutorial for you. In this post you're going to learn how to make Nutter Butter Snowman Cookies! (These delicious cookies are even better with the coating of white chocolate on them!)
If you're looking for a bar that's rich in flavor and easy to whip up, this is it! Best of all, this is one of those no bake recipes that's perfect for the holidays and every day in-between. (Hint: You can make Traditional Scotcheroos using rice krispies in place of Chex cereal.) Talk about a delicious dessert!
This is a simple no-bake sweet treat, perfect for the holidays! A little cereal, a little chocolate, a lot of powdered sugar. . .and you've got a tasty treat for your guests! These can be made with peanut butter or almond butter. Really, any nut butter will do.
Other Ways to Use Up Peanut Butter
Looking for other ways to use up leftover peanut butter? Here are a few suggestions:
---
That's it for this post, friends! I hope you enjoyed these 12 Easy Peanut Butter Recipes all guaranteed to satisfy that peanut butter craving! Let me know your favorite!
---
About the Author
Janice Thompson is an author, baker, and all-around mischief maker! She has overcome a host of baking catastrophes, including a toppled wedding cake, to learn more about the baking process. Janice has published over 150 books for the Christian market but particularly enjoys writing recipes and baking devotions. To learn more about Janice or to drop her a note, visit her About the Author page.