If you love brownies but want the convenience of a gooey cookie, you've come to the right place! In this recipe you'll learn how to make ridiculously easy stuffed brownie cookies. They're not like anything you've ever had, I promise!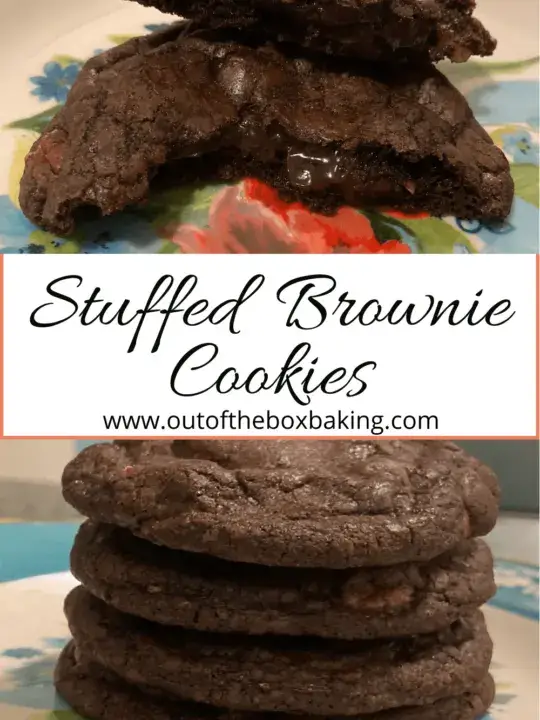 Like most of the recipes on this site, this one starts with a boxed mix. Instead of a cake mix, I opted for brownies. And boy, what a winner! This yummy cookie was luscious–filled with enough chocolate to make me swoon.
How I Came up with the Idea…
I had spent the afternoon typing up my Ultimate Chocolate Cake recipe and wishing I had something chocolate to nibble on. I didn't want to bake another cake, but cookies sure sounded good. So, I scoured my pantry to see what I might come up with in a hurry. I found a brownie mix.
Right away, I had an idea: Take the brownie mix, turn it into a cookie by eliminating the water (or milk) and then "stuffing" it with hot fudge.
Let's pause for a minute to unpack that idea. When you buy a jar of hot fudge and store it in the fridge it becomes thick and easy to handle. My idea: treat a "blob" of this fudge the same way I might treat, say, a cheesecake filling. Press it between two cookies and seal the edges.
If this sounds yummy to you, hang on! I'll give you the full printable recipe at the bottom of this post. For now, here's all you'll need to make these cookies. No doubt you've got most of these ingredients on hand! And if you happen to be out of brownie mixes, don't fret! You can use my Easy Brownie recipe, instead.
Stuffed Brownie Cookies Ingredients
Here's what you'll need to bake these cookies:
1 box brownie mix, any brand
1 stick (1/2 cup) melted butter, cooled
1 large egg
1/2 cup chocolate chips
1/2 cup nuts (optional)
1 jar hot fudge
See? Not many ingredients at all! And talk about easy to make. Here's all you need to do:
How to make Stuffed Brownie Cookies
I decided right off that I wouldn't mess with my stand mixer. I wanted to mix these by hand. So, I melted the butter in a large bowl, let it cool down, then I dumped in the brownie mix.
I added the egg and started mixing. I wasn't looking for a batter-like consistency. I needed something just as firm as a cookie dough. . .and that's exactly what I got.
After I got the ingredients incorporated I added my chocolate chips and chopped pecans. Honestly? I didn't measure them. I just took what I had on hand (left over from another project) and dumped 'em in. Yum.
Then I took a good look at that jar of hot fudge. When I opened it and saw how thick the fudge had become in the refrigerator, I knew exactly what to do.
First: Using my smallest cookie scoop, I prepared balls of cookie dough. Then I pressed the balls of dough between my palm, flattening them.
Then I took about a teaspoon of fudge to nestle between the two cookies. I pinched the edges together.
I use Nordic Ware pans, along with the perfect parchment sheets that are pre-cut to fit the half-sheet perfectly!
If you've been following me a while you know that I love to bake a single test cookie. That way, if anything goes wrong, I've only wasted a small amount of dough.
I wasn't 100% sure which oven temperature I should use. Most of my cookies bake at 375 degrees but the brownie box recommended 350. So, I decided to bake my sample cookie at 350. It baked for 13 minutes and I removed it from the oven. I think it looks amazing, don't you?
Happy with my result, I let the cookie cool and then decided to break it open. I wasn't sure if I would find any chocolate "goo" inside, but…
Y'all. This thing had a luscious amount of goo! And I'm not sure what surprised me more–the ooey-gooey middle or the crunchy edges. The contrast between the two was absolutely delightful!
I baked a few more and then froze the remaining dough. I plan to bake them fresh when the grandkids come over. I think they gooey middle will be more impressive straight from the oven.
Your Turn!
First you mix your dough, adding in the nuts and chips.
Next, you form it into balls and flatten them with your palm.
Then you "stuff" the middle with some fudge.
After that, you pinch the edges together and place on parchment-lined cookie sheet.
Finally, you bake at 350 for 13 minutes.
These Stuffed Brownie Cookies are beyond incredible!
I highly recommend these yummy brownie-inspired cookies. I can't remember the last time I whipped up something this fast, this delicious, and this luscious!
Grab a glass of cold milk and dive right in!
Variations on my Stuffed Brownie Cookies
Next time I plan to use mint chocolate chips and skip the pecans. (You might recall I have a Double Mint Chocolate Cookie recipe already. I'll still stuff it with fudge.
Another yummy option: Instead of nuts, add caramel chips along with the chocolate chips.
Stuff with peanut butter or a Reese's peanut butter cup.
Speaking of candies, what about stuffing with a piece of a Milky Way bar? Or. . .a Kraft caramel square. (Oh, yum!) What about a Hershey's Kiss?
You could try this: Use a cheesecake filling (cream cheese, confectioner's sugar, egg yolk)
Or. . .Skip the nuts and the fudge filling. Add raspberry preserves as a filling.
If you want a S'Mores version, add chocolate chips and chopped graham crackers to the dough, then fill with a couple of mini marshmallows.
You could do a fan favorite: Oreo. Add crushed Oreos and stuff with cheesecake filling.
Oooh! Great idea! Sandwich two of these cookies together with some of my Easy Cheesecake Mousse!
And here's one last idea: Add a teaspoon of instant coffee to the dough and then use Nestle's espresso chips. (Coffee enhances the flavor of chocolate.)
I could keep going, but you get the idea!
If you love chocolate, you've got to try out my Chocolate Frosting recipe. It's ganache based. Now that I think of it, you could sandwich some of that frosting between a couple of these cookies. Yum!
If you are a fan of brownies and cookies, you should also check out my Easy Chocolate Chip Brookies recipe! Are they cookies? Are they brownies? They're both!
Follow this link for a comprehensive post listing more of my fall cookies and bars, perfect for autumn!
You'll enjoy the Weekend Potluck recipes over at South Your Mouth. And while you're browsing the web, venture over to Miz Helen's Country Cottage for her Full Plate Thursday offerings!
---
About the Author
Janice Thompson is an author, baker, and all-around mischief maker! She has overcome a host of baking catastrophes, including a toppled wedding cake, to learn more about the baking process. Janice has published over 150 books for the Christian market but particularly enjoys writing recipes and baking devotions. To learn more about Janice or to drop her a note, visit her About the Author page.
Stuffed Brownie Cookies
Ingredients
Stuffed Brownie Cookies Ingredients
1 box brownie mix, any brand
1 stick (1/2 cup) melted butter, cooled
1 large egg
1/2 cup chocolate chips
1/2 cup nuts (optional)
1 jar hot fudge
Instructions
Melt butter
Add brownie mix
Add egg and stir
Add chocolate chips and nuts.
Form dough balls using small scoops
Form a ball of fudge and press it between two cookies, crimping the edges together.
Bake on parchment lined cookie sheet at 350 degrees for 13 minutes.
Cool and enjoy with a glass of milk.