If you've ever watched a baking competition on TV you know that a quick, easy, from-scratch brownie recipe needs to be a staple in every baker's repertoire. But you've probably noticed that most of the cooks in those competitions usually have epic fails in the brownie round.
The Perfect Easy Brownies
The perfect brownies offer the best of all thing things you love. They're fudgy, chocolate-y, crisp on the edges, and crackly on top. No pressure!
Why is that, do you suppose? Why is the simple brownie–truly one of life's favorite pleasures–is so hard to get right?
Brownie Mixes are Cheap, Popular, and Easy
There's your answer right there. There are a zillion brownie boxed mixes out there and many of them are super yummy. Some are chewy. Some are cake-like. Others have chocolate chips and some are loaded with caramel. Who would want to take the time to make a from-scratch version when you can get an easy alternative?
Me. I wanted to. Call it a quest. Call it a challenge. I had to figure this out, on the off chance that I ever end up on televised baking competition and need to prove I've got the goods.
Now, I know. . .this website is called "Out of the Box Baking." Most of my recipes actually start with a box. And yes, I've certainly used boxed brownie mixes. I've even turned cake mixes into brownies by eliminating the water and cutting the eggs to two.
But I felt strongly about finding a perfect, easy brownie recipe that anyone could make, even if they didn't happen to have a mix on-hand.
Should Brownies be Gooey or Cakey?
Like so many other bakers, I wanted a great recipe for a brownie that was "sort of" fudgy and "sort of" cakey. I mean, let's get real, people. . .there's got to be something in-between those two, right?
So, I went on a quest to try recipes until I stumbled across one that was pretty close to perfect.
And I found it.
No, really. I have finally got a recipe for brownies that's perfect-to-me, not just because it beautifully balances gooey and cakey, but because it's just so darned easy to make!
Now, I know what you're asking. . .
How do I make the perfect brownies?
It's easier than you think and you've probably got the ingredients in your pantry and fridge right now!
Here's what you're going to need to make my Easy Brownies:
INGREDIENTS:
salted butter
granulated sugar
large eggs
unsweetened cocoa powder
all-purpose flour
vanilla extract
chocolate chips (I used red and white for Valentine's Day)
That's it! Not a lot of ingredients are needed, but boy, do they bake up into something delicious. Even if this is your first time making homemade brownies, you can relax! They'll turn out fine.
HOW TO MAKE EASY BROWNIES
Start by preheating oven to 350 degrees.
I made sure my butter was room temperature. I mixed it up with my rubber spatula, then stirred in the sugar and kept beating.
Next I tossed in my eggs and vanilla, but decided to reach for my hand mixer. I whipped it up until the batter was light and fluffy.
Next came the dry ingredients: flour and cocoa. At this point I had to double-check to make sure I didn't need baking powder. Nope. No baking powder or baking soda in this recipe. That made sense, actually. It's the baking powder that makes a cake light and fluffy. I wasn't going to flight and fluffy here.
I dumped in the dry ingredients and was grateful I'd opted to use the mixer. The batter, at this point, was getting pretty firm!
I folded in my red and white chips and then my batter went into a prepared 8×8 pan.
The brownies baked for 30-35 minutes. I wanted to make sure they were touchable on top but not firm. These were perfect!
Because I was going for a Valentines look, I added more red and white chips on top while the brownies were still hot. That way they would melt a little and stick to the top.
I couldn't wait to cut them, but knew not to do it right away. I didn't want them to cool completely. (Duh! Who likes a cold brownie?) But I knew they would probably been too gooey if I cut them hot.
I let the brownies cool slightly and they cut them while still in the pan. I cut mine to make a dozen brownies but you could easily make 16 if you cut them smaller. (Why would you, though?)
One of my favorite parts was seeing the red and white chips pop through. And y'all. . .this brownie had some goo in the middle but was still plenty cakey on top.
The Perfect, Easy Brownie!
These were absolutely dreamy!
Best of all? They had the perfect amount of chocolatey-ness. (Is that a word?) Some brownies are too dark. Others aren't chocolate enough. But, for me, these were absolutely perfect.
Because these brownies were so yummy, I made a quick, executive decision. I stacked them on a paper plate and drove to a friend's house. (Trust me when I say that I ate a jumbo one first, and it definitely wasn't Weight Watchers friendly!)
My friends flipped over the brownies, so I knew I (finally!) had a winner!
You can Make These Easy Brownies!
You can be a winner by making these brownies, too! They come together so quickly and they're super easy! I placed a printable recipe card with a complete list of ingredients, measurements, and directions at the bottom of the page for your convenience.
If you're baking for a crowd, double the recipe and use a 9×13″ pan.
Questions People are Asking about Brownies:
Why do my brownies always seem to fail?
There are three primary reasons brownies fail:
First, they're too gooey and don't cook up in the middle. (You've probably had this happen, where they're over-cooked on the outside but not cooked enough in the middle.) You can remedy this by not making your batter so deep. Spread it thinner.
Second, you're adding baking powder and ending up with something more like a cake. Skip the baking powder! You don't need it.
Finally, they're not chocolatey. You can fix this by adding plenty of cocoa but also adding chocolate chips.
What can I add to my brownie batter?
We're all about thinking outside the box here, so it's time to explore some fun additions. The options are limitless, but here are some exciting ideas:
Chopped Oreos
Walnuts or pecans
Mint chocolate chips
Caramel chips
Chopped pretzels with caramel
Butterscotch chips
Graham crackers (chopped) with toasted mini marshmallows on top.
Peanut Butter ( swirl it into the batter or let it melt on top)
Do I need to refrigerate these easy brownies?
Nope. In fact, you shouldn't. They'll harden up.
Can I ice these brownies?
Of course! You can melt chocolate chips in a tiny bit of milk or whipping cream and make your own ganache. Pour it over the top. You can also drizzle caramel (either made from scratch or ice cream topping) over your chocolate frosting. You can even use my Dreamy Buttercream on top of these brownies.
If You Liked my Easy Brownie Recipe. . .
If you're nuts about chocolate (see what I did there?) you'll love my German Chocolate cake recipe. You can really dress up the boxed mix by adding milk and butter instead of water and oil.
The first recipe that I ever posted on this blog was my Mint Oreo Trifle recipe. It's still a personal favorite. If you're keen to make it, you can use this brownie recipe for the base layer of the trifle. Yum!
These brownies would also be fantastic in my DIY Cupcake Trifles! Brownies and trifle just seem to go together.
I keep staring at this recipe for Chocolate Pound Cake from South Your Mouth. I know I'm on Weight Watchers, but y'all. . .
Sometimes it's mighty hard to resist!
Check out Full plate Thursday at Miz Helen's Country Cottage!
---
About the Author
Janice Thompson is an author, baker, and all-around mischief maker! She has overcome a host of baking catastrophes, including a toppled wedding cake, to learn more about the baking process. Janice has published over 150 books for the Christian market but particularly enjoys writing recipes and baking devotions. To learn more about Janice or to drop her a note, visit her About the Author page.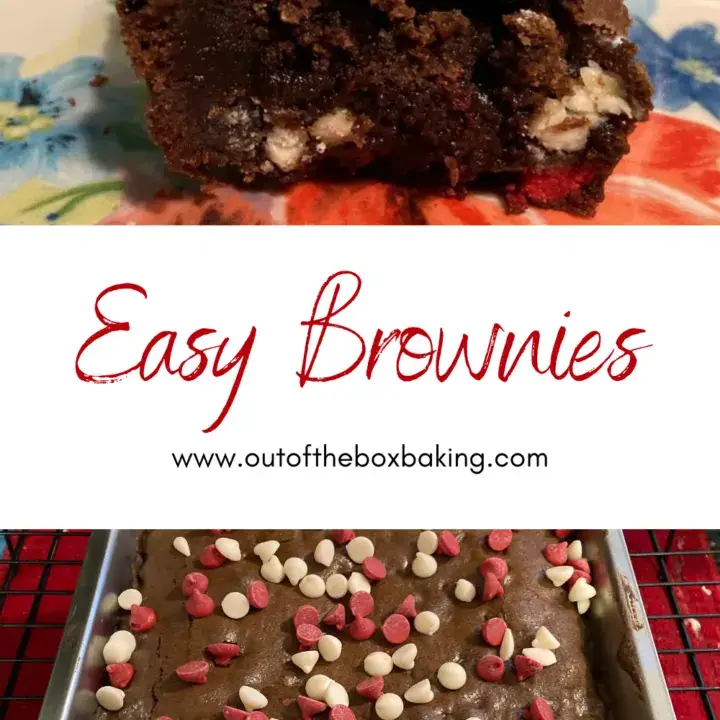 Easy Brownie Recipe
Just the right mix of gooey and cakey, this brownie mix really is perfect!
Ingredients
1/2 cup salted butter
1 1/2 cups granulated sugar
2 large eggs
1/2 cup cocoa powder
3/4 cup all-purpose flour
1/2 tbl vanilla extract
1 cup chocolate chips
Instructions
Preheat oven to 350 degrees.

Make sure your butter is room temperature. Mix until light and fluffy.

Add sugar, eggs, and vanilla. Continue to mix until smooth.

Add dry ingredients (flour and cocoa). Mix well. Batter will be firm.

Fold in chocolate chips.

Place in a prepared 8x8 pan.

Bake for 30-35 minutes at 350 degrees. Make sure they're touchable (crinkly) on top but not over-baked.

Cool and cut.
Notes
You can add caramel chips or drizzle caramel on top if you like!
Nutrition Information:
Yield:

12
Serving Size:

1
Amount Per Serving:
Calories:

289
Total Fat:

13g
Saturated Fat:

8g
Trans Fat:

0g
Unsaturated Fat:

4g
Cholesterol:

51mg
Sodium:

75mg
Carbohydrates:

42g
Fiber:

2g
Sugar:

33g
Protein:

3g
The nutrition information is a product of online calculators. I try to provide true and accurate information, but these numbers are estimates.