If you love the sweet flavor of German Chocolate cake and you're nuts about coconut pecan frosting, you've definitely come to the right place! In this post I'm going to give you my tips and tricks for one of the most classic cakes of all time–German Chocolate! And best of all. . .it starts with a boxed mix!
The Back Story
Today was my birthday. I loved every minute. Last year I was battling my way through Covid, so my birthday was pretty terrible. Today, (totally healthy) I got to spend the evening with local kids and grandkids. Also. . .cake! I decided to make my own birthday cake and went with German Chocolate Cake with Coconut Pecan Frosting. It's perfect for special occasions!
Why German Chocolate Cake?
It's kind of a sad story, actually.
Last year, after several days of battling Covid, I was left completely alone on my birthday. Then a storm blew in. It was a terrible, horrible, no good, very bad day. Late that evening a van pulled up in my driveway. My grandchildren got out and stood in the rainstorm and sang Happy Birthday to me. I watched it all from inside my house, safely tucked away from them, tears streaming. They left a little package on the patio table.
What was in the package?
As soon as their van pulled away I opened the door, grabbed the package (a plastic bag) and discovered a store-bought cupcake inside: German chocolate with coconut pecan frosting. One of my all-time favorites! (If you've read my Italian Cream Cake post you know that I'm nuts about nuts. I throw them in just about everything. Ha.) I ate every bite. No regrets!
I'm so grateful that most grocery stores carry ready-made cakes and cupcakes like this, (though making cakes at home is always best, in my opinion)!
This year, things looked brighter. No sickness here!
But there was one little problem. I'm on Weight Watchers, you see, and hadn't actually planned to make a cake. Or eat cake. Or even think about cake.
But…
Mid-morning, after going through my Facebook Memories and reading about last year's fiasco, I decided a do-over was in order. So, I made the German Chocolate cake, (named after English-American chocolate maker, Samuel German). I made the coconut frosting using my mom's original recipe.
You've probably already figured out that I started with a boxed mix. (Hey, check out the name of this blog site!) I'm a real chocolate lover, so this just seemed perfect.
But, that frosting, y'all?! I had to make it from scratch. Sure, a can of coconut pecan frosting is yummy but nothing tops the real deal!
I Deviate from this Post to Tell You my Evaporated Milk Story. . .
I didn't have any evaporated milk on hand and the frosting calls for it. I refused to go to the store to buy any (long story, but I'm on a book deadline) so I decided (gasp!) to make my own.
Yep. You can make your own. The goal is to simmer milk until the water boils off. In my case it took an hour and a half. Yes, you read that right. So, hopefully you have a can of evaporated milk in your pantry! But if you don't, you can do it my way. Next time I hope to avoid this step by using canned. Whew!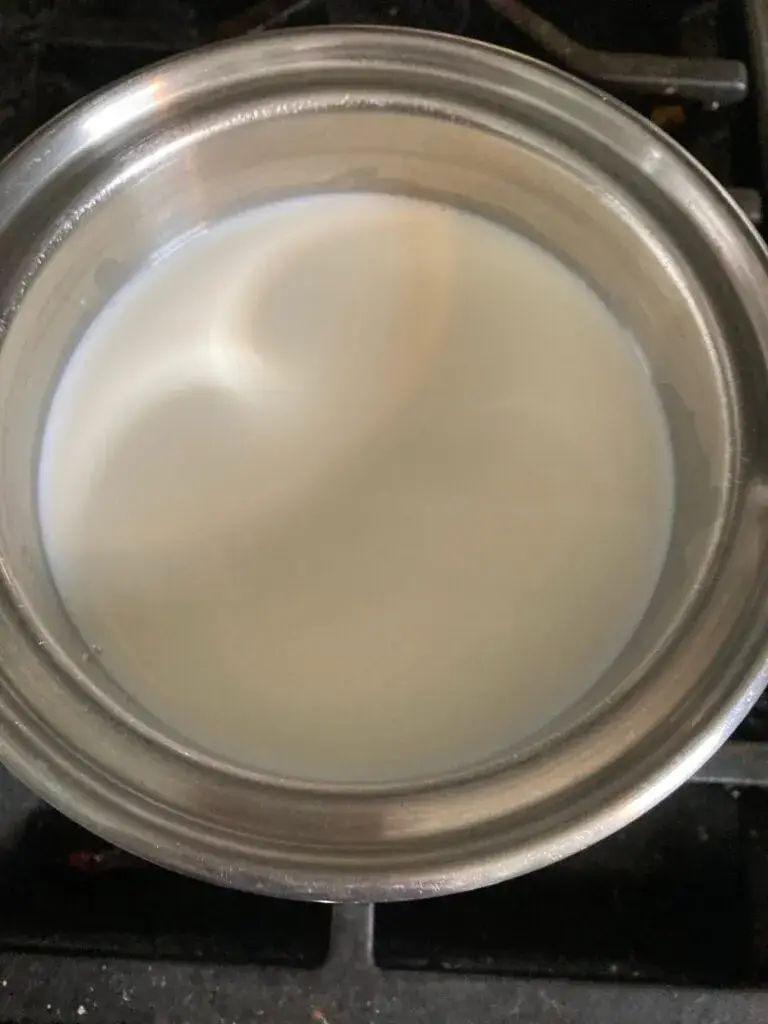 Check out the photos showing the progression of the milk. I brought it to a light simmer and then turned down the heat and left it on the stove. I stirred it a zillion times (approximately), skimming the top repeatedly. I stopped when it looked about half the height as when I started. Good thing I stopped because I was at exactly 12 ounces!
Did it Work?
You bet it did. Everything came together beautifully. The cake turned out great and I was tickled to take it with me to the restaurant where we had dinner. The waiter was happy, too, because we left some of the cake behind for the servers!
What Goes into my German Chocolate Cake:
CAKE INGREDIENTS:
German chocolate cake mix
milk (or water)
oil
room temperature eggs
Maybe you're wondering: "What is German Chocolate, anyway?"
It's a type of baking chocolate that is mild and sweet. You might think its story traces back to Germany, but that's not the case! Instead, it trails back to a man named Sam German, who happened to be an American. In 1852 he invented this sweet chocolate to use as an alternative to unsweetened chocolate.
What's in a German Chocolate Bar?
A German Chocolate bar is made of chocolate liquor, sugar, cocoa butter, lecithin, and flavorings. It's a yummy flavor for cakes, cookies, and more. And it's perfect for this special cake!
About that Coconut Pecan Frosting. . .
Now let's talk about that amazing, sticky Coconut Pecan Frosting. No doubt you're wondering what goes into it. (This is a great recipe. You're going to love it.)
COCONUT PECAN FROSTING INGREDIENTS:
pecans
coconut
evaporated milk
egg yolks
sugar
vanilla
OPTIONAL CHOCOLATE FROSTING
butter
cocoa powder
powdered sugar
How to Make my German Chocolate Cake:
MAKE THE CAKE:
Make this traditional german chocolate cake recipe according to the directions on the boxed mix but substitute milk for the water. You could also add a little butter along with the oil (maybe 1/4 cup) to add more moisture. I find German chocolate cake mixes to be a wee bit dry. (Just keeping it real.)
You can mix this cake in a large bowl with an electric hand mixer or use a stand mixer with paddle attachment.
You might also consider adding a quarter cup of full-fat mayonnaise. Always a good choice. (If you've read my Chocolate Mayonnaise Cake recipe, you know I'm a fan!) You want a moist chocolate cake.
Grease and flour three 7″ round cake pans. (Prepared pans are key.)
Split the cake batter between them.
I contemplated using my 6″ pans but I didn't want something that was too tall to cut. That's risky when you're stuffing it with filling! If you prefer, you can use 8″ round baking pans but you will only get two cakes out of it, which means less opportunity for all of that yummy coconut pecan frosting!
Bake at 350 for 20 – 25 minutes, depending on depth of pan. Cakes are done when they spring back to the touch. Remove from the oven and cool on cooling rack.
Time to make the Coconut Pecan frosting!
Follow these step by step instructions for this frosting. It's going to be the star of the show so you'll want to get it right!
Combine evaporated milk, sugar, egg yolks and whisk together in a medium saucepan. Bring to a low simmer, stirring most of the time over medium heat.
Now it's time for a workout!
Lower the temperature a little and keep stirring/whisking for 12 minutes or until the mixture thickens and turns golden in color. If it begins to separate, stop right away.
Stir in pecans, coconut, and vanilla. Remove from heat and stir until fully combined! (It's dreamy!)
Make the Chocolate Buttercream
This is optional but I love to trim out my cakes so I made a super quick batch of chocolate buttercream, using butter, cocoa powder, and powdered sugar. (More on that below!)
Let's put that cake together!
This makes a lovely layer cake, one you'll be proud to serve. Here's how you do it.
You'll need to level your cakes.
Put the first one on a baking board, face up. Add a super thin layer of chocolate frosting then dump on a generous amount of the that gooey coconut pecan frosting.
Repeat the process with the second cake.
Top it with buttercream and then coconut pecan frosting, then add the third cake (face-down). (Look at those rich chocolate cake layers!)
Whenever I'm building a cake like this (with a ton of filling/stuffing) I want to secure it, so I decided to stick in a couple of Bubble Tea straws to stabilize it. You'll want to cut those flush with the top of the cake.
By the Way…
This is a layered cake, not a tiered cake. To discover the difference, check out my How to Tier a Cake post!
Finishing off the cake
Top this classic cake with coconut pecan frosting, of course, but then go ahead and add some dollops of the chocolate buttercream. I put mine in a piping bag with a 1M tip. Easy breezy!
Questions People are Asking about German Chocolate Cake:
QUESTION: Do I need to refrigerate this cake?
ANSWER: Nope! In fact, you don't want to do that because the frosting will harden and be impossible to eat.
QUESTION: Why don't I frost the sides?
ANSWER: This is a personal preference. There's enough frosting to ice the sides if you like, as long as you don't over-stuff the layers.
QUESTION: Did Janice bust her diet wide open, tossing Weight Watchers to the curb so that she could enjoy a giant slice of her own birthday cake?
ANSWER: Why, yes. Yes, she did. And she's not one teensy-tiny bit sorry!
QUESTION: Do I need wire racks to cool my cakes?
ANSWER: No, but they're so inexpensive and perfect for the job! Mine fit perfectly in the drawer under my stove, so they take up no additional room.
QUESTION: How do I store this cake?
ANSWER: Store in an airtight container. It has a 3 day shelf life but will last up to a week in the refrigerator. You can freeze for up to 2 months but it will need to be tightly wrapped to avoid freezer burn.
QUESTION: Why is this considered a classic german chocolate cake?
ANSWER: Because it has stood the test of time and is one of the most requested cakes for birthdays, anniversaries, and even grooms cakes.
QUESTION: Can I use brown sugar in place of granulated?
ANSWER: Yes, but the caramelization process will change slightly.
This was an amazing birthday, and I'm so grateful.
Grateful to my kids and grandkids. Grateful to all of the wonderful friends who texted, private messaged, called, or posted on my social media accounts. It sure makes up for that really terrible one last year! And that yummy German chocolate concoction I whipped up!
Well, I hate to be cliche, but it was truly the icing on the cake!
If You Love Chocolate You're Going to Love these Offerings from Out of the Box Baking!
Earthquake Cake: German Chocolate Upside-Down Cake. This one's easy and fun!
German Chocolate Bars from Scratch: If you love German Chocolate cake but want the ease of a tender, flaky cookie bar, this is the recipe for you! The cookie crust has a light chocolate flavor and the rich gooey filling is loaded with coconut, pecans, and chocolate chips.
Check out my Chocolate Mayonnaise Cake! It's moist, delicious, and so easy to make. (And, unlike most of my recipes, it doesn't start with a box mix.)
You're going to love my Oreo Dirt Cake with Succulents. It's absolutely breathtakingly divine! Layers of mousse, whipped cream, and light fluffy cake all merge together in this delicious party-worthy dish.
Love chocolate. . .and coffee? You're going to adore these Double Dark Chocolate Espresso Muffins. They're made with Nestles Espresso Chocolate Chips!
I don't even have adequate words to describe these gooey-gooey chocolate chip blondies, but y'all. . .they're out of this world.
Other Fun Recipes
This recipe is definitely a family favorite but if you're not a fan of coconuts or pecan, you can always frost this cake in my Dreamy Buttercream frosting.
If you love nuts, you'll really enjoy my Butter Pecan cupcakes. They're one of my all-time favorites.
And if you're able to eat peanuts, check out my Peanut Butter Nutella cookies. They're super-delicious and loaded with peanuts and hazelnut spread!
Since we're talking about all-things-nutty, you might want to check out this post from Southern Home Express: 10 Easy and Delicious Pecan Recipes.
Check out the yummy "Full Plate Thursday" offerings at Miz Helen's Country Cottage!
---
About the Author
Janice Thompson is an author, baker, and all-around mischief maker! She has overcome a host of baking catastrophes, including a toppled wedding cake, to learn more about the baking process. Janice has published over 150 books for the Christian market but particularly enjoys writing recipes and baking devotions. To learn more about Janice or to drop her a note, visit her About the Author page.
Printable Recipe Below!
German Chocolate Cake
Additional Time:
15 minutes
This decadent German chocolate cake has the yummiest homemade coconut pecan frosting and dollops of chocolate buttercream. It's almost too good to be true!
Ingredients
HERE'S WHAT YOU'LL NEED FOR THE CAKE:
German chocolate cake mix
1 cup milk (or water)
1/2 cup oil (or butter)
3 eggs
HERE'S WHAT YOU'LL NEED FOR THE COCONUT PECAN FROSTING:
2 cups pecans (chopped/diced)
1 can evaporated milk (12 ounces)
1 1/2 cups sugar
3/4 cup butter
6 egg yolks, lightly beaten
2 cups flaked coconut
1 tsp vanilla extract
HERE'S WHAT YOU'LL NEED FOR THE CHOCOLATE BUTTERCREAM:
3/4 cup butter
heaping tbl cocoa powder
2 cups powdered sugar
Instructions
MAKE THE CAKE:
Make the cake according to the directions on the package, using milk instead of water. Divide into three greased/floured 7" pans. Bake at 350 degrees for 20 - 25 minutes, depending on the depth of the pan(s).
MAKE THE COCONUT PECAN FROSTING:
Heat the evaporated milk, sugar, butter, and egg yolks in a heavy 3-qt. saucepan (medium heat). Don't stop stirring! Cook about three or four minutes. You'll know you're at the right point when the butter melts and the sugar is fully dissolved. Now, brace yourself! Time for a workout! Keep cooking (stirring non-stop) for 12 to 14 minutes or until mixture becomes a light caramel color. It'll be bubbling and oh, so yummy looking! At this point it will reach a pudding-like thickness, which is perfection!
MAKE THE CHOCOLATE BUTTERCREAM:
Cream the butter until fluffy. Add cocoa powder and powdered sugar and whip until fluffy.
PUT THE CAKE TOGETHER:
Level your cooled cakes.
Put the first cake on a baking board, face up. Add a super thin layer of chocolate frosting then dump on a generous amount of the coconut pecan frosting.
Repeat the process with the second cake.
Top it with buttercream and add coconut pecan frosting and then add the third cake (face-down).
Use straws or dowels to secure the cake.
Finish off the cake with coconut pecan frosting, of course, but then go ahead and add some dollops of the chocolate buttercream. I put mine in a piping bag with a 1M tip. Easy breezy!
Store covered (but not refrigerated)

Notes
You can opt to add a bit of butter to the cake, as well as the oil. I would add 1/4 cup.