If you're trying to figure out how to tier a cake, you've come to the right place! Enjoy this step-by-step tutorial, everything you'll need from A to Z (or from bottom tier to top, which is how a cake is constructed).
In this post I'm going to give you my best tips and tricks to make the tiering process easier.
Before we dive into the process, take a look at some samples of tiered cakes I've done, and then I'll break down the process for you.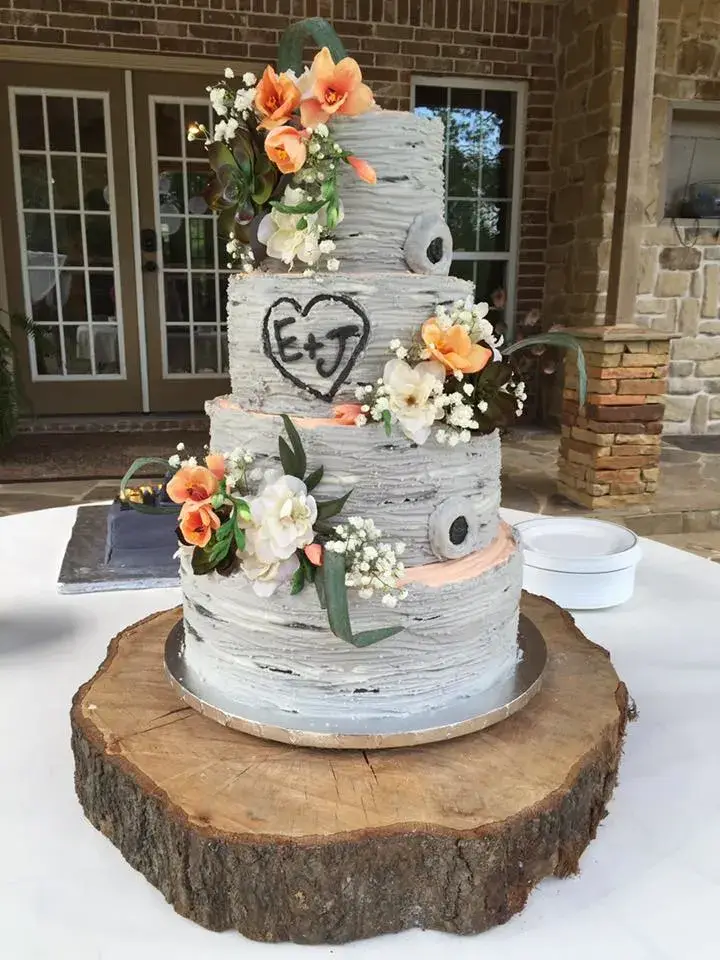 I've built tiered wedding cakes, birthday cakes, anniversary cakes, and baby shower cakes. They're versatile and fun!
Where Did Tiered Cakes Come From, Anyway?
According to Reader's Digest, it all started with a fella falling in love with the boss's daughter. Yep, you read that right! An aspiring baker (apprentice to a London baker) fell head over heels in love and tried to figure out a way to knock the socks off of his intended when he popped the question.
So, he set out to create an over-the-top cake that mimicked the spire of St. Bride's Church. Ah, love! If not for a fella wanting to impress a gal, we wouldn't have these beautiful tiered cakes today!
Tiers. . .or Layers?
Let's talk about that. The photos above are all "tiered" cakes, but what does that mean, exactly? There's been some confusion when it comes to "layers" and "tiers" so let's clarify. A cake tier is basically one section of a larger cake. Tiers are meant to be stacked upon each other. Each tier is comprised of multiple layers.
Layered cakes
Sometimes I make a simple layer cake like the ones pictured below. I'm a fan of 9-inch cakes.
Layered cakes usually don't require a cake board between the layers. Tiered cakes always do. (More on that in a minute.)
Let's Break it Down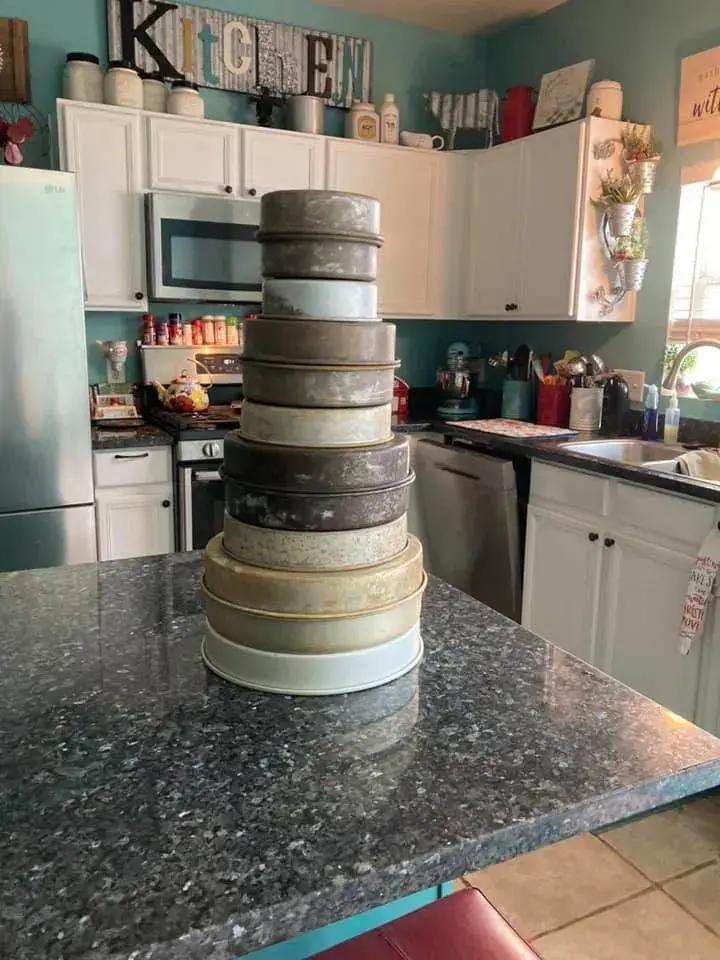 In the image above you see twelve of my (very worn) cake pans in four different sizes. Each individual pan represents a layer of cake. Each set of three represents a tier. The number of cake layers in a tier will vary, depending on preference and style. I've done as few as two and as many as four or five. (Talk about tall tiered cakes!)
In this instance, I chose three layers per tier.
Tiers Before Stacking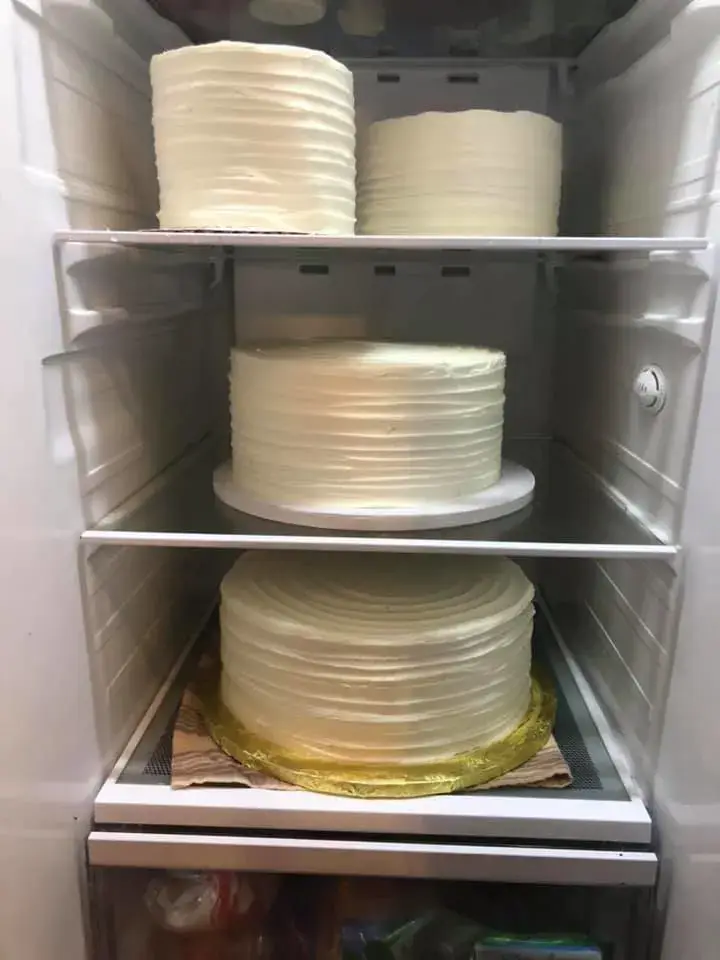 Remember those stacked pans you saw above? Well, this photo was taken later that same day after the layers of cake were baked. In this image they're chilling (literally) in the fridge before being stacked/tiered. There are three layers in each of those tiers.
What You're Looking At:
The base cake is a twelve-inch round cake.
The cake above it is a ten-inch round cake.
The cake above that is an eight-inch round cake.
The top tier is a six-inch round cake.
Want to see the Finished Product?
You'll notice that I do a lot of buttercream cakes! Fondant is fine, but I'm a buttercream girl!
It's Time to Break it Down
I'm going to cover the best ways to stack your layers and build your tiers.
I recently made a six-layered, two-tiered cake. Doing so gave me the perfect opportunity to show you, step-by-step, how I bake, layer, and tier my cakes. In this particular case, I was baking a very small cake (8″ round bottom tier, 5″ round top tier) for a friend.
The pans I chose:
Notice the other tools
The process of tiering a cake calls for a few tools, but they're easy to find. I used: Bubble Tea straws, offset spatula, (also called an angled spatula), cake board (cake round) with hole punched out, wooden dowels, cake leveler, turntable, and cake base/drum.
I started by baking my cakes. In this instance, I needed them to be in different colors. (I promise it will all make sense when you see the final product!)
Baking the Cakes
As we have already established, I often start with a boxed mix and this project was the same. However, I divided my (white cake) batter into three bowls and colored it, as you will see from the photos below.
I baked the cakes and cooled them before starting. Never work with warm cakes! It's a good rule of thumb to chill them before stacking.
Level Your Cakes
This is the most important step. Make sure you level your layer cakes before stacking and filling them. I use a Wilton cake leveler. If you don't have one, you can use a long serrated knife.
In this particular case, a couple of my 8″ rounds (the teal and purple) were pretty thin layers, so there wasn't much wiggle room on leveling. I did the best I could and you'll see in an upcoming photo of how I remedied the problem.
Build from the Bottom Up
I started with my 8″ rounds for my lower tier. Large cakes always go on bottom. The next tier (a 6-inch cake) is smaller.
I stacked and filled the layers of the bottom cake, placing the whole thing on a sturdy cake drum. (A drum is different from a cake board. It's thicker and can hold more weight). You might be wondering, "What size cake drum do I use?"
It's simple, really. You need a larger diameter cake base than the cake that's sitting on it. A good rule of thumb is to use a 12″ drum for a 10″ cake (and so on).
These first two photos will show you how I remedied the "not quite level" problem. I frosted the purple cake with my Dreamy Buttercream and then I piped a ring of sturdy frosting around the edge.
It's a gap-filler and will serve to hold the sprinkles in. You might opt to fill your cake with my Easy Cheesecake Mousse. It makes a terrific filling.
The Bottom Tier is Coming Together
It's as easy as 1-2-3! (In my case, purple, teal, and white!) Did you notice the top/white cake got flipped upside-down? The top of each tier has to be perfectly level and smooth, and this is how it's done!
But. . .
There are still two things left to do before I can move on. I've got to add the supports (the bubble tea straws) and then add the crumb coat. The lower tiers carry the weight of the upper ones.
Every cake has to have a firm foundation! (Some people use wooden dowels or regular plastic straw but these bubble straws are my absolute favorite!)
Let's start by talking about how many straws you'll need. That depends on the size of the cake above it. When I'm supporting a tiny cake (like a 5″ or 6″ round) I use three bubble tea straws beneath it.
You can imagine how many I would need on a huge bottom tier of a wedding cake!
(Pardon my baking project going on in the background! I was baking a 5-layer rectangular cake!)
About that Crumb Coat…
A crumb coat is a thin layer of frosting that holds the crumbs in. I used a bench scraper to scrape away the excess frosting on the sides of the cake as well as the top. (You don't want to add much!) Once this coat goes on, the bottom tier goes into the refrigerator to chill/set up.
Note: I usually use room temperature frosting for this process. If it's too cold, it can harden up on you.
Now It's Time to Tackle the Top Tier
Basically, I just repeated the process, stacking and filling all three layers, but you'll notice I'm building this tier on a board that is slightly bigger than the cake that's sitting on it.
(And you'll recall there's a hole punched in the middle of that board. Some people call these boards cake circles.) The hole in the center will prove to be very important momentarily!)
When the top tier was crumb coated, it went into the fridge.
Putting it All Together
This is a fun way to add color to a cake! I piped on some frosting, used a bench scraper to scrape it down, then used a small offset spatula (icing spatula) to add texture. I repeated this process on both tiers, then I trimmed off the excess board on the smaller cake. (You don't want it to show.)
Stacking
When you first start stacking your tiers, it's going to look messy. There will probably be a gap between the two tiers. You will fill that in with extra frosting. (Hint: it's easier if you put the frosting into a piping bag.)
It's Time to Add the Center Dowel
I always run a dowel down the center, top to bottom. That way, when you transport the cake, it won't fall over. (Remember that punched-out hole in the cake board? This is why you needed the hole!) Trim off the dowel so that it's just below the surface of the top of the cake. Patch with icing.
Decorate the Cake
At this point there was nothing left to do but decorate! When you see the finished product you'll understand why the inside cakes were the same shades: purple, teal, and white.
And There You Have it, Folks!
A two-tiered (six-layer) cake, complete with drum, cake board, bubble tea straws, and center dowel.
Oh, and for those who have been following my baking journey, this cake is a variation on another cake I recently did. See if you can spot the differences…
Storing a Tiered Cake
I always put my decorated cakes into the fridge to firm up before transport but that's because I use butter and cream cheese in my frostings.
Storing a tiered cake can be tricky, depending on the height of your refrigerator shelves and available space. I'm blessed to have a second fridge in my garage, just for cakes. But even then, I often have to separate the layers of the cake and stack them before (or after) delivery. (See photo below.)
Note: My three and four-tiered wedding cakes always get put together on-site.
If you are unable to box your cakes make absolutely sure there's nothing with a strong odor nearby in the refrigerator. Move onions and other pungent items far away, preferably in drawers.
Transporting a Tiered Cake
I covered the particulars of this in my Easy DIY Wedding Cake post, but here's the main thing: Due to the sheer weight of the cake you'll probably need to transport it in pieces and assemble on site. Sometimes I'll go ahead and tier the bottom of the cake (usually the bottom two tiers) but leave the top couple of tiers to be assembled when I arrive at the event.
Sure, you'll be tempted to stack the entire cake at home, but lifting a four-tiered cake? Not as easy as it looks! And trust me when I say that cake can topple, even when they're properly doweled.
Ask me how I know.
Want to See More?
If you like to stack things, check out my trifles, y'all! I make a mean Cookie Butter Trifle and my Mint Oreo Trifle made people swoon over the holidays! (I'm so crazy about trifles that I hosted a DIY Cupcake Trifles party!)
If you want to see other cakes I've layered, check out my Pretty in Pink Ombre Cake. (Bonus points if you can tell me if this one is layered or tiered. . .)
Here's another fun layered cake I recently made, my German Chocolate Cake.
And my favorite layered cake of all-time, the one I swoon over: my Italian Cream Cake.
If you're not into the whole "tiering" thing and want to go simple, check out these two cake posts: my Caramel Banana Cake and Apple Spice Skillet Cake.
For more pictures of tiered cakes, visit my Wedding Cake Gallery and my Baby Shower Cakes Gallery. I just love making tiered cakes, y'all! I've also got some tiered cakes in my Kids Cake Gallery you might enjoy.
I've also got a ton of cupcake recipes that don't require tiering, including my Cookie Butter Cupcakes, Carrot Cake Cupcakes and Butter Pecan Cupcakes.
Thanks for stopping by, y'all! I hope you learned a lot! After you've stacked your first tiered cake, let me know! I'm dying to see the pictures.
---
About the Author
Janice Thompson is an author, baker, and all-around mischief maker! She has overcome a host of baking catastrophes, including a toppled wedding cake, to learn more about the baking process. Janice has published over 150 books for the Christian market but particularly enjoys writing recipes and baking devotions. To learn more about Janice or to drop her a note, visit her About the Author page.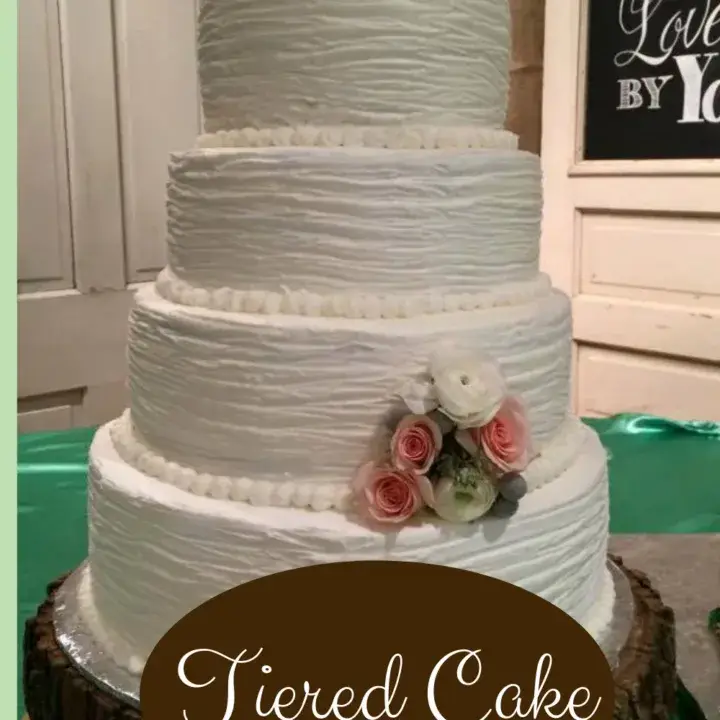 How to Tier a Cake
Learn how to tier your own cakes in this step-by-step tutorial from Out of the Box Baking!
Materials
EDIBLE:
6 individual layers of cake: 3 in one size, 3 in another
frosting
decoration of your choice
NON-EDIBLE:
dowels
bubble tea straws
cake drum
cake board
Tools
cake leveler
offset spatula
bench scraper
Instructions
bake cakes
level cakes
Place a layer of the larger cake on the drum
Frost the top of the cake only
Add a ring of frosting around the edge to hold in the filling
Fill with sprinkles or filling of your choice.
Add another cake (same size) on top
Repeat frosting/ring/filling
Flip top cake upside-down over the other two.
Add bubble tea straws to support cake that will go above this one. Cut them flush with the top of the cake.
Crumb coat and chill
Repeat the process for the smaller cake, putting it on a cake board that is slightly larger than the cake. (Wilton boards have a punch-out hole in the middle, which is recommended.) You might choose to add one or two bubble tea straws if the cake threatens to topple while decorating. (Sometimes the smaller cakes are a little wobbly.) Chill top cake.
It's time to stack the two tiers. Trim off the excess board from the top cake and set on top of the bottom cake. Fill the gap between the two cakes with icing. Run a dowel down the center of the cake, top to bottom. Trim off the excess just below the surface and fill any holes with icing.
Decorate your cake!
Chill and serve!