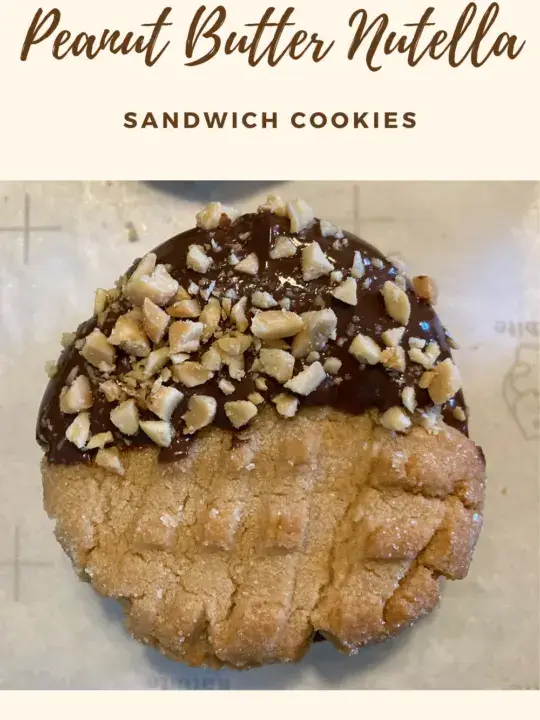 Peanut butter and chocolate were just meant to go together, which is why these Peanut Butter Nutella Sandwich Cookies really hit the spot.
I've always loved my Peanut Butter Cookies. I sang their praises in a recent post where I made a bold claim, stating that they were perfect.
And y'all. . .they are! They're light, fluffy, and have just enough of that peanut-buttery sweetness to make you feel like you're floating on air. (No, really! They're that light and sweet.)
I gave you my peanut butter cookie recipe in that post but will repeat it here, along with tips for how to "fancy it up" (as we say here in the south) with just one additional step at the end. And just wait till you see how easy this is!
Before we get to all of that, though. . .
Let's Pause for a Moment to Appreciate the Humble Peanut.
Some folks think that peanuts aren't as heart-healthy as (say) almonds or walnuts. But, guess what? They have a lot of the same nutritional value. They're tiny. They're crunchy. They're loaded with protein, fiber, and fat. Peanuts are low-glycemic and healthy for people with diabetes. Because they're packed with protein, they help fill you up and keep you from gobbling down not-so-great foods. Yes, my friends, the humble peanut is loaded with nutrients. (I pause to suggest that those who are allergic to peanuts should skip to a different recipe, say, my Heavenly Snickerdoodles.) But for those of you who can eat peanuts, keep reading!
A Nut is a Nut. . .or Is It?
Even though people think peanuts are nuts, they're technically categorized as legumes. And they are wonderful in combination with other flavors, like. . .(drum roll) chocolate!
We Pause for a Moment to Honor Chocolate.
Okay, that's done. Most of us love the stuff. And if you've ever had a Reese's peanut butter cup you know that the combination of peanut butter and chocolate has been around for ages. But I decided those two weren't enough for this cookie. I wanted to stuff my peanut butter sandwich with something more than plain chocolate. So I went for. . .
Nutella.
It's going to take a longer pause for this one, folks. Nutella is a chocolate-hazelnut spread that has won the hearts of millions, (and for good reason). My mama used to eat it by the spoonful. It's good all by itself or in combination with other things, like a variety of fruits. Some folks use it to frost their cakes. (Yum. It's just occurring to me that I could add it to my Easy Cheesecake Mousse recipe and build a trifle around it!)
I Needed Something More.
During my Christmas bake-a-thon I dipped a lot of my goodies in chocolate. So, I decided my Peanut Butter Nutella cookies needed one more thing: a skinny dip.
What's a Skinny Dip?
That's what I call it when I half-dip my cookies or other sweet treats. A little hardened chocolate goes a long, long way. And skinny dipping is fun! (No, really.) It's easy and not at all messy, like a full dip in chocolate. It adds additional flavor but also serves a different purpose: as it hardens, it holds the sandwich together. (It's a chocolate baggie!)
So, enough chatter. Let's bake some Peanut Butter Nutella Sandwich cookies! They're really easy and won't take much time. Here's what you'll need to make a big batch. (This should make about 60 mini cookies, so a total of 30 sandwiches.)
COOKIE INGREDIENTS:
1/2 cup butter
1/2 cup shortening
1 cup packed brown sugar
1 cup granulated sugar
2 eggs
2 cups peanut butter (creamy)
1/2 tsp salt
1 tsp baking soda
1 tsp vanilla
2 1/2 – 3 cups all-purpose flour
COOKIE FILLING:
One jar of Nutella (I used generic)
COOKIE DIP:
1 heaping cup semi-sweet chocolate chips
1 tbl coconut oil
COOKIE TOPPING:
How to Make Perfect Peanut Butter Nutella Cookies.
Cream butter, shortening, and peanut butter until light and fluffy.
Add sugars and continue to beat until light in color. Mix in the eggs and vanilla and beat until light and airy.
In a separate bowl, sift together the baking soda, salt, and flour. Slowly work the dry ingredients into the wet until you have the perfect consistency. Start with 2 1/2 cups of flour and only add more if the dough isn't firm enough.
Chill dough for half an hour.
Scoop into balls and roll in sugar. It's important to use your smallest scoop for this. Trust me when I say you don't want to go big with sandwich cookies. A little goes a long way! (I used my new tiny scoop from Pampered Chef.)
I use Nordic Ware pans, along with the perfect parchment sheets that are pre-cut to fit the half-sheet perfectly!
Use a fork to make criss-cross indentations. (The sugar makes this process easier!)
Bake on parchment paper covered cookie sheet at 375 degrees for 11 minutes or until golden.
Cool completely! (This is critical)
When they are completely cooled, flip half of the cookies upside-down.
Use the same small scoop to add Nutella to the bottoms of those cookies.
Sandwich the remaining cookies to the top.
Add the chocolate chips and coconut oil to a small microwave safe bowl and microwave in 30-second increments until melted. Stir every 30 seconds. (It took me one and a half minutes). Stir out all lumps. Make sure you're working with a small bowl here because you want the chocolate to be as deep as possible for dipping.
Skinny dip your cookies! (See photo)
Right away, add chopped peanuts to decorate. As the chocolate hardens the peanuts will adhere.
Allow to fully cool/set before serving. (I put mine in the refrigerator for half an hour to set up.)
OTHER VARIATIONS:
There are a ton of combinations for skinny dipping peanut butter cookies. Instead of using semi-sweet chocolate chips you might try:
Butterscotch Chips
Peanut Butter Chips
White Chocolate Chips
Melted Nutella
It would also be fun to stuff the cookies with the following, in place of Nutella:
Peanut Butter Buttercream
Chocolate Buttercream
Q&A TIME!
QUESTION: Do these cookies have to be refrigerated?
ANSWER: No, but it's fine to refrigerate them as long as you cover them tightly first. They'll do fine in the refrigerator for about a week. (Remember not to eat them straight out of the refrigerator though, because the chocolate will be too hard to bite into.) You can keep them longer in the freezer.
QUESTION: I don't have any peanuts on hand. What else can I use to decorate?
ANSWER: Sprinkles will work and so will mini chocolate chips.
I sure hope you enjoy these skinny-dipped cookies, y'all. You can dip just about anything in chocolate, so if you have any left over, look for marshmallows, pretzels, fruit, or other types of cookies. And, if you liked this cookie recipe, why not try my Double Mint Chocolate cookies? They're a real crowd pleaser!
Follow this link for a comprehensive post listing more of my fall cookies and bars, perfect for autumn!
One more thing…
Check out Full Plate Thursday over at Miz Helen's!
---
About the Author
Janice Thompson is an author, baker, and all-around mischief maker! She has overcome a host of baking catastrophes, including a toppled wedding cake, to learn more about the baking process. Janice has published over 150 books for the Christian market but particularly enjoys writing recipes and baking devotions. To learn more about Janice or to drop her a note, visit her About the Author page.
Peanut Butter Nutella Sandwich Cookies
Additional Time:
15 minutes
Light, fluffy peanut butter cookies sandwiched with Nutella, then skinny-dipped in semi-sweet chocolate and covered in chopped peanuts? Yes, please!
Ingredients
COOKIE INGREDIENTS:
1/2 cup butte
1/2 cup shortening
1 cup packed brown sugar
1 cup granulated sugar
2 eggs
2 cups peanut butter (creamy)
1/2 tsp salt
1 tsp baking soda
1 tsp vanilla
2 1/2 – 3 cups all-purpose flour
COOKIE FILLING:
One jar of Nutella (I used generic)
COOKIE DIP:
1 heaping cup semi-sweet chocolate chips
1 tbl coconut oil
COOKIE TOPPING:
1/4 cup chopped peanuts
Instructions
How to Make Perfect Peanut Butter Nutella Cookies.
Cream butter, shortening, and peanut butter until light and fluffy.

Add sugars and continue to beat until light in color. Mix in the eggs and vanilla and beat until light and airy.

In a separate bowl, sift together the baking soda, salt, and flour. Slowly work the dry ingredients into the wet until you have the perfect consistency. Start with 2 1/2 cups of flour and only add more if the dough isn't firm enough.

Chill dough for half an hour.

Scoop into balls and roll in sugar. It's important to use your smallest scoop for this. Trust me when I say you don't want to go big with sandwich cookies. A little goes a long way! (I used my new tiny scoop from Pampered Chef.)

Bake on a parchment paper covered cookie sheet at 375 degrees for 11 minutes or until golden.

Cool completely! (This is critical)
When they are completely cooled, flip half of the cookies upside-down.
Use the same small scoop to add Nutella to the bottoms of those cookies.
Sandwich the remaining cookies to the top.

Add the chocolate chips and coconut oil to a small microwave safe bowl and microwave in 30-second increments until melted. Stir every 30 seconds. (It took me one and a half minutes). Stir out all lumps. Make sure you're working with a small bowl here because you want the chocolate to be as deep as possible for dipping.

Skinny dip your cookies! (Dip only half of it into melted chocolate.)
Right away, add chopped peanuts to decorate. As the chocolate hardens the peanuts will adhere.

Allow to full cool/set before serving. (I put mine in the refrigerator for half an hour to set up.)