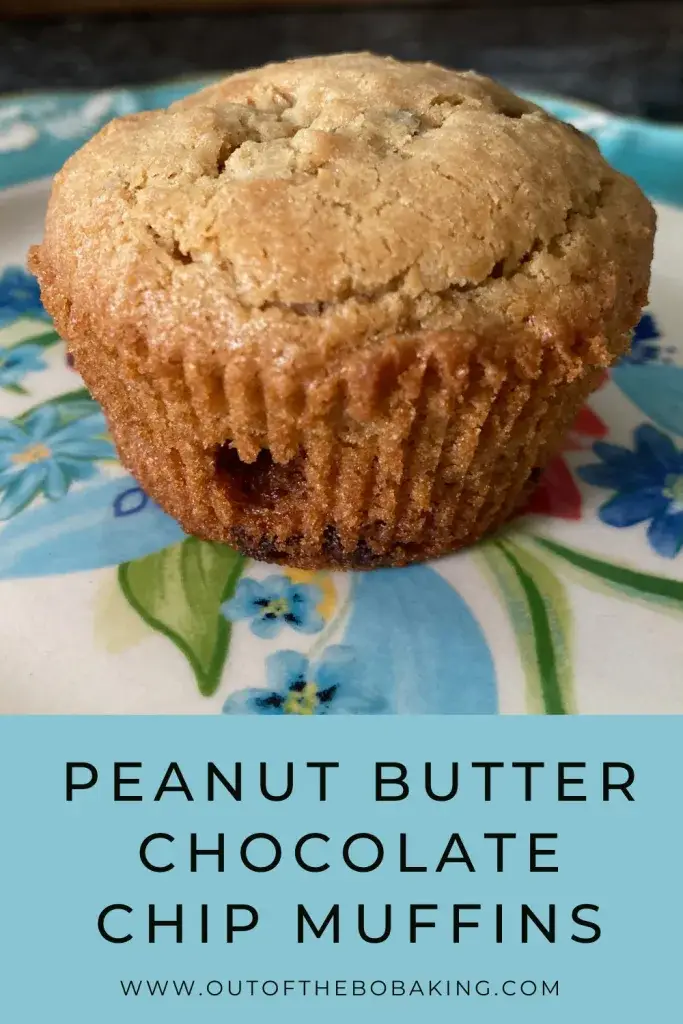 These Peanut Butter Chocolate Chip Muffins are sweet, tasty, and rich with protein. Best of all, they're easy to make. You've probably got the ingredients in your pantry right now.
How I Came up with This Muffin Recipe
It started so innocently. I wanted to turn my Banana Chocolate Chip Muffin recipe into a Peanut Butter Chocolate Chip Muffin recipe. I thought it would be a simple matter of switching out the mushy bananas for peanut butter.
Wrong.
I forgot about the science behind baking. Bananas have a high ratio of liquid. Peanut butter? It's dense, and loaded with fat/oil, which has a tendency to weigh things down. Would this idea even work? Not without adding more liquid to the recipe.
I decided to make a couple of tweaks to my original recipe. Here's what I came up with.
Peanut Butter Chocolate Chip Muffin Ingredients:
You'll find a complete printable recipe at the bottom of this post, but here's what you're going to need to make these delicious muffins. No doubt you've already got most of these things on hand. (Note: Not all items made it into the photo.)
salted butter, room temperature
vegetable oil
granulated sugar
large eggs
milk
vanilla extract
peanut butter
baking soda
all-purpose flour
chocolate chips
How to make these amazing peanut butter muffins:
These came together so easily and I was thrilled with the outcome. I know you will be, too. And they're so easy to make. Here's what you do:
First, start by creaming the butter, oil, and peanut butter.
Next, add the sugar, vanilla, eggs, and extract.
Mix the dry ingredients in a separate bowl and whisk together
Fold dry ingredients into the wet batter and mix until incorporate.
Finally, toss your chocolate chips in a tablespoon of flour and add them to your batter.
Scoop batter into greased muffin tins.
Bake at 375 for 18 minutes.
I confess, I didn't wait until they were completely cool to eat one. If you're like I am, you love peanut butter-themed baked goods warm.
This muffin really hit the spot!
The gooey chocolate, the warm peanut butter. . .yum! It was absolutely delightful.
So delightful that I decided I'd better give the rest of them away so that I didn't swallow them down, myself! As luck would have it, my grandson and his cousins stopped by unexpectedly while on a bike ride through the neighborhood. I gave them a full bag of peanut butter muffins to take home. I later heard that they absolutely loved them!
Variations of Peanut Butter Muffins
Add peanut butter chips, as well as chocolate chips.
Add chunks of chocolate as opposed to standard chips.
Turn them into cupcakes by adding a little more milk to the recipe. Bake in liners and top with my Chocolate Ganache Frosting.
Add chopped peanuts for added crunch.
Skip the chocolate chips. Add maple and bacon to your peanut butter muffins.
Stuff the muffins with chocolate cheesecake mousse and then swirl some on top.
Other Peanut Butter Treats
I'm crazy about peanut butter. Maybe you saw my Perfect Peanut Butter Cookies recipe. (I'm not even kidding, y'all. It's pretty near perfect!)
I took my peanut butter cookies up a notch with my Peanut Butter Nutella Sandwich Cookies. They're loaded with protein and a hazelnut twist.
I've got a recipe for some yummy Peanut Butter Pretzel cookies. They add a salty element that's perfect with the peanut butter.
I mentioned my cheesecake mousse above. Why not do a peanut butter version?
These Bailey's Cream Cheese and Chocolate Muffins from Food.com have a cheese filling. They look really tasty.
---
About the Author
Janice Thompson is an author, baker, and all-around mischief maker! She has overcome a host of baking catastrophes, including a toppled wedding cake, to learn more about the baking process. Janice has published over 150 books for the Christian market but particularly enjoys writing recipes and baking devotions. To learn more about Janice or to drop her a note, visit her About the Author page.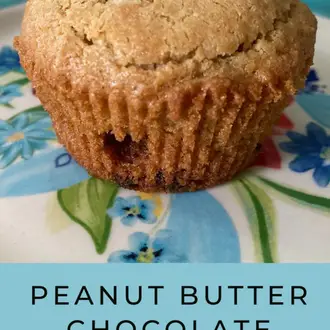 Peanut Butter Chocolate Chip Muffins
Ingredients
PEANUT BUTTER MUFFINS
1/2 cup (1 stick) salted butter, room temperature
1/2 cup oil
1/2 cup milk
3/4 cup granulated sugar
2 large eggs
vanilla extract
1 cup peanut butter
1 tsp baking soda
1 1/2 cups all-purpose flour
1/2 cup milk chocolate chips
1/2 cup semi-sweet chocolate chips
Bake at 375 for 18 minutes.
Instructions
Cream butter and peanut butter
Add sugar, vanilla, and eggs.
Beat until incorporated.
Add oil and milk. Continue to mix until incorporated.
In separate bowl whisk together flour and baking soda.
Slowly incorporate flour mixture into batter
Fold in chocolate chips.
Scoop into cupcake liners
Bake at 375 for 18 minutes.
Remove and cool.