Wondering what to bake this Christmas season? Bundt cakes are the answer! They're easy to bake, easy to transport, and (best of all) easy to slice and serve! If you're looking for some tasty holiday recipes we've definitely got you covered!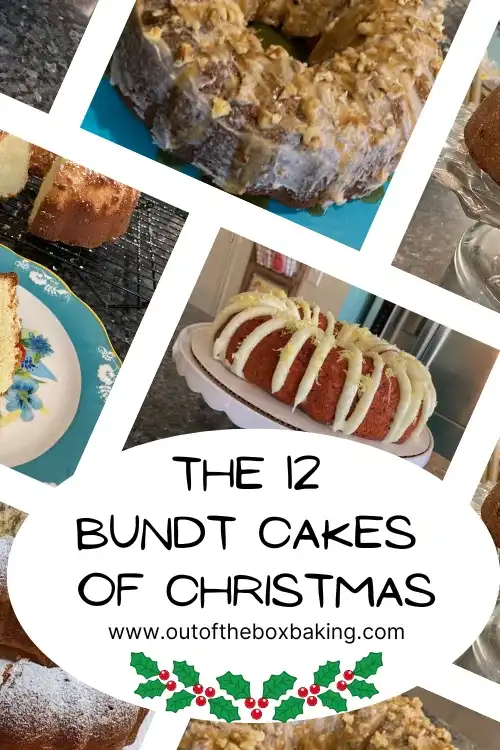 Who Popularized Bundt Cakes?
I decided to do a little digging to figure out who started this whole "bundt" tradition. After all, most cakes are baked in 8″ rounds or 9 x 13-in baking pans. Who came up with the idea of shaping a cake into an oversized donut?
I stumbled across this information at Wikipedia:
A Bundt cake is a cake that is baked in a Bundt pan, shaping it into a distinctive doughnut shape. The shape is inspired by a traditional European cake known as Gugelhupf, but Bundt cakes are not generally associated with any single recipe. The style of mold in North America was popularized in the 1950s and 1960s, after cookware manufacturer Nordic Ware trademarked the name "Bundt" and began producing Bundt pans from cast aluminum. Publicity from Pillsbury saw the cakes gain widespread popularity.
So, that explains it! A little more research revealed that these types of ring molds actually date back to medieval Austria! Wow!
I have a traditional round bundt pan as well as a heart-shaped one, which I just purchased last month. I'm in love with both of them and plan to bake a lot of Bundts this Christmas season!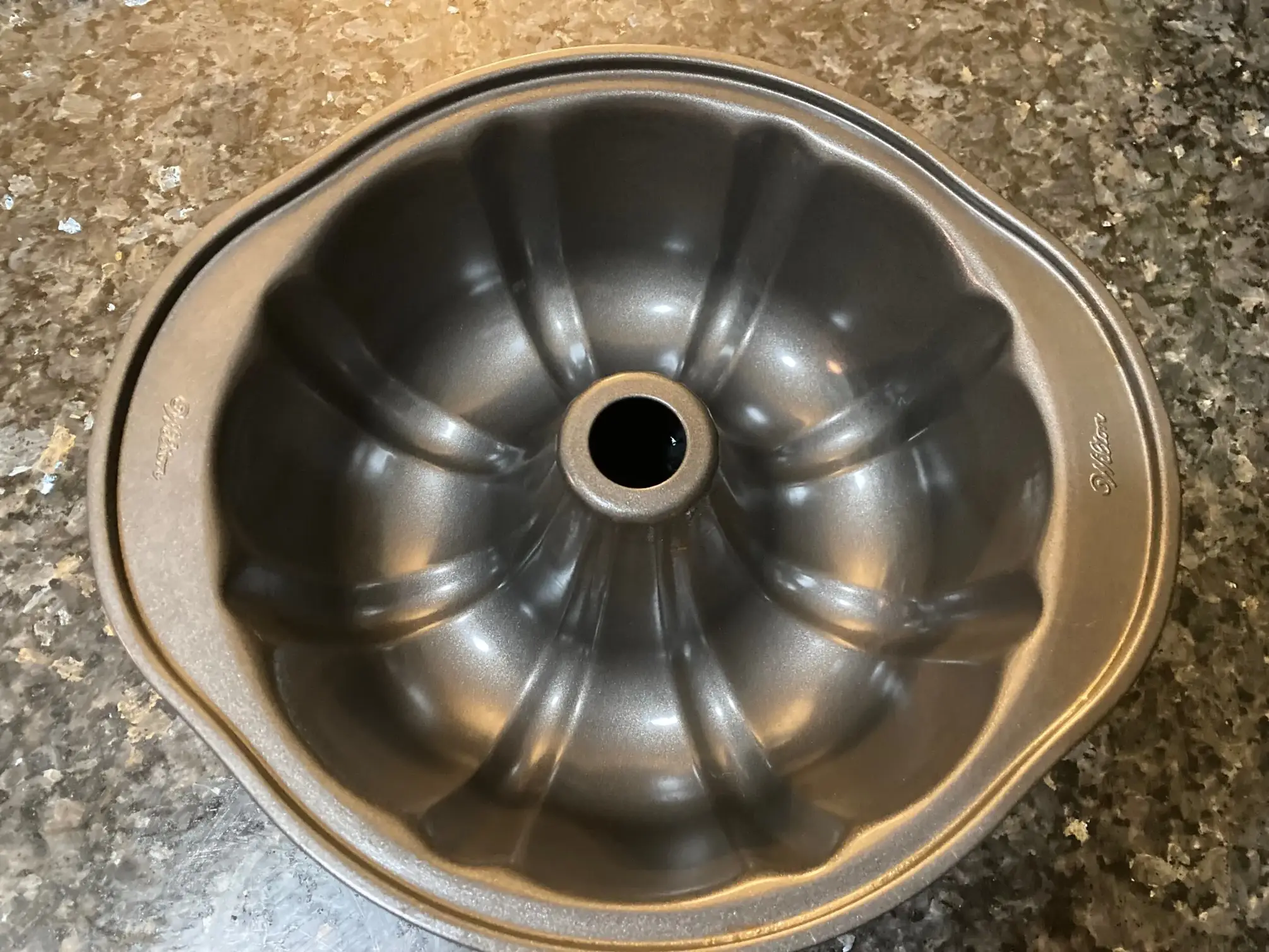 What Famous Movie Featured a Bundt Cake?
I can't mention bundt cakes without being reminded of that infamous scene in My Big Fat Greek Wedding where the groom-to-be's mother shows up at the engagement party with a bundt cake in hand. The mother of the bride is confused (having never seen one before). She thinks it's broken, so she decides to "fix" it.
If you haven't seen this hysterical movie scene you're going to want to follow this link and watch it immediately.
I still laugh every time.
Why Should I use a Bundt Pan?
I've developed an addiction to my handy dandy round bundt pan over the past year. Weird, since I rarely used one in years past. But I have come to realize (better late than never) that bundt cakes are among the easiest cakes to make!
Instead of prepping multiple pans, instead of worrying about filling between layers, the bundt pan lessens the workload! Everything in one pan? Yes, please! And guess what? Nearly any cake you can make in a round pan can be made in a bundt, (with only a few exceptions).
Bundt cakes are particularly handy during the holidays. If you're baking for a Thanksgiving or Christmas crowd you'll want something that's easy to transport and simple to serve.
I particularly love slicing up bundt cakes because the slices are uniform. (Contrast this with one of my multi-tiered cakes. They're complicated to transport and to cut!)
If you really want to get creative, you can decorate any flavor of Bundt cake with holly berries and leaves. Any cake can be a Christmas cake!
How do I Bake in a Bundt Pan?
There are a couple of things you'll need to know if you're baking in a bundt pan. You cake will take a little longer to bake. I usually increase my bake time by at least five minutes, maybe more (depending on what you're making).
Fruit-based bundt cakes (like the caramel banana cake or my banana bread with mayonnaise) will require even more time than that.
You'll want to bake a bundt cake in the center of the oven. Not on the top rack. Not on the bottom rack. Place it on a center rack in the middle.
I usually bake my bundt cakes at 350 degrees but you can always lower the temperature down to 325 and bake your cake low and slow. Just make sure the cake pulls away from the edges of the pan and a toothpick comes out clean.
How do I Release a Bundt Cake from the Pan?
Speaking of the edges of the pan, let's talk for a moment about the "release" process of a bundt cake. This is where many bakers go wrong. You'll want to evenly coat your pan's interior with nonstick spray before adding the batter. Even you miss even the smallest spot, the cake will probably refuse to release.
I've tried to use oil instead of baking spray. . .and regretted it. Truly, the best option is a proper baking spray. And remember to allow your bundt pan to cool completely before you try to flip it over. Otherwise you're bound to have a catastrophe.
One more thing: Once the pan is flipped, allow the cake to release naturally. (Before you flip it you might choose to run a butter knife around the edges of the cake to make sure it's going to release without trouble.)
And Now. . .The 12 Bundt Cakes of Christmas!
Enough chit-chat about the hows and whys of bundting. (Is that a word?)
It's time to take a peek at some of my favorite bundt cake recipes. I've spent the past nine months coming up with these yummy recipes and can I just say. . .they're not just good at Christmastime.
You don't need to save them for the holidays. You can eat any or all of these year 'round!
Ready to bake? Great! Read a description of the cakes and follow the links to the recipe posts!
Pumpkin spice and everything nice! This is the ideal cake for the holidays. Whether you're baking for Thanksgiving or Christmas, the rich, pungent scents and flavors of pumpkin spice will win over your guests every time.
You're going to want to follow this link for the full recipe for this luscious pumpkin spice bundt cake!
Thanks to my sister-in-law, who passed down this recipe from her grandmother, Moggie, I have the absolute best pound cake recipe out there. I'm not even exaggerating.
And what better time of year to share a delicious butter-ladened pound cake than Christmas? To give this one more of a holiday flare, consider an eggnog glaze. Follow this link for my Old-Fashioned Pound Cake recipe!
If you love the warm flavors of cinnamon, nutmeg, and allspice but you also love the nutty, fruity texture of a fruitcake, you're going to love this recipe. It's the perfect blend of two favorites. And best of all, it starts with a box of cake mix!
Warm, buttery, caramelly, sweet. . .and loaded with rich banana flavor. This Caramel Banana Cake is Christmas in a bundt pan!
The flavors are exactly what you hope for during the holidays. . .and year 'round! You're going to want to make this decadent cake again and again. Follow this link for my luscious Caramel Banana Cake recipe!
This rich cake is brimming with browned butter, toasted walnuts, and vanilla extract. I'm not kidding when I say it will make you swoon.
The addition of sour cream makes it sturdy and moist and the milk adds a terrific texture and taste. The brown butter maple glaze on top? Well, it's not just perfect for Christmas, it's the (literal) icing on the cake! Follow this link for my Brown Butter Walnut Cake recipe!
If you're from the south you've likely eaten a traditional Hummingbird cake, loaded with bananas and pineapple. In my holiday version I substituted cranberries for some of the fruit. It's got a sweet but tart flavor, perfect for Christmas! (And you don't have to live in the south to appreciate it.)
You're going to want to follow this link for my Cranberry Hummingbird Cake recipe, y'all.
This one is baked in a tube pan, but you can use a bundt if you like. It's a light angel food cake (one that starts with a boxed mix). But this version has a lovely pink color and peppermint flavor. There's a rich chocolate drizzle on top.
Talk about perfect for the holiday season! You'll need to follow this link for my Pink Peppermint Angel Food Cake.
If you love a terrific German Chocolate cake but the idea of making one from scratch sounds overwhelming, do I have the perfect recipe for you! Get the recipe for this lucious cake today!
This Easy Banana Berry Cake is light, fluffy, and filled with the creaminess of bananas and tartness of raspberries. The addition of the luscious cream cheese drip sends it over the edge, to a whole new place!
Best of all, this recipe starts with a boxed cake mix! And guess what? It's going to be great as a dessert at your next holiday event! Follow this link to get the recipe for my Easy Banana Berry Cake!
If you love a good pound cake but want the addition of sweet, tart pineapple, this is the recipe for you. I made this one for a 4th of July event but it's just as easily served during the holidays.
These fresh fruity flavors are perfect year 'round! Follow this link to get the recipe for my Pineapple Pound Cake with Berries!
Coconut cake during the holidays? Yes, please! This one is infused with coconut and the luscious flavor of pineapple.
To get this recipe, follow this link to my Easy Pineapple Coconut Cake.
This one's not technically a cake but it's made in a bundt pan and you're definitely going to want to serve this on Christmas morning. Rich, caramelly, and loaded with cinnamon, this pull-apart Monkey Bread is absolutely luscious!
I made this one in my new heart-shaped bundt pan. Isn't it pretty?!
Follow this link to get the recipe for my Monkey Bread recipe!
That's it for this recipe round-up, y'all! Let me know in the comments which bundt cake you decide to make this holiday season!
---
About the Author
Janice Thompson is an author, baker, and all-around mischief maker! She has overcome a host of baking catastrophes, including a toppled wedding cake, to learn more about the baking process. Janice has published over 150 books for the Christian market but particularly enjoys writing recipes and baking devotions. To learn more about Janice or to drop her a note, visit her About the Author page.