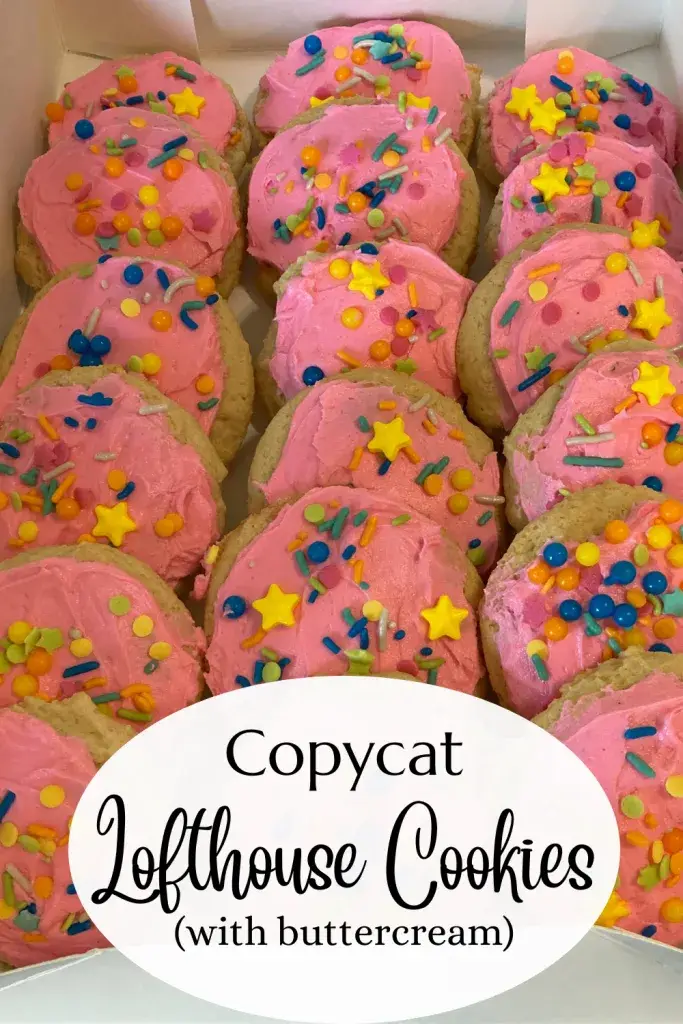 You've seen those cookies in the store–the soft cake-like sugar cookies with a lovely spread of buttercream on top. You've tasted them, and they're really delicious. You wish you could make Lofthouse Cookies at home. Now you can!
I've been on a quest to find just the right recipe for Lofthouse cookies for years. Literally, years. Today I decided to try again. I took a recipe I found online and (as I often do) tweaked it. I knew that the cookie needed to have a cake-like quality and that the buttercream should probably have a teensy-tiny splash of lemon. So, I put together a plan.
What is a Lofthouse Cookie?
On the surface a lofthouse cookie looks like a simple iced sugar cookie but it's different, not just in texture, but flavor.
This yummy cookie has a secret ingredient that adds a layer of flavor: sour cream. It's hard to pinpoint the difference the sour cream makes but it's got a bit of a twang. And if you add a splash of lemon to the buttercream, as I did, then the overall experience is perfection!
Lofthouse cookies are also different from sugar cookies in texture. If you break one open, you'll almost think you're looking at a little cake.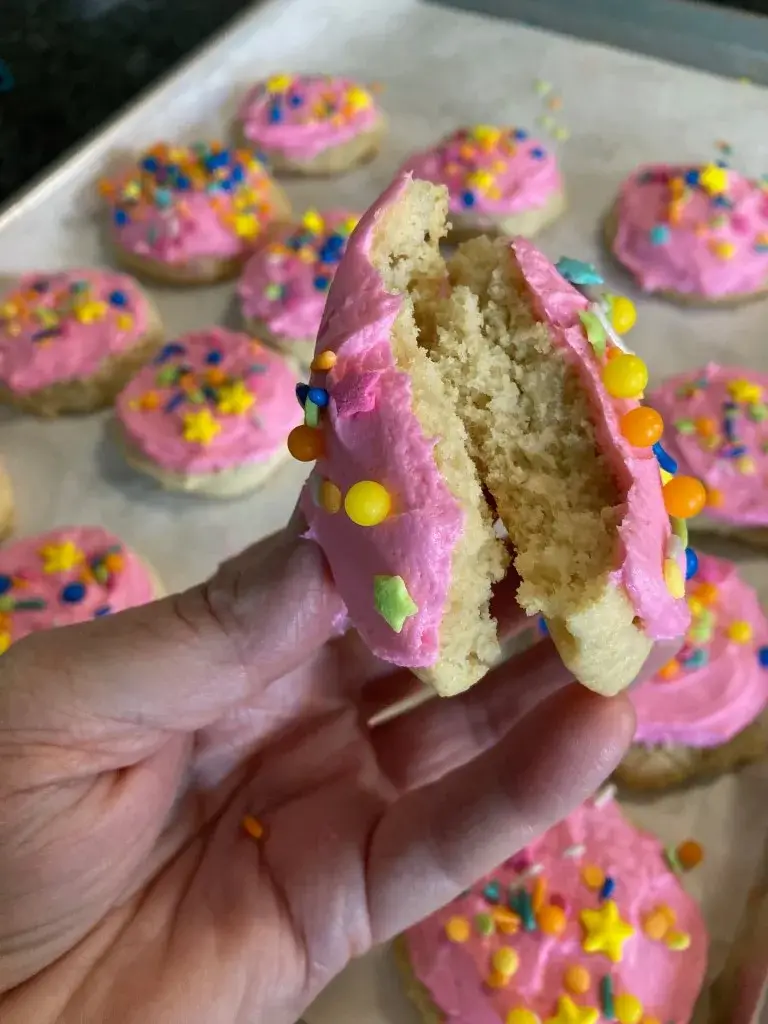 Maybe this is why these cookies sell like crazy at big box stores like WalMart and Target. People can't get enough of them.
I used to buy these to take to parties. Now I'm excited to know that I can make them. And best of all, they're so easy! They came together in no time at all!
The History of Lofthouse Cookies
This story begins with a family in Ogden Utah. Husband and wife DeAnn and David Stone were the parents of six children when they decided to bake and sell cookies. Here's a quote from DeAnn about their journey:
"I was doing day care in our home at the time, and David said, 'You need to quit day care and start answering the phones and put QuickBooks on the computer,' " said DeAnn Stone, adding that they had six children when the company launched.
"He would make cookies all night, and I would get up early and get the kids to school," she said.
Before long they were selling cookies to grocery store retail chains and other big box stores. Now, twenty-plus years later, their factory produces two million cookies a day. (Wow!)
You can find out more about their story in this article, Pink Cookies Bring Dough to Utah Family.
INGREDIENTS
Let's Bake Some Lofthouse Cookies, Y'all!
Wondering what you'll need to make these sweet treats? You've probably got most of these ingredients in your pantry or refrigerator right now! You'll find a full printable recipe card at the bottom of this post but here's a quick glance at the ingredients you're going to use:
FOR THE COOKIES:
salted room temperature butter
sugar
sour cream
egg (room temperature)
vanilla extract
all purpose flour
baking soda
FOR THE FROSTING:
butter
powdered sugar
milk
lemon extract
coloring gel
sprinkles
See how simple these ingredients are? And this recipe comes together so quickly! You're going to love making these.
How to Make Lofthouse Cookies:
Start by preheating your oven to 375 degrees.
Prepare your cookie sheets with parchment paper. This recipe will make 24 medium-sized cookies so two baking sheets will do!
Put your room temperature butter and vanilla extract into a mixing bowl. Cream butter until light and fluffy at medium-high speed. Use an electric mixer or a stand mixer with the paddle attachment. (That was my choice.)
Add the sour cream and egg. Mix until fully incorporated. At this point it's going to look more like soupy batter than dough, but that's okay!
In a separate bowl combine baking soda and flour. (Note: some recipes call for baking powder as well as soda, in the same amount. I only used baking soda.) Add dry ingredients to wet ingredients and mix at low speed until fully incorporated but don't over mix!
Use a cookie scoop to place dough balls on your prepared baking sheets. Scrape down the edges of your bowl with a rubber spatula so you don't miss any!
Place cookie sheets in the refrigerator for 10 minutes to chill.
When you remove from the refrigerator, use the bottom of a glass to press down your chilled dough. (I omitted this step on the first go-round and regretted it! They really need to be flattened before baking.)
Place in preheated oven and bake at 350 degrees for 10 minutes or until lightly golden on bottom. (Note: you do no want these cookies to brown. They need to be light in color and airy!)
Remove from heat and place cookie sheet on wire cooling rack. (Full disclosure: the tray in the picture below is the one that I forgot to flatten the dough balls. That's why they look a little rough but when I iced them they looked fine!)
How to Make the Buttercream
While the cookie are cooling make the buttercream. Place your room temperature butter in a mixing bowl and whip until light and fluffy. Add powdered sugar and continue to mix until fully incorporated.
Add lemon extract. Thin down with milk or heavy cream, if needed. Add a dot of food coloring. I went with pink (traditional Lofthouse color) but you can use any color you like!
Scrape down the sides of the bowl! Look at the difference between the photo on the left and the one on the right! Those two pictures were taken about 30 seconds apart!
How to Decorate Lofthouse Cookies
Make sure cookies are completely cooled before adding the buttercream. I used a small offset spatula to add this sweet frosting but you can use whatever you like. A butter knife will work. So will a small spoon.
Add sprinkles before the buttercream crusts. You can avoid a mess by placing a wire rack over a cookie sheet to catch the excess sprinkles.
Allow the buttercream to crust before storing in airtight container. This airy cake-like cookie does not need to be refrigerated. They will stay fresh for 3 days if properly sealed.
What to Expect from These Cookies
I'm so happy to finally have a recipe that comes so close to the original! This soft cookie is light, fluffy, pillowy, and have that same slightly tart "bite" that I love in the originals.
The crunch of the sprinkles was just the perfect complement to the creamy buttercream on top of the soft, delicious cookies.
Next time I plan to double the recipe so I have plenty to take to the grandkids. They're going to adore these!
Variations on these Lofthouse Cookies
Honestly? These are pretty much perfect as they are! Not every copycat recipe works, but this one does! The homemade version of the old classic is amazing!
I'm not sure I would (personally) change anything next time. You might, though, so I'm going to offer a few options:
Add some sprinkles to the dough. Your kiddos will love the light, soft sprinkle cookies with buttercream.
Use the roll-out method with a circle cookie cutter. Chill your dough for a full hour before trying to roll out. It's a soft dough so you'll need to flour your surface before rolling (as well as your rolling pin).
If you choose the roll-out method: Use royal icing instead of buttercream. These are pretty soft cookies so you'll have to handle them gingerly, but you could still use royal icing to decorate.
Skip the lemon extract and go with almond extract. This would make a lovely little almond cookie!
These would be great for Valentine's Day. Ice in red buttercream and add pink and white sprinkles.
I thought about making these with cake flour. (Talk about light and fluffy!)
Use a cream cheese frosting for an additional bit of tartness! (Yum. Wish I'd thought of this sooner.) If you choose this option you'll have to store the cookies in the refrigerator. Bring to room temperature before serving.
Other cookies you might want to try:
This cookie recipe is very much like the original lofthouse cookie recipe. I think it's perfect! But, if you're not in the mood for sugar cookies, don't fret! You'll love some of the other cookie offerings on this site.
That's it for now, friends! Please let me know what you think of these amazing little pillowy Lofthouse cookies!
---
About the Author
Janice Thompson is an author, baker, and all-around mischief maker! She has overcome a host of baking catastrophes, including a toppled wedding cake, to learn more about the baking process. Janice has published over 150 books for the Christian market but particularly enjoys writing recipes and baking devotions. To learn more about Janice or to drop her a note, visit her About the Author page.
Copycat Lofthouse Cookies (with buttercream)
Additional Time:
10 minutes
You've seen those cookies in the store--the soft cake-like sugar cookies with a lovely spread of buttercream on top. You've tasted them, and they're really delicious. You wish you could make Lofthouse Cookies at home. Now you can!
Ingredients
FOR THE COOKIES:
1/2 cup salted room temperature butter
1 cup sugar
1/2 cup sour cream
1 large egg (room temperature)
1 teaspoon vanilla extract
2 3/4 cups flour
1 teaspoon baking soda
(If you only have unsalted butter, that fine! Just add a pinch of salt to the recipe!)
FOR THE FROSTING:
1/2 cup room temperature butter
3-4 cups powdered sugar
1 tablespoon milk or heavy cream (if needed, to thin)
1/2 teaspoon lemon extract
1 dot pink coloring gel
sprinkles
Instructions
How to Make Lofthouse Cookies: Start by preheating your oven to 375 degrees.
Prepare your cookie sheets with parchment paper. This recipe will make 24 medium-sized cookies so two baking sheets will do!
Put your room temperature butter into a mixing bowl and cream until light and fluffy. Use an electric mixer or a stand mixer with the paddle attachment. (That was my choice.) Add your vanilla extract.
Add the sour cream and egg. Mix until fully incorporated. At this point it's going to look more like soupy batter than dough, but that's okay!
In a separate bowl combine baking soda and flour. (Note: some recipes call for baking powder as well as soda, in the same amount. I only used baking soda.)
Use a cookie scoop to place dough balls on your cookie sheets.
Place cookie sheets in the refrigerator for 10 minutes to chill.
When you remove from the refrigerator, use the bottom of a glass to press down your chilled dough. (I omitted this step on the first go-round and regretted it! They really need to be flattened before baking.)
Place in preheated oven and bake at 350 degrees for 10 minutes or until lightly golden on bottom. (Note: you do no want these cookies to brown. They need to be light in color and airy!)
Remove from heat and place cookie sheet on wire cooling rack.

Make the Buttercream: Place your room temperature butter in a mixing bowl and whip until light and fluffy.
Add powdered sugar and continue to mix until fully incorporated.
Add lemon extract. Thin down with milk, if needed.
Add a dot of food coloring. I went with pink (traditional Lofthouse color) but you can use any color you like!
Decorate Lofthouse Cookies: Make sure cookies are completely cooled before adding the buttercream. I used a small offset spatula to add the buttercream but you can use whatever you like. A butter knife will work. So will a small spoon.
Add sprinkles before the buttercream crusts.
Allow the buttercream to crust before storing in airtight container. These cookies do not need to be refrigerated. They will stay fresh for 3 days if properly sealed.

Nutrition Information:
Yield:

24
Serving Size:

1
Amount Per Serving:
Calories:

59
Total Fat:

2g
Saturated Fat:

1g
Trans Fat:

0g
Unsaturated Fat:

1g
Cholesterol:

11mg
Sodium:

68mg
Carbohydrates:

10g
Fiber:

0g
Sugar:

6g
Protein:

1g
The nutrition information is a product of online calculators. I try to provide true and accurate information, but these numbers are estimates.