If you're looking for a simple minty brownie, one you can whip up in minutes, you've come to the right place. This delicious Grasshopper brownie recipe will really make your guests swoon!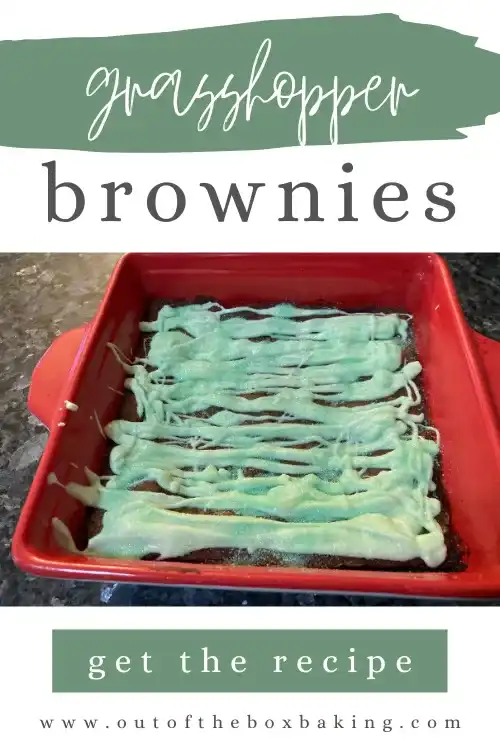 Grasshopper Brownies? What are Those?
Traditionally, "grasshopper" baked goods are green in color and often have a mint element.
Old-Fashioned Grasshopper cookies often have a full layer of green frosting or filling.
I wasn't in the mood to make frosting, but I did have a quick and easy way to get those same flavors in a simpler way.
I started with my Easy Brownie Recipe, which is pretty much fool-proof. Instead of tossing in a full cup of chocolate chips, I decided to substitute half a cup with mint chocolate chunks.
Voila! Mint brownies!
But, how to get that green color on top? How would I accomplish that? Simple! I happened to have almond bark on hand. I melted a couple of squares with a teaspoon of vegetable oil, then added a couple drops of green chocolate coloring (oil-based food coloring).
I drizzled my chocolate mixture on top of my cooled brownies then sprinkled them with even more green sanding sugar.
If you don't have almond bark or sanding sugar, no worries! Just place several minutes chocolate chips on top of the hot-from-the-oven brownies and let them melt naturally. You'll end up with a green and brown topping that tastes as good as it looks.
Grasshopper Brownie Ingredients
You will find a full printable recipe card at the bottom of this post but here's a quick peek at what you'll need to make these easy brownies. These are simple ingredients you likely have in your refrigerator or pantry right now.
room temperature butter (salted or unsalted, your choice)
granulated sugar
large eggs
cocoa powder
all-purpose flour
vanilla extract
chocolate chips
mint chocolate chips
white almond bark
green coloring oil (for chocolate)
How to Make Grasshopper Brownies
Start by preheating your oven to 350 degrees Fahrenheit.
Grease an 8 x 8-inch pan. You can use butter, oil, or Baker's Joy spray.
Let's make those brownies!
Make sure your butter is room temperature. Place it in a medium bowl or the bowl of a stand mixer with paddle attachment. Mix at medium speed until light and fluffy in appearance.
Scrape down the sides with an offset spatula.
Add eggs, sugar, and vanilla. Continue to mix until smooth and fully incorporated.
Now it's time to add both of your dry ingredients (flour and cocoa). Mix well. Your batter will be firm. That's just what you want.
Fold in chocolate chips (1/2 cup chocolate chips, 1/2 cup mint chocolate chips).
Place in a prepared 8×8-inch baking pan.
Bake for 30-35 minutes at 350 degrees. Make sure they're touchable (crinkly) on top but not over-baked.
Melt the Chocolate
In a small bowl place two squares of almond bark and a teaspoon of vegetable oil.
Melt in microwave in 30-second intervals. Mine took about a minute to melt completely.
Stir well and add a couple drops of oil-based green food coloring.
Stir well and drizzle over cooled brownies.
If you have green sprinkles of sanding sugar, you can sprinkle some of that on top, too.
Wait until chocolate firms up before cutting into squares and serving.
Store at room temperature in airtight container (or covered in plastic wrap).
Brownies will stay good for 4 – 5 days.
If you're making these to eat later, you can freeze them in freezer bags up to two months.
Note: If you like, you can use parchment paper at the bottom of the pan to ensure the brownies don't stick.
What to Expect from These Brownies
Y'all, these are amazing! The minty flavor, merged with the chocolate? It's beyond delicious.
If you're wondering whether these are "cake-like" brownies or fudgy brownies, let me answer that question for you: they're both!
These have a crisp edge and a gooey center, a true creme de menthe brownies spectacular!
I can't make these again for my family. They're going to love them. In fact, I think they'll be perfect for St. Patrick's Day!
Variations on this Decadent Brownies Recipe
You can make these in a variety of ways. As I mentioned above, you can add mint chips as topping.
You can also skip the chocolate topping and use a layer of green buttercream with a dot of mint extract.
Make them into cookies! You can use this batter to form soft, gooey cookies. Just use a small cookie scoop. They'll be similar to my Double Mint Chocolate Cookies.
If you prefer, you can use heated double cream with mint chocolate chips to use for a drizzle.
Other Mint Favorites from Out of the Box Baking
Copycat York Peppermint Patties: If you love the refreshing flavor of mint and enjoy rich chocolate, then I have a great recipe for you! These Copycat York Peppermint Patties are exactly like the ones you buy in the checkout line. . .but at a fraction of the cost!
Easy Doctored Brownie Mix: If you love chocolate and mint, you're going to adore these easy mint chocolate brownies. They're rich, minty, and best of all, easy to make. Like so many of our recipes here at Out of the Box Baking they start with a box mix.
Easy Holiday Peppermint Bark: Most people equate peppermint bark with the holidays but it's yummy year-around! In fact, homemade peppermint bark is such a favorite with my grandkids that I actually created a peppermint bark fudge recipe on Christmas Eve. (I will share that recipe later. It got rave reviews from one granddaughter in particular.)
---
That's it for this post, friends! I hope you enjoyed this delicious Grasshopper Brownies recipe.
See this recipe at
About the Author
---
Janice Thompson is an author, baker, and all-around mischief maker! She has overcome a host of baking catastrophes, including a toppled wedding cake, to learn more about the baking process. Janice has published over 150 books for the Christian market but particularly enjoys writing recipes and baking devotions. To learn more about Janice or to drop her a note, visit her About the Author page.