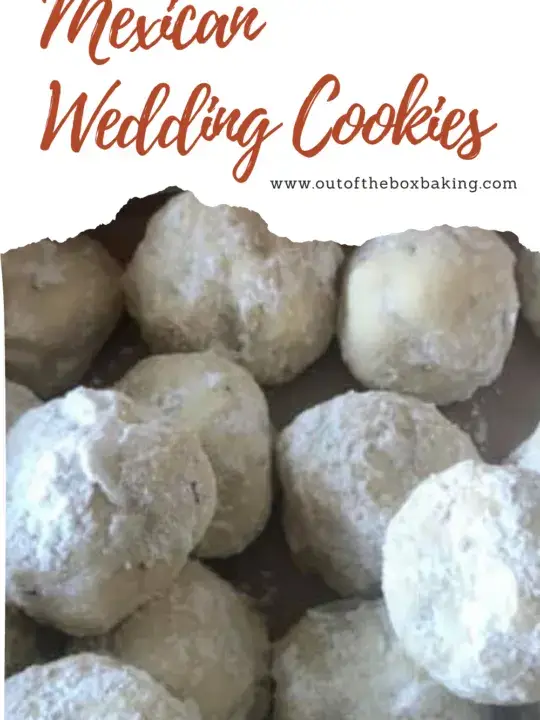 These cookies go by different names. Some call them Mexican Wedding Cookies, some call them Snowballs. Some call them Pecan Sandies, others call them Pecan Balls. Some folks call these soft bites of wonderment Italian Wedding Cookies, Mexican Wedding Cakes, or Russian Tea Cookies, others call them southern pecan butterballs. No matter what you call them, they're delicious and super easy to make.
These buttery pecan cookies don't require eggs or leavening. They're similar to a pie crust, but even yummier because they're coated in powdered sugar. And talk about versatile! Some folks add pecans. Others add chocolate chips. Some add nothing at all.
No matter how you whip them up, they're melt-in-your-mouth good! Talk about a sweet treat! They're great for special occasions (like the Christmas season) or for a quick snack for yourself.
What makes Mexican Wedding Cookies unusual is their nutty, buttery goodness. When rolled in confectioner's sugar while warm, the sugar adheres to the cookie and adds another level of sweetness.
Origins of Mexican Wedding Cookies
A Cookie that Has Traveled the Globe
These sweet treats likely originated in the Middle East, then made their way to Spain, and were then brought to America. For sure, Mexican Wedding Cookies aren't specific to Mexico. In fact, these yummy balls of goodness are eaten around the world, and are particularly popular in both Eastern and Western Europe.
You might occasionally see these delicious cookies rolled into a crescent shape. Some folks call them Russian Tea Cakes. (Interesting backstory: America's relationship with Russia was strained in the 1950s when this cookie became popular, so the name "Russian Tea Cakes" didn't fly.)
A Cookie for All Seasons
Some folks would say that these are "winter" cookies, but I beg to differ. They're easy cookies, which means you can whip them up with the kids and grandkids in a jif, no matter the season. I love them year-round. In fact, these cookies are on my top five list! (Want to guess the others? If you said Peanut Butter, Oatmeal Craisin, and Snickerdoodles, you would be right! I'm also crazy about my Double Mint Chocolate cookies. Yum!
Today, though? It's all about the Mexican Wedding Cookies! They hold a special place in my heart because I use my Mama's recipe (and it's delicious)!
So, what are you waiting for? Grab that flour, powdered sugar and other yummy ingredients and let's get baking!
Here's What You'll Need to Make my Mexican Wedding Cookies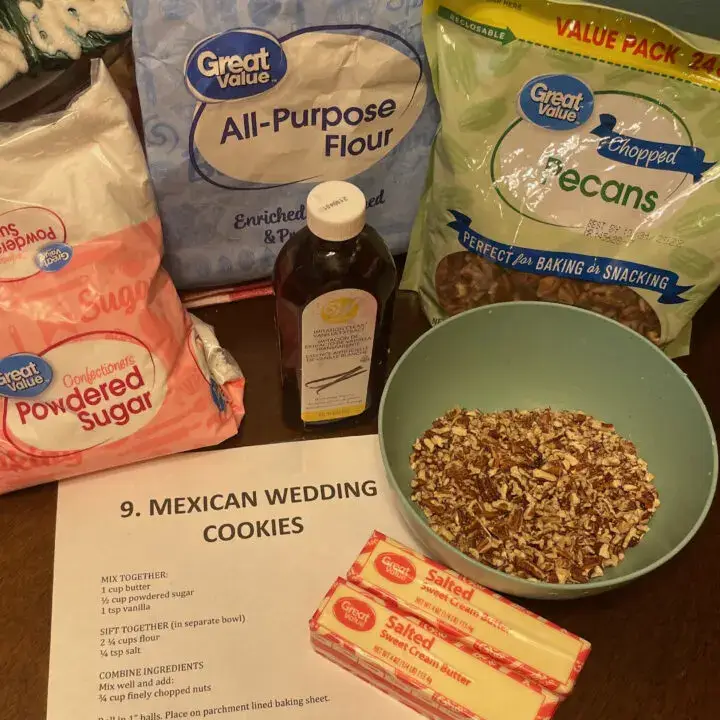 List of Ingredients:
For the full recipe, see the printable copy at the bottom of this post. For now, here's a quick glance at what you'll need:
room temperature butter (I use salted, but omit the add'l salt from the recipe)
powdered sugar
vanilla extract
all purpose flour
salt
finely chopped nuts (I use ground pecans.)
How to Make my Mexican Wedding Cookies:
This is a traditional Mexican Wedding Cookie recipe that comes together very quickly and easily with such simple ingredients. You've probably got most of them in your pantry or refrigerator right now! You can make these with little trouble.
Cream your softened butter and add powdered sugar and vanilla using a low speed. I used my stand mixer with the paddle attachment but you can mix yours with an electric mixer if you don't have a stand mixer.
Sift flour and salt together, then add to the wet ingredients.
Mix well.
Roll dough into in 1" balls. (I use a cookie scoop and then roll what I've scooped.)
Place on parchment paper lined baking sheet.
Chilled dough works best. Chill your tray of dough balls for 10 minutes.
Bake 10 – 12 minutes at 375 degrees. (The bottoms will be golden brown.)
Roll in powdered sugar (also known as confectioner's sugar).
Cool cookie sheet on wire rack.
Roll in powdered sugar again.
Enjoy these crumbly cookies!
Add these yummy cookies to your next party tray!
Variations on Mexican Wedding Cookies
Traditionally, people use chopped pecans in these tiny cookies, but here are a few other variations you might try:
Mini chocolate chips (you can use them to replace the nuts or along with them)
Cinnamon: Omit the nuts and stir cinnamon into the powdered sugar before rolling. You'll end up with something that's part Snickerdoodle, part pie crust. In you choose to use granulated sugar and cinnamon, roll the dough balls in the mix before baking. Then you'll end up with the flakiest Snickerdoodle ever!
Cocoa powder: Add 1/4 cup cocoa powder to the recipe before baking, then add pecans and roll in powdered sugar, as usual.
Orange-Craisin: Chop Craisins into fine pieces and add along with a dash of orange zest or extract.
Oatmeal Craisin Pecan: Substitute some of the flour with oats. Yum!
Peppermint pieces: Crush a couple of peppermint sticks and add them to the dough.
Macadamia nuts: Add crushed macadamia nuts to your recipe. (Delicious!)
Almond extract: Add a quarter teaspoon for added flavor.
Christmas Cookies: This shortbread-like cookie is an amazing addition to a holiday cookie plate or for annual cookie exchanges. To dress them up for the holiday season, stir in a half cup of red sprinkles!
Questions People Are Asking about Mexican Wedding Cookies:
QUESTION: Can I freeze these cookies?
ANSWER: Shape and freeze the dough balls in a freezer-safe bag, then thaw before rolling in powdered sugar.
QUESTION: Can I do a gluten-free version of a Mexican Wedding Cookie?
ANSWER: Yes, you can use almond flour or oat flour, but will end up with a different texture.
QUESTION: How do I store these cookies?
ANSWER: Store in an airtight container for 3-5 days or refrigerate for up to a week. You can freeze them for up to two months.
QUESTION: Is this considered a classic Christmas cookie?
ANSWER: Yes! Serve them during the holiday season and your guests will ask for the recipe!
Mexican Wedding Cookies
These cookies go by different names. Some call them Mexican Wedding Cookies, some call them Snowballs. Some call them Pecan Sandies, others call them Pecan Balls. Some folks call these soft bites of wonderment Mexican Wedding Cakes or Russian Tea Cookies. No matter what you call them, they're delicious and super easy to make.
Ingredients
1 cup butter
½ cup powdered sugar
1 tsp vanilla
2 ¼ cups flour
¼ tsp salt
¾ cup finely chopped nuts
Instructions
Combine butter, sugar, and vanilla and mix well.

Sift flour and salt and add to wet ingredients.

Mix well.

Roll dough into 1" balls. Place on parchment lined baking sheet.

Bake 10 – 12 minutes at 375 degrees.

Roll in powdered sugar.
Cool.
Roll in powdered sugar again.

If you like these Mexican Wedding Cookies, you're sure to love these Easy No-Bake Rum Balls from Southern Home Express.
Oh, and y'all! Check out all of the fun offerings over at Miz Helen's Country Cottage!
I hope you enjoyed this Mexican Wedding Cookies recipe. These are the perfect little cookies, a great addition to your recipe book! Check back often for more tasty treats!
Follow this link for a comprehensive post listing more of my fall cookies and bars, perfect for autumn!
---
About the Author
Janice Thompson is an author, baker, and all-around mischief maker! She has overcome a host of baking catastrophes, including a toppled wedding cake, to learn more about the baking process. Janice has published over 150 books for the Christian market but particularly enjoys writing recipes and baking devotions. To learn more about Janice or to drop her a note, visit her About the Author page.