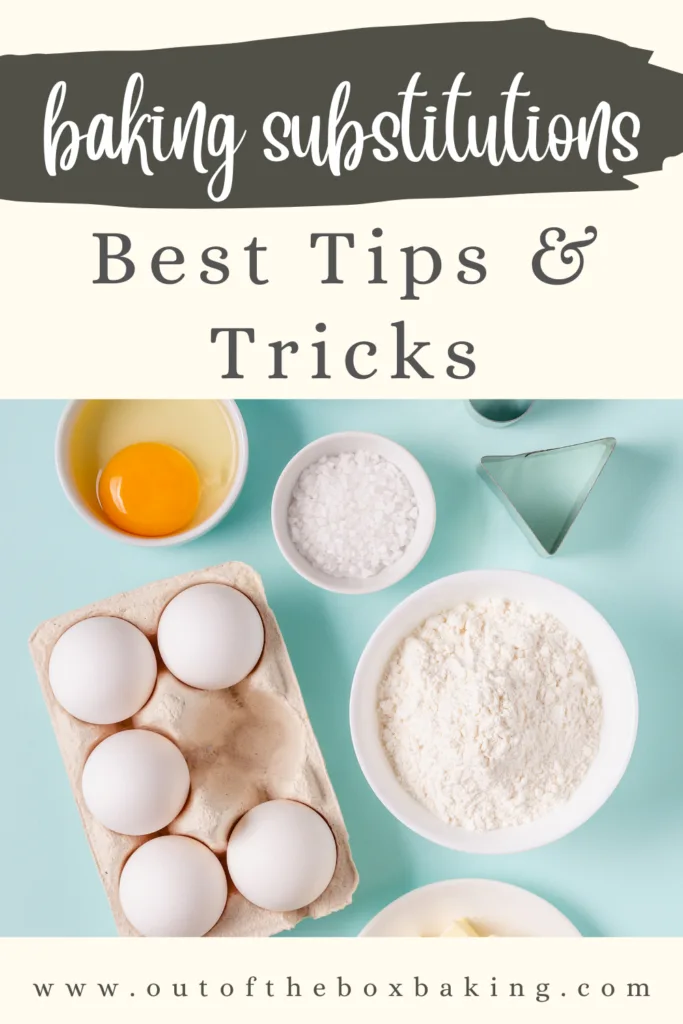 It happens to every baker. You're in the middle of a big baking project and you realize you're missing something critical. Do you make a run to the grocery store or is there some way to substitute a different ingredient?
Bakers Can Improvise with Baking Substitutions!
Over the years I've run into this problem dozens of times. As a result, I've learned to improvise with other common ingredients! In fact, I've scoured the web on many occasions, looking for a quick replacement for a missing ingredient.
That's why I decided to create this master list of baking substitutions. Most of these are common household items, but a few of them (particularly the gluten-free options) will be tougher to find. Regardless, it's great to have choices!
Let's start with the basics:
Flour Substitutes: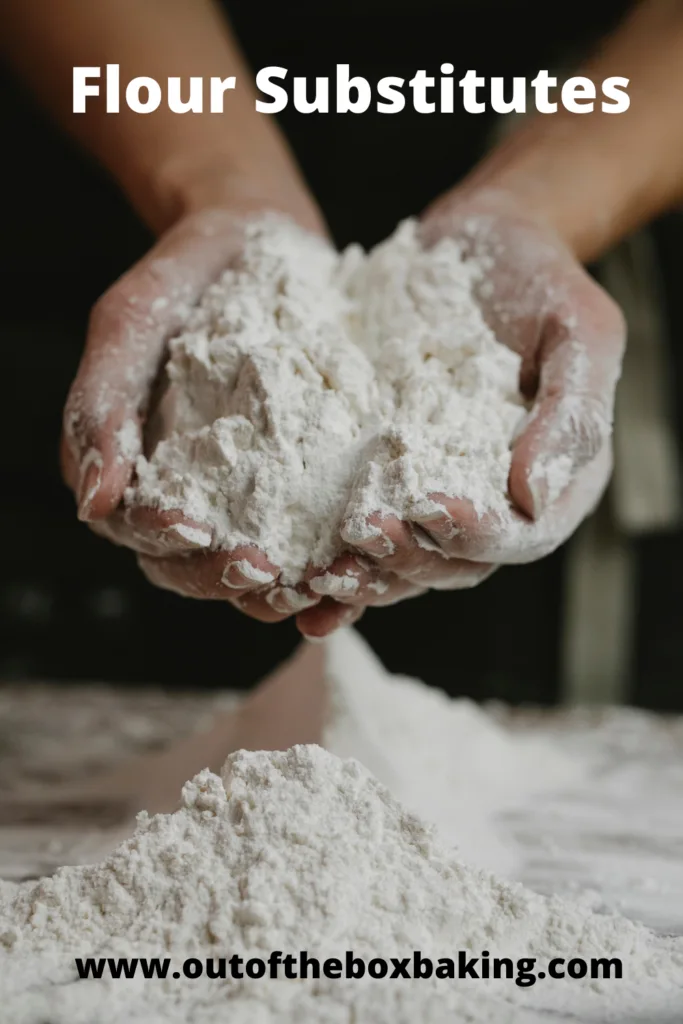 All-purpose flour: If you're out of all-purpose flour you can substitute self-rising (only if the recipe calls for leavening), cake flour, or bread flour. The Pioneer Woman site has a great (comprehensive) post on this.
Measure in equal proportions but don't over-mix, particularly with the bread flour. You can use whole-wheat flour but be careful! It can lead to dense products. My gluten-free friends have also suggested:
Bisquick: I did a full post on Copycat Bisquick Mix! Here's a quick glance:
6 cups all purpose flour
3 tablespoons baking powder
3/4 teaspoon baking soda
2 tablespoons powdered sugar
1 1/2 teaspoons salt
1 cup Crisco shortening (plain or butter version)
Bread flour is made of hard wheat. It has a high protein count and is incredibly stable. If you don't happen to have any on hand you can make your own using a cup of all-purpose flour and a teaspoon of wheat gluten.
Cake flour: I love the idea of creating cake flour so much that I devoted an entire post to it! You can make your own cake flour in three easy steps:
First, add a cup of flour to a medium mixing bowl. Scoop out 2 tablespoons.
Second, add 2 tablespoons of corn starch to replace the flour you eliminated.
Third, sift, sift, sift! Four times, specifically. Have two bowls and a sifter handy so you can go back and forth between the two!
---
Sugar Substitutes: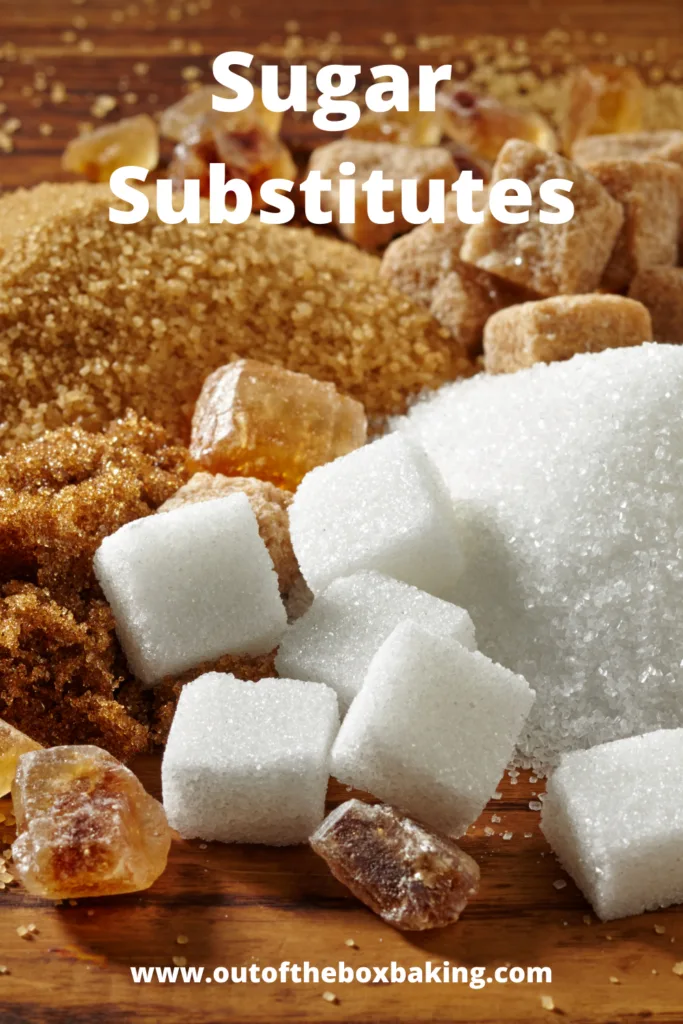 Some of the following suggestions are great for dieters. Others are just practical alternatives. Here are some of the sugar substitutes I've researched or explored (in alphabetical order).
Agave nectar: 1 cup granulated sugar = ? cup agave nectar
Applesauce: You can use a 1:1 ratio but cut back on the other liquids in the recipe to accommodate. I did this in my Healthy Cinnamon Apple Muffins.
Brown sugar: You can replace granulated sugar with brown sugar at a 1:1 ration, but brown sugar has more of a molasses flavor and will change the outcome of your final product. (To make DIY brown sugar merge a cup of granulated sugar with two tablespoons of molasses.)
Erythritol: My Whole Foods family members recommend Anthony's Confectioner's Erythritol. Another Erythritol suggestion is Swerve products. You can get them in white, brown, or powdered/confectioners. They measure cup for cup.
Fruit juice concentrate: Use about 3/4 of a cup to replace a cup of sugar but (as mentioned in so many liquid alternatives above) you'll have to cut back on the liquid in the recipe a bit.
Honey: If you're a honey fan you can substitute honey for sugar. Use about 3/4 of a cup to replace a cup of white sugar.
Maple syrup: Add 3/4 cup to replace a cup of sugar but cut back a bit on the liquid in the recipe to accommodate.
Molasses: Unlike honey, you'll have to actually add more molasses. Add 1 1/3 cups to replace a cup of sugar.
Monk fruit (my personal favorite): Most websites recommend a 1:1 swap with monk fruit but I find it to be too strong. I usually use half a cup or less if the recipe calls for a cup of sugar. I used this hack in my Cloud Bread Pavlova.
Powdered sugar: You can replace granulated with powdered but the texture will change slightly. You'll need about 1 1/2 times the amount of packed powdered sugar as you would granulated. (To make DIY powdered sugar combine a cup of granulated sugar and a tablespoon of cornstarch, then run that mixture through your food processor. It's fun to watch the sugar fluff up!)
Splenda: You can buy this in both white and brown. I have used both to bake with and they don't seem to leave much of an aftertaste.
---
Dry Ingredient Substitutions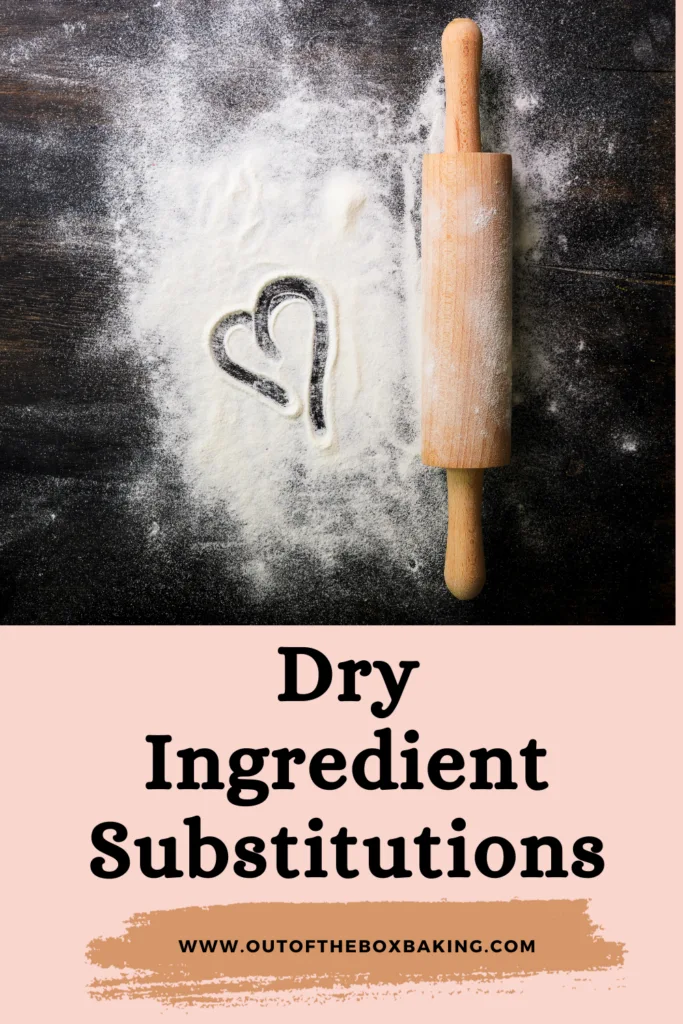 Apple Pie Spice: To make a teaspoon of apple pie spice merge 1/2 teaspoon of cinnamon with 1/4 teaspoon nutmeg, 1/8 teaspoon allspice and a dash or ginger and clove.
Baking powder: If you're out of baking powder, don't fret! Just blend equal parts baking soda and cream of tartar. Alternatively, you can combine different acidics with a pinch of baking soda to make a baking powder substitute. Options would include lemon juice, cream of tartar, and vinegar. To make a teaspoon of baking powder substitute use 1/2 teaspoon of the acidic plus 1/4 teaspoon of baking soda.
Baking soda: No baking soda? Don't panic! You can use baking powder, but double up. If the recipe calls for one teaspoon of baking soda use 2 or more teaspoons of baking powder. You can also use self-rising flour or whipped egg whites to replace baking soda.
Cornstarch: Out of cornstarch? No worries! To replace one tablespoon of cornstarch just use two tablespoons of all-purpose flour or two teaspoons of arrowroot.
Cream of Tartar: 1/2 teaspoon lemon juice replaces 1/4 teaspoon of cream of tartar
Pumpkin Pie Spice: You can easily make your own by combining:
½ teaspoon cinnamon
¼ teaspoon ginger
1/8 teaspoon allspice
1/8 teaspoon nutmeg
Self-rising flour has baking soda and salt added. You can make your own self-rising flour by combining 1 cup of all-purpose flour with 1.5 teaspoons of baking powder and 1/4 teaspoon salt.
Tapioca: Substitute with flour or corn starch.
Yeast: Fleischmann's has a great chart with yeast substitutions/measurements.
---
Wet Ingredient Substitutions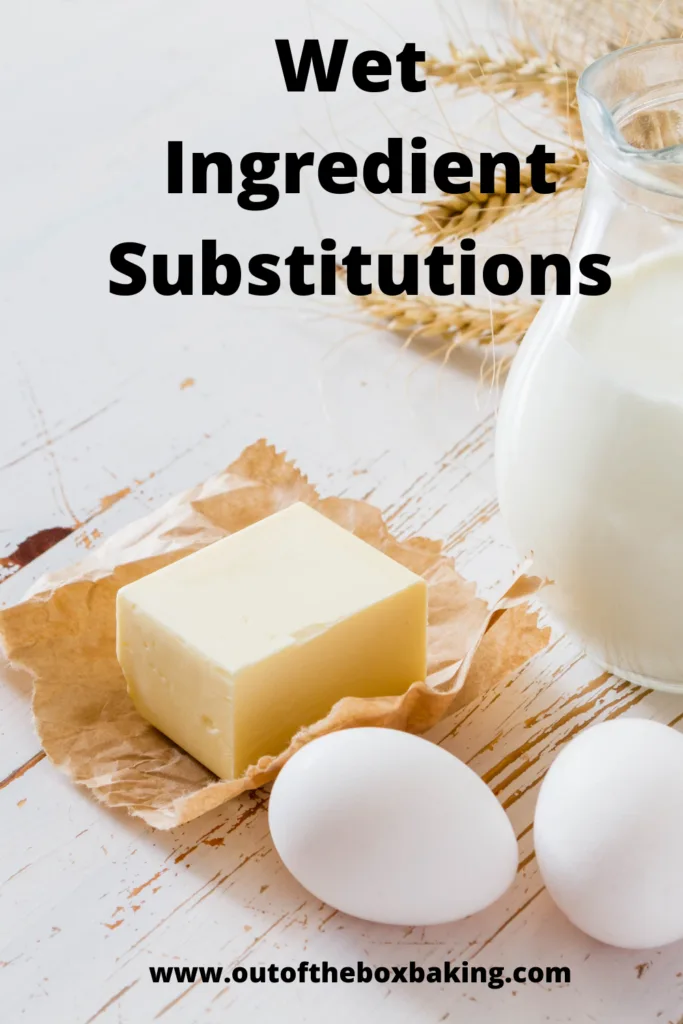 Brown Butter: Want to have that nutty brown butter flavor, but you don't have time to make a batch of the real deal? Add 1/4 cup brown sugar to a cup of room temperature butter.
Butter: Out of butter (or deliberately avoiding the stuff)? Here are some options for you:
vegetable or canola oil (these are mostly flavor-free)
Coconut oil (refined, not virgin)
applesauce
yogurt
Plant-based butter
Ghee
Nut butters
Hummus
mashed bananas
pureed prunes
avocado
yogurt
cup margarine
Buttermilk: If you don't have buttermilk on hand, don't panic! Add one tablespoon of vinegar or lemon juice to a cup of milk. (I used this hack in my Pink Velvet Cupcake recipe!)
Eggs: To replace one whole egg you can use:
2 egg yolks plus 1 teaspoon of cold water
1 tablespoon unflavored gelatin
A tablespoon or two of mayonnaise, (which is heavy on the eggs). I used this hack to replace one of the two eggs in my Oatmeal Blueberry Muffins.
Applesauce
Mashed banana
Flax eggs. To make one flax egg follow this formula: 1 tablespoon of ground flax plus 2 1/2 tablespoons of water: Allow to sit for a few minutes until it reaches the consistency of an egg.
Half and Half: Combine 1/2 cup of whole milk and 1/2 cup of heavy cream to form one cup of Half and Half.
Heavy Cream: Recipe calls for heavy cream but you don't have any on hand? No worries! Combine a quarter cup of melted butter (cooled) with three-quarters of a cup of milk. You can also merge soy milk and olive oil, if you're trying to go dairy free.
Milk: Out of whole milk? Many baked goods (cakes, cupcakes, and muffins) will work fine with any of the following:
My gluten-free friends have also suggested:
Coconut milk
Oat/coconut milk
Almond milk
Cashew milk
Here's a full post on milk alternatives.
Molasses: If you don't have molasses in your pantry, don't fret! You can use dark corn syrup or honey as a replacement at a 1:1 ratio.
Oil: If a recipe calls for vegetable oil you can substitute any of the following:
Butter
Mayonnaise: (I used this hack in my Chocolate Mayonnaise Cake)
Canola oil
Coconut oil (refined, not virgin)
Applesauce
Fruit puree
Sour cream
Yogurt
There are a ton of flavored oils out there (like avocado, grapeseed, and olive oil) but beware. . .they can change the flavor of your product.
Sour cream: Out of sour cream? No problem! Just substitute plain yogurt at a 1:1 ration.
Sweetened condensed milk: Out of sweetened condensed milk? Make your own by combining one 12 oz can of evaporated milk with 1 1/2 cups of sugar. Merge and bring to a boil. Add a dash of vanilla once you remove from heat.
Vinegar: Substitute with lemon juice (and vice versa).
---
Sweet Additions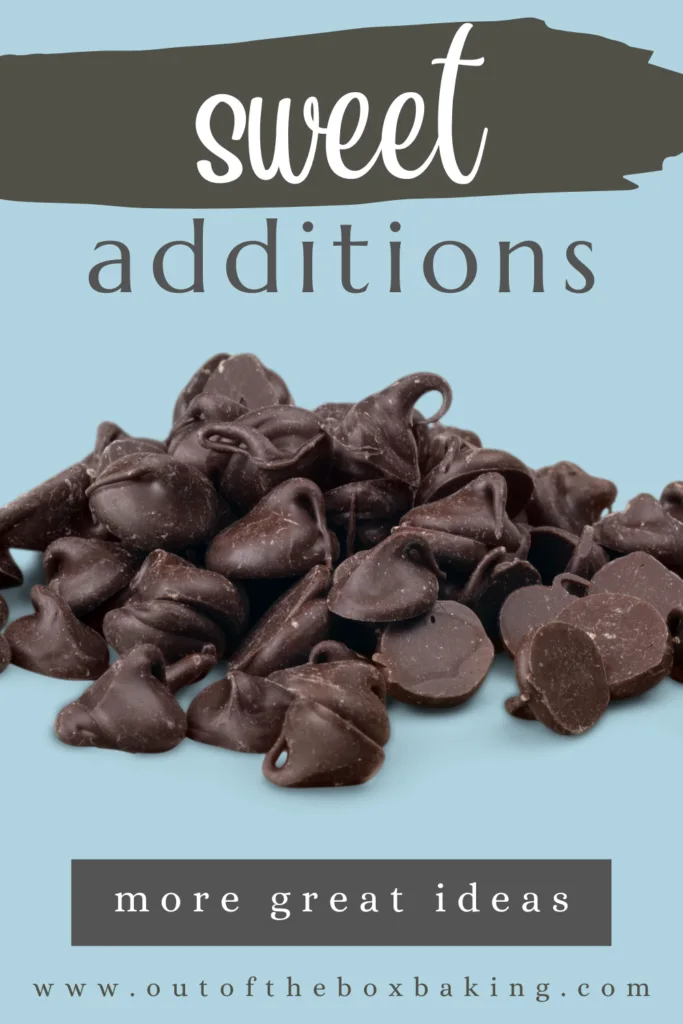 Chocolate: I wasn't sure whether to list chocolate as dry ingredient or wet, since you can find it in multiple forms. Still, I'll leave you with the following swaps:
Unsweetened baking chocolate: To replace one ounce combine 3 tablespoons of unsweetened cocoa powder with 1 tablespoon of melted shortening.
Chocolate chips: Chop up baking chocolate, cocoa nibs, carob chips, or pieces of your favorite chocolate bar.
Other Chocolate Replacements: Check out this fun post from Better Homes & Gardens
Chocolate chip flavor substitutions: If you want to substitute other flavored chips for traditional chocolate chips, here are some options that I have tried (or plan to try in the future):
Bailey's Irish cream chips
Butterscotch chips
Caramel chips
Cinnamon baking chips
Espresso chocolate chips
Funfetti chips
Heath chips
Mint chocolate chips
Peanut butter chips
Reeses baking chips
Sea salt caramel chips
White chocolate chips
Lily's Sugar Free Baking Chips (made with Stevia)
Coconut: Need to substitute something else in place of coconut? Try chopped macadamia nuts or Brazil nuts.
Cookies: I often substitute crushed cookies in place of baking chips to bring an additional element of flavor to my cake, cupcakes, and other sweet treats. Biscoff (Speculoos cookies) are my favorite. I also use a lot of crushed Oreos.
Nuts: If you're unable to eat nuts, consider swapping out with goji berries, dates, dried cherries, dried mulberries, or Craisins.
Oats: If you're out of oats you can add crushed corn flakes or Rice Krispies. I use Rice Krispies in combination with oats in my Oatmeal Rice Krispie Cookies with Chocolate Chip recipe.
Peanut Butter: Many people have allergies. (Disclaimer: Out of the Box Baking will not be held liable for any decisions on your part regarding the products mentioned. Please do your own research! Nut butters are produced in different facilities so do your research.) A family member whose son is highly allergic to peanuts suggested the following substitutions: Nut butters from Tierra Farm, especially their cashew butter. She also recommended Barney Butter Almond Butter and Sun Butter Natural Sunflower Butter. (Again, do your research!)
Pecans: I often use walnuts in place of pecans. You can also use slivered almonds, depending on the recipe.
Raisins: If you're not a fan of raisins, you can substitute any other dried fruit, from Craisins to healthier options, which you will find at Tierra's Farm's website. Options include dried blueberries, organic tart cherries, organic currants, organic dried golden berries, and many, many more!
---
Cake Mix Substitutions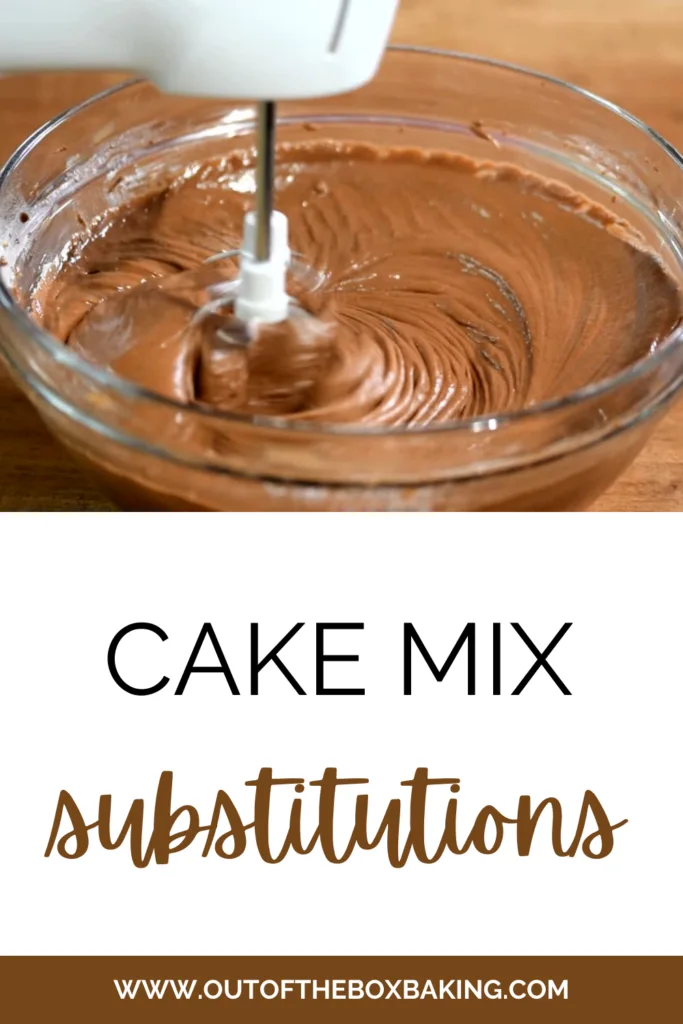 I did a great post titled 20 Amazing Recipes that Start with a White Cake Mix. Here are a few of my favorite suggestions from that post:
Chocolate Cake: If you need to make a chocolate cake but don't have a chocolate mix, substitute a white mix and add 1/4 – 1/3 cup unsweetened cocoa powder.
Carrot Cake: If you can't find a carrot cake mix at the store, don't fret! Substitute a white or yellow cake, making it according to directions but adding orange juice in place of water, plus cinnamon, pumpkin pie spice, shredded carrots, and butter in place of oil. You can also throw in a bit of brown sugar and some toasted walnuts, if you like. You can also use a spice cake mix for your carrot cake base. (No need to add additional spices.)
Spice Cake: Substitute a white or yellow cake and mix according to directions but also add brown sugar, cinnamon, nutmeg, clove, and allspice.
Lemon Cake: Have a hankering for a lemon cake but you don't have a mix on hand? Add fresh lemon zest and a box of lemon pudding to a white or yellow cake mix.
There are a ton of other ideas on the 20 Amazing Recipes that Start with a White Cake Mix post, so check them out!
Common Measurements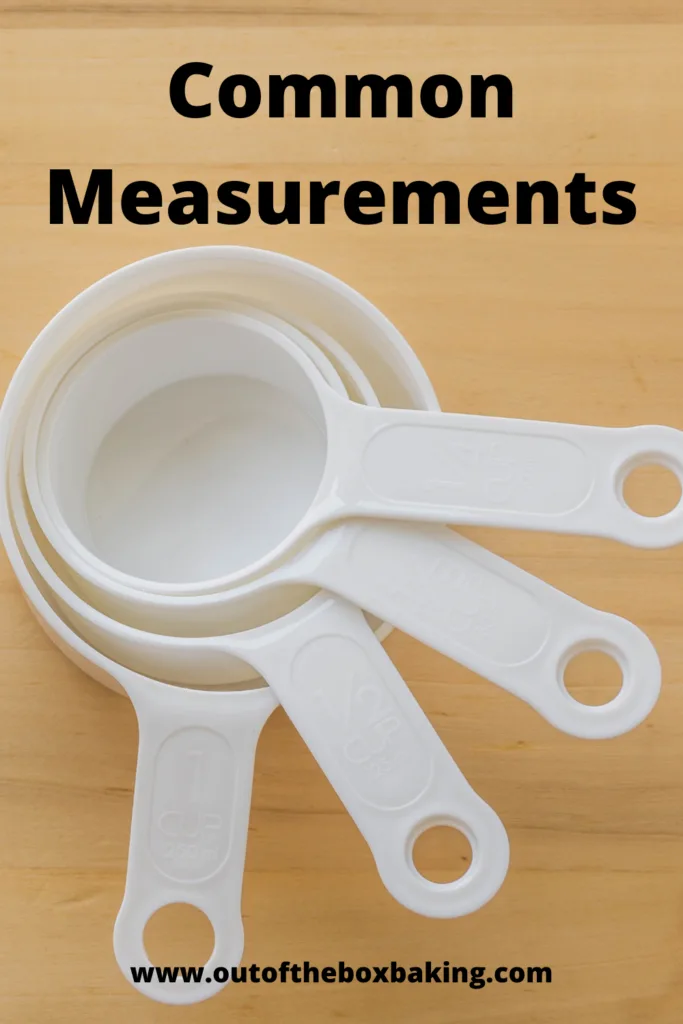 Before we go, I want to leave you with some very common measurements, in case you don't have the right measuring utensils on hand.
Dash = less than 1/8 teaspoon
1/2 tablespoon = 1 1/2 teaspoons
1 tablespoon = 3 teaspoons
1/8 cup = 2 tablespoons
1/4 cup = 4 tablespoons
1/3 cup = 5 tablespoons plus 1 teaspoon
1/2 cup = 8 tablespoons
3/4 cup = 12 tablespoons
1 cup = 16 tablespoons
1 pint = 4 cups (or 2 pins or 32 fluid ounces)
1 gallon = 16 cups (or 4 quarts)
More Tips and Tricks from Out of the Box Baking:
If you liked these hacks, you'll love my Baking Tips category! There you'll find several posts, including:
Visit this Baking Substitutions Page Frequently!
I'll do my best to keep this post updated. I would love to have your suggestions, tips, and tricks to add to the page. Whether you're gluten-free, dairy-free, vegan, or simply out of the ingredient you need, I want this page to become your go-to for great substitutions!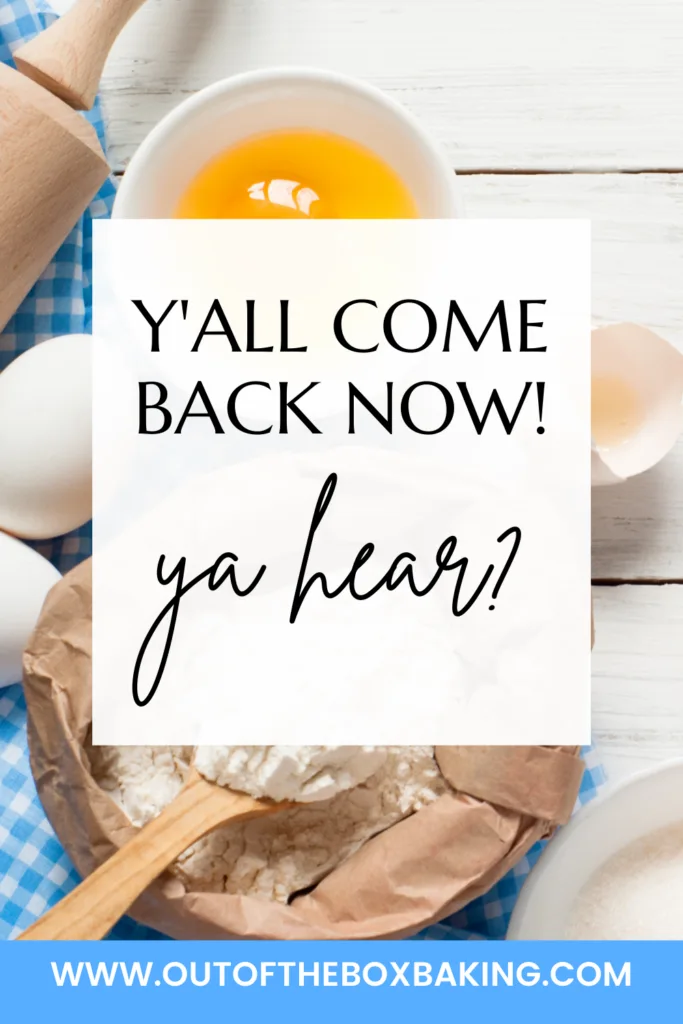 ---
About the Author
Janice Thompson is an author, baker, and all-around mischief maker! She has overcome a host of baking catastrophes, including a toppled wedding cake, to learn more about the baking process. Janice has published over 150 books for the Christian market but particularly enjoys writing recipes and baking devotions. To learn more about Janice or to drop her a note, visit her About the Author page.