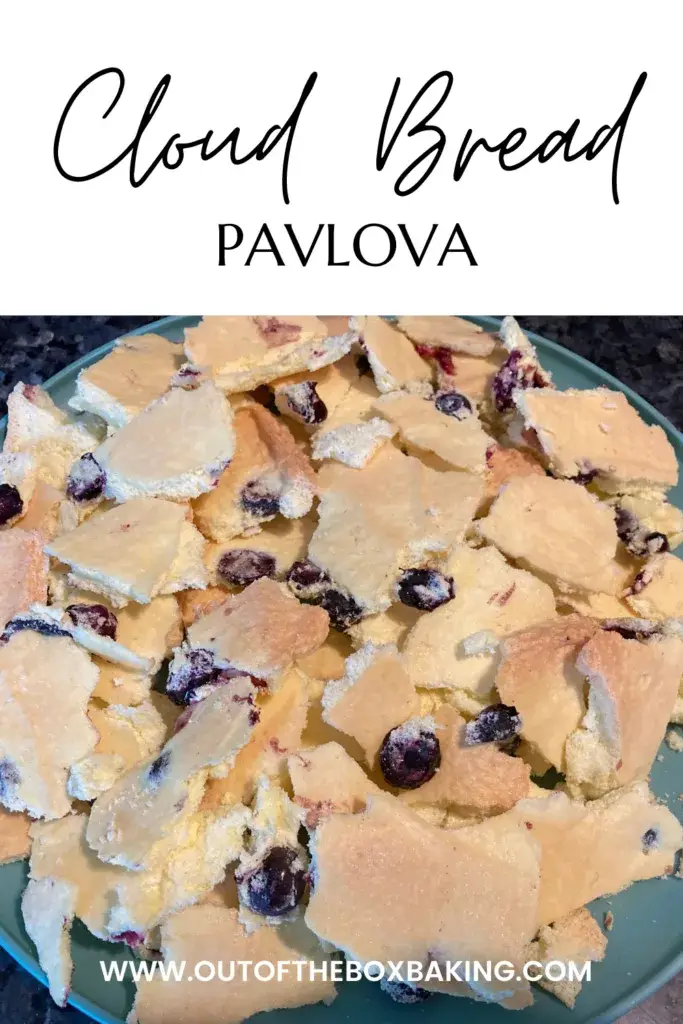 You've seen it on Tik-Tok. You've heard about it from your Keto-loving friends. But, the general consensus about cloud bread? Meh. Most people say, "It's very eggy." Or, "It doesn't really taste like bread."
I Decided to Give it a Twist
Y'all know I have a sweet tooth. If my cakes and cookies haven't convinced you of that, nothing will! But I'm on a never-ending weight loss journey, so eating all of those sweets? Yeah, not so much. I just can't. My waist-line won't allow it. And the bathroom scale sings a dirge every time I pop another cookie into my mouth. (Trust me. . .there are enough songs now for a full-length musical, complete with costumes and choreography.)
So, what's a weight-conscious gal supposed to do with a sweet tooth like that?
Feed it, of course. And, in my case, I decided to feed it some sweet cloud bread that tasted (I hoped!) more like a pavlova than a bread. Yum! So, I set out with that as my goal as I came up with the recipe for this Lemon Berry Cloud Bread Pavlova, (which is totally sugar-free).
Cloud Bread. . .Pavlova? Yes, Please!
I started with egg whites. All cloud bread recipes start there. I added a bit of cornstarch. Not much. And here's where the story takes a twist. Most people use a couple tablespoons of real sugar in their cloud bread, but I wanted the sweetness to shine through, so I upped the sweetener. Because I'm off of real sugar I used something I've grown to love–Monk Fruit.
Now, to add some flavors. I used the juice and zest from a lime. (Hey, it's what I had handy.) Then I took some blueberries, washed them, cut them in half, and added them to the mix. (Hey, go big or go home, right?)
The result?
A light, crispy pavlova-like concoction with a little bit of sweet, a little bit of tart, and just the right amount of fluff to make me feel like I'm getting dessert. I'm so excited by this sweet discovery that I plan to try new recipes next time. Orange-cranberry, maybe? Or. . .chocolate? (Hey, I've always got cocoa powder.) The key is adding the right amount of sweetness. (Hint: the monk fruit rises to the top, baking into the crust and making it extra sweet.)
Want to try my Lemon Berry Cloud Bread Pavlova? It's simple, and you probably have the ingredients on hand!
Here's what you'll need:
INGREDIENTS:
3 egg whites
1 tbl cornstarch
1/3 cup monk fruit (or sugar, if you're able to use it)
The zest and juice of one lemon or lime (or lemon extract)
1/4 cup blueberries, cut in half
1 dot of yellow food coloring gel
How to Make my Lemon Berry Cloud Bread:
Pre-heat oven to 300 degrees F
Whip egg whites until foamy
Add monk fruit (or sugar)
Continue to whip until incorporated
Once peaks begin to form, add the cornstarch and keep whipping
When you're happy with the peaks, fold in the juice, zest, and berries.
Dump onto a parchment paper-lined cookie sheet.
Use a spatula to spread out (see photo).
Do NOT try to form this into a mound, like you see in many other cloud bread recipes. It will bake on the outside but remain raw on the inside, due to the juice from the berries. (Ask me how I know.)
Bake in a 300 degree oven for 30 minutes.
Allow to cool completely before breaking into pieces. (At least half an hour or more.)
Will this Satisfy my Sweet tooth?
It certainly satisfied mine, as it turned out to be a pavlova-like treat. As with all healthy alternatives, it was something fun to try. And trust me when I say I love trying new alternatives so that I'm not tempted to gobble down all of those delicious cookies I make!
Best News of All?
Hey, y'all. I'm on Weight Watchers. This is ZERO points on my plan. So, I can eat to my heart's content!
For another heart-healthy treat, try out my Healthy Cinnamon Apple Muffins. They're tasty and so good for you!
Now, Let's Talk About Storing Your Pavlova bites.
I've learned that leaving them out (exposed) is best. If you put them in an air-tight container they go soft on your. I love the light, crispy bite I get after leaving my out on a plate on the counter.
Cloud Bread Pavlova (Sugar Free)
Additional Time:
30 minutes
Total Time:
1 hour
5 minutes
This isn't Tik Tok's cloud bread, y'all! It's a crisp, light, sweet pavlova-like offering, featuring lemon and blueberries!
Ingredients
3 egg whites
1 tbl cornstarch
1/3 cup Monk Fruit (or sugar, if you can have it)
Juice from one lemon or lime
1/4 cup blueberries, washed and cut in half
Instructions
Whip egg whites until frothy
Add Monk Fruit
Continue to whip and add cornstarch
When it forms soft peaks add lemon juice and fold in berries
Thinly spread on parchment paper-lined cookie sheet (about half an inch deep, filling most of the cookie sheet).
Bake at 300 for 30 minutes.
Allow to cool completely before breaking into pieces.
Store in airtight container for up to three weeks.