You can become a better cake baker by following these 8 cake baking tips from Out of the Box Baking. Even if your cake has flopped, these tips can help you turn things around.
Sure, there are times when you have no choice but to throw something out. But, before you do, let's look at eight of the most common questions bakers are asking and then offer a few potential solutions. There really are baking tips that can help you become a better cake baker.
You Can Become a Better Cake Baker
I thought it might be fun to start with pictures of cakes I've done that started out as flops. In the end, they turned out just fine!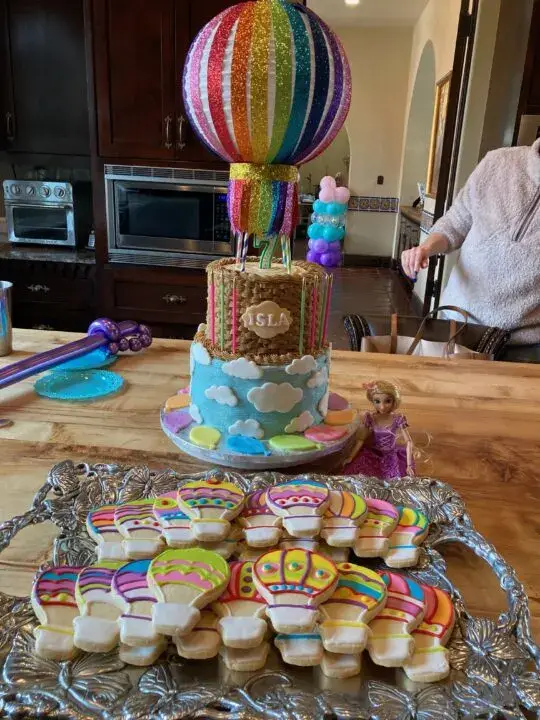 No matter how big the problem, there's usually a solution. Just keep reading to discover some tips you can use to flip your cake flops!
Baking Tip #1: You Can Fix a Domed Cake
Question: My cake is done on the edges but raw in the middle.
One reason cakes dome up in the middle (and/or don't bake as fast in the center) is because you've used cold ingredients. Next time, start with room temperature ingredients (including any eggs, butter, or milk). Even things like cream cheese, yogurt, or sour cream need to be at room temperature. This sometimes happens to me when I'm baking wedding cakes and I'm in a hurry. (I don't want to wait for everything to come to room temperature. . .but pay a price for my haste!)
That said, it's not too late to fix your current cake flop. If you see the center is doming, quickly lower the temperature in the oven by a few degrees and cook it low and slow. Bake until the center is done. At that point, use a leveler to level off any dome. You might need to trim off the edges if they're over-baked.
And remember, if this is a consistent problem, it might mean your oven is too hot. Try lowering the oven temperature before you begin. And if that doesn't fix the problem, invest in some reusable baking strips. They work by keeping the edges from heating up too much.
Baking Tip #2: You can Sweeten a Cake After it Has Baked
Question: I accidentally left out the sugar! Is my cake a lost cause?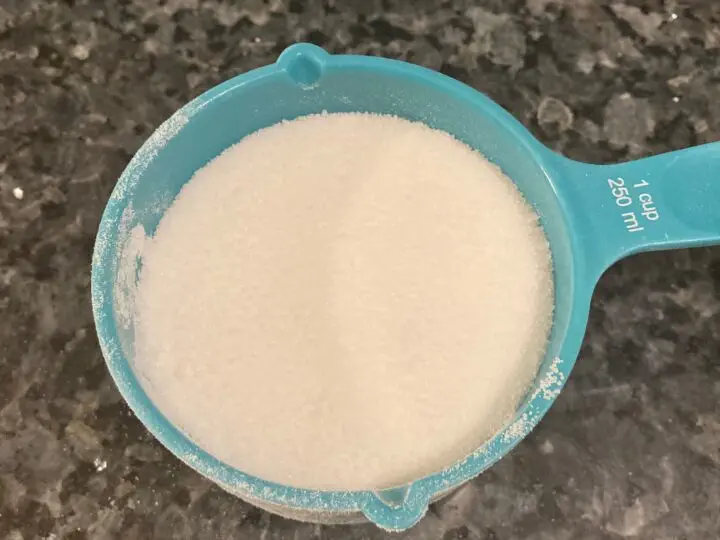 This is a big one, and you might be tempted to toss the whole thing. Before you do, consider these steps:
Soak the tops of your cakes in simple syrup (one part sugar to one part water).
If your layers are thick enough, use a leveler (or large knife) to separate each level of cake into two pieces (making a top and bottom). The thinner your layers, the more simply syrup gets absorbed. Speaking of adding sweetness. . .
Add generous amounts of frosting between the (now thinner) layers of your cake. And finally. . .
(((DRUM ROLL)))
Add other sweet ingredients, like ganache, mini chocolate chips, nuts, broken cookies, or fruit, along with your simple syrup and frosting. By the time you get all of that additional sweetness added, the cake should be fine.
Baking Tip #3: You can Get Rid of Air Bubbles in a Cake
Question: My cake batter looks weird, like it has air bubbles in it. Should I use it anyway?
Air bubbles in batter can come from a variety of things–the high fat content in butter, for instance. Or the baking powder. But you are right to be concerned. If those air bubbles are allowed to remain, they could very well split your cake.
First, be careful not to over-mix your ingredients. This often leads to added air in the batter. But, if you wind up with bubbles anyway, try this: Go ahead and put the batter in your pans and let it sit for a few minutes.
You'll notice that the bubbles become more visible as the batter settles. Now take your pans and tap-tap-tap them against the countertop. You'll break the bubbles. You can also use a toothpick to poke at the remaining bubbles. Getting rid of the bubbles before you bake is key!
Baking Tip #4: You can Fix a Cake that Falls
Question: My cake fell in the middle. Should I throw it out?
Chances are pretty good you overloaded your pan. This isn't always the case but it's one possibilities. There are a couple of other things that could cause this to happen, as well.
Remember that discussion above about the center of a cake "doming" because the oven is too hot (and or the metal pans are heating up too quickly)? Sometimes, when that happens, the middle of the cake (which is still underbaked) "falls" because it can't support its own weight while cooking.
Sometimes when the temperature in the oven is too low you'll end up with this problem, as well.
So, how do you fix it? First, make sure the center is done/cooked through, using the method I described above (lowering the temperature in the oven and baking until the center is done). Next, after the cake cools, level it, cutting the edges down to the height of the center.
Baking Tip #5: You can Fix a Dry Cake
Question: My cake is dry. It looks more like cornbread! Is it too late to fix it?
Dry cakes are often the result of a poor wet-to-dry-ingredient ratio. Maybe you added medium eggs instead of large. Perhaps you used margarine instead of butter (which has a high water ratio). Maybe you made a random substitution and now you're regretting it. Maybe you went with whole wheat flour, which absorbs more moisture. Now your cake is as dry as a bone! Maybe you baked it in a pan that was too large, making a thin, dry layer. Ugh!
Remember that simple syrup we talked about above? It's a terrific solution for a dry cake. Another great solution if you're making a chocolate cake (which tends to run dry) is to add chocolate syrup before frosting the cake. This happened to me recently! I made an Oreo cake and the cookie bits not only caused air pockets to form, the cake ended up super dry! (I submit the evidence below. You can see that I opted to coat the whole thing in Hershey's syrup!)
I didn't worry too much about the Oreo cake because I knew it was going to be covered in frosting and then loaded with chopped Oreos!
Learn from your dry cakes but don't fret! Next time add more fat to the batter (in the form of milk, butter, egg, or even sour cream or yogurt). For now, moisten those cakes with simple syrup, chocolate syrup, or any number of other sweet liquids.
Here's another fun trick to keep your cake from dying out next time around: before your cake is completely cooled, wrap it tightly and put it into the freezer. The fridge will dry it out but the freezer will lock in the moisture. You can unfreeze and frost as usual. (And you'll be surprised at how moist that cake is!)
Baking Tip #6: How to Deal with a Burnt Cake
Question: I was in a hurry and turned up my oven to make the cake bake faster. Now it's burnt on bottom. Is the whole thing toast?
Maybe. Or maybe not.
Once your cake has cooled completely, flip it upside-down, take your cake leveler and trim off the bottom of your cake. If this process has removed the scorched odor/scent, go ahead and frost your cake as usual.
Baking Tip #7: Salvaging a Cake that's Not Level
Question: I don't have enough cake to level it properly. Am I in trouble?
Do the best you can. I've watched a zillion cake videos and notice that even the pros don't always end up with level cakes. This happened to me recently, where I ended up with thin, wonky layers of cake. I didn't have cake to spare, so I did the best I could to level the cakes and then piped a ring of firm icing around the edges before adding the next layer. The end result was totally great!
Baking Tip #8: What to do When Your Cake Falls Apart
Question: My cake completely fell apart. I'm so bummed!
Don't give up the ship! This might be my favorite tip yet! Take that broken cake and turn it into a trifle.
If you read my Cookie Butter Trifle recipe, you know that most trifles have broken cake bits in them. With the addition of whipped cream, a few cookies, and maybe some fudge or pudding, you can make a truly delicious trifle with broken cake bits!
Another favorite was my Mint Oreo Trifle. (You'll notice I use a lot of Oreos!) I've also done "regular" Oreo trifles, like the one you see below.
And hey, if all else fails, throw a DIY trifle party! Mine was a blast!
Your Cake Flop Can Flip, friends. . .Just Don't Give Up!
If you're looking for an easy cake recipe, one that probably won't flop, check out this Easy Pineapple Dump Cake Recipe from Southern Home Express!
Take these tips and tricks and put them to the test! Try these 20 Amazing Recipes That Start with a White Cake Mix! If you're wanting to be adventurous try these tips to Jazz Up Boxed Cake Mix!
While you're perusing the world wide web, go ahead and check out the Full Plate Thursday offerings from Miz Helen's Country Cottage! She was so sweet to feature my Brown Butter Pecan cookies! (Thanks so much, Miz Helen!)
That's it for now, friends! I hope all of your flops are flipped in no time!
---
About the Author
Janice Thompson is an author, baker, and all-around mischief maker! She has overcome a host of baking catastrophes, including a toppled wedding cake, to learn more about the baking process. Janice has published over 150 books for the Christian market but particularly enjoys writing recipes and baking devotions. To learn more about Janice or to drop her a note, visit her About the Author page.