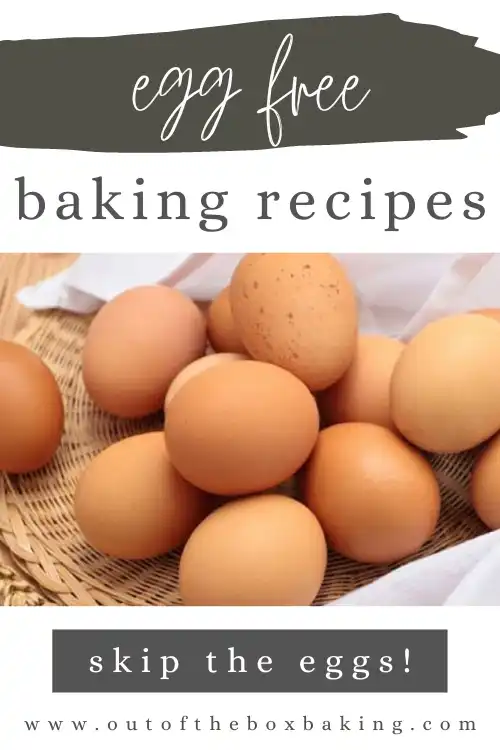 If you've been to the grocery store lately, you know that eggs are pricey! For most bakers, this is bad news. But it doesn't have to be. Here at Out of the Box Baking we've got a ton of egg-free recipes you're sure to love!
The Purpose of Eggs in Baking
Many recipes for baked goods call for eggs, and with good reason. Eggs provide:
protein (which provides structure)
leavening
flavor
moisture (since eggs are mostly water)
coating (brush your crusts with an egg wash to make them glisten)
These things are necessary in many baked goods.
In addition, beaten egg whites can make your cakes and other sweet treats light and fluffy.
Contrast that with the yolk of the egg, which is often used as a thickening agent in pudding, pie fillings, and custards.
Yes, eggs are an important tool in the baker's tool chest. They are versatile and (until recently) readily available.
Why write a whole post dedicated to egg- free baking, then? Keep reading.
Baking Without Eggs
There are a host of reasons why you might decide to go egg free. Perhaps you're allergic. Or maybe you have an intolerance to them. Maybe, like millions, you're just fed up with the price of eggs lately. (I covered this topic in greater detail in my Egg Substitutions post.)
Regardless of your "why," we've got your "What should I do about it?" right here at Out of the Box baking.
Most people assume that baked goods all contain eggs, but that's not the truth. As I started to browse my recipes, I was delighted to see just how many egg-free recipes I've posted over the past year.
I've devoted this entire post to recipes that don't require eggs. You'll find them listed in alphabetical order.
Bars (Egg-Free)
Because many bars have a shortbread or pastry crust, they don't require egg to bind them together. So, I highly recommend bars if you're trying to cut back on eggs.
Easy Cherry Almond Bars: If you love the flavor of a traditional cherry pie but prefer the simplicity of a cookie bar, then this is the recipe for you! This luscious sweet treat has a shortbread base, cherry preserves in the center, and sliced almonds on top. Best of all, it's incredibly easy to bake!
Easy Chex Scotcheroos: If you're looking for a bar that's rich in flavor and easy to whip up, this is it! Best of all, this is a no-bake recipe, perfect for the holidays and every day in-between.
Magic Cookie Bars (Hello Dolly Bars): If you're looking for the easiest, tastiest cookie bar out there, you can stop your search! These Magic Cookie Bars (sometimes called Hello Dolly Bars) are going to sweep you away with their simplicity and their luscious flavor profile!
Breads (Egg-Free)
Most of my breads (sweet and savory) are egg free. Here are a few of my favorites.
Easy Baking Powder Biscuits: They're light, they're fluffy, they're crisp on the edges and filled with a luscious, tender crumb. These easy baking powder biscuits are everything you would expect…and so much more!
Easy Cinnamon Roll Monkey Bread: If you're looking for a quick breakfast treat or dessert and you love the taste of cinnamon, have I got an easy recipe for you! This Cinnamon Roll Monkey Bread comes together in minutes and only requires a handful of simple ingredients!
Easy Cinnamon Rolls from Canned Biscuits: Talk about an easy breakfast treat! These cinnamon rolls taste just like the homemade ones you might slave hours over. But they come together in (literally) minutes. Best of all, no one will know you didn't make them from scratch! (No yeast dough necessary, y'all!)
Old-Fashioned Banana Bread with Mayonnaise: If you've been on a search for the best banana bread recipe out there, search no more! This one is absolutely perfect! Best of all, this Old-Fashioned Banana bread recipe is super easy to whip up in a hurry! It's loaded with flavor. . .and thanks to a secret ingredient (mayonnaise!) it's moist, flaky, and super tasty! (Skip the egg mentioned in the recipe.)
Monkey Bread with Canned Biscuits: If you love a good cinnamon roll, one that's gooey and sticky but light and fluffy at the same time. . .you're definitely in the right place. This Monkey Bread recipe is rich with brown sugar and cinnamon and will leave you swooning! Best of all, it starts with canned biscuits. Talk about simple!
Copycat Red Lobster Cheddar Bay Biscuits: You love those buttery, hot, cheesy biscuits at Red Lobster and you're wishing you could make some at home. But most of the Cheddar Bay Biscuit recipes call for Bisquick mix, and you don't happen to have any on hand. No problem! In this quick tutorial we're going to whip up a batch using an ingredient you probably do have in your refrigerator. . .mayonnaise!
Easy Apple Pie Monkey Bread Muffins: If you love caramel apples, apple pie, or monkey bread… You're going to absolutely love this new recipe for apple pie monkey bread biscuits. You can whip them together in minutes just like traditional monkey bread but this recipe focuses on individual portion sized muffins that you can share with your friends and family without the mess!
Light and Fluffy Biscuits with Mayonnaise: If you're looking for a super easy, tender biscuit recipe, you've come to the right place. These mayonnaise-based biscuits are flaky, tasty, and so, so easy to make! Best of all, you've probably got everything you need in your pantry and refrigerator right now.
Easy Fry Bread: Today I'm going to share a delicious recipe for Easy Fry Bread. This recipe is so versatile and can be used to create many favorites–like beignets, donuts, fried bread, or even churros. Talk about the perfect sweet treat! And guess what? These tiny crisp pieces of bread can be used as a base for savory dishes, as well!
Cakes (Egg-Free)
It's rare to find a cake that doesn't call for eggs, but I've got a few ideas for you below! One of them calls for Mayonnaise, which has eggs in it. It's a cheaper option if you're cutting back on eggs.
Dreamy Buttercream Frosting: You're wondering how to doctor a boxed cake mix to make those cupcakesor cake look and taste more like homemade? Look no further than the frosting. Yep, that's right! Sometimes it's not the cupcake (or cake). It's what you add to the top that makes all of the difference.
The Best Chocolate Mayonnaise Cake: If you're looking for a rich, moist cake, loaded with flavor, you've come to the right place. This Old Fashioned Chocolate Mayonnaise cake is a southern favorite guaranteed to please everyone on your guest list. And this yummy recipe takes things a step further, adding a rich chocolate frosting with mayonnaise in it, as well!
Easy Pineapple Upside Down Dump Cake: Every now and again you want something so classic, so comforting, that nothing else will do. This easy Pineapple Upside Down Dump Cake is cobbler-like in texture and it's truly one of the most flavorful desserts you'll ever eat.
Candy (Egg-Free)
Candy is the perfect egg-free treat!
Creamy Maple Walnut Fudge: In this post I'm going to share a delicious and creamy maple walnut fudge recipe. This fudge is easy and incredibly tasty!
Easy Peanut Butter Snowballs: If you're looking for the perfect Christmas candy, one rich with flavor, you're going to love these delicious snowballs!
Easy 3 Ingredients Fudge: This is the perfect easy fudge recipe, only calling for three ingredients: chocolate chips, sweetened condensed milk, and Oreos!
Cobblers (Egg-Free)
Cobblers, like pies, often have a pie crust or other pastry-like crust. They're absolutely perfect when you're trying to cut back on eggs.
Apple Pie Cobbler with Crescent Rolls:Every now and again you stumble across a recipe that changes everything. This apple pie cobbler is one of those. It's luscious, gooey, chewy, and perfect for fall! But it's so easy to make you won't want to wait until then to make it!
Old-Fashioned Cobbler with Homemade Pie Crust: If you're looking for a luscious cobbler with that crisp homemade crust you grew up eating, you've come to the right place. This easy recipe calls for canned pie filling but a crust so flaky and delicious you'll swear you're sitting around grandma's table eating it.
Easy Peach Cobbler with Pie Crust: If you're in the mood for an easy, quick peach cobbler, one loaded with warmth and spice, you've come to the right place! This recipe comes together easily, but it doesn't feel like a "cheat" dessert. It tastes like you slaved over the stove for hours. This is truly one of the best peach cobblers I've had in a while!
Best Bisquick Cobbler: If you're looking for the easiest, tastiest cobbler recipe out there, look no further! You've found it, folks. This is truly going to knock your socks off and it all starts with two simple cups of Bisquick.
Yummy Blackberry Cobbler: There's nothing like a hot blackberry cobbler to make you feel comforted after a long, hard day. I don't know about you, but the combination of sweet berries, luscious thickened juice, and crisp pie crust is just divine! It's the perfect way to forget your troubles.
Delicious Apple Crisp: You've got a bag full of apples and you're not sure what to do with them. Bake a pie? Create an apple strudel? Maybe pocket pies? The answer is simple: turn those apples into a Delicious Apple Crisp. Loaded with brown sugar, cinnamon, butter, oats, and pumpkin pie spice, this apple crisp will leave your family and friends swooning!
Cookies (Egg-Free)
I've got some great egg-free cookie recipes for you–and a great variety, at that!
Easy Potato Chip Cookies: If you love a great pecan cookie, one with a hint of salt, you're going to flip over this Potato Chip Cookie recipe. These are the perfect blend of crunchy and soft, salty and sweet.
No-Bake Chocolate Oatmeal Cookies: If you're in the mood for a quick, easy cookie—one loaded with oats, chocolate, and peanut butter—have I got the perfect no-bake recipe for you!
Copycat Lofthouse Cookies: You've seen those cookies in the store–the soft cake-like sugar cookies with a lovely spread of buttercream on top. You've tasted them, and they're really delicious. You wish you could make Lofthouse Cookies at home. Now you can!
Chocolate Covered Graham Crackers: These chocolate covered graham crackers are the perfect project for you and the kids in your life! They're so easy the kids could probably whip them together without much assistance from you, but they're so tasty and fun you're going to want to share in the adventure, too!
Easy Mexican Wedding Cookies: These cookies go by different names. Some call them Mexican Wedding Cookies, some call them Snowballs. Some call them Pecan Sandies, others call them Pecan Balls. Some folks call these soft bites of wonderment Italian Wedding Cookies, Mexican Wedding Cakes, or Russian Tea Cookies, others call them southern pecan butterballs. No matter what you call them, they're delicious and super easy to make.
Chocolate Covered Oreos Using a Mold: For ages I've loved chocolate covered treats at Christmas-time. (I'm a real chocolate lover. Maybe you are, too.) This year I decided to go all-out and make one of my favorites, Chocolate Covered Oreos.
Pies, Baked (Egg-Free)
The ultimate egg-free dessert! Some pies have a bit of egg in the filling but all of mine start with egg-free crusts. If you use canned pie filling you can create a masterpiece with no eggs at all.
Easy Coconut Cream Pie: In this post I'm going to show you how to make my very favorite pie of all time: Coconut Cream Pie. It's lush, rich, sweet, and loaded with coconutty goodness! Perfect for special occasions or any day of the week!
Easy Blackberry Pie with Decorative Crust: If you're looking for a luscious pie with both fantastic flavor and a memorable look, you've come to the right place! This blackberry pie is delicious and beautiful.
Easy Key Lime Pie: If you love the light, tart flavor of lime and the luscious creamy texture of cheesecake, you're going to love this simple key lime pie. It's an easy-bake pie you're sure to adore!
Pies, No-Bake (Egg-Free)
I love no-bake pies. I especially like the ones that contain cream cheese. (Yum!) These egg-free desserts are perfect for a summer's day.
Easy Patriotic Fruit Pizza: If you love a tender shortbread crust with a creamy cheesecake topping, you've stumbled across the right recipe! This luscious fruit pizza has a buttery crunch on bottom, is rich and creamy in the middle, and is covered with fruit to give it an extra burst of flavor on top.
No-Bake Cherry Cheesecake Pie: This luscious No Bake Cherry Cheesecake Pie is one of the tastiest–and easiest–things I've ever made! You're going to love the combination of sweet and tart, creamy and crunch. Best of all, you won't have to bake a thing!
Easy No-Bake Key Lime Pie: If you love the tart creamy goodness of a key lime pie but the simplicity of an icebox pie, have I got a treat for you! This easy no-bake key lime pie is simple but delicious!
Scones (Egg-Free)
Sweet or savory. . .I've got some great egg-free scone recipes for you!
Strawberry Cheesecake Scones: If you love the idea of strawberry cheesecake but you're also a scone lover, this is the recipe for you. Best of all, this recipe starts with a simple white cake mix! (Follow the recipe but skip the 1/2 egg yolk.)
Strawberry Lemon Creme Scones: The juicy berries, the tartness of the lemon zest. . .wow! Talk about a flavor explosion! I simply loved these (so much so that I had to pass them on to a family member to keep from eating the whole batch. They're definitely not Weight Watchers friendly!)
Bacon Cheddar Chive Scones: When you think of the word scones you usually imagine sweet treats–lemon scones with strawberries, buttermilk scones with blueberries. . .and so on. These days, though, people are enjoying the ease of the scone with a savory twist and that's just what this delicious recipe offers.
Sweet Treats (Egg-Free)
If you love pastries and other sweet treats but you're trying to cut back on eggs, do I have a surprise for you. I've got a plethora of egg free sweet treats!
Homemade Pop Tarts: Okay, y'all. . .I've got a great recipe for you today. These Homemade Pop-Tarts are easy and fun, the perfect project to work on with the kids in your life. There's so versatile, too!
Canned Biscuit Pocket Pies: If you love those golden, delicious little pocket pies, the ones you can hold in your hand and eat without a fork, you're going to love this quick recipe.
Easy Raspberry Pinwheel Pastries: If you love raspberry and you're also a fan of flaky pie crust, this is the recipe for you! This has to be one of the simplest recipes I've ever posted, and yet one of the tastiest! Best of all, it starts with my DIY Bisquick Mix!
Flaky Pie Crust Cinnamon Rolls with Maple Glaze: You love cinnamon rolls. You love pie crust. You're looking for something pastry-like and crisp, but with the brown sugar and cinnamon flavors you've grown to love
Best Banana Pudding with Biscoff Cookies: If you love Banana Pudding but you're looking for a twist, one that involves the warmth of a Biscoff cookie, you've come to the right place! This creamy pudding will leave your guests swooning. Best of all, it's simple to make and requires no cooking whatsoever.
Easy Cheesecake Mousse: This decadent, yet easy cheesecake mousse is incredibly versatile. It can be used as a filling in trifles, cupcakes, or even in a graham cracker pie crust, topped with luscious whipped cream. But, guess what? It's also terrific as a cake frosting. And (gasp!) You can even eat it all alone, just as you would eat a bowl of pudding. It's especially perfect as a filling in layered and tiered cakes. Yum!
---
Thanks for checking out these egg-free recipes. If you're interested in other baked goods that do require eggs, guess what? I've devoted an entire post to easy egg substitutes. Perhaps you might choose to swap out one of the recommended substitutes for some of your eggs.
---
About the Author
Janice Thompson is an author, baker, and all-around mischief maker! She has overcome a host of baking catastrophes, including a toppled wedding cake, to learn more about the baking process. Janice has published over 150 books for the Christian market but particularly enjoys writing recipes and baking devotions. To learn more about Janice or to drop her a note, visit her About the Author page.