Today I'm going to share a delicious recipe for Easy Fry Bread. This recipe is so versatile and can be used to create many favorites–like beignets, donuts, fried bread, or even churros. Talk about the perfect sweet treat! And guess what? These tiny crisp pieces of bread can be used as a base for savory dishes, as well!
Honestly? You can call these little nuggets of deliciousness anything you like. I'm going with "fry bread" because I have distinct memories of my grandmother making them for our family as a special treat. (Hey, nothing tops homemade fry bread to make your loved ones feel they're getting a real treat!)
A Versatile Recipe!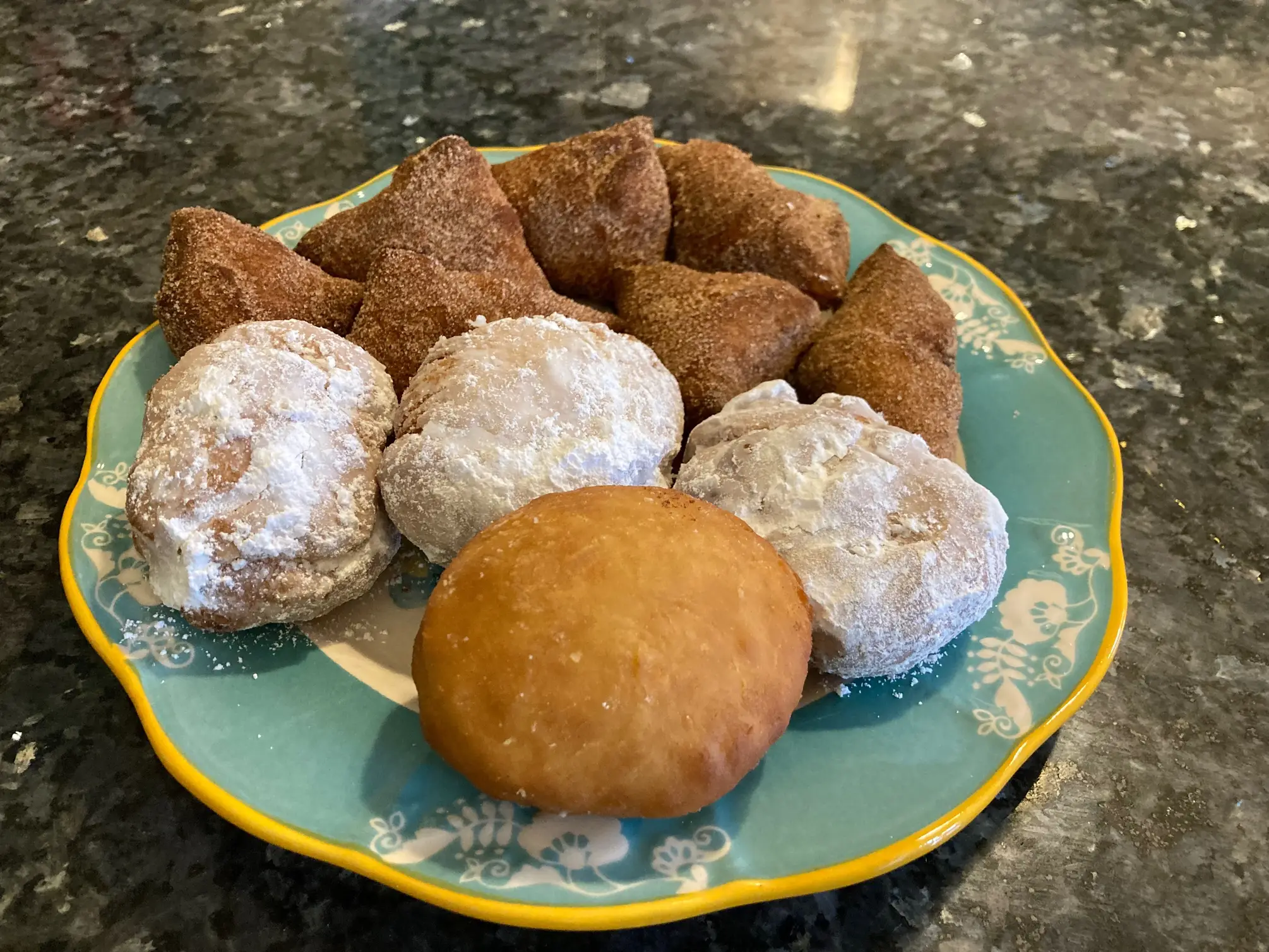 Let's pause for a moment so that I can talk about the versatility of this recipe. You can coat these with cinnamon and sugar and they have a donut-like texture (more of a cake donut than the airy version). Cover them in powdered sugar and you'll feel like you're in New Orleans, eating a beignet.
Stuff them with pastry cream (vanilla pudding or even whipped cream) and you'll believe you've somehow been transported to Paris to a French Patisserie. Leave off the sweetness and you can eat them as bread with your favorite meal. (That's how I grew up eating my Grandma's fried bread.)
Back in the Olden Days. . .
Women didn't have the corner bakeries we now enjoy. Most breads and sweet treats were made at home. They used what they had on hand and most every house had flour, the key ingredient in this recipe.
If you're wondering what else you'll need to make this Easy Fry Bread, check out the ingredients list below. (Don't worry! You'll find a full printable recipe card at the bottom of this post, as well as full instructions.)
Native Americans had their own version of a fry bread, which we know as Navajo Tacos or Indian Tacos. If you make this version, simply top your fry bread with your favorite meats, cheeses, veggies, (like lettuce and black olives) and sour cream. Top them off with chopped tomatoes and sour cream. Yum!
Easy Fry Bread Ingredients
Here's what you'll need for the Fry Bread:
all purpose flour
baking powder
white sugar
salt
room temperature butter
warm water
vegetable oil (or canola oil) to fry your bread
extra flour (for floured surface)
Here's what you'll need for the coating:
granulated sugar
ground cinnamon
Alternative toppings:
Powdered sugar
Taco ingredients: taco meat, cheese, lettuce, tomatoes, sour cream (or other favorite ingredients)
Alternative fillings:
Vanilla pudding
Chocolate pudding
Whipped Cream
How to Make this Delicious Fry Bread
This is one of the easiest, quickest recipes you'll ever make and all it takes is a few simple ingredients!
Usually bread-based recipes require yeast and plenty of time for the dough to rise. That's not the case here! From start to finish, you can wrap up this entire project in less than 20 minutes! (No kidding!)
Start by combining all of your dry ingredients in a bowl. Use a whisk to work them together. Add butter and use your fingers to work it in. Now it's time to add your warm water. Pour it in and work with your fingers until it all comes together.
Drop your dough onto a floured surface and roll into a ball. Set the ball of dough back into the bowl and cover with a cloth. (Don't worry! You only need to let it sit a few minutes!)
Now it's time to mix your cinnamon and sugar. I confess, I didn't actually measure mine. I make enough of my Heavenly Snickerdoodles that I know how to eyeball cinnamon-sugar the way I like it!
I also put about half a cup of powdered sugar into a separate bowl because I knew I wanted some of my fry bread to look and taste more like a beignet.
Back to the dough. Remove from the bowl and separate it into about six sections then roll those into dough balls. With a rolling pin, roll them out and cut into triangles or circles (your choice). I left mine about 1/2 inch thick. (You can actually roll them really thin but I wanted a puffier outcome.)
When you're done rolling out the dough it's time to fry the bread!
Put about 3-4 cups of oil into a pan and set on medium-high heat. This process is so fast, you won't believe it! I don't think mine were in the oil for more than 2-3 minutes, at most. Make sure your oil isn't too hot or the fry bread will burn. I set mine on a medium-low heat for the cooking process.
I put three pieces of bread into my hot oil at a time. How many you add will depend on the size of your pan and the size of your bread pieces. I flipped them as soon as they turned golden brown and kept frying until the opposite side was done.
Lift the cooked bread pieces out with a strainer and place them on paper towels. As soon as you're done cooking, it's time to coat them.
I coated some in cinnamon sugar and some in powdered sugar. I left one without any topping. (It turned out to be my favorite because it reminded me of my grandmother.)
I loved the fluffy bread-like texture inside these yummy pieces of bread, but the crispy exterior? Y'all. . .Pure bliss!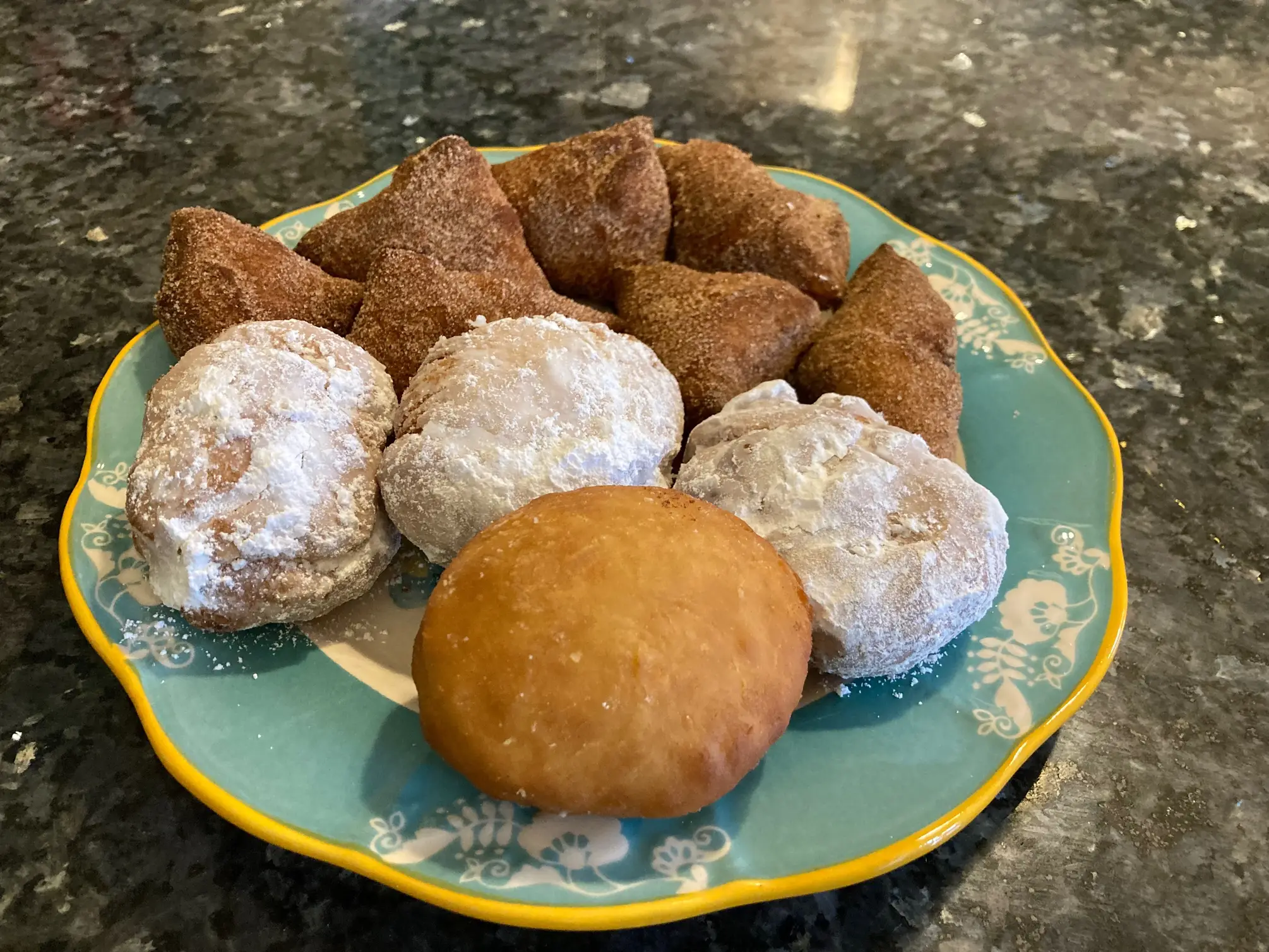 I was astounded at how quickly and easily this recipe came together. I think you'll enjoy it, too! Just keep a close eye on the oil so you don't burn anything!
I'm already making a list of things I'll add to this recipe next time around. I can hardly wait to try out some new variations.
Variations on my Easy Fry Bread:
Add cinnamon to the dry ingredients. Coat in cinnamon and sugar and drizzle with caramel. (You'll feel like you're at a fair!)
Melt chocolate chips in a tiny bit of cream or milk to create a ganache for dipping. Yum!
Fill the fry bread pieces with vanilla pudding or whipped cream.
Cover the plain pieces of fry bread in a simple glaze (powdered sugar with a little bit of water and almond extract).
Drizzle with honey butter or maple syrup.
Roll thin and cover with chopped walnuts, cinnamon, and sugar, and then roll to form elephant ears. (These won't be as crisp as the baked version of elephant ear cookies, but you'll have a yummy treat that's different and tasty!)
Use this recipe to make Navajo Tacos. (Roll the dough a little thinner and make a larger circle to serve as a base for your ground beef, lettuce, tomato, and whatever else you like.)
Dip these crisp pieces of bread into a large bowl of queso.
If you don't plan to use a sugary coating on your fry breads, consider adding a bit more salt. (The recipe calls for a half teaspoon salt, but you could up that a little or even sprinkle a bit of sea salt on the exterior of the bread while it's still warm.)
I haven't tried this but I'm thinking this dough would be fun to try in a waffle iron! (Yum! Coat with pancake syrup when you're done or sprinkle with confectioner's sugar!)
Other Sweet Treats
I'm known for my cakes, cupcakes, and cookies, but I have some other sweet treats in my recipe stash, as well! If you liked this offering, maybe you'll enjoy my Strawberry Lemon Creme Scones.
If you're looking for something quick and easy you might enjoy my Easy Brownies. They're luscious, y'all!
If you're looking for an easy elephant ear dough, check out this recipe from Allrecipes!
---
About the Author
Janice Thompson is an author, baker, and all-around mischief maker! She has overcome a host of baking catastrophes, including a toppled wedding cake, to learn more about the baking process. Janice has published over 150 books for the Christian market but particularly enjoys writing recipes and baking devotions. To learn more about Janice or to drop her a note, visit her About the Author page.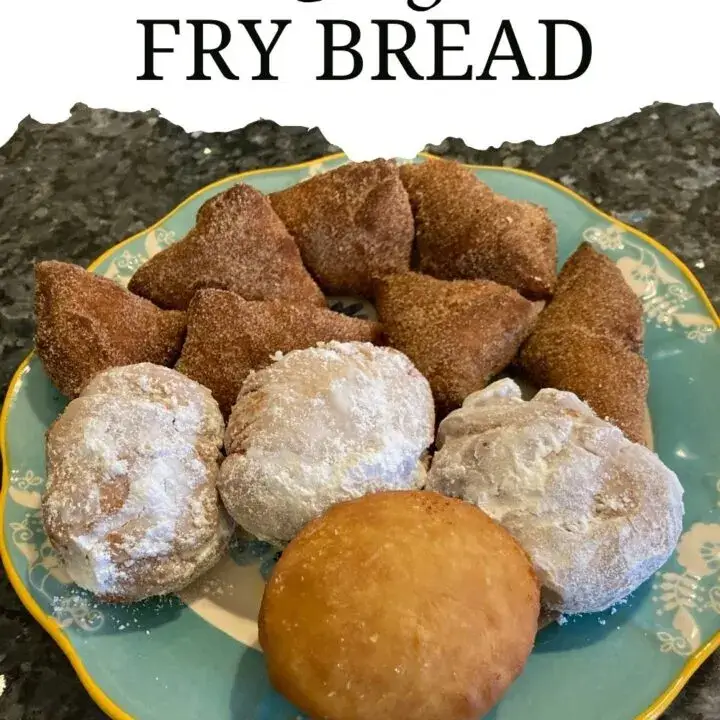 Easy Fry Bread
Additional Time:
5 minutes
This easy Fry Bread recipe is so versatile and can be used to create many favorites--like beignets, donuts, fried bread, or even churros. Talk about the perfect sweet treat! And guess what? These tiny crisp pieces of bread can be used as a base for savory dishes, as well!
Ingredients
2 cups all purpose flour
1 tablespoon baking powder
2 tablespoons white sugar
1/2 teaspoon salt
2 tablespoons room temperature butter
2/3 cup warm water
oil for frying (vegetable or canola oil)
1/2 cup granulated sugar
1/2 tsp ground cinnamon
Instructions
Whisk together dry ingredients
Add softened butter and mix in with your fingers.
Add water and mix until incorporated.
Roll into a ball.
Create a flour surface and roll dough into a ball.
Divide dough into six equal sections.
Roll out to 1/2 inch thickness and cut into circles or triangles.
Heat vegetable oil over medium-high heat.
Drop 3 - 4 pieces of bread at a time into pan and cook until golden brown, then flip and cook the other side.
Remove from oil and place on paper towel.
Coat in cinnamon-sugar or powdered sugar.
Notes
You can use a pasty bag with a tip to fill these pieces of bread with vanilla custard/pudding or whipped cream.