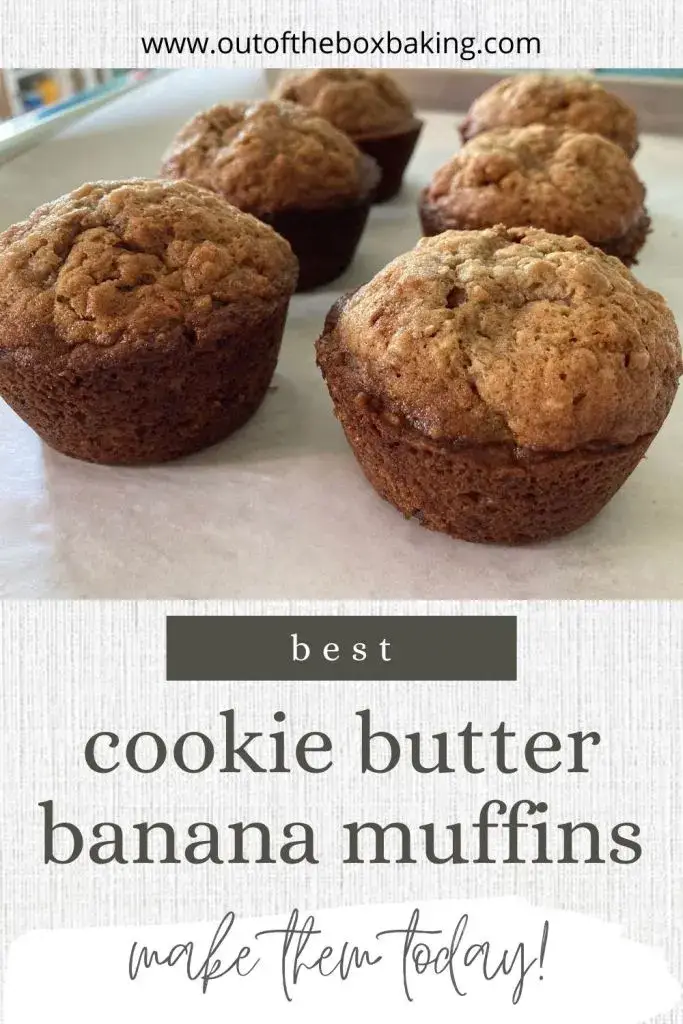 If you're a fan of cinnamon, spice, and everything nice, then this yummy recipe for my Cookie Butter Banana Muffins will be just the ticket! They are simple to make and have a light fluffy cake-like texture that you simply don't find in most banana-based products.
Best of all, the addition of crushed Biscoff cookies gives this classic banana muffin the perfect warm spice flavor you don't normally get. Whether you're looking for something to take to a casual family gathering or a fancy tea party, these will be perfect!
This is one of those great muffin recipes you'll want to keep in your recipe box!
Need to Use up Some Ripe Bananas?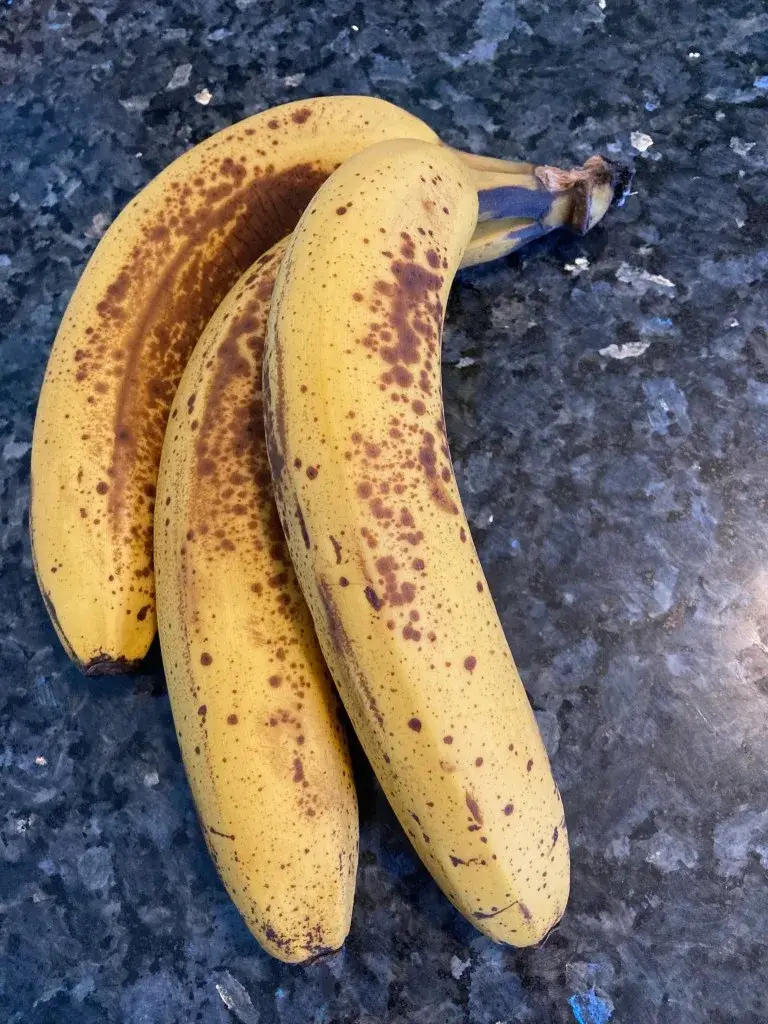 That's often where the baking journey begins, isn't it? In my case I had several things that needed to be used–over-ripe bananas, Biscoff cookies (which I purchased in quantity over the Christmas holidays), oats (which I had in abundance) and eggs.
Mostly, I needed to get rid of those bananas before they went bad. And this is not the first time I've been in this predicament! I tend to buy bananas and not eat them fast enough. No worries! I always end up creating a new recipe when this happens. I love banana flavored cakes, muffins, and breads.
If you've been following me for any length of time you've probably seen my Easy Banana Chocolate Chip Muffins or my Caramel Banana Cake. I even use bananas in my pancakes! But, until today, I'd never baked a Cookie Butter Muffin!
Biscoff Cookies. . .for Baking?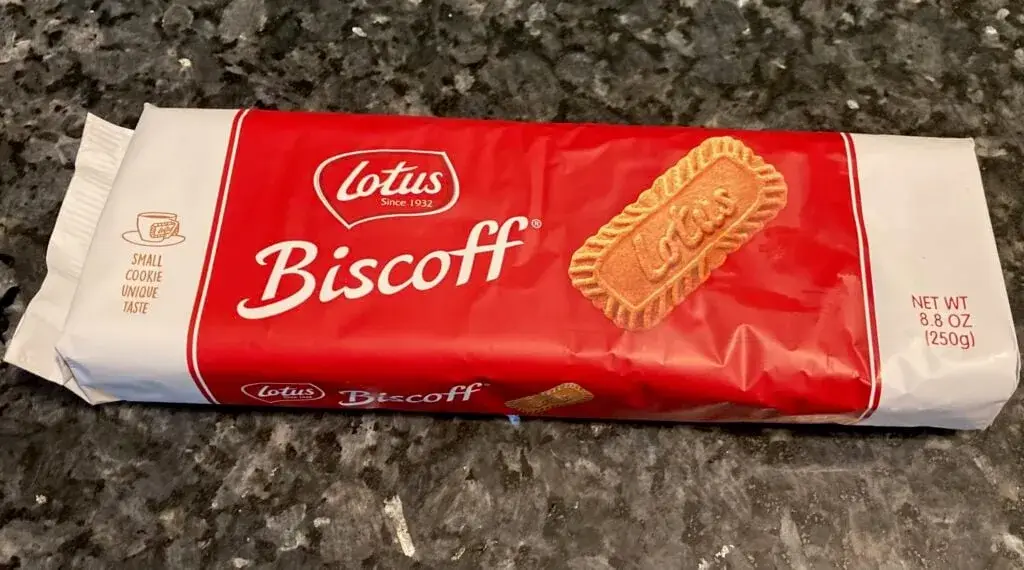 Yes! I've been using them for ages and keep coming up with terrific recipes to incorporate them. Maybe you've seen my Cookie Butter Trifle recipe, (which I love). My absolute favorite way to use these cookies is in my Cookie Butter Cupcakes. Incorporating these crispy cookies into a banana muffin? That, I had never done! But, I was willing to give it a try!
Hey, I'm nothing, if not adventurous! So, I decided to trim back on the oats and add some crushed cookies. And, y'all. . .
We've got a real winner here. This is a flavorful, fluffy muffin with crispy edges.
Cookie Butter Banana Muffin Ingredients
I know you're excited to try this recipe! You'll need a few basic ingredients. No doubt you have many of them in your pantry already. If you don't have Biscoff cookies, don't worry! Use whatever cookies you have on hand but adjust your spices accordingly.
Here's what you'll need to make these muffins:
salted butter
granulated sugar
brown sugar
large egg
mashed overripe bananas
pumpkin pie spice
cinnamon
quick oats
crushed Biscoff (speculoos) cookies
all purpose flour
melted cookie butter
I will share some variations on these muffins at the bottom of the post. You will also find the full recipe, along with detailed instructions for how to mix and bake these yummy muffins. Here's how I made mine:
How to Make my Best Cookie Butter Banana Muffins
Start by crushing about a dozen Biscoff cookies. You'll notice that some of mine were pretty mashed up and others were left chunky. (I like the texture.) You can do this in your food processor or in a baggie like I did. You could even wrap in plastic wrap and smash! (I use a rolling pin to get my aggression out!)
It's time to start mixing! I used my stand mixer with the paddle attachment. Begin with your softened butter. Whip it in a mixing bowl until it's light and fluffy. Then add your sugars and mix them in until fully incorporated.
Go ahead and add your egg. Once you've got it mixed in, add your mashed banana. Don't over-mix. (The batter might look a little mushy at this point but just keep going!)
Now let's spice things up! It's time to add your dry ingredients! Dump in the cinnamon and pumpkin pie spice. Add the oats and Biscoff cookies next and mix just until incorporated.
Time to add the flour and baking soda. Combine and add one cup at a time, being careful not to over mix. This is a light cake-like cookie and you don't want the gluten strands to be over-activated!
Grease your muffin tray. You can always add cupcake liners but I chose not to. I wanted mine to look and feel more like traditional muffins.
It's time to scoop your batter. Because this is a muffin batter and not a cupcake batter, it might seem a bit thick to you. I promise, it will work out just fine! (These are moist banana muffins!)
If you like, you can sprinkle a bit of crushed biscoff cookie on the top of each muffin.
Time to bake! The baking time is 20-22 minutes at 350 degrees and these muffins came out perfectly–a light golden color with slightly crisped edges. (Yum!) I placed mine on a wire rack to cool.
You can always drizzle with melted cookie butter or maple syrup, but here's a better idea: Cut them in half and put some cookie butter inside. Yum!
Ripe bananas are sweet bananas, so you'll end up with a sweet, spicy muffin, y'all!
I haven't tried this in a loaf pan yet, but I plan to! I'm guessing it would make a delicious quick bread!
How to Turn This Recipe into Cookies
You can use this exact same recipe to make soft, fluffy cookies. Follow the exact directions above but scoop onto a cookie sheet and bake at 375 for 10 minutes.
You can even add drizzle to your cookies! Just melt some cookie butter in the microwave for 20-30 seconds.
Time to drizzle! Using a spoon, drizzle the melted cookie butter over the cookies. (I placed a mat under my wire rack but you could use a piece of waxed paper or even a cookie sheet.)
You'll be thrilled at the warm spice this drizzle adds to your fluffy cookie!
This is a true melt-in-your-mouth cookie, y'all. Almost a tea cake. Almost a muffin. Almost a cookie. Pretty close to perfect! (And to think I made it up on a whim!) Best of all, it's very versatile!
Questions people are asking about Cookie Butter Banana Muffins:
QUESTION: Where can I find Cookie Butter?
You can buy it at any grocery store. You don't have to buy the Biscoff cookie butter brand. Trader Joe has a fabulous cookie butter, certainly worth trying! I usually buy mine at WalMart on the peanut butter aisle. As you can see, I used a generic brand for this recipe because WalMart was out of the name brand.
QUESTION: Do I have to add bananas?
No, you could substitute applesauce but it might change the consistency. You can also use peanut butter, but it has a tendency to "firm up" the product so don't use much. It might be worth a try to add Greek yogurt in place of the bananas, as well, though that would definitely change both taste and texture! Another option would be sour cream.
QUESTION: How do I store the batter for these muffins?
Place in a freezer bag or other airtight container and freeze up to two months. Thaw before using.
QUESTION: How do I store the muffins once they're made?
You don't want to stack them after the drizzle has been added. Place them side by side in a ziplock bag. No need to refrigerate. They will last about 3 days, (not as long as other types of cookies, due to the banana). You can store them in the refrigerator up to a week but be sure to let them come to room temperature before eating.
QUESTION: Can I add vanilla extract?
Of course! You can add vanilla to almost any recipe. If you skip the spices, you'll definitely want to add it.
Variations on these yummy muffins:
Instead of Biscoff cookies, add:
Vanilla wafers
Teddy Grahams
Shortbread cookies
Oreos, (omit cinnamon and pumpkin pie spice)
chocolate chip cookies (omit cinnamon and pumpkin pie spice)
mini chocolate chips (omit cinnamon and pumpkin pie spice)
peanut butter chips (for that yummy peanut butter flavor)
caramel chips (keep the spices in!)
white chocolate chips (keep the spices in!)
butterscotch chips (keep the spices in!)
You could always add peanut butter to make peanut butter banana muffins! Or, if you prefer, use almond butter or cashew butter. Yum!
I've got a lot of great posts coming about banana-inspired goodies, but if you're in the mood for a something completely different, check out my Stuffed Brownie Cookie recipe!
There are a ton of great recipes on Back to my Southern Roots, including these yummy-looking Cake Mix Cookies with Butterscotch Chips.
Let me know your thoughts about these fluffy Cookie Butter Banana Muffins, y'all!
---
About the Author
Janice Thompson is an author, baker, and all-around mischief maker! She has overcome a host of baking catastrophes, including a toppled wedding cake, to learn more about the baking process. Janice has published over 150 books for the Christian market but particularly enjoys writing recipes and baking devotions. To learn more about Janice or to drop her a note, visit her About the Author page.
Cookie Butter Banana Muffins
Additional Time:
5 minutes
If you're a fan of cinnamon, spice, and everything nice, then this yummy recipe for my Cookie Butter Banana Muffins will be just the ticket! They are simple to make and have a light fluffy cake-like texture that you simply don't find in most banana-based products.
Ingredients
1 cup salted butter
1/2 cup sugar
1/2 cup brown sugar
1 large egg
1 cup mashed bananas (ripe)
1 cup oatmeal
1 cup crushed Biscoff (speculoos) cookies
1/4 teaspoon pumpkin pie spice
3/4 teaspoon cinnamon
2 cups all purpose flour
1 tsp baking soda
1/4 cup melted cookie butter
Instructions
Place a dozen Biscoff cookies into a ziplock back and crush them with a rolling pin.
In a large mixing bowl add your butter. Whip until light and fluffy.
Add brown sugar and white sugar to butter and fully incorporate.
Add your large egg and mix well.
Add in the mashed banana and lightly mix.
Add oats, crushed cookies, and spices. Don't over mix.
Add flour and baking soda, only mixing until incorporated.
Spray your muffin tin with vegetable oil spray
Scoop batter into tin. (Batter is thick.)
Bake at 350 degrees for 20-22 minutes.
Cool and remove from tin. Continue to cool on a wire baking rack.
Notes
Store in airtight container side-by-side. You can also use this recipe to make soft, fluffy cookies. Bake at 375 for 10 minutes on a parchment lined cookie sheet.