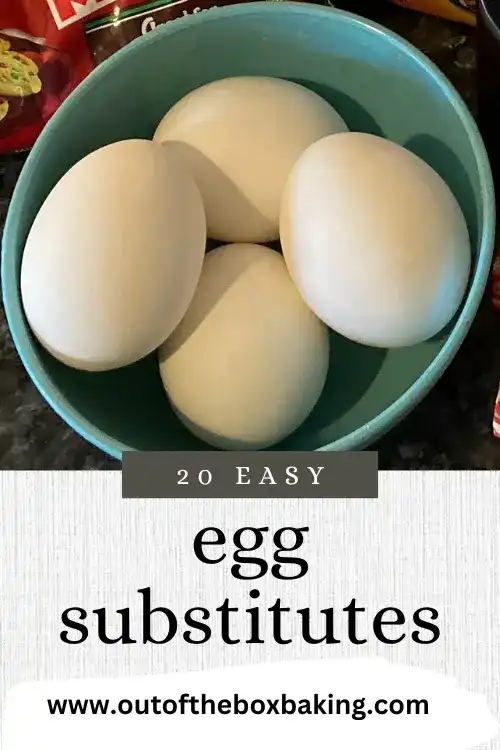 In today's economy we bakers need to do everything we can to cut back on our spending. With the cost of eggs going through the roof, this is especially important. In this post I'm going to give you several tips and tricks to save money and time by using egg substitutes.
Why Use Egg Substitutes?
As a baker, you used hundreds of eggs a year! With prices going up, it's time to think outside the box! Here are some of the reasons you might consider egg substitutes.
1). Eggs are Expensive Right Now
Over the past several months we've been hard hit with egg prices that are through the roof. Depending on the brand (and type) of eggs you use, you could easily be paying upwards of $10 a dozen.
According to The Washington Post:
Egg prices hit historic peaks ahead of the December holidays, when egg demand is at its highest. But even slight decreases in recent weeks mean shoppers in the United States started the new year facing far higher than average costs. In California, the priciest market, shoppers were shelling out an average of $7.37 for a dozen Grade A large eggs, roughly three times the cost from a year earlier.
I've been hoarding eggs in much the same way a sugar addict would hide candy bars in her underwear drawer. Last week a relative opened my fridge to discover four containers of eggs. I didn't even apologize. Any time I can find them on sale, I buy them.
Why are egg prices so high right now?
That's the question everyone is asking. According to Forbes Magazine:
…the real reason egg costs remain high (as inflation otherwise eases) is an avian flu that has decimated chicken farmers, causing as many as 57 million chickens to be affected.
Another report from CNN business points the finger another direction:
Weather and disease are heavily affecting certain products' prices, too – and none have been more rotten than egg prices: They're up 59.9% year over year, a rate not seen since 1973, when high feed costs, shortages and price freezes caused certain agricultural products to soar in price.
Still others are blaming the war in Ukraine and the costs associated with that.
Regardless of why, the truth remains: egg prices are through the roof right now and bakers are struggling at the grocery store.
For a full look at the problem, visit the usda.gov site.
2). Many People are Allergic to Eggs
Those who struggle with egg allergies and sensitivities have always know about egg substitutes. If you can't eat eggs due to allergies or intolerance, you get it.
According to health line.com:
Having an intolerance to eggs means your body adversely reacts to this particular food. It's also possible to have multiple food sensitivities at once, such as to gluten, dairy, and soy.
An egg intolerance is different from an egg allergy, which is caused by an immune reaction to egg proteins.
How do You Know if You're Allergic to Eggs?
An egg allergy can be life-threatening. Considering this information from the Mayo Clinic:
Egg allergy symptoms usually occur a few minutes to a few hours after eating eggs or foods containing eggs. Signs and symptoms range from mild to severe and can include skin rashes, hives, nasal congestion, and vomiting or other digestive problems. Rarely, egg allergy can cause anaphylaxis — a life-threatening reaction.
I was surprised to see that some people with Celiac Disease can't eat eggs.
According to an article title Why Can't Celiacs Eat Eggs?:
Celiacs, which suffer from an autoimmune disease of the digestive system, cannot eat eggs because the protein structure of some eggs mimic the wheat protein structure that aggravates celiac. The gluten in wheat, barley, and rye products can cause an immune reaction in those with celiac, yet proteins in eggs, including ovomucoid and ovalbumin, may also do the same.
The article goes on to say that they can still eat the egg whites. There are (who knew?) companies that specialize in gluten free eggs. I had no idea.
3). Personal Beliefs
Some people avoid eggs because due to personal beliefs.
I located an article titled 7 Reasons Why You Shouldn't Eat Eggs.
Among the reasons listed, you'll find: cruelty to birds and hazards to the environment. They also cite high sulphur content and high protein content,
Egg Substitute Master List
Regardless of why you're avoiding eggs (or having to do without them), there are solutions. You don't have to stop baking, even if you're egg-free. There are plenty of substitutes out there.
Here's my master list that I've collected from a variety of sites on the web and social media. I've listed them in alphabetical order for ease of use.
Substitute eggs with:
1. applesauce (1/4 cup = 1 egg)
2. agar-agar and boiling water (1 tablespoon agar-agar + 3 tablespoons boiling water = 1 egg)
3. arrowroot (2 tablespoons arrowroot + 3 tablespoons water = 1 egg)
4. avocado, mashed (1/4 cup = 1 egg)
5. aquafaba: liquid from canned beans (3 tablespoons = 1 egg)
6. baking powder, oil, and water (2 tsp baking powder + 1 tbl oil + 2 tbl water = 1 egg)
7. bananas, mashed (1/4 cup = 1 egg)
8. buttermilk (1/4 cup = 1 egg)
9. carbonated water (1/4 cup = 1 egg)
10. chia seed plus water (1 tablespoon seeds + 1/3 cup water + 15 minutes = 1 egg)
11. chia seed powder (1 tablespoon ground chia seeds + 3 tablespoons water = 1 egg)
12. cornstarch (1 tbl cornstarch + 3 tables water = 1 egg)
13. flax seeds plus water (tablespoon flax seed + 3 teaspoons warm water + 10 minutes = 1 egg)
14. mayonnaise (3 tablespoons = 1 egg)
15. nut butter (3 tablespoons = 1 egg)
16. oats plus water (2 tablespoons oats + 3 tablespoons boiling water = 1 egg)
17. soy protein powder plus water (1 tablespoon powder + 3 teaspoons water = 1 egg)
18. tofu, silken (1/4 pureed silken tofu = 1 egg)
19. vinegar plus baking soda (tablespoon vinegar + teaspoon soda = 1 egg)
20. yogurt (1/4 cup yogurt = 1 egg)
Liquid Egg Replacements
There are a lot of commercial egg replacers out there for folks who can't use real eggs. Here are some I found on Amazon:
Egg White Replacer
If you're looking to replace egg whites only (for meringues, royal icing, etc.) you can always use one of the following:
Egg-Free Baking
If you want to skip both the eggs and the substitutes, I've still got a host of recipes for you. Stay tuned for an upcoming round-up article listing all of my luscious recipes that require no eggs whatsoever!
For now, here's a quick peek at a few of my favorites:
Easy No-Bake Key Lime Pie: If you love the tart creamy goodness of a key lime pie but the simplicity of an icebox pie, have I got a treat for you! This easy no-bake key lime pie is simple but delicious! Best of all, it's egg-free!
Easy Pineapple Upside Down Dump Cake: Every now and again you want something so classic, so comforting, that nothing else will do. This easy Pineapple Upside Down Dump Cake is cobbler-like in texture and it's truly one of the most flavorful desserts you'll ever eat. And you'll be happy to hear there are no eggs required.
Easy Blackberry Pie with Decorative Crust: If you're looking for a luscious pie with both fantastic flavor and a memorable look, you've come to the right place! This blackberry pie is delicious and beautiful. And guess what? This amazing dessert is egg-free!
Best Chocolate Mayonnaise Cake: If you're looking for a rich, moist cake, loaded with flavor, you've come to the right place. This Old Fashioned Chocolate Mayonnaise cake is a southern favorite guaranteed to please everyone on your guest list. And this yummy recipe takes things a step further, adding a rich chocolate frosting with mayonnaise in it, as well!
---
That's it for this post, folks. If you have other ideas, please leave them in the comments below!
About the Author
Janice Thompson is an author, baker, and all-around mischief maker! She has overcome a host of baking catastrophes, including a toppled wedding cake, to learn more about the baking process. Janice has published over 150 books for the Christian market but particularly enjoys writing recipes and baking devotions. To learn more about Janice or to drop her a note, visit her About the Author page.