The holidays are upon us and you're on the prowl for something sweet for your family gathering. We've got a host of amazing desserts here at Out of the Box Baking, perfect for your Thanksgiving Day table!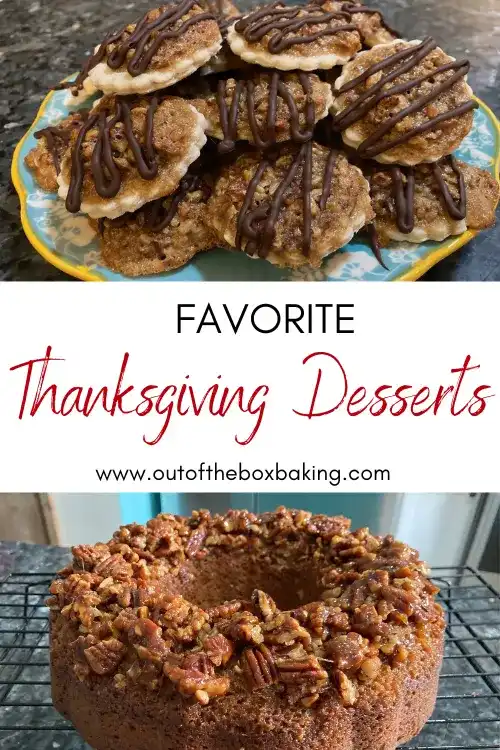 What Should I Bring to Thanksgiving Dinner?
I've been asking myself that question all week. We're meeting with the extended family and most of the foods will be provided by other family members. But everyone knows I'll be bringing dessert. (Duh!)
I've wracked my brain to figure out what to bring. Pies are great, but so are cakes. Oh, but my family is crazy about trifles. And they've come to expect cookies.
What's a girl to do? With so many options I want to choose carefully. No doubt you do, too. You're looking for the best Thanksgiving desserts.
Here are some of the desserts I'm contemplating. I hope they inspire you as you set the table for your own family.
Just lick the links or the photos to see the recipes for these fall-friendly desserts!
THANKSGIVING PIES AND COBBLERS
Pies, pies, and more pies! I've got pies and cobblers galore and many of them are absolutely perfect for Thanksgiving. Which one would you choose for your holiday table?
Fudgy Pecan Pie: Nothing says Thanksgiving like a classic pecan pie. This one adds a special ingredient: Chocolate! Your guests will swoon. No, really!
Easy Blackberry Pie with Decorative Crust: This one's perfect for the holidays. You'll really impress your Thanksgiving guest with a gorgeous, tasty pie. It will be the star of the table!
Easy Apple Pie with Homemade Crust: If you love the warm rich flavors of apple and cinnamon and the lovely crisp crunch of a flaky pie crust, this is the recipe for you! Thanks to the addition of canned apple pie filling this Easy Apple Pie comes together so easily. . .but it tastes like it took hours!
Apple Pie Cobbler with Crescent Rolls: Every now and again you stumble across a recipe that changes everything. This apple pie cobbler is one of those. It's luscious, gooey, chewy, and perfect for fall! But it's so easy to make you won't want to wait until then to make it! This is one of those easy recipes you'll make over and over, and not just at Thanksgiving time!
Yummy Blackberry Cobbler: There's nothing like a hot blackberry cobbler to make you feel comforted after a long, hard day. I don't know about you, but the combination of sweet berries, luscious thickened juice, and crisp pie crust is just divine! It's the perfect way to forget your troubles. This one's perfect with a scoop of vanilla ice cream.
Old-Fashioned Cobbler with Homemade Pie Crust: If you're looking for a luscious cobbler with that crisp homemade crust you grew up eating, you've come to the right place. This easy recipe calls for canned pie filling but a crust so flaky and delicious you'll swear you're sitting around grandma's table eating it.
THANKSGIVING CANDY RECIPES
These candies are perfect for a Thanksgiving dessert tray! Why not make several of these and offer them to family member on a large Thanksgiving platter! (They will love you for it!)
Easy Peanut Brittle: If you love the crisp sweet flavor of brittle with the yummy crunch of peanuts, this is the recipe for you especially during the holiday season. This brittle is a family recipe, passed down over multiple generations. It's easy, and definitely one you'll pass on to your friends and loved ones.
Easy Caramel Pecan Pralines: If you love those chewy, rich pralines, the kind that leave your teeth feeling a bit sticky, you're going to flip over this great recipe. You cook these pralines up in a heavy saucepan. There's no baking involved!
Easy Peanut Butter Snowballs: If you're looking for the perfect holiday candy, one rich with flavor, you're going to love these delicious snowballs!
Old-Fashioned Divinity: If you love the light, sweet texture and flavor of divinity but you've been scared to make it because you think it's too difficult, think again! This easy recipe comes together with ease. . .and tastes amazing. You're going to love this southern confection!
Traditional English Toffee: It's light, it's crunchy, it's buttery, it's covered in chocolate nuts. What more could you ask for from a simple English Toffee recipe?
Easy Chocolate Coconut Balls: If you're a fan of those yummy Mounds bars you find in the supermarket, you're going to flip over this simple recipe. These easy Chocolate Coconut Balls as just as good and simple to make!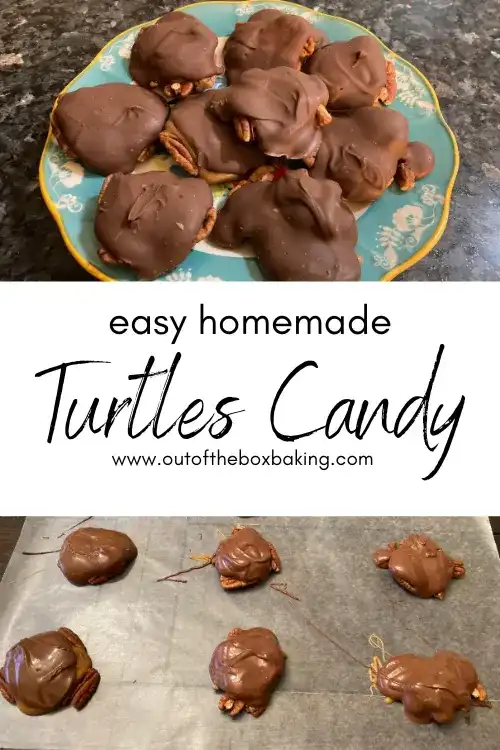 Easy Homemade Turtles: If you love the combination of caramel, chocolate, and pecans, have I got an easy treat for you! These classic Turtles are a no-bake recipe. In fact, they're easy that the kids can help you!
Easy Candied Pecans: If you're a pecan fan but you love a sweet coating on the outside, this simple recipe is going to blow you away. It's truly one of the simplest and yummiest things I've made in ages. . .and that's saying a lot! Best of all, it's an easy stovetop recipe. No baking required!
Cinnamon Toast Crunch Puppy Chow: If you love Cinnamon Toast Crunch you've definitely come to the right place. In this post we're going to learn how to make Puppy Chow (also known as Reindeer Chow during the holidays) out of your favorite breakfast cereal.
THANKSGIVING COOKIES AND BARS
I love cookies for so many reasons but I'm particularly fond of them during the holiday season. First of all, they're so easy to make. And they're super easy to transport. Which of these sounds most appealing for your Thanksgiving dinner?
Old Fashioned Butter Cookies: If you're looking for a light, crisp buttery cookie, you've come to the right place. In this post I'm going to teach you how to make traditional, old-fashioned butter cookies, just like Grandma used to make!
Easy Pecan Pie Cookies: In this post I'm going to show you how to make a simple pecan pie cookie, perfect for a quick treat! This recipe will be particularly exciting during the holiday season.
Easy Twix Cookies from Scratch: If you love a good shortbread crust and you're also a huge fan of caramel and chocolate, have I got a treat for you! These easy Twix cookies come together quickly and require very few ingredients!
Ultimate Chocolate Chip Cookies with Brown Butter: My Ultimate Chocolate Chip Cookies with brown butter provide a true sensory overload! They have an intoxicating aroma, nutty and sweet, and trust me when I say that they taste even better than they smell! I promise. . .you'll swoon! These are the best chocolate chip cookies I've had in ages, (and I'm not just saying that!)
S'Mores Kiss Cookies: You know that amazing feeling you get when you stand outside at a fire pit, holding a long stick with a marshmallow on the end? You can almost taste the sticky, scorched sweetness even before it goes into your mouth. That's the same sense of expectation you'll have when you eat your first S'Mores Kiss Cookie. It's that good, y'all.
Old-Fashioned Oatmeal Cookies: I hardly know where to begin with these amazing chunky oatmeal Craisin cookies, y'all. They're a cross between a traditional old-fashioned oatmeal cookie and a chunky, heavier bite of muffin. I load them with walnuts or pecans, along with a more-than-adequate amount of Craisins (dehydrated cranberries).
Perfect Peanut Butter Cookies: I mean, perfection is sort of an unattainable goal for the baker, right? But in the case of these cookies, they're about as close to perfection as anything I've ever baked. And they turn out beautifully every single time. (Hey, I've even deliberately tried to mess them up, but couldn't!)
Yummy Double Mint Chocolate Cookies: A chocolate cookie rich with mint flavor, perfect for the holidays!
Cut-Out Sugar Cookies: They're perfect any time of year, but especially during the holidays. See the bottom of this post for Thanksgiving decorating ideas!
THANKSGIVING BREADS AND CAKES
I'm known for my cakes and I've got several that are rich with those fall flavors you've come to enjoy. Here are some of my very favorites!
Homemade Pumpkin Bread: It's fall here in the south and everyone is adding pumpkin to their favorite cakes, pies, and cookies. My friend stopped by today and taught me how to make her family's favorite pumpkin bread. . .from scratch!
Classic Red Velvet Cake with Cream Cheese Frosting: Mention the words "red velvet cake" and southerners begin to swoon. We're so addicted to this cake we can't imagine life without it. If you're a fan of this rich cocoa-infused delicacy, you're going to love this post. I'm about to offer you a "from scratch" version that's simply irresistible. It's delightful any time of year but especially perfect for Thanksgiving!
Butter Pecan Bundt Cake: f you're crazy about brown butter and pecans you're going to love this easy cake. It's topped with a crunchy praline topping and rich with flavor. Best of all, it starts with a boxed mix! Easy-breezy! And this cake just screams fall!
Old-Fashioned Pound Cake with Whipping Cream: If you're looking for a classic pound cake to serve at your next get-together, you can stop looking! I've got a luscious butter pound cake recipe for you that's going to thrill and delight your guests and make you proud to serve it! It will bring smiles to the faces of your Thanksgiving guests!
Luscious Brown Butter Walnut Cake with Maple Glaze: This rich yellow cake, loaded with browned butter, toasted walnuts, and vanilla extract is ideal for your Thanksgiving table. The addition of sour cream makes it sturdy and moist and the milk adds a luscious texture. The brown butter maple glaze on top? Well, that's just the icing on the cake! (Literally!)
Easy Carrot Cake Cupcakes: Holiday spice and everything nice! That's what these carrot cake cupcakes are made of! Best of all, they start with a boxed mix!
Best Italian Cream Cake: This is my go-to for the holidays. Family members have come to expect it! This is an easy Italian cream cake recipe, one you'll use again and again.
Traditional German Chocolate Cake with Coconut Pecan Frosting: If you love the sweet flavor of German Chocolate cake and you're nuts about coconut pecan frosting, you've definitely come to the right place! In this post I'm going to give you my tips and tricks for one of the most classic cakes of all time–German Chocolate! And best of all. . .it starts with a boxed mix!
Easy Bundt Cake Pumpkins with Hershey's Kisses: If you're looking for a cute little dessert for a Halloween or Thanksgiving event, have I got a recipe for you! You can turn a simple cake mix into tiny bundt pumpkins that will delight your holiday guests! If you're looking for some fun Thanksgiving decorating techniques, check out my Fall Cakes, Cookies, Cupcakes, and more photo album.
The Best Chocolate Mayonnaise Cake: If you're looking for a rich, moist cake, loaded with flavor, you've come to the right place. This Old Fashioned Chocolate Mayonnaise cake is a southern favorite guaranteed to please everyone on your guest list. And this yummy recipe takes things a step further, adding a rich chocolate frosting with mayonnaise in it, as well!
Cinnamon Sugar Pound Cake: If you're in the mood for a buttery cake with luscious swirls of cinnamon and brown sugar, you've come to the right place! This moist, delicious pound cake is easy to whip up and the addition of the cinnamon and sugar sends it over the moon!
Cookie Butter Cupcakes: These cookie butter cupcakes are on my top ten list of best cupcakes ever. They're warm, sweet, and loaded with just enough spice to make you want to grab your cupcake pans and start baking! This recipe starts with a boxed mix but you add all sorts of yummy extras to make it extra-special!
Jelly Roll Cake: This cake would be absolutely perfect for Thanksgiving. Decorate it with fall colors and flowers or leaves and you're good to go!
Carrot Bundt Cake: This is a simple and delicious cake that has "Thanksgiving" written all over it. It's loaded with fall flavors and so simple to make!
Kentucky Butter Cake: This is a new recipe, similar to a pound cake, but loaded with depth of flavor that makes it perfect for a holiday feast!
BROWNIES AND BARS
They're cookie-like in texture but in bar form. Boy, do I have some sweet treats for you, perfect for Thanksgiving!
Easy Doctored Brownie Mix with Mint Chocolate: If you love chocolate and mint, you're going to adore these easy mint chocolate brownies. They're rich, minty, and best of all, easy to make. Like so many of our recipes here at Out of the Box Baking they start with a box mix.
Simple Pecan Pie Bars: If you love the ease of a cookie bar but the luscious richness of pecan pie you're going to flip over this simple pecan pie bar recipe! It merges both of those worlds into one dreamy bite, loaded with flavor and crunch!
Ooey-Gooey Chocolate Chip Blondies: Have you ever had a hankering for something sweet but couldn't quite put your finger on what you really wanted? These chocolate chip blondies are perfect for days like that! Not quite a cookie, not quite a brownie, not quite a cookie bar. Gooey, chewy, and crisp on the edges. . .they are (in a word) perfect.
Delicious Apple Crumble Bars: If you love a yummy streusel, these apple crumble bars are going to make your day. They're so easy and tasty and come together in minutes!
Pumpkin Spice Bars: If you love a delicious pumpkin pie but don't have the time to bake one, have I got a great alternative for you! These simple Pumpkin Spice Bars are quick and easy, and start with a box of cake mix!
Sopapilla Cheesecake Bars: If you love sopapillas, but you're also in love with sugar and cinnamon, have I got a treat for you! These easy Sopapilla Cheesecake Bars are simple to make and absolutely packed with texture and flavor.
OTHER SWEET TREATS
Feel free to browse the site for a plethora of other culinary delights, perfect for the holiday season. I'll leave you with a couple of my favorite trifle recipes. Yum!
Cookie Butter Trifle: If you're a fan of Biscoff cookies and that yummy concoction known as cookie butter, you're sure to love this Cookie Butter Trifle. I made it for our Christmas celebration and guests swooned!
Delicious Mint Oreo Trifle: If you love creamy layers of chocolate fudge brownies, mint chocolate mousse and whipped cream, along with bits of minty Oreos, you've come to the right place! This post will offer you one of my favorite recipes, a delicious Mint Oreo Trifle.
Cranberry Creamsicle Pudding: I created this dessert by accident. No kidding! It's my new favorite pudding, perfect for Thanksgiving or any day of the year!
---
That's it for this post, friends. I hope you enjoyed looking over some of my favorite thanksgiving dessert recipes. Let me know which ones you choose for your holiday feast!
We Have So Much to be Thankful For
I don't know about you but I've really been counting my blessings lately. In spite of some health challenges over the past year I'm happy and well, and excited about the upcoming holidays.
Keeping an attitude of gratitude is a good idea all year 'round, but especially as we enter the Thanksgiving season.
What are you most grateful for this year? Take the time to write down a list!
From my house to yours. . .Happy Thanksgiving!