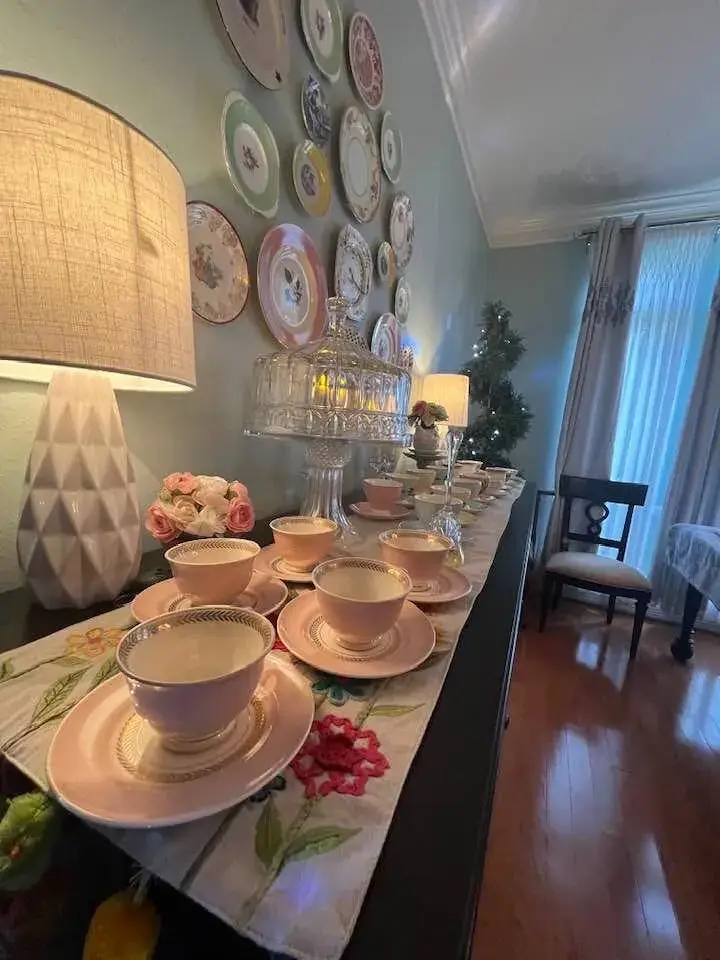 If you're looking for tasty recipes to make for your next big social event, this is the post for you. I'm going to give you several of my favorites, which you can proudly serve at a fancy tea, Mother's Day, or other special occasion.
These afternoon tea recipes are delicate and sweet enough for a high-end event, but practical enough for an everyday birthday party, as well. You'll really impress your guests with these sweet treats.
High Tea Parties are Fun!
I recently attended a high tea. It was lovely, from start to finish. This event happened to be a bridal shower, and boy. . .did the hostess pull out all the stops!
The house was decorated top to bottom and the ladies came dressed in fancy dresses and darling hats.
Check out my fascinator!
History of High Teas
High teas are popular for a variety of celebrations, including birthdays, baby showers, and so on and this tradition didn't begin in the 21st century. These teas are a British tradition dating back to one very hungry duchess.
Here's her story from Historic UK:
Afternoon tea was introduced in England by Anna, the seventh Duchess of Bedford, in the year 1840. The Duchess would become hungry around four o'clock in the afternoon. The evening meal in her household was served fashionably late at eight o'clock, thus leaving a long period of time between lunch and dinner. The Duchess asked that a tray of tea, bread and butter (some time earlier, the Earl of Sandwich had had the idea of putting a filling between two slices of bread) and cake be brought to her room during the late afternoon. This became a habit of hers and she began inviting friends to join her.
We're not living in the 19th century but a tea party can make you feel like you've sailed back in time. You'll definitely impress your guests if you host one!
High Tea Recipes
Knowing what to serve at a high tea is key. After all, it's the food that makes the party. At the one I attended, we were served some lovely finger sandwiches. Cucumber tea sandwiches. Cream cheese with ham. Pimento cheese.
You name it, we had it!
Of course, there were teas galore. And look at these fancy teacups we were given to drink them in.
One of the ladies provided beautiful petit fours. (I hope to make some soon, myself!) Like so many of the items at a high tea, the petit fours are delicious finger foods.
I was asked to bring scones, cookies, and pastries. . .and boy, did I have fun in the kitchen! The tea party was on a Saturday and I spent all day Friday baking in preparation. I came up with some delicious recipes to share with you.
Here are the recipes for many of the foods I brought, as well as recipes that I plan to make for the next big high tea I'm invited to. I hope you enjoy these fun and tasty treats. They're perfect for tea time.
Feel free to follow the links for the recipes.
These cut-out sugar cookies are my go-to treats and I enjoyed making them for the recent tea. They're made of simple ingredients that I always have on hand.
I decided to make teacups and teapots, as well as some fancy hat cookies. This wasn't the first time I've made tea-inspired cookies.
Check out some of my other high tea cookie designs from years gone by. (They're a great addition to any party, fancy or not!)
My cookies are perfect for painting with royal icing because they hold their shape but they're still tender and soft on the inside. My royal icing recipe is ideal–sweet and tasty and just right for these cookies.
For more information see my Cookie Decorating with Royal Icing post.
A Kolache is a sweet cake (sweet pastry) with fruit preserves inside. They got their start in Central Europe. Czech immigrants introduced Kolaches to America in the 1870s. People serve them at special events or as an everyday sweet treat.
My version is more pastry-like. . .light and crisp, almost like a cookie! It's perfect for a high tea or other fancy event. Get the Cake Mix Kolache recipe here.
These light, fluffy chocolate chip scones are (by far) the easiest scones you'll ever make. And because they start with Bisquick, they have a soft biscuit-like texture you're going to love!
I loved breaking mine open to see the fluffy interior. You'll want to serve these with raspberry preserves or clotted cream. (I plan to make homemade clotted cream soon. Stay tuned!)
Get the recipe for Easy Chocolate Chip Scones.
These delightful classic scones are filled with a luscious cheesecake filling that incorporates cream cheese, sugar, and egg yolk. Then, add to that a dollop of preserves, baked in for the final ten minutes and you've got a multi-sensory experience, perfect for your next tea party.
Follow this link to get the recipe for these Strawberry Cheesecake Scones.
These tea cakes are rich in almond flavor with the crunch of slivered almonds on top. They've got crunch on the outside and a tender flaky middle.
They're so easy to make because they start with a simple white cake mix. They're perfect for an afternoon tea party or any time of day!
Get the recipe for these delightful Almond Tea Cakes.
This yummy scone is tender and light, but packed full of flavor. Best of all, it's versatile enough to be served sweet or savory.
These scones don't require a rolling pin, a cookie cutter, or a food processor. They're almost as simple as a drop biscuit, but taste like you slaved all day in the kitchen.
Get the recipe for Easy Buttermilk Scones.
7. Savory Scones (Bacon, Cheese & Chive Scones)
To create this recipe I turned to two of my earlier recipes: my Easy Buttermilk Scones and my Cheddar Bay Biscuits. I knew that my bacon scones would need to merge those two ideas into one. I had so much fun cooking up the fun ingredients.
Basically, I wanted something easy to pick up and yet hearty–a true breakfast treat that would also translate to a fancy tea party.
Get the recipe for Savory Scones.
If you love the flavor of a traditional cherry pie but prefer the simplicity of a cookie bar, then this is the recipe for you! This luscious sweet treat has a shortbread base, cherry preserves in the center, and sliced almonds on top. Best of all, it's incredibly easy to bake!
Get the recipe for Easy Cherry Almond Bars.
If you're in the mood for an easy scone recipe, one that starts with a box of white cake mix, have I got a treat for you! This recipe came together so easily and it's a terrific alternative when you're in the mood for something different.
These are terrific with lemon curd. Ours came from the store but I plan to make homemade lemon curd soon.
Get the recipe for Easy Cake Mix Scones!
These fun trifles are a blast at a party. They're a great way to entertain the masses.
People love building their own, so follow this step-by-step guide to have all of the items you'll need.
Follow this link to learn all you need to know about DIY Cupcake Trifles.
The juicy berries, the tartness of the lemon zest. . .wow! Talk about a flavor explosion! I just love great scone recipes and this one is a favorite.
I simply loved these (so much so that I had to pass them on to a family member to keep from eating the whole batch). They're truly delicious and so easy to make (from scratch).
Check out the recipe for these luscious Strawberry Lemon Creme Scones.
If you love the ease of a cookie bar but the luscious richness of pecan pie you're going to flip over this simple pecan pie bar recipe! It merges both of those worlds into one dreamy bite, loaded with flavor and crunch! This is such a delicious recipe.
These are perfect for a tea party because they're easy to handle with the fingers. You can cut them into small pieces, which makes them ideal for nibblers.
Get the recipe for Simple Pecan Pie Bars.
This is a fun twist on a traditional Thumbprint cookie that uses cherry preserves (or sour cherry spread) in the center of a delicious almond-infused shortbread cookie.
These cookies will always be popular and they're perfect for a high tea event.
Check out the recipe for Thumbprint cookies.
In France, they call this lovely Lemon Yogurt Cake a French Granny Cake (or a Gateax de Mamie). It's a luscious cake with a distinct tart flavor, thanks to the addition of lemon zest and a very simple ingredient. . .yogurt.
If you're baking them for a tea party you'll want to use a mini bundt pan so that they're manageable. Aren't these mini cakes pretty?
Check out the recipe for Granny Cake.
They're light, fluffy, and loaded with sweet whipping cream. Cream Puffs are truly luscious! And (surprise!) they're also easy to make! They start with a simple choux pastry.
Get the recipe for Easy Cream Puffs.
Tiered Cakes for Your High Tea
I love to make tiered cakes and I personally feel they would make a lovely addition to your high tea. Here are some of my tiered cakes that could easily make an appearance at a fancy event.
---
That's it for this post, y'all. No matter your high tea theme, you've now got some fun recipes to serve your guests.
Speaking of hospitality, let me leave you with a favorite verse.
Don't forget to show hospitality to strangers, for some who have done this have entertained angels without realizing it!
Hebrews 13:2 NLT
---
About the Author
Janice Thompson is an author, baker, and all-around mischief maker! She has overcome a host of baking catastrophes, including a toppled wedding cake, to learn more about the baking process. Janice has published over 150 books for the Christian market but particularly enjoys writing recipes and baking devotions. To learn more about Janice or to drop her a note, visit her About the Author page.