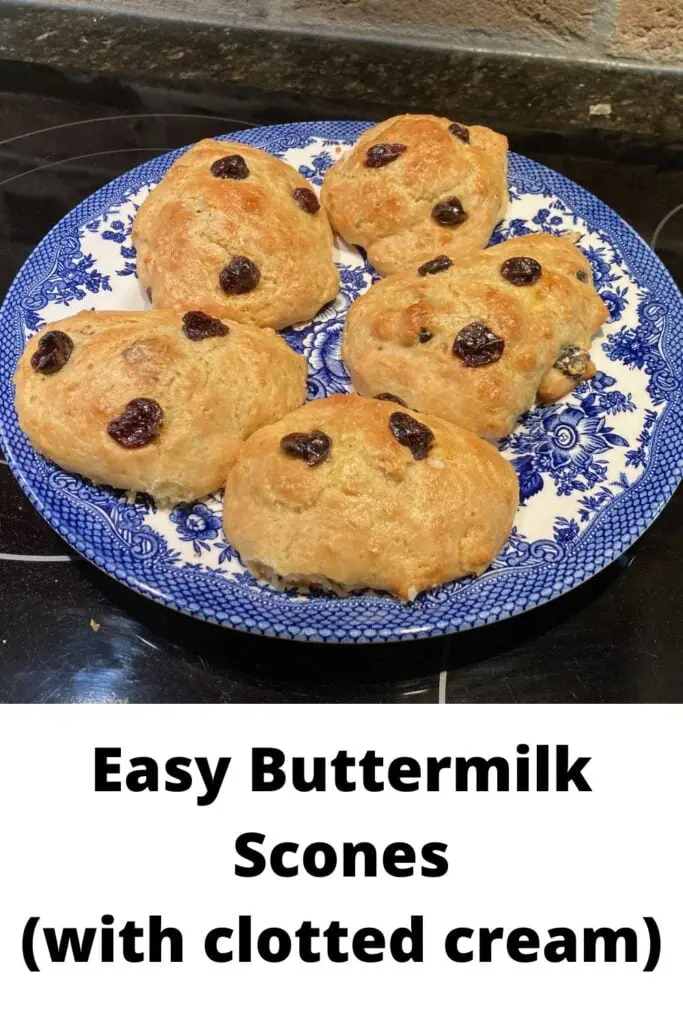 If you're in the mood for a delicious scone but don't have a lot of time for a complicated recipe, you've come to the right place! This yummy scone is tender and light, but packed full of flavor.
Best of all, it's versatile enough to be served sweet or savory.
These scones don't require a rolling pin, a cookie cutter, or a food processor. They're almost as simple as a drop biscuit, but taste like you slaved all day in the kitchen.
Perfect for an Afternoon Tea
I am so blessed to have many wonderful friends in my life. One in particular enjoys hosting lovely gatherings in her home. Today she invited me over to enjoy an afternoon tea time. I was delighted to attend!
Imagine my surprise when I walked into her home and saw that she had set up a special table and chairs, just for our tea!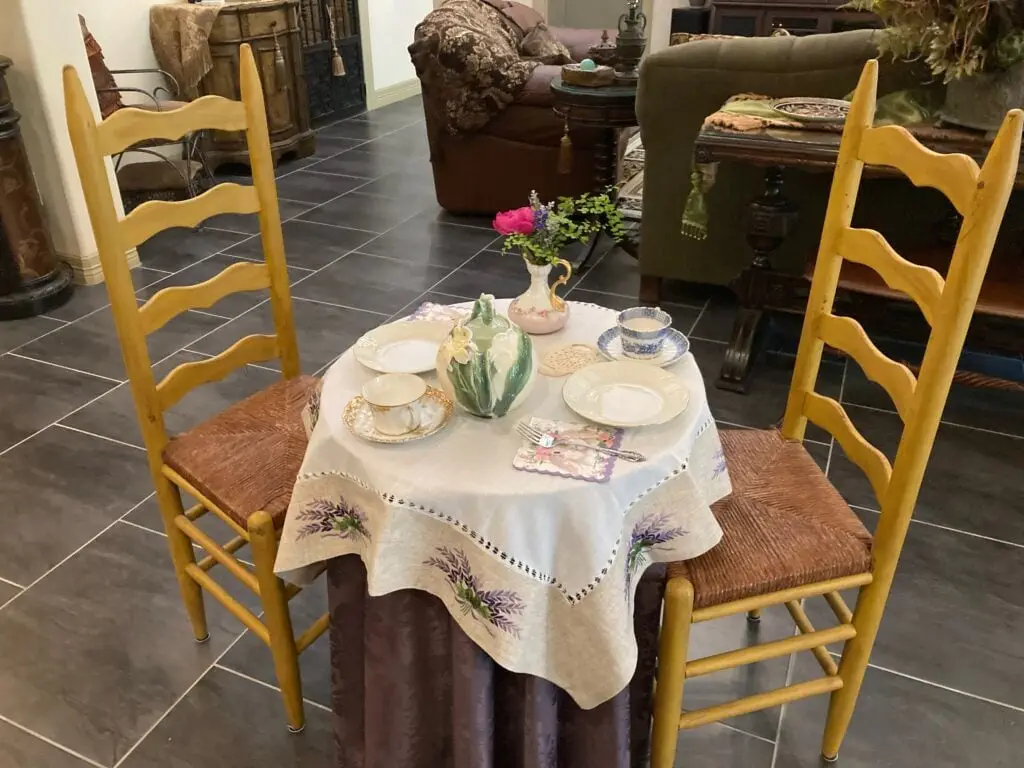 The table setting was breathtaking, right down to the lovely teapot and the tiny tea cups. And the flowers in her home! Perfection!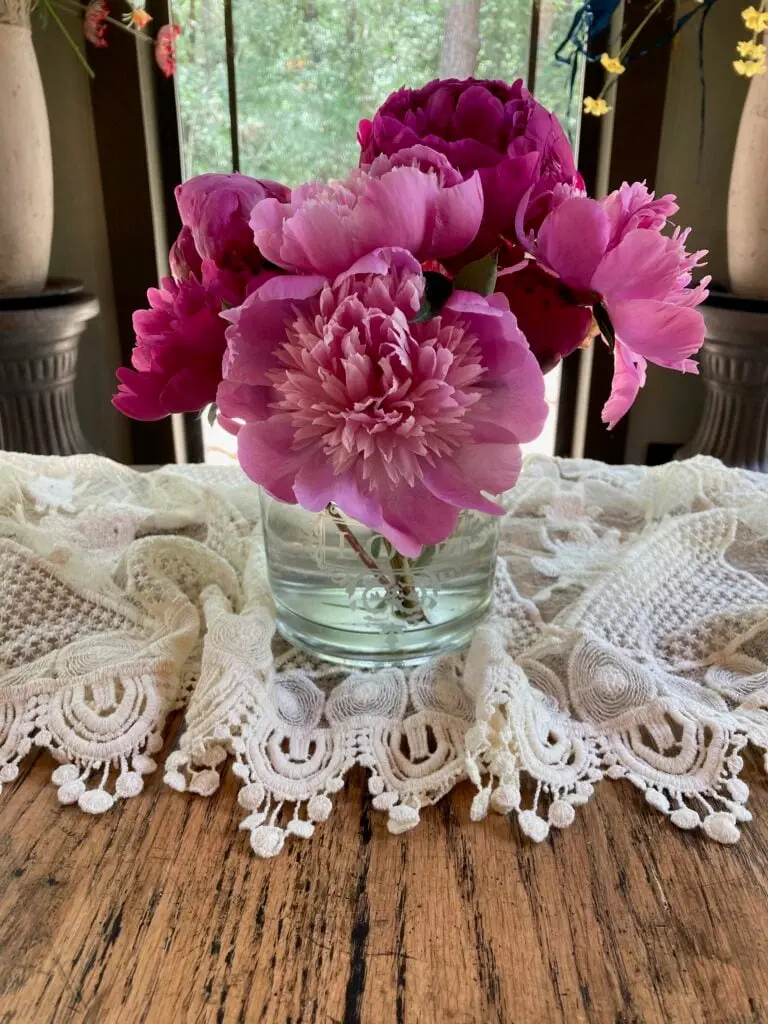 Some people just have what I would call "the decorating anointing." This friend falls into that category. The ambiance in her home is sheer perfection. I honestly feel like I'm transported to Europe whenever I visit.
Making Scones from Scratch
This sweet friend knows that I love to bake and was particularly interested in helping me come up with sweet treat ideas for tea time. With that in mind, she located a recipe for buttermilk scones and offered to whip them up once I arrived at her house.
After talking through our plan, the moment arrived. . .we had to make those scones!
If you've been following me for a while you know that I enjoy making scones that start with a white cake mix. And I'm also on a roll making scones from my Copycat Bisquick Mix. But making them from scratch using buttermilk? That, I hadn't done.
I was so excited. . .and a little distracted by a tiny jar of something I'd never seen before that my friend pulled out of her refrigerator.
Clotted cream.
She insisted we couldn't have scones without it and I couldn't wait to try it!
What is Clotted Cream?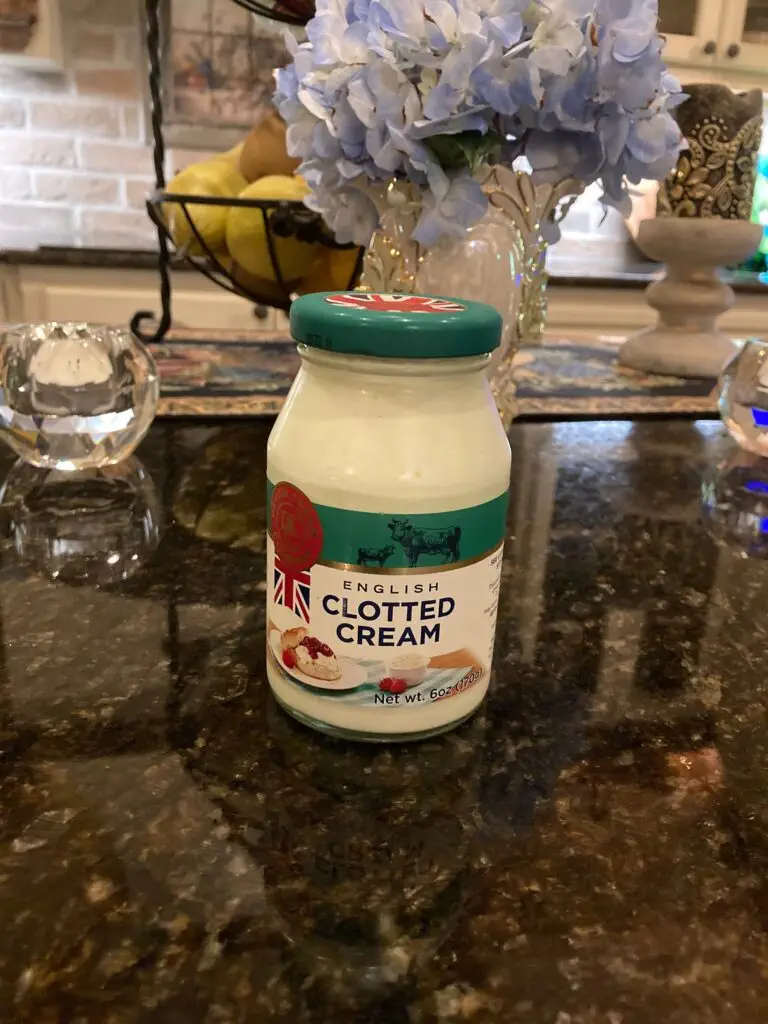 Here's a confession: I've lived on this planet for many decades and (until today) had never tasted clotted cream. I wasn't even sure I knew what it was.
It turns out, clotted cream is a rich and decadent heavy cream. It contains 55% butterfat (compared to heavy cream's 36%). Sounds almost sinful!
And y'all. . .it is.
Now that I've tasted this sweet, creamy delicacy, I understand what all of the hoopla is about! It's absolutely delicious. Clotted cream tastes a bit like whipped cream but the texture is the same as softened cream cheese. Luscious!
Can I Make my own Clotted Cream?
After tasting it I was so intrigued that I decided to look up a DIY recipe for clotted cream when I arrived home and I found several online!
It starts with heavy cream, something you'll find in my refrigerator most any day.
From what I have researched, it's a long process: 12 hours in a 180 degree oven and then another 12 hours in the refrigerator before mixing.
During this process the cream rises to the top, then (as it cools) thickens and "clots." You pour off the watery whey and you're left with a thick, creamy spread, much the consistency of softened cream cheese.
You can learn more about how to make your own clotted cream at Gemma's Bigger Bolder Baking. Even though it's time-consuming the process looks relatively simple.
---
Let's turn our attention to the scones. You'll want to make these and enjoy them with the clotted cream. (Note: We made a half batch, but you'll want to make a whole batch, I promise!)
Easy Buttermilk Scone Ingredients
Wondering what you'll need to make these scrumptious scones? You've probably already got many of the ingredients in your refrigerator or pantry. You'll find a full printable recipe card at the bottom of this post. For now, here's a quick peek at what you'll need: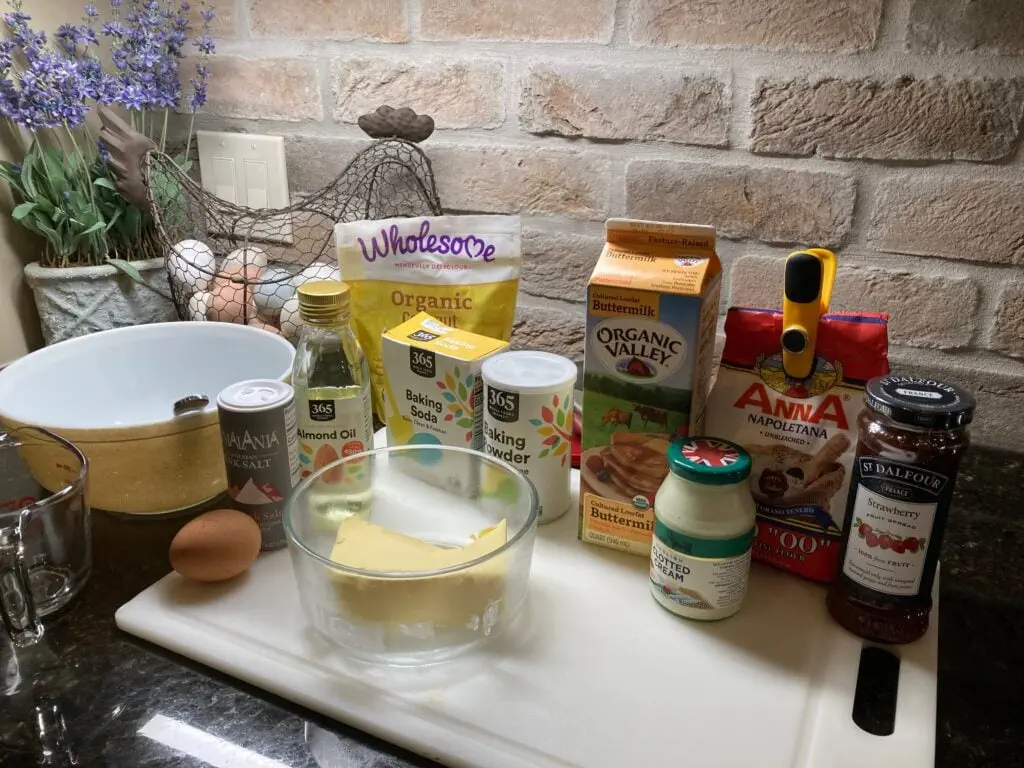 FOR THE SCONES:
all purpose flour
sugar
large egg (room temperature)
vegetable oil
baking powder
baking soda
salt
dried cherries (optional)
buttermilk
FOR THE FILLING:
TO PREP THE BAKING SHEET:
That's it! Such simple ingredients. But when you combine them all. . .my goodness! They're so tasty!
How to Make Buttermilk Scones
These come together so easily and so quickly! We made ours in a large mixing bowl and didn't even bother with a stand mixer or electric hand mixer. In fact, I would say this is the preferred method for scones because you don't want to over mix the batter and accidentally over-activate the gluten strands.
Pre-heat your oven to 375 degrees.
Start by measuring your dry ingredients. Add your flour, sugar, baking powder, baking soda, and salt to your mixing bowl. Whisk together.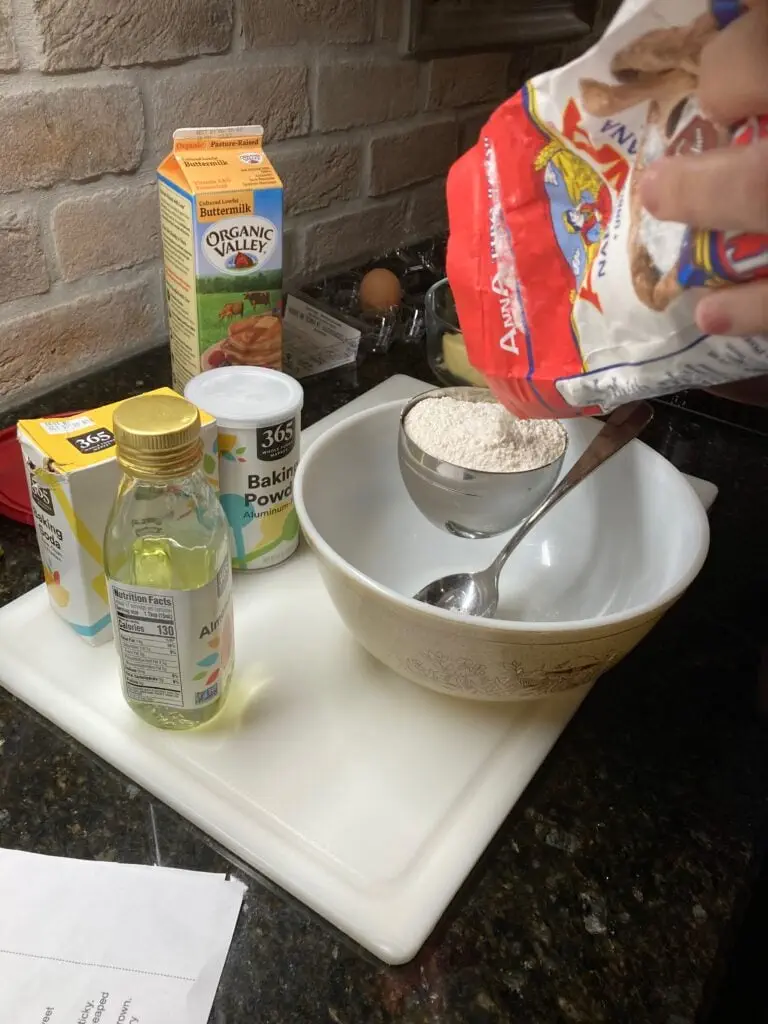 Now it's time to add your wet ingredients to the flour mixture. Add in your oil, buttermilk, and egg. You could use a pastry blender but we just used a spoon.
Fold in your cherries.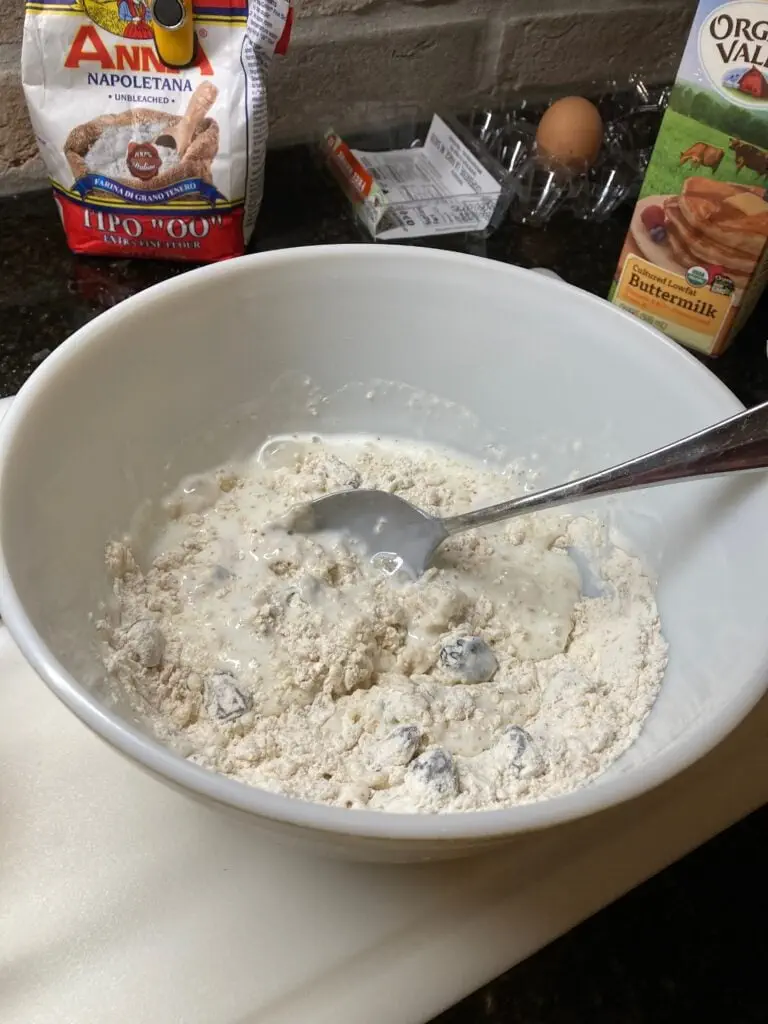 Stir until combined. Don't over mix.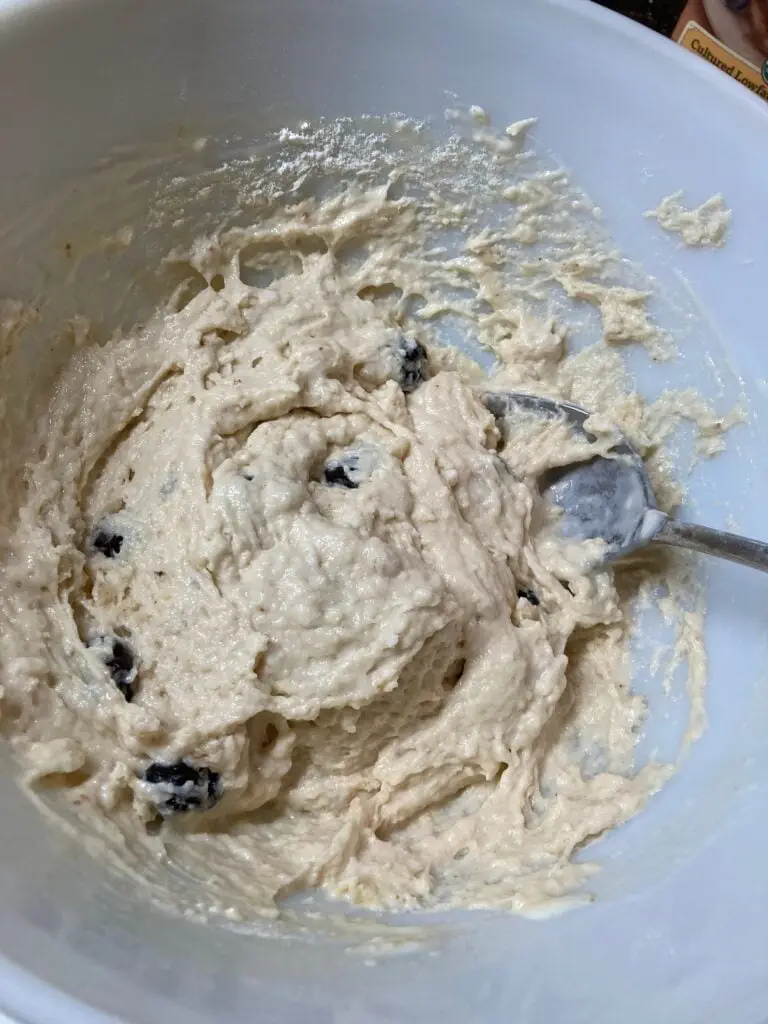 Scoop your scone dough out by the spoonful onto a prepared baking sheet. (Maybe you've been wondering why we included butter in the photo of ingredients! We used some to butter our pan. Doing so will give the bottom of the scones a crispy texture.)
If you prefer to skip this step, feel free to use parchment paper.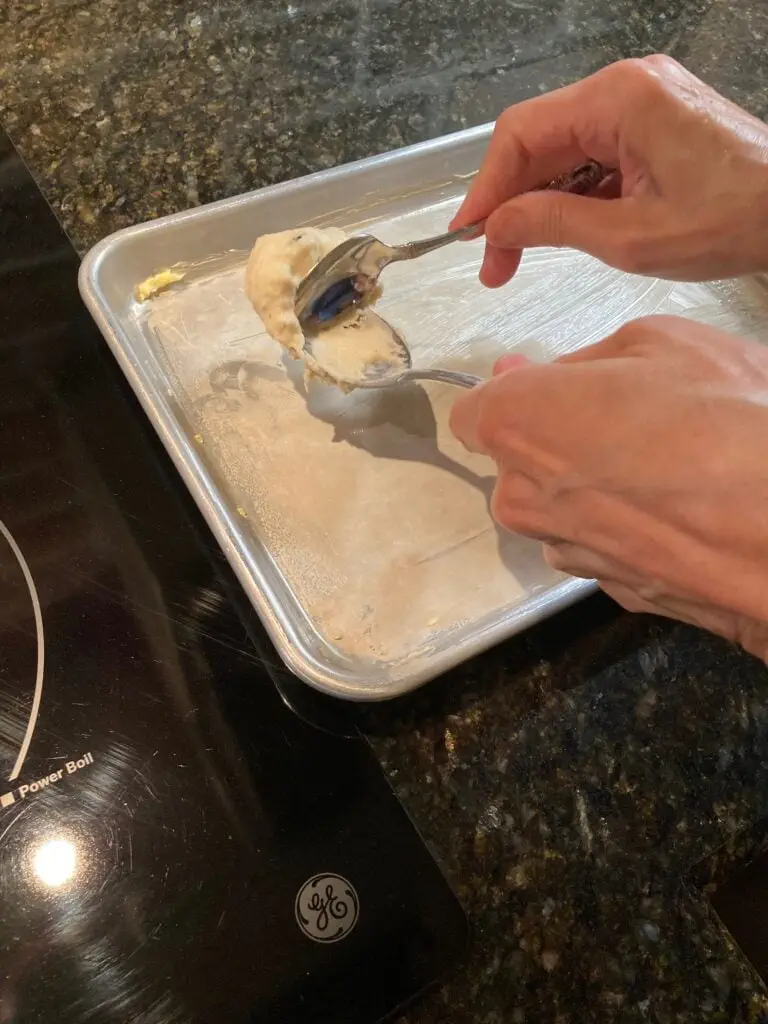 Once your batter is on the baking tray it's time to add a simple egg wash. Mix up an egg and use a pastry brush to coat the tops of your scones. This will seal them and give them a delicious golden crust when baked.
Top off with a few additional dried cherries (or dried fruit of your choice).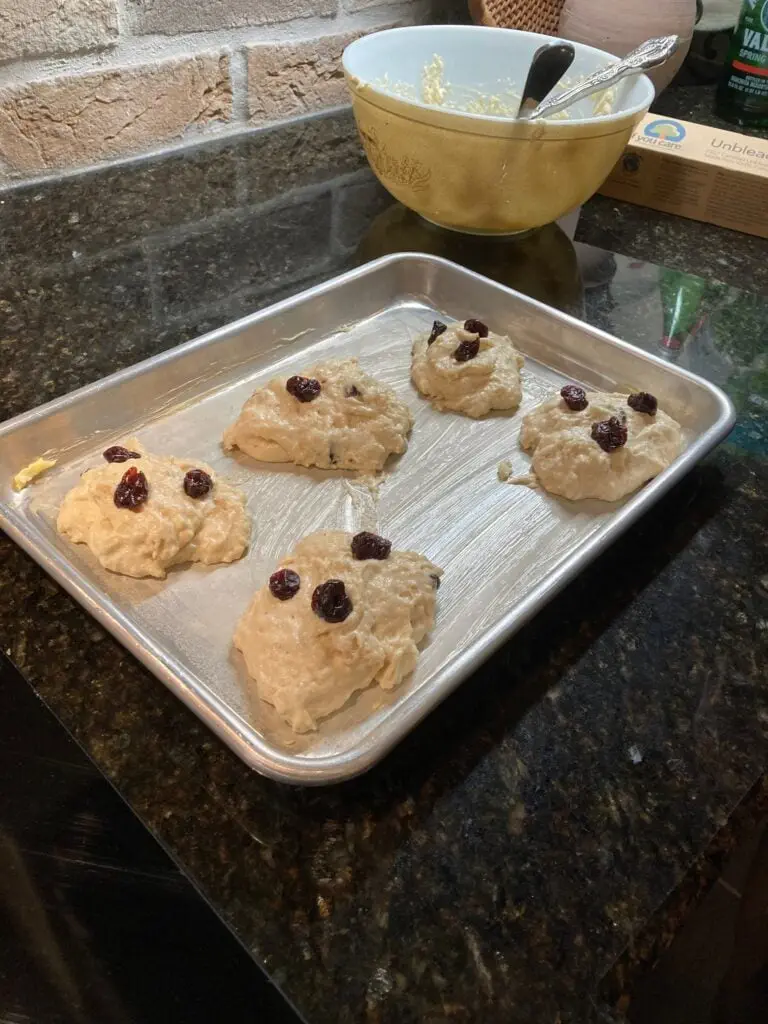 Place your scones in your preheated oven and bake at 350 degrees for 13 – 15 minutes or until golden brown.
Remove and place your cookie sheet on a wire rack to cool.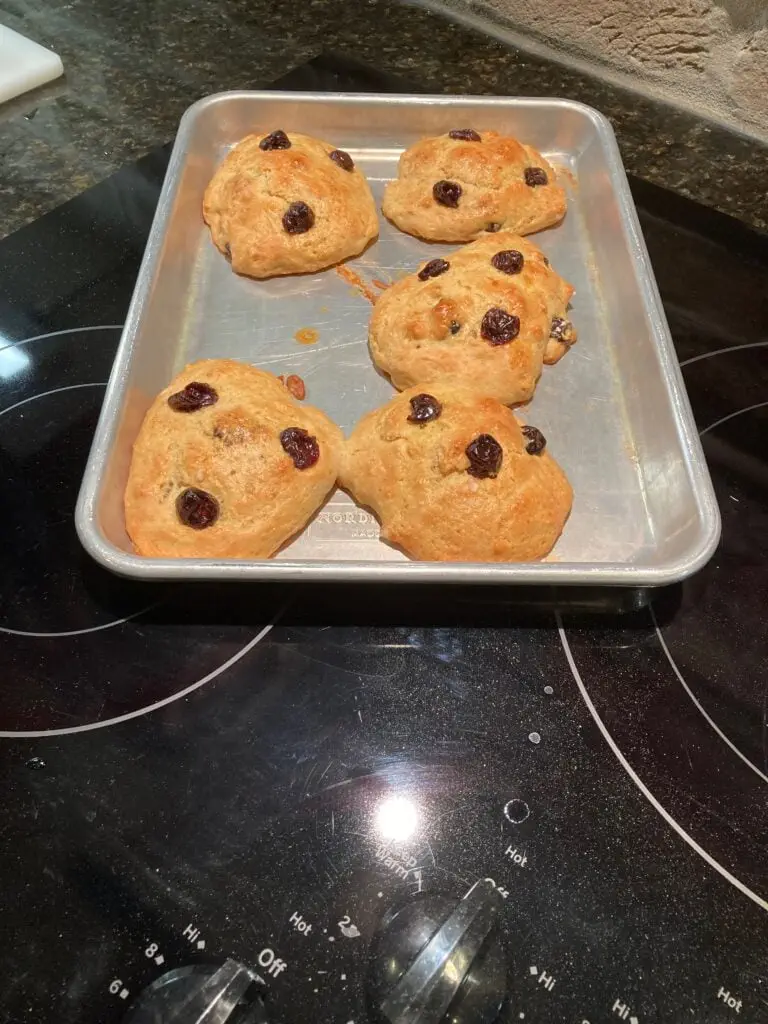 Remove from tray and continue to cool on wire rack until you they are cool enough to handle.
How to Serve Scones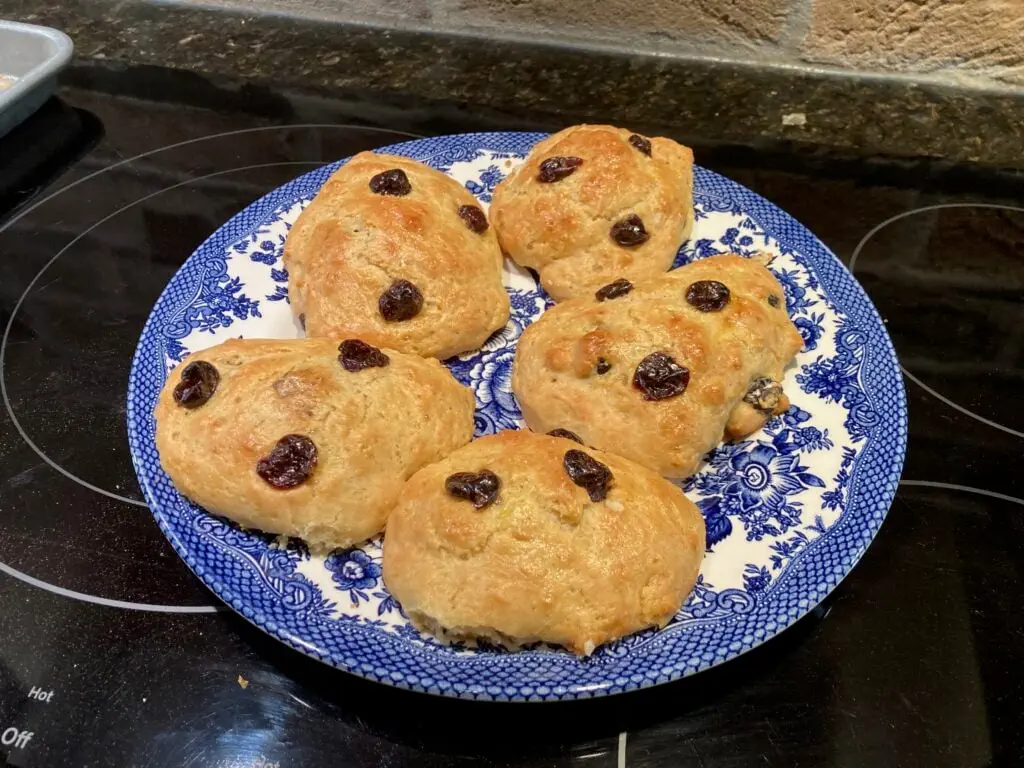 How you serve your scones will depend on a variety of things–primarily, whether you've chosen to make them sweet or savory.
In our case, we had sweet scones, (though the scones themselves were not terribly sweet).
As I've already mentioned, my friend had purchased a jar of clotted cream. She had also purchased some delectable raspberry preserves, a brand we both adore.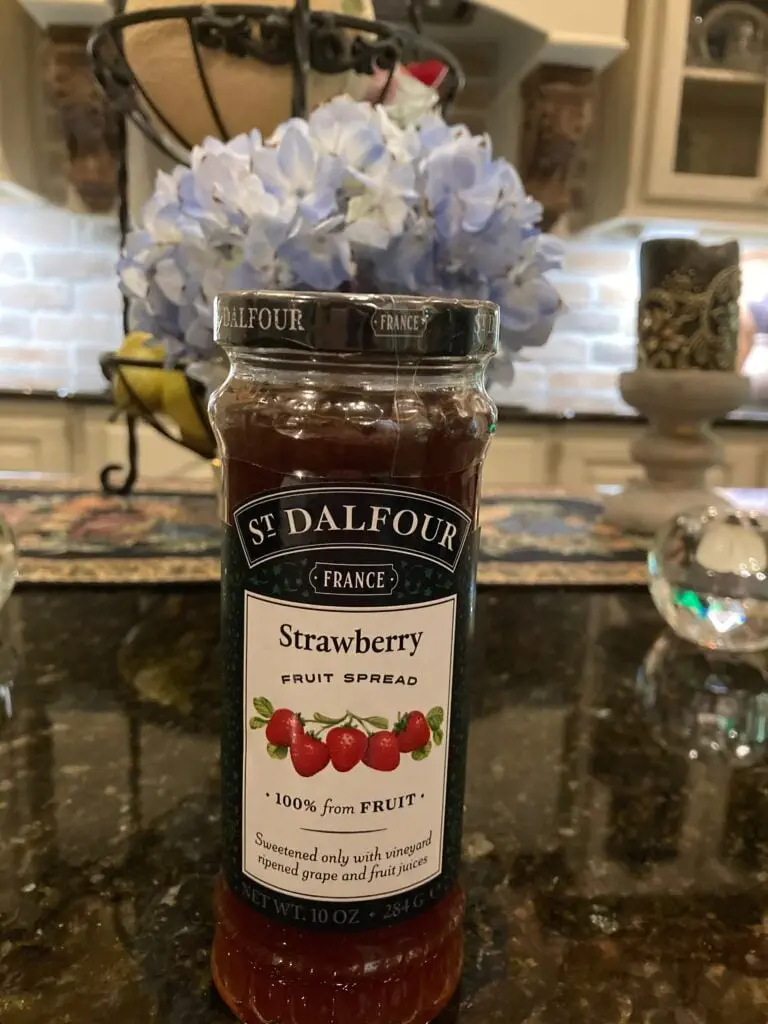 Using a sharp knife we split our scones in half and stuffed them with the cream and preserves, then popped the top half back on.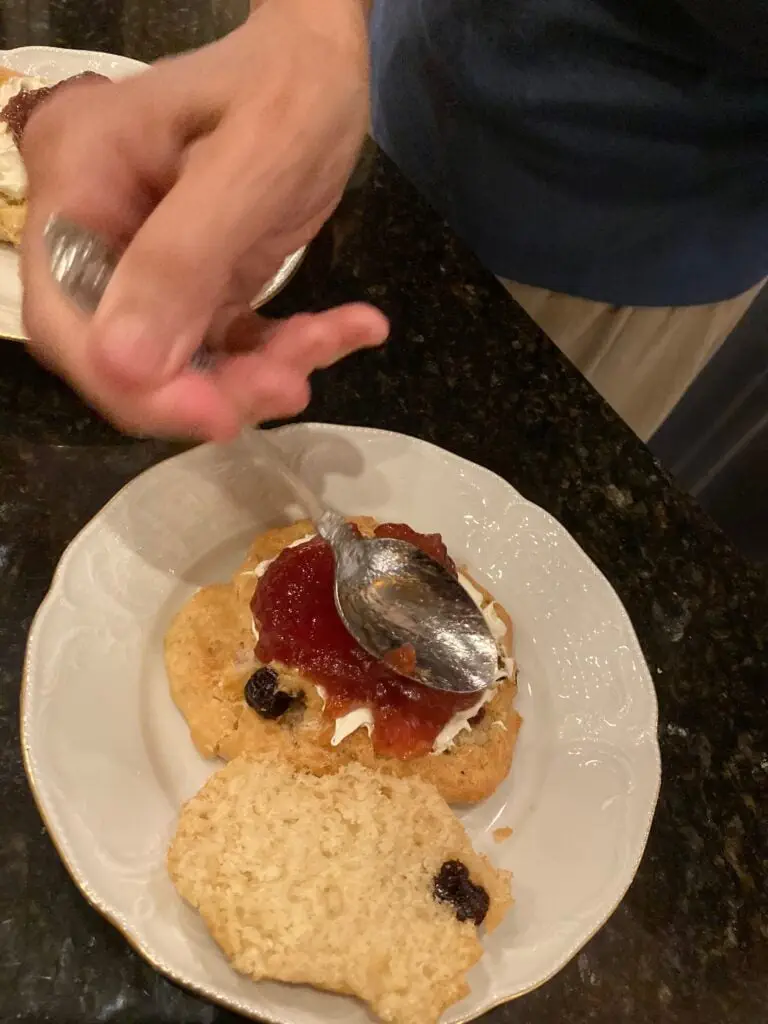 And y'all. . .
I simply have no words for what happened next.
Enjoy a Lovely Afternoon Tea Time!
That's what we did. We sat down at that lovely table, poured some Earl Grey into our pretty little teacups, and took our first bites of those flaky scones.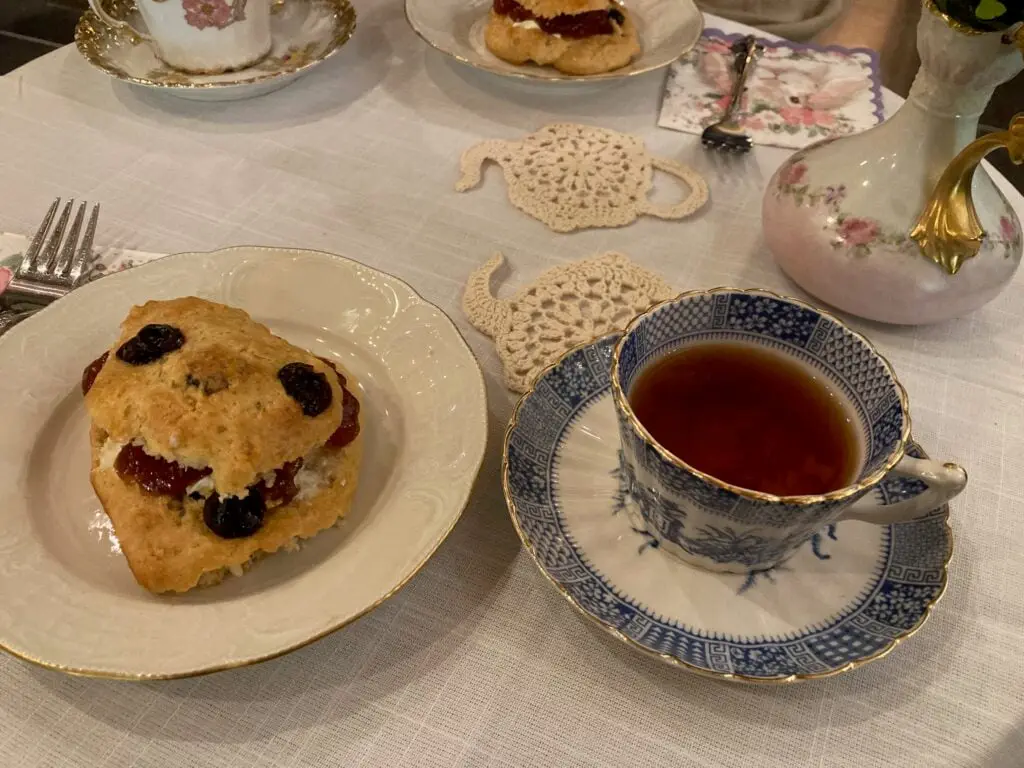 And my, oh my. . .were we ever giddy! (Honestly? We were like kids in a candy store! All of the oohing and aahing was downright embarrassing!)
The crisp, light scone. . .the creamy texture of the clotted cream. . .the tart raspberries. . .the whole thing just came together like a symphony playing Vivaldi, (which happened to be what we were listening to as we enjoyed our tea time)!
These delicious scones, combined with the ambiance of the table setting and the strains of beautiful music, really swept us away and transported us to another place altogether.
For those few minutes, we were world travelers, seated in a tea room in Paris. We were guests at Buckingham Palace, dining with the Queen. We were royalty, nibbling on afternoon treats served to us on silver trays.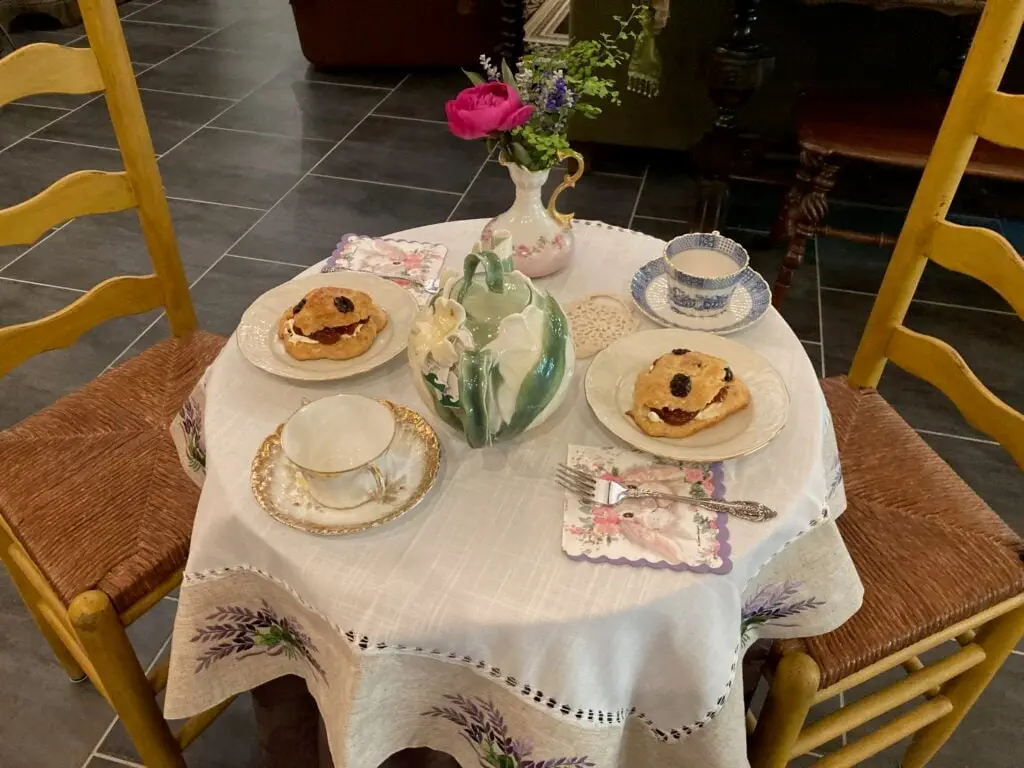 In reality, we were two close friends, enjoying a game of make-believe, courtesy of a fine recipe that lifted us out of our ordinary existence and carried us far, far away.
Once you make these scones, you'll want to invite a friend over for tea, too! (These are some of the best scones I've ever eaten!)
How to Store Scones:
There is no need to refrigerate. They will stay fresh in an airtight container for 2-3 days. If you do choose to refrigerate, allow them to come to room temperature naturally before eating.
Variations on this Recipe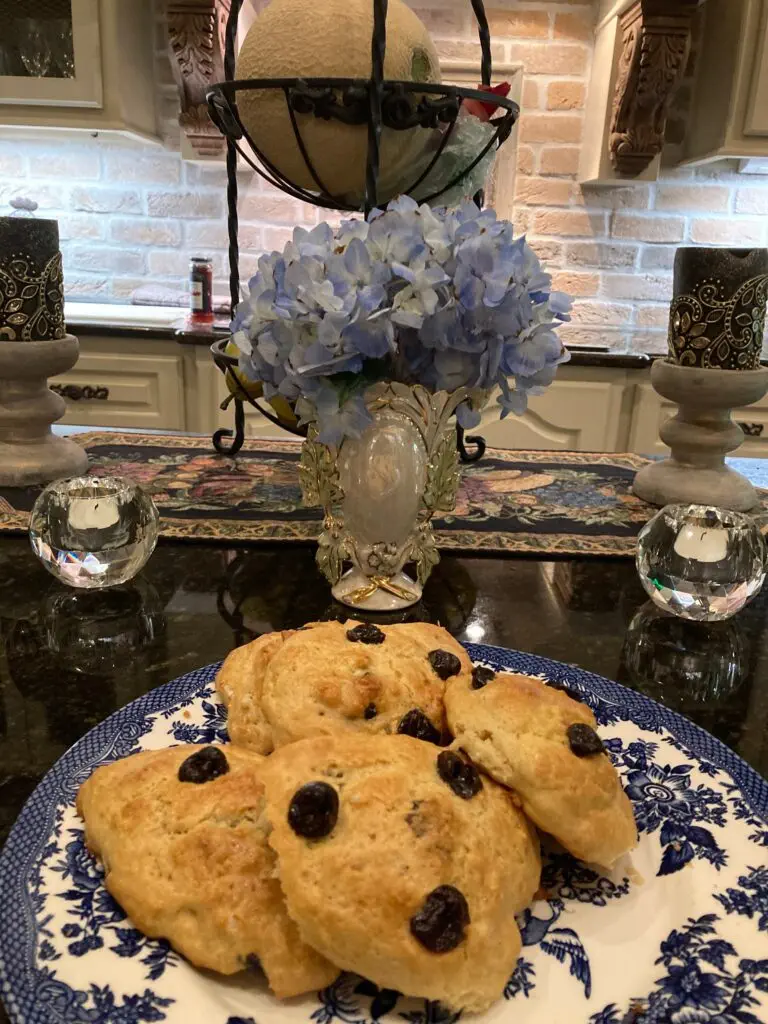 Scones are incredibly versatile! You can make them sweet or savory. Here are some ways to transform this simple recipe:
Sweet Scone Ideas:
Here are some fun ways to jazz up your sweet scones:
Top your cherry scones with sliced almonds.
You could always sprinkle a little sugar on top for added crunch.
Add lemon zest and blueberries (in place of cherries). Add a simple glaze made of lemon juice and powdered sugar. Fill with lemon curd and fresh berries.
Add orange zest and dried cranberries. (Next time I might try this!)
Add chocolate chips or chocolate chunks.
Speaking of chocolate, add cocoa powder to your scone recipe, along with those chocolate chips. And while you're at it, leave in the dried cherries! (Cherries and chocolate pair beautifully.)
Serving the kids? No problem! Load up your scones with sprinkles for a unicorn tea party!
Looking for something sweet but hearty? Add oats and walnuts.
Want something light and flavorful? Add cinnamon and sugar.
Add white chocolate chips and fresh raspberries.
Baking for the holidays? Add ginger or pumpkin to your recipe. (Pumpkin scones would be a big hit at a fall event.)
Savory Scone Ideas
For a savory scone, omit the sugar and dried cherries from your recipe. Instead:
Add ham and cheese to your recipe.
Add garlic and cheddar cheese (for a Cheddar Bay Biscuit), then top with Everything Bagel seasoning before baking.
Add bacon and cheddar cheese.
Add gouda cheese with fresh spinach.
The Possibilities are Truly Endless!
Other Recipes from Out of the Box Baking
I hope you enjoyed this easy scone recipe. See this recipe at:
---
If you enjoy scones you'll love the following recipes:
Easy Cake Mix Scones: These lovely lemon berry scones start with a simple white cake mix. They're delicious and easy to make.
These Strawberry Lemon Creme Scones are simple and tasty with a lovely texture.
My Almond Tea Cakes will wow you! They're scone-like in texture and packed full of almond flavor.
My Copycat Red Lobster Cheddar Bay Biscuits are the closest thing I've made to a savory scone. They're absolutely scrumptious and easy to whip up!
(Who knew you could whip up a batch of scones so easily! Be sure to enjoy a cup of tea with yours.)
That's it for now. Let me leave you with a verse that comes to mind when I think of my precious friend:
A sweet friendship refreshes the soul.
Proverbs 27:9
---
About the Author
Janice Thompson is an author, baker, and all-around mischief maker! She has overcome a host of baking catastrophes, including a toppled wedding cake, to learn more about the baking process. Janice has published over 150 books for the Christian market but particularly enjoys writing recipes and baking devotions. To learn more about Janice or to drop her a note, visit her About the Author page.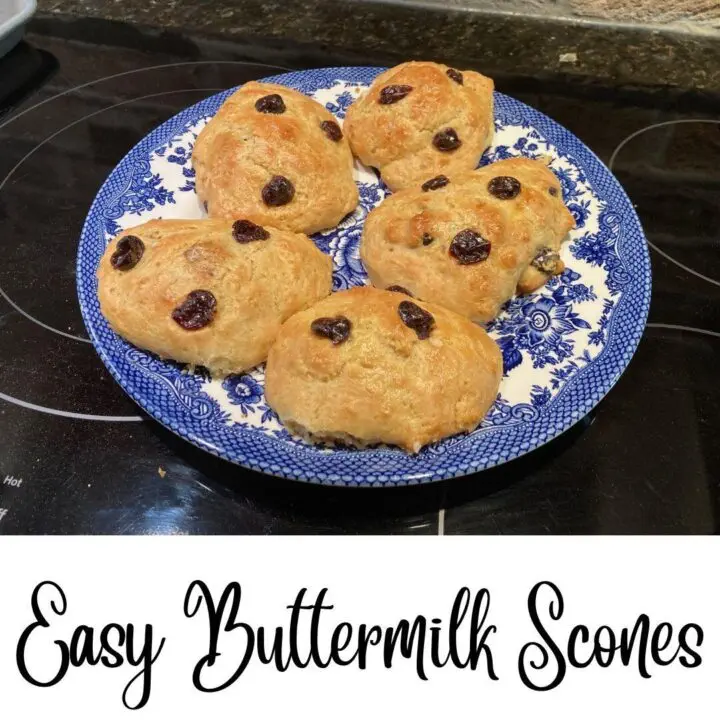 Easy Buttermilk Scones (from scratch)
If you're in the mood for a delicious scone but don't have a lot of time for a complicated recipe, you've come to the right place! This yummy scone is tender and light, but packed full of flavor.
Best of all, it's versatile enough to be served sweet or savory.
Ingredients
2 cups all purpose flour
1 tablespoon baking powder
1 teaspoon baking soda
1/2 teaspoon salt
1 tablespoon granulated sugar
1 1/4 cup buttermilk
1 large egg
1/4 cup vegetable oil
Instructions
Preheat oven to 350 degrees.
Prepare cookie sheet with parchment paper (or by spreading with butter).
Combine dry ingredients in bowl.
Add wet ingredients and mix.
Fold in cherries.
Scoop onto baking sheet.
Add egg wash to top.
Add a few more dried cherries on top.
Place in preheated oven and back at 350 degrees for 13 - 15 minutes or until golden brown.
Place on wire rack to cool.
Serve with preserves and/or clotted cream.