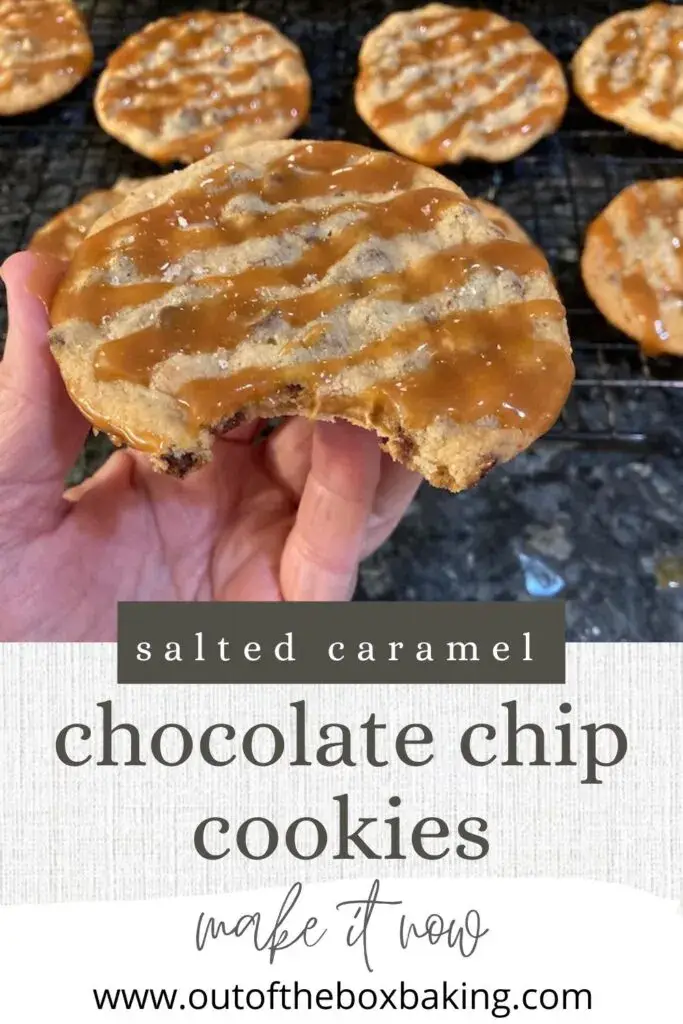 If you enjoy the combination of salted caramel and chocolate, you're going to love this amazing new recipe. It's rich and decadent, loaded with sweetness and an added pinch of salt. It's also soft and gooey, coated with sticky deliciousness!
Salted Caramel. . .and Chocolate?
Maybe you've never had these two flavors together before. I use a lot of chocolate and a lot of caramel, but have only merged the two as a turtle filling in my Ultimate Chocolate Cake. Talk about delicious!
I got to thinking about salted caramel and wondered where it came from, so I did a bit of research. I landed on a website called The Real History of Salted Caramel, which I found very interesting!
According to the article, salted caramel was invented by a chocolatier named Le Roux, who wanted to set his sweet treats apart from all others. He added a simple dash of salt, just enough to trigger the perfect reaction.
You can make your own salted caramel, of course. But I happened to have a bag of Caramel bits on hand and needed to use them, so I chose to go that route. I'm so glad I did! Talk about an easy way to make caramel!
Cookie Ingredients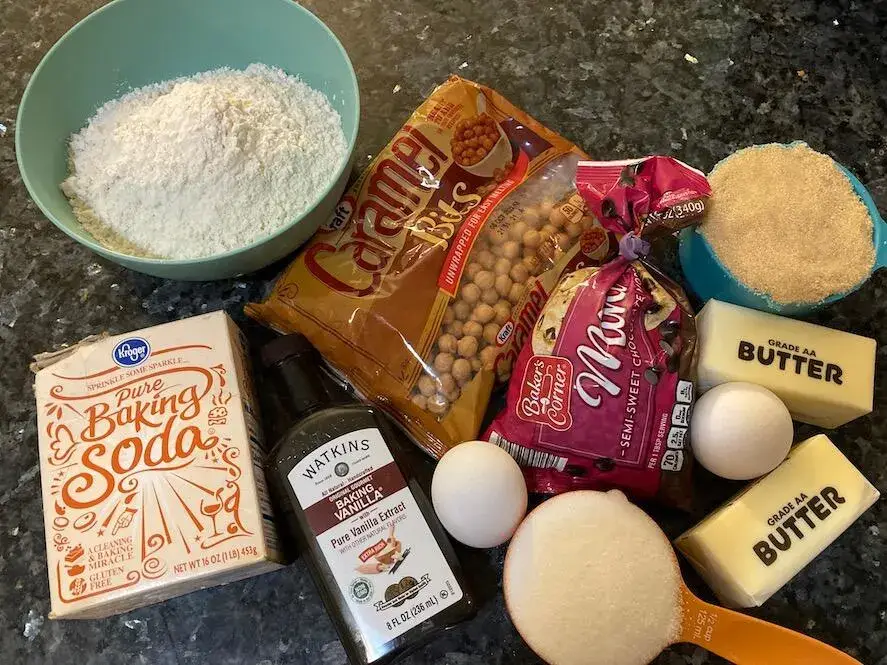 If you're looking for a full printable recipe card with measurements you'll find that at the bottom of this post. For now, here's a quick peek at what you're going to need. You've probably got most of these simple ingredients in your pantry or refrigerator right now!
You're going to need:
room temperature butter (salted)
brown sugar (light or dark brown sugar is fine)
granulated sugar
vanilla extract
room temperature eggs
baking soda
all purpose flour
chocolate chips
caramel bits
Note: If you only have unsalted butter, add a quarter teaspoon of salt to the recipe.
How to Make Salted Caramel Chocolate Chip Cookies
These cookies are so easy to make, you'll wonder why you haven't made them before! Here's how to do it:
Start by preheating your oven to 375 degrees.
Prepare your baking sheets by covering them in parchment paper.
In a large mixing bowl cream your room temperature butter. (I used the stand mixer with paddle attachment but you can use a large bowl and electric mixer.
After butter is light and fluffy, add your sugars and vanilla. Continue to mix until smooth.
Work in your flour and baking soda. Be careful not to over mix so that you don't over activate the gluten strands.
Now it's time to add your cup of chocolate chips and caramel bits. Be sure to reserve about a third of the bag of caramel bits to melt for the topping.
Scoop dough onto baking sheet and place in the refrigerator for 10 minutes so that they can chill.
Place in preheated oven and bake for 10-11 minutes or until golden brown.
Remove from oven and place cookie sheet on wire rack to cool.
Place the remaining caramel bits in a small bowl and add a tablespoon of water. Microwave in 30-second increments, stirring between, until smooth and creamy. It took me one minute total.
Drizzle melted caramel over your cookies. (You could always use caramel sauce if you don't have any chips left over!)
Add a pinch of sea salt to each cookie. Don't over-do it. (Flaky sea salt adds just the right contrast of flavors!)
Place on wire rack to finish cooling.
Allow to fully cool before storing. Store these delicious cookies side-by-side in an airtight container. (If you stack them they will likely stick together.) This is a soft cookie that will continue to soften as it ages.
What to expect from these cookies
I love a great chocolate chip cookie. If you've been following me for a while you have probably seen my Ultimate Chocolate Chip Cookie recipe. I'm also crazy about pecans, which I often put in my cookies.
This recipe, I knew, would be different. I'm crazy about caramel but decided to let it be the shining star, along with that pinch of salt. So, I omitted the pecans and just stuck with the warm, gooey caramel and sweet chocolate chips. Those bits of caramel were chewy on my teeth, which made the whole experience fun.
These cookies were soft and chewy, all at the same time. They were truly delightful!
Variations on these Chocolate Caramel Cookies
Honestly? I can't think of many ways to change these! They're so yummy just like they are. If I had to add something else to them I might choose:
Pecans. I might add pecans along with the chocolate chips and caramel bits.
Cocoa Powder. I might add a quarter cup of cocoa powder to the batter at the same time I added the flour and baking soda.
Brown Butter: This would pair beautifully with the caramel, for sure! It would add a nutty flavor.
Caramel chocolate chip cookie bars: Don't these sound fun? Spread cookie dough on a baking tray and bake until bars form then drizzle with caramel.
Note: Because these cookies are soft, you might want to make smaller cookies by using a smaller dough scoop.
Prepper Baking
I've added a new category to my blog for those who like to meal prep. You can prep baked goods, too! This is especially easy with cookies. I often make a full batch, bake just one tray, and freeze the rest.
I do so by chilling the dough balls for half an hour, then transferring to a ziplock bag. (Each cookie dough ball should be firm to the touch.)
Frozen dough can be kept for about 2-3 months. Mine rarely lasts that long. I like to have plenty of different types of cookies in my freezer so that I can bake up a variety when the grandkids come over.
(Cool, right?)
Other Fun Cookie Recipes from Out of the Box Baking
If you like this recipe you're going to love my other cookie recipes, as well! Here are a few of my favorites:
That's it for this post, friends! Thanks for stopping by! If you're in the mood for cookies, I've always got you covered!
See this recipe at
---
About the Author
Janice Thompson is an author, baker, and all-around mischief maker! She has overcome a host of baking catastrophes, including a toppled wedding cake, to learn more about the baking process. Janice has published over 150 books for the Christian market but particularly enjoys writing recipes and baking devotions. To learn more about Janice or to drop her a note, visit her About the Author page.
Salted Caramel Chocolate Chip Cookies
Additional Time:
2 minutes
If you enjoy the combination of salted caramel and chocolate, you're going to love this amazing new recipe. It's rich and decadent, loaded with sweetness and an added pinch of salt.
Ingredients
* 1 cup room temperature butter
* 1 cup brown sugar
* 1/2 cup granulated sugar
* 1 teaspoon vanilla extract
* 2 room temperature eggs
* 1 teaspoon baking soda
* 2 1/3 cups all purpose flour
* 1 cup chocolate chips
* 1 cup caramel bits
* 1/2 cup caramel bits (for topping)
Instructions
These cookies are so easy to make, you'll wonder why you haven't made them before! Here's how to do it:


Start by preheating your oven to 375 degrees.
Prepare your baking sheets by covering them in parchment paper.
In a large mixing bowl cream your room temperature butter. (I used the stand mixer with paddle attachment but you can use an ordinary mixing bowl and electric hand mixer.
After butter is light and fluffy, add your sugars and vanilla. Continue to mix until smooth.
Work in your flour and baking soda. Be careful not to over mix so that you don't over activate the gluten strands.
Now it's time to add your chocolate chips and caramel bits. Be sure to reserve about a third of the bag of caramel bits to melt for the topping.
Scoop dough onto baking sheet and place in the refrigerator for 10 minutes so that they can chill.
Place in preheated oven and bake for 10-11 minutes or until golden brown.
Remove from oven and place cookie sheet on wire rack to cool.
Place the remaining caramel bits in a small bowl and add a tablespoon of water. Microwave in 30-second increments, stirring between, until smooth and creamy. It took me one minute total.
Drizzle melted caramel over your cookies.
Add a pinch of sea salt to each cookie. Don't over-do it.
Place on wire rack to finish cooling.
Allow to fully cool before storing. Store cookies side-by-side in an airtight container. (If you stack them they will likely stick together.)