No doubt you've heard the expression, "Waste not, want not!" To survive the Great Depression, this mindset was key.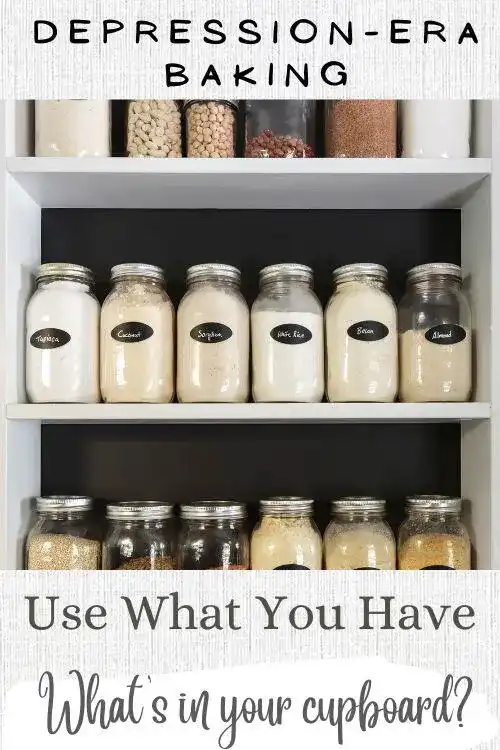 Maybe you're one of those people who keeps a well stocked pantry and refrigerator. You're prepared to whip up a good meal or dessert at the drop of a hat.
Or, maybe you're more inclined to open the pantry and sigh because there's not enough there to bake anything good.
Basic Ingredients: Flour, Sugar, Eggs, Butter, etc.
Keeping "staples" in the pantry is key, especially during lean times like the Great Depression. Flour, sugar, baking powder, baking soda, spices, and shortening? These were cheap and easy to use. Best of all, they could serve as a base for dozens of different treats. . .like the following:
I want to give you my list of "must haves" that I try to keep in my pantry at all times. These are my pantry staples:
flour (all-purpose, basic)
sugar (granulated)
sugar (brown, light)
baking powder
baking soda
salt
cornstarch
cocoa powder
meringue powder
vegetable oil
shortening
instant pudding mixes
oats
peanut butter
chocolate chips
cake mixes (white, yellow, devil's food)
spices: cinnamon, pumpkin pie spice, apple pie spice, cream of tartar
Here are the items that I keep in my refrigerator at all times:
butter
eggs
milk
whipping cream
extracts
pecans
Depression Era Recipes
The following list of recipes are some of the Depression-Era cook's favorites that can be made with the simple ingredients I listed above:
Nuts
Have a few nuts on hand? Add them to your staples! Turn that flour, sugar, and leavening into any of the following:
Chocolate
Have some chocolate handy to go with those other dry ingredients? Throw in a little butter and you can make:
Fruit
If you were fortunately enough to have fruit on hand, you could easily whip up any of the following with just a few basic ingredients:
Maybe you don't have any of those particular fruits available but you happen to have plenty of apples on hand. Consider the following:
No apples? What about bananas?
Sometimes I think I buy bananas just to watch them get speckled. No, really. Something draws me to the bananas every time I walk into my store's produce department. Sure, I'll eat one of two from the bunch. And then I forget. They get soft.
But here's the truth: Every time they start ripening up, my mind slips into "What can I bake with these?" gear. And that's a good thing, right?
Bananas are one of the cheapest fruits around and they're so versatile. You can use them to make ice cream, pudding, cake, or muffins. You can even make cookies!
Here are a few of my favorite (inexpensive) banana recipes, starting with my ultimate guide:
What do You Have On Hand?
Back during Depression-Era days, learning to bake with odd ingredients was more than a challenge. . .it was fun! Folks often joke that frugal cooks can whip up "something out of nothing" and that's usually because the frugal cook keeps staples on hand and uses her imagination to add to them.
Maybe you're imaginative, too.
No doubt there are ingredients you keep on hand that would be great for baking. Check your fridge and pantry today to see what you come up with. (Oats? Almond flour? Nuts? Cereal? It's all good for baking!) Then make something out of nothing. You'll be glad you did!
That's it for this post, friends! What's in your cupboard?
---
About the Author
Janice Thompson is an author, baker, and all-around mischief maker! She has overcome a host of baking catastrophes, including a toppled wedding cake, to learn more about the baking process. Janice has published over 150 books for the Christian market but particularly enjoys writing recipes and baking devotions. To learn more about Janice or to drop her a note, visit her About the Author page.