I don't know about you, but I love working with buttercream. And in this fun tutorial you'll get to step inside my cake decorating world for a few minutes to look at some of my favorite buttercream techniques.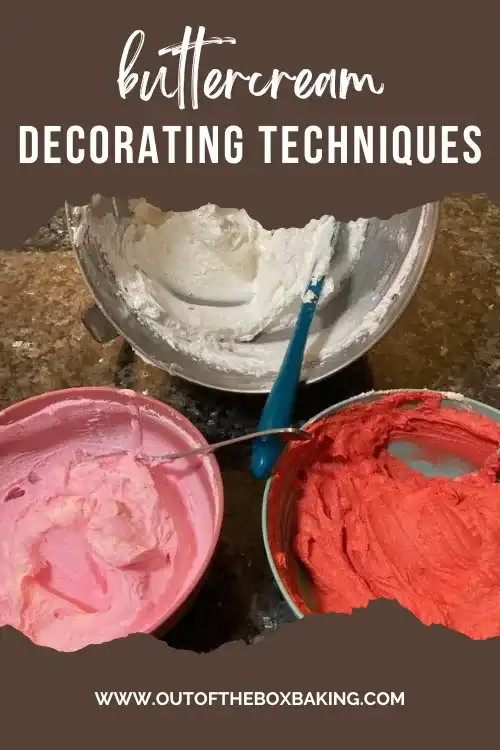 What Type of Buttercream Should I Use?
This, my friends, is up to you! I usually start with my Dreamy Buttercream Frosting but I have been known to pipe with a simple Decorator's Buttercream. I also love to pipe with a stabilized whipped cream from time to time.
No matter which one you choose, you'll want the consistency just right. Too heavy and it will tear your cake apart as you apply it. Too runny and the cake won't hold together.
How do I Color my Buttercream?
I use Americolor coloring gels from Amazon. They're so affordable and easy to use. And best of all, they last for ages! It only takes a little to color a whole batch of buttercream in vibrant true-to-life colors.
Once you've made your cake and colored your buttercream, it's time to start frosting that cake!
In this post I'm going to share fifteen of my favorite buttercream techniques. With the right tools you can frost your cake like a pro!
15 Buttercream Techniques to Try
1. Reverse Color Piping
This is such an effective technique, one I'd like to think I invented, myself! If you're working with a three tiered cake, frost the bottom and top cakes in the same color with the middle cake an alternating color.
Then, pipe some scrollwork using a Wilton #4 tip in the alternating colors. See photos for examples.
In some cases I started with the same color base frosting on each cake but alternated the colors of the piping.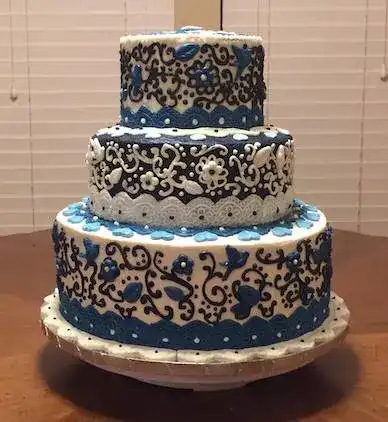 Aren't these sweet little cakes?
2. Abstract Scrolling/Chantilly Lace
This is a great white-on-white technique that is pretty much foolproof. It also involves piping, but a truly simplistic style that's great for beginners. Some people call it Chantilly lace. I just call it abstract scrolling.
Frost your cakes in white (or color of your choice). Then place white frosting in a piping bag with a #3 tip and move the bag up, down, right, left, any way you please! Basically, just draw lines in an abstract way, never lifting your tip.
Sometimes, when I'm tired, I call this "zig-zagging."
Yes, it's really one continuous line! If you do mess up, don't worry. . .no one will be able to tell where you stopped and started again.
One fun thing about this technique: It's so busy that it covers up any flaws in the underneath buttercream. So, if you don't get it on smoothly, no one will notice!
3. Rosettes on Bottom Tier
Any cake can be fancied up by simply covering the bottom tier in rosettes. For a quick tutorial on how I make my rosettes, see my Cupcake Decorating post.
When you use this technique the top cake layer(s) can be any design you like.
Here are some of my favorite bottom-tier rosette cakes. I love the simplicity of this technique. And you can truly make the top cake(s) any design you like, as long as you contrast with the bottom tier.
4. Rosettes Every Other Tier
Just as the name implies, it's very effective to add a tier of rosettes on top and bottom, breaking it up in the middle with something else entirely.
5. Ombre Technique
Traditionally, the ombre technique is layers of the same color fading as they go. For example, if you want a pink ombre cake you'll start with a darker shade of pink on bottom and lighten the frosting as you go up.
I did a full tutorial on the ombre technique. Here are some examples of what ombre cakes look like.
You might notice that several of my rosette cakes above also incorporate the ombre effect into the rosette layers. This is a popular technique, no matter how you apply the frosting.
The fun part of doing an ombre cake is mixing up the colors of frosting.
6. Naked Cakes
Naked cakes are so simple to make! You basically apple the frosting and then go back and scrape much of it off, using a bench scraper.
You don't want to leave much of the cake exposed to air, so make sure even the "naked" parts have a thin coating so the cake doesn't dry out.
As you can see from the pictures below you can choose your level of "nakedness" by how much frosting you scrape off.
7. Simple Textured Cakes
This is by far the most popular request I get for wedding cakes. People simply love this elegant design. (If they knew how simple it was, they might do it, themselves!)
You'll need a turn table for this one, folks!
Bake your cakes as usual and apply a liberal amount of frosting. Smooth it out as best you can with a bench scraper.
Then grab a small off-set spatula (or spoon) and place it at the bottom of the cake. Spin the turntable and allow the spatula to remove bits of frosting as you work your way up the cake with the spatula. The indentations look beautiful when complete, almost like ruffles!
Here's a fun example of how you can combine methods by applying your frosting in ombre style and then running the spatula around the cake to texture it.
8. Color on Bottom, White on Top
This is a simple but effective way to apply buttercream. Whether you put it on with rosettes, texture, piping, or other techniques, the goal here is to use color on the bottom tier and contrast that with a (mostly) white cake on top.
Here are a few examples.
9. Watercolor Technique
Continuing on with the "color on bottom, white on top" theme, let me show you another technique for a bottom tier known as watercolor.
With this technique you frost the bake in white and smooth it out with a bench scraper.
Then you dab on dots of frosting in other colors. Once you have all of the small "blobs" of frosting on, you scrape with a bench scraper, leaving behind a watercolor technique like you see below.
Here's another fun watercolor technique you can use. Apply small overlapping blobs of icing in the colors of your choice then put a piece of wax paper over it and smooth out with your palm or a fondant smoother. You're left with a gorgeous multi-colored cake tier.
10. Rings of Color
Nothing brightens up a room like a cake with lots of color! Some of my favorite cakes through the years have involved rings of color.
I usually start by adding a crumb coat of icing to the cake in white before laying on any colors. Then I use a piping bag with no tip (just a clipped end) to apply the rings of icing to the cake. I don't pay much attention to how they look going on because I know I'm going to scrape away most of it with a bench scraper.
11. Puffs
This is the easiest piping technique out there, y'all! Just grab a 1M tip and "puff" the frosting on. You can use this technique for tiered cakes, shaped cakes, or any other cakes you like! Here are a few of my favorites, just to show you the variety of this method.
12. Fault-Line Cake Technique
This is a bit more complicated. To make this fault-line cake I started with three layers of cake. Two of them were 9″ and one (in the middle) was 8″. I put the cakes together with the smallest one in the middle.
Then I iced the top two cakes in white, deliberately leaving it jagged on the edges. I came inside the "fault line" with puffs, rosettes, and other fancy tips, adding more color.
Then, as you can probably see, I used a gold lustre dust to pain the edges of the white cakes.
13. Shaped Cakes
It's so fun and easy to shape your cakes to match your them. No matter which icing technique you use, the cake will look great!
14. Buttercream Painting
It's possible to use your cake as a canvas, creating beauty with the various colors of buttercream. Us offset spatulas, palette knives, or piping bags. It's your choice!
All it takes is a little imagination and a lot of patience!
15. Slap-it-on Technique
In case you were wondering, many cakes (even wedding cakes) are still decorated with the traditional, "Just slap it on" technique. I still recommend an off-set spatula for this process but it's basically foolproof! When combined with beautiful fondant work, this old-fashioned technique can be heavenly!
Other Things to Know
Follow these links to learn more about cake decorating!
That's it for this post, friends! I hope you enjoyed these various buttercream techniques. I'll be back periodically to update! Until then, happy butter creaming!
---
See this recipe at
---
About the Author
Janice Thompson is an author, baker, and all-around mischief maker! She has overcome a host of baking catastrophes, including a toppled wedding cake, to learn more about the baking process. Janice has published over 150 books for the Christian market but particularly enjoys writing recipes and baking devotions. To learn more about Janice or to drop her a note, visit her About the Author page.