Whenever I'm asked, "How do you make all of those cakes?" I respond with these important words: "I have great tools." Without these items, which I'm going to list below, I could never do what I do. And I promise, if you'll purchase even a few of these (affiliate links included for your ease of shopping) you'll find the tasks of cake baking and decorating easier and more enjoyable.
What Does Every Cake Baker Need?
I could probably list a thousand different things, but, instead, I've put together a comprehensive list of 20 items that I consider must-haves in every cake-baker's kitchen. If you can't afford all of these at once then put together a wish list on amazon in the order of importance for your upcoming projects.
Let's start with the most obvious…
Let's start with the most obvious…
I can't tell you guys how many hand mixers I've burned up over the years. (Buttercream is hard on hand mixers, especially when you make wedding cakes!) If I added up the cost, I probably could've purchased a kitchen aid. I honestly didn't realize what a difference a stand mixer would make until I had one. Now I couldn't live without it. Er, them. As you can see, I have two. I prefer the tilt head version. Check out the photos from my (yummy!) strawberry lemonade cake post, where I have both mixers going at once!
2. Great pans in a variety of sizes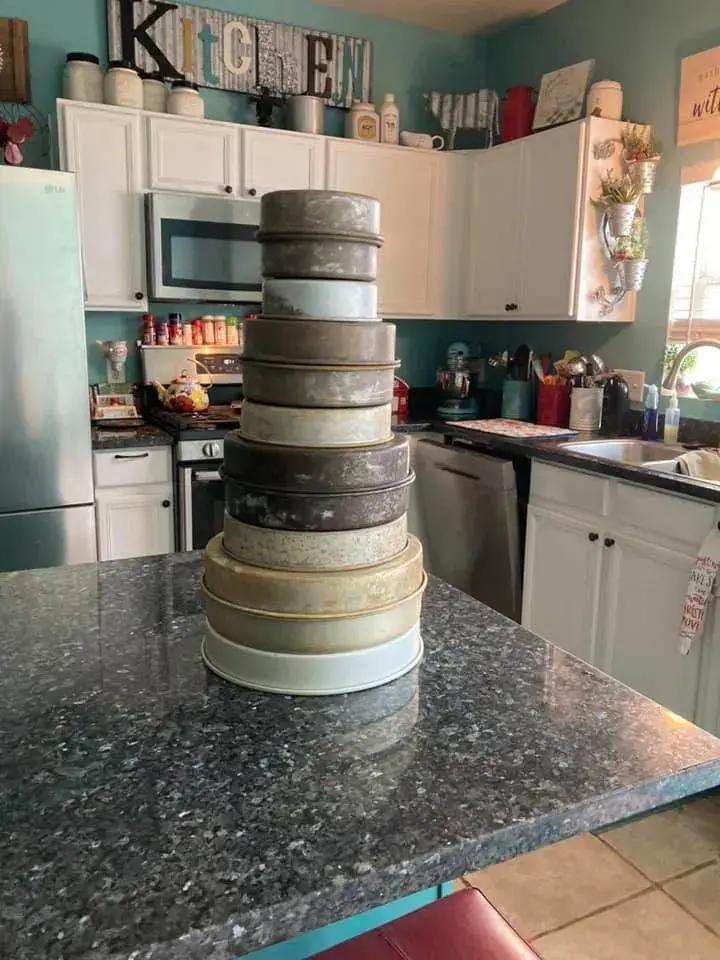 These days, most cakes are tiered, (a process I laid out in my How to Tier a Cake post). You'll notice that most of my tiered cakes are round (as opposed to square, oval, or octagonal). The reason? They're easier to decorate. Round cakes are by far the best place for a novice cake decorator to start. (I find them easier than sheet cakes, if you want the truth.) So, high on my list is a set of great pans.
I have owned a variety of brands (from Wilton to Cake Boss to Fat Daddio, a personal favorite) but if you're looking for a quick, inexpensive way to get started, Wilton sells a round cake pan set (6″, 8″, 10″, and 12″) that's perfect! For the price, it really can't be beat. These pans are a 2″ depth, which I prefer because cakes cook up faster in a shallower pan. And these hold up well. Be sure to wash them by hand, not in the dishwasher.
3. A Good Cake Leveler
After several failed attempts to level cakes with a large knife (by eyeballing) I gave up and bought a tool that has changed my life. This Wilton cake leveler ensures that all of my cakes are flat and easy to stack. If you don't level a cake properly it could fall. (Ask me how I know.) This tiny tool is cheap and easy to use! There are some great cake leveling photos on my German Chocolate Cake recipe, so check them out for demonstration.
4. Offset Spatulas in small and large
Until I started baking tiered cakes I'd never used (or even heard of) an off-set spatula. But now that I find myself frosting multiple layers at once, like I did in my Italian Cream Cake post, I can see how critical this tool is. One day I'll do a video demonstration to show you how easy it is to load up the spatula with frosting, and transfer it to the cake! You can smooth with the off-set spatula, too. But if you really want to take your smoothing to the next level you're going to need. . .
5. A Bench Scraper
The bench scraper is perfect for smoothing the frosting. (I have a fun technique called watercoloring, where I add dabs of color to a white frosted cake and then smooth it out with the bench scraper.) This little tool is inexpensive and a must-have for cake-baking, especially for crumb coating a cake. (You can see a demonstration of that here.) My Pretty in Pink Ombre Cake required a bench scraper for the ombre frosting. Whew!
6. Silicone Spatula Set
Whether you're using a stand mixer or a mixing bowl, you've got to have a way to scrape that batter out of the bowl and into the pans. I love my silicone/rubber spatulas. I collect them, in fact! My Easy Cheesecake Mousse adventures definitely require these spatulas!
7. Piping Tips
Until I learned to pipe a cake I didn't really consider myself a "decorator." Now I've got my personal favorites! I'm addicted to the 1M tip. In fact, I probably have 7-8 of them on hand at all times. I also love the leaf tip, and a variety of border tips. The Wilton starter set would be a great place to start. You can see photos of some fun techniques in my carrot cake cupcakes post! You'll find lots more in my Dreamy Buttercream post.
8. Piping Bags
I usually keep a couple of different kinds of piping bags on-hand: traditional and tipless. I use the tipless ones for cookie decorating but they come in handy for cakes sometimes, too. If you check out my DIY cupcake trifles post you'll see that it's handy to put a sealed bag inside of another bag (which holds the tip) when you have a big job and need lots of icing. That way you're only dirtying/using one tip for the project.
9. Couplers
Most of the smaller piping tips require couplers, which are simple to use and really inexpensive. Do not buy off-brand tips or couplers. You'll be sorry you did! They're not made in traditional sizes and will cause you headaches. I stick with Wilton. (No, Wilton is not sponsoring this post. Ha.) My Tips for Cookie Decorating post has a great picture of couplers in use.
10. Icing Bag Ties
I'm in love with these tiny purple rubber bands. They're absolutely perfect for sealing my icing bags. Once you get hooked on them you'll see that they're great for several around-the-house purposes, as well. For photos of how I use these, see my Dreamy Buttercream post.
11. Fondant Rolling Pin
If you're going to cover your cakes in fondant you'll need a fondant roller. A typical rolling pin isn't long enough. I love the way these sturdy plastic pins feel in my hands. Several of the tiered cakes on my How to Tier a Cake post have fondant on them.
12. Turntable
If you had told me a few years back that an inexpensive turntable could make the difference between a successful cake decorating journey and an unsuccessful one I would never have believed you. Now I can't even imagine trying to decorate a cake without setting it on a turntable first. The ability to turn the cake as I'm frosting and decorating it is key! Most all of the cakes I've posted have required the turntable. See if you can guess which ones have not!
13. Bubble Tea Straws
Nearly every cake that I make uses these sturdy bubble tea straws as supports or stabilizers. (If you ever want to know what to get me for my birthday, get me some of these! I go through a lot of them!) For more on how to use them, see my How to Tier a Cake post.
14. Measuring Cups and Spoons
You never realize how badly you need measuring cups until you don't have them. Mine are always in the dishwasher or in use so I have multiple sets of both the measuring cups and measuring spoons.
15. A Cake Tester
There's nothing worse than a raw cake and this tiny cake tester has come in handy repeatedly over the years!
16. Dowels
My tiered cakes are always doweled. You can buy these bamboo dowels in a variety of sizes. To see a demonstration of how I run a dowel down the center of a cake, follow this link.
17. Cake Boards
Every cake sits on a board. When you tier a cake you need a cake board between every single tier. It's critical that you buy one that has a hole punch-out option in the center (see picture) so that you can dowel your cake. I buy Wilton brand for this very reason. I keep them in 6″, 8″ & 10″. There's a picture on my "Let's Step out of the Box" page of a cake that's partially put together with the bottom portion doweled.
18. Cake Drums
Cake drums are basically the base of the cake. (See the silver base at the bottom.) They are different from cake boards. They're thicker. I discuss drums in my How to Tier a Cake tutorial, but I highly recommend you purchase them in advance. Otherwise you'll be scrambling at the last minute to build your own out of cake boards and foil.
19. Gel Coloring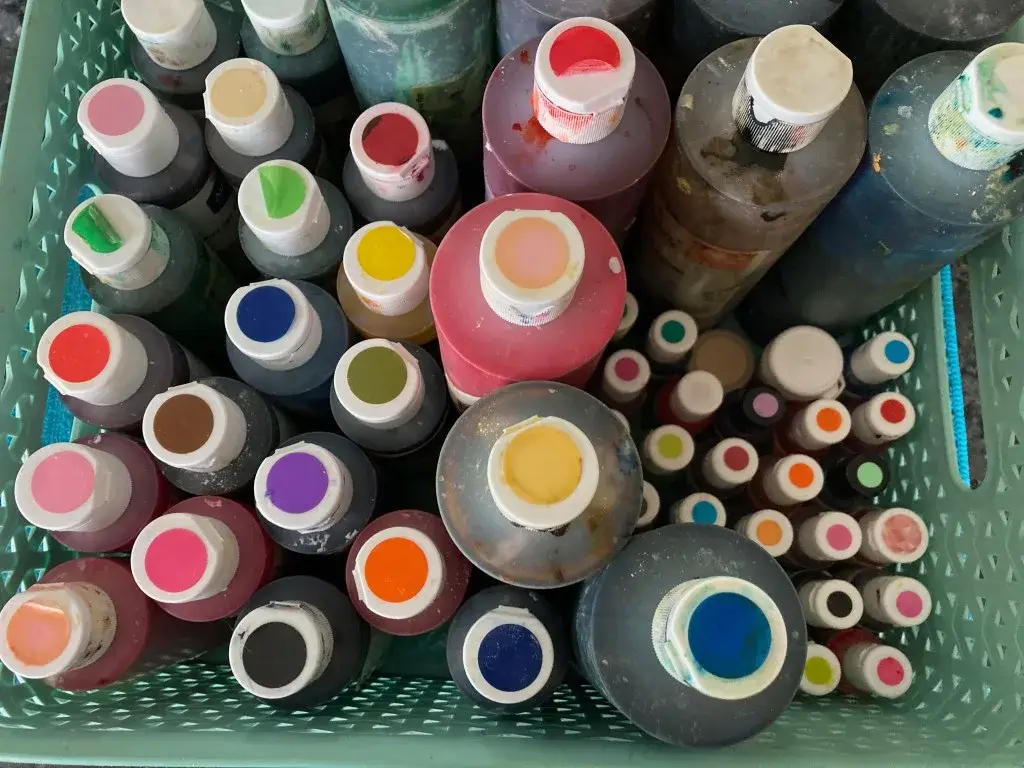 My bottles are a hot mess (from being handled too many times with sticky fingers covered in royal icing) but I couldn't begin to color my icings without these gels. Never use a water-based food coloring when you're making cakes or cookies. Always go with a high quality gel like Americolor. Just wait till you see how I used these for my Christmas cupcakes!
20. Water Brush Pen
This is a tiny little tool but it's critical when working with fondant. If you're sticking fondant to fondant you need the tiniest bit of water to adhere it. This refillable water brush pen is perfect! You get just the right amount of moisture!
I could probably recommend a host of other things, like a pastry brush set, a good whisk, great mixing bowls, and so on, but most of those things you've probably already got on hand. I'll be coming back soon with a similar "must-haves" list for cookie bakers/decorators. You'll be surprised at how different that process is.
A Gallery of Cake Photos
I'm including the following gallery of cake photos to show you how often I use the tools listed above!
Some Fun Cakes to Try
If you're into cakes, check out this Southern Coconut Cake from Julia's Simply Southern. My mouth is watering, just looking at the photo!
If you're looking for something easy, take a peek at this Easy Rice Cooker Pineapple Upside Down Cake from Southern Home Express. I've never seen anything like it!
Thanks for joining me! If you have favorite tools, let me know below in the comments!
---
About the Author
Janice Thompson is an author, baker, and all-around mischief maker! She has overcome a host of baking catastrophes, including a toppled wedding cake, to learn more about the baking process. Janice has published over 150 books for the Christian market but particularly enjoys writing recipes and baking devotions. To learn more about Janice or to drop her a note, visit her About the Author page.