If you love all things Alice in Wonderland, do I have a treat for you! This quick post is going to give you information you'll need to create delicious and colorful cookies and cupcakes, perfect for a Wonderland party!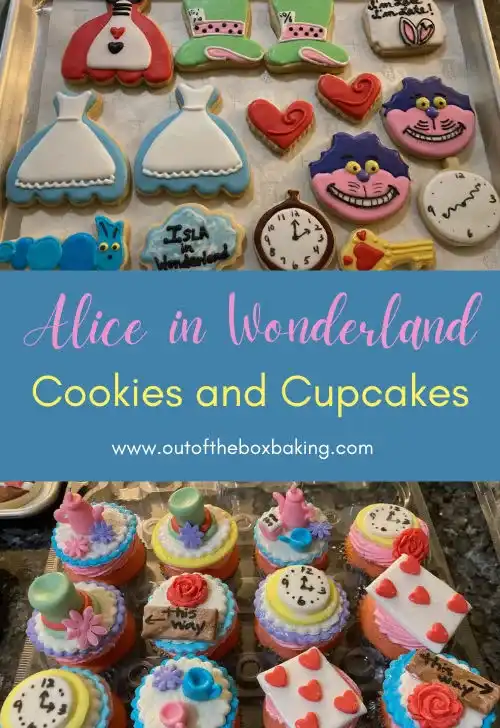 A Visit Through the Looking Glass
A couple of months back I was asked to bake some cookies and cupcakes for my little niece's 8th birthday party.
She's a very creative little girl who loves to design her birthday party themes, so I knew she would give me my marching orders.
Turned out, she wanted an Alice in Wonderland theme this time around. And because the party was going to be held at a paint studio (Pinot's Palette) the family had been advised not to bring a big cake.
The owner suggested cupcakes instead. And, of course. . .cookies. I always try to make cookies for children's birthday parties.
It's really the collaboration of cookies and cake (or cupcakes) that sends themed parties over the top, (in my humble opinion).
How to Design Alice in Wonderland Cookies
I did a lot of research and decided that I probably had enough cookie cutters on hand to come up with multiple designs.
I chose the following cutters:
key
heart
book
teacup
teapot
hat
cat
bunny
heart
arrow
crown
circle
square
rectangle
wedding dress
inchworm
other interesting shapes
I'll share photos in a moment, but first let's talk about that recipe. I started with my basic cut-out sugar cookie recipe, which you will find below.
Out of the Box Cut-Out Sugar Cookie Recipe
You'll find my cut-out sugar cookie recipe detailed in another post, but here's a quick peek at what you'll need.
2 sticks (one cup) salted butter (room temperature)
1 extra-large egg (must be extra-large)
1 cup powdered sugar
½ cup granulated sugar
1 tsp clear vanilla
½ tsp almond extract
3 cups flour
1 tsp baking powder
How to Make Cookie Dough
Cream room temperature butter. Add sugars and continue to whip until light and fluffy.
Add egg and extracts, mixing well.
Add flour and baking powder. Mix until incorporated.
Chill for half an hour. Roll to 1/4 inch thickness and use cookie cutters.
Bake at 375 for 10 – 11 minutes, depending on the size of the cookies. I line my cookie sheets with parchment paper and my cookies turn out great every time!
How to Paint Your Alice in Wonderland Cookies
My Alice in Wonderland cookies were covered in Royal Icing. Follow the link to get that recipe. For more about how to use royal icing, check out this post titled Tips for Cookie Decorating.
I started by using my Americolor Coloring Gels to color several bags of flood icing.
I like to start by outlining my cookies (one or two at a time).
After outlining, I flood the cookies with the base coat.
It's important to let the base coat dry completely. Then I come on top of the base with any secondary colors or designs. These are the ones I settled on.
As you can see:
The dress cookies were used to make both Alice's dress and the queen's dress.
The circle cutters were used to make clocks, "eat me," "drink me," etc.
The hats were turned into Mad Hatter hats.
The hearts were used in a couple of different ways–to form the queen's face and (smaller hearts) left in red.
The rectangles were used to make cards.
Teacups and teapots were decorated in fun colors.
Same with the keys.
The birthday girl's name is Isla, to I decided to write "Isla in Wonderland" on the book cookie.
You can see how some of the other cutters were used. All cookies were placed on a tray for the kids to choose the ones they wanted.
Making Alice in Wonderland Cupcakes
To make the cupcakes, I started with a boxed mix. Isla wanted chocolate, strawberry, and vanilla, so I made a dozen of each.
As always, I doctored my cake mixes.
I made a big batch of my Dreamy Buttercream and colored it white, pink, and chocolate (brown).
I baked and frosted my cupcakes, then set them in the fridge to firm up while I worked with my Homemade Marshmallow Fondant to make the little details.
Decorating Alice in Wonderland Cupcakes
I used a variety of tools to form these little decorative bits, everything from cookie cutters to molds to fondant shaping tools.
Mostly, though, I used my fingers.
I colored my fondant using the same Americolor Coloring Gels.
Working with Fondant is Fun!
Most of the cupcakes started with a circle of fondant to serve at the base. (Basically, I used a circle cutter to cut out circles of fondant, which were place on top of the firmed-up, refrigerated icing on the cupcakes.)
Decor was place on top of that. Whenever adhering fondant to fondant you can use a drop of water. Once it dries, the pieces are pretty much glued together.
I have a special water pen that I use.
Here are the designs I came up with.
As you can probably tell, I had a blast! I tried to emulate what I'd done with the cookies, making sure I had similar designs.
My favorite (hardest to make, though) was the upside-down legs sticking out of the top of the cupcake. I ended up using toothpicks on those.
The rest of the cupcakes were 100% edible.
Displaying the Cookies and Cupcakes
We had some really fun cupcake holders–two Ferris wheels and one spiral holder.
Oftentimes I place cookies in individual bags to be given away as favors but in this case the kids were going to eat the cookies at the party, so they all went together on one tray.
Any Party can be Colorful and Fun
I hope this post has inspired you to do matching cookies and cupcakes for your next big event.
If you want to see more party ideas, check out the following photo albums:
---
That's it for this post, friends! I hope you're feeling inspired to make and decorate sugar cookies and cupcakes for your next party or event!
---
About the Author
Janice Thompson is an author, baker, and all-around mischief maker! She has overcome a host of baking catastrophes, including a toppled wedding cake, to learn more about the baking process. Janice has published over 150 books for the Christian market but particularly enjoys writing recipes and baking devotions. To learn more about Janice or to drop her a note, visit her About the Author page.