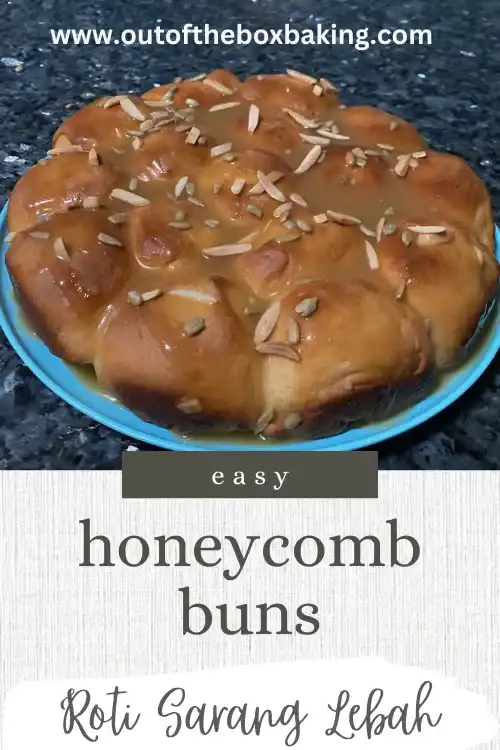 If a pull apart bun and a cinnamon roll had a child, this would be it! This light fluffy bun is loaded with caramel flavor from the topping. Best of all, it's easy to make!
Let's Make Homemade Sweet Buns
There's nothing better than homemade desserts or breakfast treats. If you have been following my blog for any length of time you know that I really enjoy baking.
Lately I've been on a bread kick, coming up with all sorts of treats. Some are savory, like my Multigrain Seed and Nut Bread Some are sweet, like my Homemade Cinnamon Rolls and my Homemade Cinnamon Bread.
When I stumbled across this recipe for Honeycomb Buns on Thermomix's Cookidoo site, I was intrigued. I'd never heard of these, especially not the Indonesian name: Roti Sarang Lebah.
What is a Honeycomb Bun?
Honeycomb buns (called Roti Sarang Lebah) are made in Indonesia and are known for their light, sweet flavor.
These bun have almonds and sunflower seeds on top. (In India they use a variety of seeds and nuts, like Nigella seeds.) But you could just as easily use chopped pecans or walnuts so that these feel more like traditional cinnamon rolls.
In Arabic, these rolls are known as khaliat nahal, which translates to bee's hive. This homemade bread does, indeed, look like a bee's hive!
Beehive Sweet Buns? You Betcha!
These aren't just popular in middle eastern countries. They're delicious, no matter where they're served. These fluffy bread rolls are absolutely divine!
If I had to explain what they feel and taste like, I would say "a yeast roll with caramel and nuts on top." They're absolutely delicious, folks.
Grab a napkin to wipe the caramel from your chin. You're going to need it for this one, folks.
Let's take a look at what you're going to need to make these delicious Honeycomb Buns
Honeycomb Bun Ingredients
You will find a full printable recipe card at the bottom of this post but here's a quick look at what you'll need to make these Honeycomb Buns. These are simple ingredients you likely have in your kitchen right now.
lukewarm water (not above 100 degrees)
fast rise yeast (instant yeast)
granulated sugar
coconut oil (or vegetable oil)
all-purpose flour
Greek yogurt
packed brown sugar
salted butter
heavy whipping cream (or whole milk)
melted butter (for brushing)
seeds or nuts to place on top (example: sunflower seeds, slivered almonds, poppy seeds, pumpkin seeds)
How to Make these Delicious Honeycomb Buns
These came together so easily! I can't wait to make them again for my family. Talk about an easy dough recipe.
Grease a large bowl and set aside.
Make the Buns
Activate yeast in large mixing bowl (or bowl of a stand mixer) by combining with lukewarm water, sugar and oil. Allow yeast mixture to sit for five minutes.
Add flour and yogurt. Mix well with wooden spoon or paddle attachment.
Switch to dough hook and knead for four minutes.
Remove dough and rest in lightly greased bowl for 45 minutes (covered, in warm spot).
Dough should double in size.
Divide dough into 16 balls (equal pieces) and place dough balls in greased 10" round pan.
Cover with tea towel or plastic wrap and allow to rise for 45 minutes in warm place.
Brush risen dough with melted butter (or, if you prefer, and egg wash). Sprinkle top of the buns with seeds or nuts of your choice. (I love sliced almonds and sesame seeds!)
Place in 350 degree oven and bake for 25 minutes or until golden brown.
Remove from oven and place on wire rack to cool.
Flip onto plate, then flip again so that the buns are upright.
Make the Caramel Topping for this Yummy Beehive Bread
While buns are baking, make your caramel sauce.
Melt butter in medium saucepan. Add cream and brown sugar. Simmer for three minutes and remove from heat.
Slightly cool and then pour caramel sauce over the buns. (Look at that beautiful honeycomb pattern!)
(If you like, you can wait to add the nuts at this stage. I lost quite a few when I flipped my buns over.)
Now comes the fun part! Pull apart to serve while still warm. Hot buns are amazing!
Store in airtight container at room temperature. Buns should stay fresh up to three days. If you decide to refrigerate, they will need to be warmed in the microwave before serving.
What to Expect from This Delicious Sweet Bread Recipe
I hardly know where to begin with this authentic middle eastern breakfast! This is a delightful bread dough, easy to work with. (That's always nice.)
These little buns are soft and luscious, like a cinnamon roll. And that caramel topping! Wowza! Talk about easy on the taste buds. Just the right amount of sweetness.
It's ooey-gooey and sweet, absolute perfection!
As I mentioned above, you're going to want to have a napkin nearby. These small buns are a messy treat, since the caramel is all on the outside. But I can promise you, it's worth any and all of the mess!
These rolls will satisfy your sugar craving, no doubt about it! This is one homemade bread you're really going to love.
Variations on this Beehive Sweet Buns Recipe
This was an easy and delicious recipe, but you guys know me! I'm always looking to change things up. Here are a few ideas for next time:
Pecans or Walnuts: Instead of almonds, I play to use chopped pecans or walnuts next time.
Maple syrup: If I opt for pecans or walnuts I'll probably add a bit of maple syrup to the caramel. Either that, or I'll add maple extract.
Orange zest: I think this amazing sweet bread would be even better with orange zest. (Yum!)
Cream cheese frosting: Skip the caramel and add cream cheese frosting (similar to topping cinnamon rolls). Add nuts on top of cream cheese frosting.
Serve with apricot jam, strawberry jam, or cranberry jam for more intense flavor combinations. This sweet treat is also yummy with a cup of hot tea.
No matter what you add to these fluffy bread rolls, you're going to love them! (Is there anything better than homemade bread?)
Other Sweet Breakfast Treats from Out of the Box Baking
Easy Homemade Cinnamon Rolls: If you've been on the prowl for a great cinnamon roll recipe, one that's light and fluffy but loaded with rich cinnamon sugar flavor, have I got a treat for you! This recipe is absolutely mouth-watering. Best of all, it's easy and quick!
Homemade Cinnamon Bread: If you love a really soft sliceable bread, rich with cinnamon and sugar flavor, you've come to the right place! In this post I'm going to show you how to make my very favorite Homemade Cinnamon Bread.
Easy Cranberry Breakfast Cake: If you love a luscious coffee cake but also love the luscious twang of cranberries, this is the recipe for you! This easy breakfast cake comes together so easily and best of all, it's from scratch!
---
That's it for this post, friends! I hope you enjoyed this delicious sweet buns recipe.
See this recipe at
---
About the Author
Janice Thompson is an author, baker, and all-around mischief maker! She has overcome a host of baking catastrophes, including a toppled wedding cake, to learn more about the baking process. Janice has published over 150 books for the Christian market but particularly enjoys writing recipes and baking devotions. To learn more about Janice or to drop her a note, visit her About the Author page.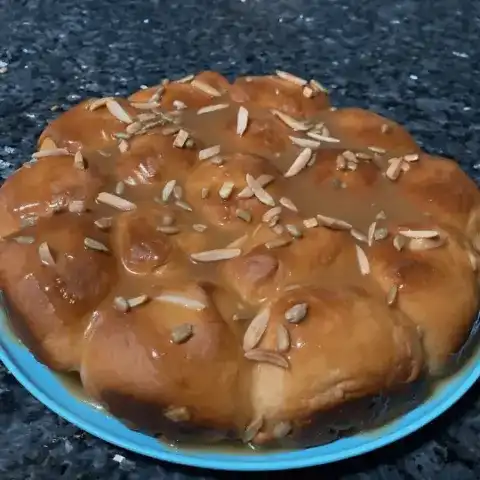 Easy Honeycomb Buns (Roti Sarang Lebah)
Prep Time:
1 hour
15 minutes
Additional Time:
10 minutes
Total Time:
1 hour
50 minutes
If a pull apart bun and a cinnamon roll had a child, this would be it! This light fluffy bun is loaded with caramel flavor from the topping. Best of all, it's easy to make!
Ingredients
1/2 cup lukewarm water (not above 100 degrees)
2 ½ tsp instant yeast (one packet)
1/4 cup sugar (1/4 cup)
1/4 cup coconut oil (or vegetable oil)
2 1/4 cups all purpose flour
1/3 cup Greek yogurt
1/2 cup packed brown sugar
1/4 cup salted butter
1/2 cup whipping cream (or whole milk)
1 tablespoon melted butter (for brushing)
Seeds or nuts to place on top (example: sunflower seeds, slivered almonds, poppy seeds, pumpkin seeds)
Instructions
How to Make Honeycomb Buns
Activate yeast in large mixing bowl (or bowl of stand mixer) by combining with warm water, with sugar and oil
Allow to sit for five minutes
Add flour and yogurt.
Mix well with wooden spoon or paddle attachment.
Switch to dough hook and knead for four minutes.
Remove dough and rest in greased bowl for 45 minutes (covered, in warm spot).
Divide into 16 balls and place in greased 10" baking dish.
Cover and allow to rise for 45 minutes in warm place.
Brush with melted butter
Sprinkle on seeds or nuts of your choice.
Place in 350 degree oven and bake for 25 minutes or until golden.
Remove from oven and place on wire rack to cool.
Flip onto plate, then flip again so that the buns are upright.

While buns are baking, make your caramel sauce.
Melt butter in saucepan
Add cream and brown sugar.
Simmer for three minutes and remove from heat.
Cool
Pour caramel sauce over the buns and serve.
(If you like, you can wait to add the nuts at this