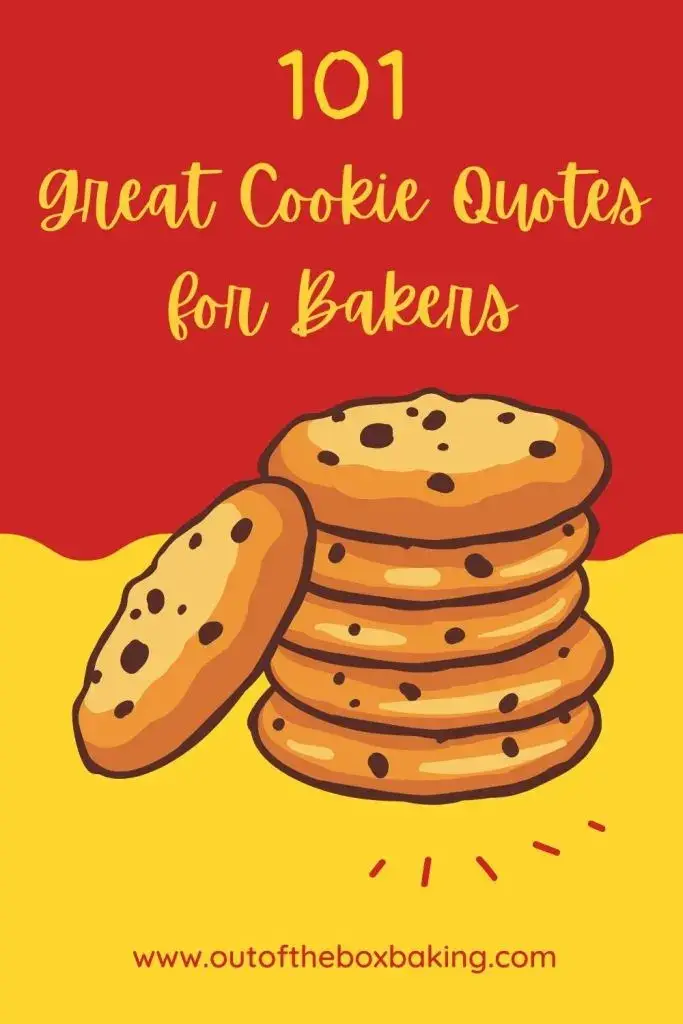 Cookies Are the Sweetest Treats Around!
I could sing the praises of cookies all day long. They're easy to make, easy to serve, and tasty, too! There are a zillion different options.
If you've followed my blog for any length of time, you've already discovered my personal favorites: Peanut Butter Ranger Cookies, Brown Butter Pecan Cookies, Peanut Butter Cookies, and (of course!) my amazing Cut-Out Sugar cookies.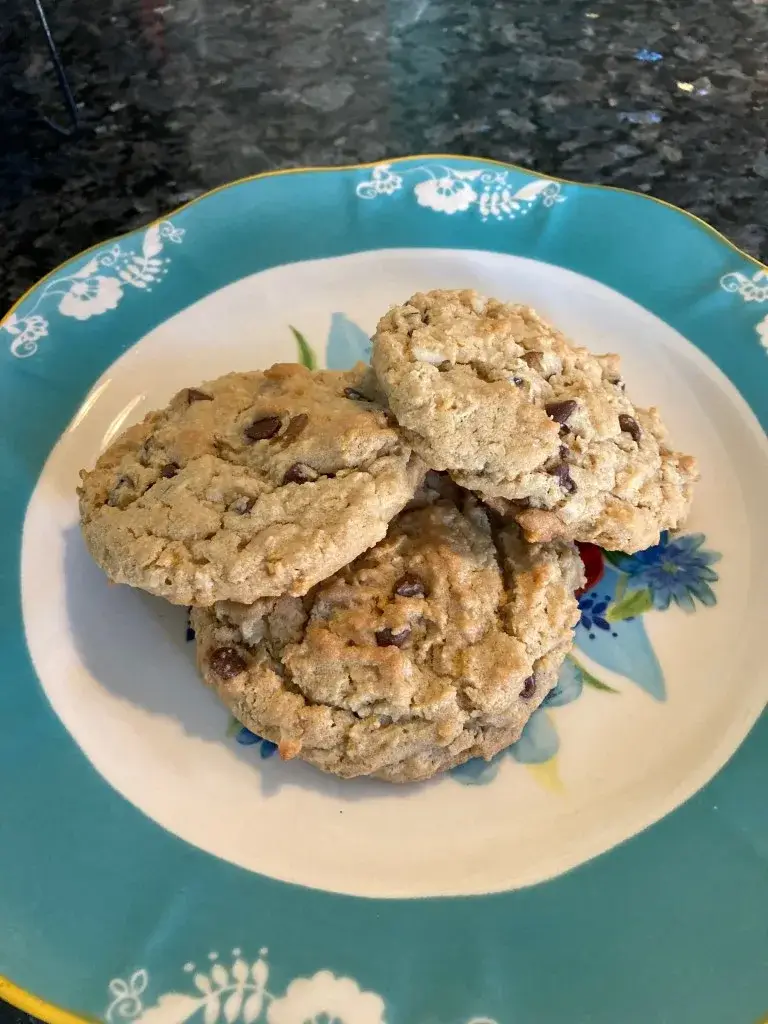 I'm nuts about cookies. Maybe you are, too. Lots of people love to bake and eat them. That's why I've prepared this ultimate list of quotes about cookies. This is the best cookie sayings list around! (Trust me, I worked hard to locate all of these.)
I created a handful of downloadable images with some of my favorites on them. Just right-click to download.
Enjoy 101 Sayings about Cookies!
1. I'd give you a cookie, but I ate it.
2. In the cookie of life, friends are the chocolate chips.
3. Make the world a better place one cookie at a time.
4. Cookies are made of butter and love.
5. Broken cookies don't have calories.
6. Cookies. Here today, gone tomorrow.
7. I never met a cookie I didn't like.
8. You can be miserable before you have a cookie and you can be miserable after you have a cookie, but you never be miserable while you are eating a cookie. (Ina Garten)
9. Peek-a-boo! Here's some cookies for you!
10. Today we will live in the moment. Unless it's unpleasant in which case we will eat a cookie.
11. Should I have a cookie? A memoir.
12. Life is short. Eat cookies for breakfast.
13. If you can't change the world with cookies, how can you change the world?
14. Yesterday, I really wanted cookies. Today, I am eating cookies. Follow your dreams.
15. "A balanced diet is a cookie in each hand." (Barbara Johnson)
16. You can't be a smart cookie if you have a crumbly attitude.
17. Raisin cookies that look like chocolate chip cookies are the main reason I have trust issues.
18. I could totally go for a cookie right now but I won't because the kids are home and that means I'd have to share.
19. All you need is love. But a little chocolate every now and then doesn't hurt.
20. Cookie Monster said: "Sometimes me think what is love? And then me think love is what last chocolate cookie is for. Me give up last chocolate cookie for you."
21. I could give up cookies, but I'm no quitter.
22. I don't know about my inner child but my inner Cookie Monster wants to come out and play.
23. Life is short. Surround yourself with good people and only eat good cookies.
24. Cookie is the answer. Who cares what the question is?
25. Not without cookies, I won't!
26. I'm in charge of how I feel, and today I feel like eating cookie dough.
27. Professional cookie taste tester.
28. Born to eat cookies.
29. Cookies!!! Umm num num num num!!! (Cookie Monster)
30. I believe in chocolate chip cookies.
31. Save the earth. It's the only planet with cookies.
32. One of the best things in life–warm chocolate chip cookies.
Cookies make my clothes shrink.
Wishing you a chocolate chip cookie day.
Snaccident: Eating a bag of chocolate chip cookies entirely by mistake.
Tough cookie: One who doesn't crumble under pressure.
It's much harder to be sad while eating a cookie.
Cookies make the world a better place.
If I had 10 cookies and you took half, do you know what you would have? A black eye and a broken hand.
One of the best things in life–warm chocolate chip cookies.
33. You can't eat just one cookie. It would get lonely.
34. Reach as high as you can, then reach a little higher. There, you will find magic and possibility. And maybe even cookies. (Marc Johns)
35. Number one, I absolutely love making chocolate chip cookies. I mean, it's fun. It's exciting. Beyond the fact that I love making them, I love eating them. (Debbie Fields)
36. I love watching keep-fit videos while munching chocolate chip cookies. (Dolly Parton)
37. Cookies in the morning, cookies late at night.Cookies all day, here take another bite!
38. Cookies when you're happy. Cookies when you're sad. Cookies by the plateful. Cookies make me glad!
39. You're the chocolate chip to my cookie.
40. How much whiskey goes into cookies? I'm new to this whole baking thing.
41. Give me the cookies and nobody gets hurt.
42. If you were a cookie, I'd be your Cookie Monster.
43. A cookie a day keeps the sadness away. An entire jar a day brings it back.
44. I ate Santa's cookies. #noregrets
45. When you're down and feeling worse, keep a cookie in your purse.
46. Grandmas never run out of hugs or cookies.
47. Nothing says home like the smell of cookies baking.
48. We go together like cookies and milk.
49. Cookies need love like everyone else.
50. Should you make cookies? Do you already have cookies you are having trouble getting rid of? Yes: make cookies. No: make cookies.
51. Cookies make my clothes shrink.
52. "Every cookie is a sugar cookie. A cookie without sugar is a cracker." (Gary Gulman)
53. When in doubt, bake cookies.
54. "When the going gets tough, the tough make cookies." (Erma Bombeck)
55. You are never too old for cookies and milk.
56. Me want cookie! (Cookie Monster)
57. I'm into fitness. Fitness cookie into my mouth!
58. Get onboard the cookie train.
59. If I had just one cookie, I'd give you the bigger half.
60. I'm basically a Cookie Monster.
61. Wishing you a chocolate chip cookie day.
62. Sorry, Santa. Too late!
63. Cookies are like duct tape. They can fix everything.
64. I've got friend-chip goals.
65. It's cookie o'clock.
66. A cookie is a smile on a plate.
67. Hop on the cookie train with me.
68. National cookie day is every day in this house.
69. Cookies and I lived happily ever after.
70. Cookies are the sweetest little bit of comfort food. They are very bite sized and personal. (Sandra Lee)
71. Snaccident: Eating a bag of chocolate chip cookies entirely by mistake.
72. Hello, cookies. It's me.
73. Cookie is my favorite color.
74. Friends don't let friends go without cookies.
75. "There's nothing more reassuring to kids than a plate of their favorite chocolate chip, oatmeal, or peanut butter cookies." (Lauren Chattman)
76. "People have got to learn: if they don't have cookies in the cookie jar, they can't eat cookies." (Suze Orman)
77. "I think cookies are sort of the unsung sweet, you know? They're incredibly popular. But everybody thinks of cakes and pies and fancier desserts before they think cookies. A plate of cookies is a great way to end dinner and really nice to share at the holidays." (Bobby Flay)
78. If there is no happy ending, make one out of cookie dough.
79. "My grannies would both bake things like shortbreads and cookies. I think whenever I smell those kinds of things it really takes me back to my childhood." (Curtis Stone)
80. "The pleasure lies not in the cookies, but in the pattern the crumbs make when the cookies crumble." (Michael Corda)
81. Tough cookie: One who doesn't crumble under pressure.
82. Life is better with fresh-baked cookies.
83. "I am a picky eater. By that I mean, I love to pick the raisins out of oatmeal raisin cookies, the chips out of chocolate chip cookies, the white side off of black and white cookies, and the vanilla center out of Oreos." (Dylan Lauren)
84. "Christmas cookies can't help but be retro – they are memory first, sugar-flour-egg-redhot-gumdrop-sparkle reality second." (Dana Goodyear)
85. "The pleasure lies not in the cookies, but in the pattern the crumbs make when the cookies crumble." (Michael Korda)
86. "Cookies are known around the world as biscuits, keks, teacakes and biscotti, and everyone has a favorite." (Jean Pare)
87. Come to the dark side. We have cookies.
88. "No matter how bad your day is, when you start talking about cookies or cakes or pies, or you bring someone cookies, there's just not bad news. The worst news is, 'Hey, there's sugar in that.'" (Christina Tosi)
89. "Cookies are happy, because that is their job. Making those you know, and don't know happy. They tell people you care." (Brent M. Jones)
90. Cookies make the world go round.
91. It's much harder to be sad while eating a cookie.
92. My favorite color is cookies.
93. The cookies are calling and I must go to them.
94. The fortune you seek is in another cookie.
95. I was dramatically shaped by my aunts and grandmother because they convinced me there was always a cookie available. (Newt Gingrich)
96. I don't trust anyone who doesn't like cookies.
97. I don't share the blame. I don't share credit. And I don't share cookies.
98. Friends are nice, but friends with cookies are better.
99. Grandmothers can always be counted on to produce sweets, cookies, and candies that seem to taste nicer from her than from anyone else. (Elizabeth Faye)
100. Opening the door upon arriving home from school to the heavenly aroma of freshly baked cookies leaves an indelible print in one's mind. (Jean Pare)
101. Cookies make the world a better place.
Related Links
I hope you enjoyed these fun cookie quotes! I had a blast putting this list together. While you're here, check out my main cookie page. There you will find recipes for Peanut Butter Nutella Cookies, Thumbprint cookies, Snickerdoodles, Mexican Wedding Cookies, Double Mint Chocolate Cookies, and Chunky Oatmeal Cookies.
If you want to learn some great cookie-baking tips, check out my Cookie Decorating with Royal Icing post. It's loaded with great advice for cookie decorators.
And while you're looking at great cookie recipes, check out this Mini Skillet Chocolate Chip Cookie from Southern Home Express!