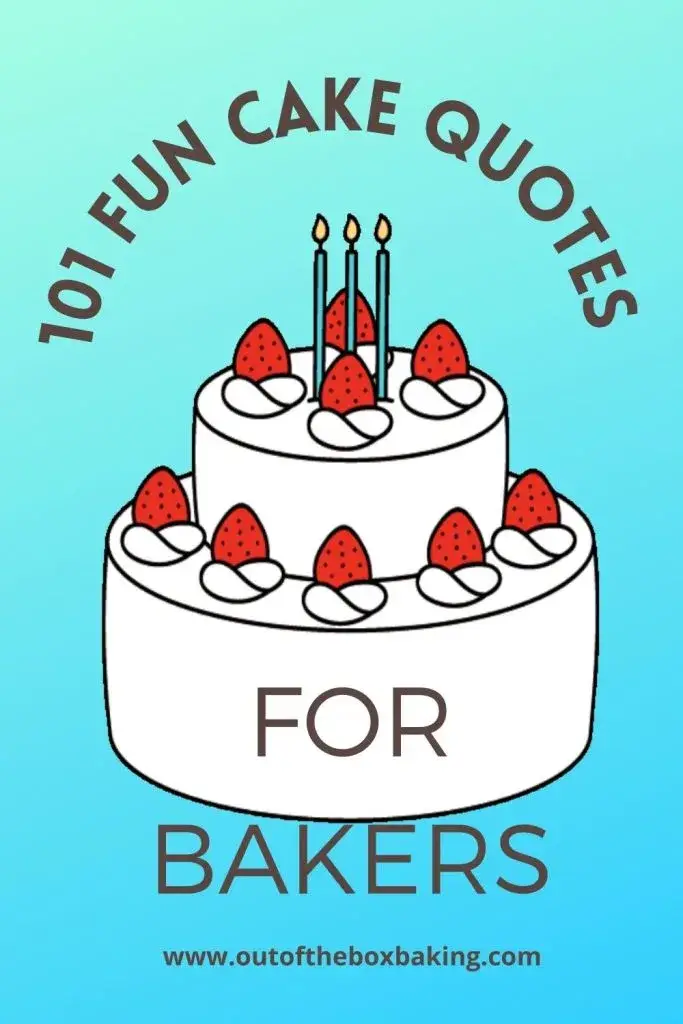 In this exciting post I'm going to give you 101 Fun Cake Quotes for Bakers. Many of these cake sayings should make you laugh or smile. Still others will make you think. But I promise you one thing. . .every one will make you hungry for cake!
Cake is my passion. Maybe it's your passion, too. And, if you're like I am, you love spending time in the kitchen. If so, you're definitely going to enjoy these great cake quotes.
You don't have to be a professional cake baker to enjoy these sweet cake sayings. Whether you're a novice in the kitchen or you've been baking cakes for years, you're sure to find something in this post to inspire you to keep baking those cakes you love.
Cake is the Best!
If you've been following my blog for any length of time, you know I love cake. I've devoted an entire section of my blog to the yummy stuff.
I've spent a lot of time coming up with cake recipes–everything from my Ultimate Chocolate Cake to my delicious Italian Cream Cake. I posted instructions for How to Doctor a Boxed Cake Mix and even shared my thoughts on my favorite cake-baking tools.
Clearly, I'm a cake fanatic. And there will be many, many more cake posts in the future.
Cake Sayings are So Much Fun!
Over the years, I've stumbled across a ton of cake-themed sayings and quotes. Many have ended up on t-shirts or dish towels. But that wasn't good enough for me. I wanted to create a post filled to overflowing with shareable quotes that cake bakers would enjoy.
And so, without further ado:
101 Fun Cake Quotes and Sayings
Feel free to share the attached photos. Just right-click to download!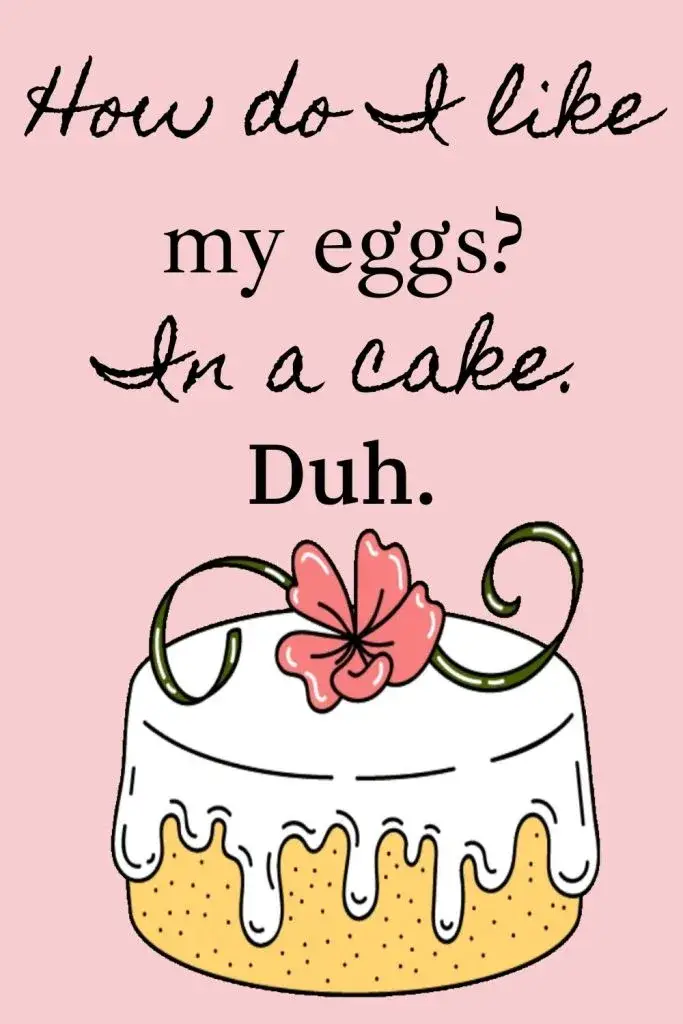 1. How do I like my eggs? In a cake. Duh.
2. It doesn't matter if you win or lose. It's how you bake the cake.
3. Life is too short to skip cake.
4. Birthdays are nature's way of telling you to eat more cake.
5. If it's got a candle stuck in it, the calories don't count.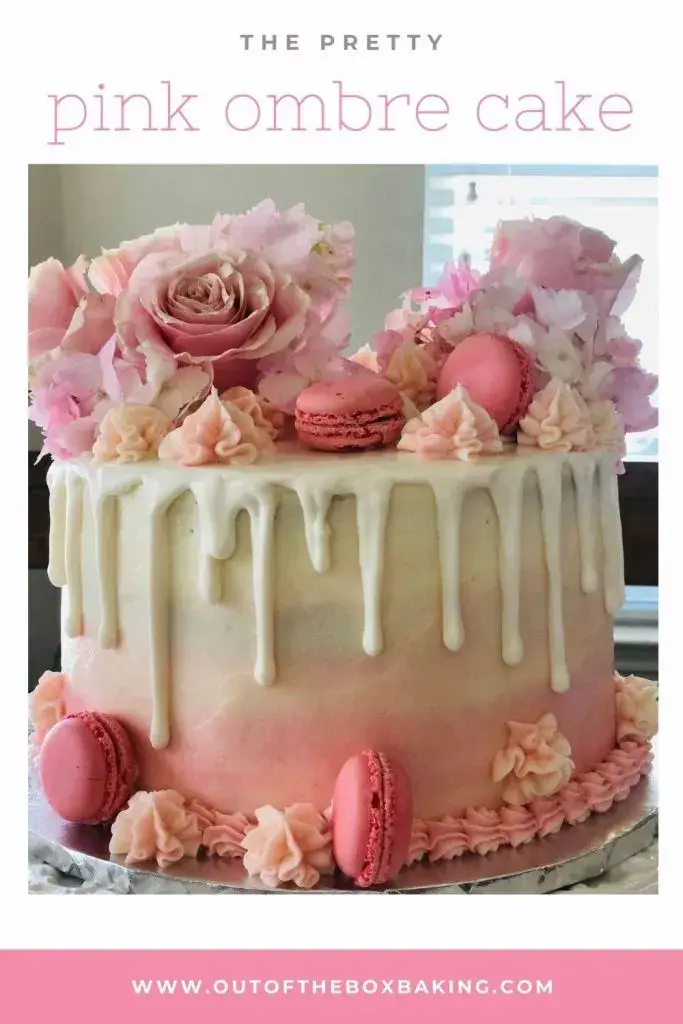 6. Life is too short to say no to cake.
7. You can't buy happiness, but you can buy cake and that's kind of the same thing.
8. Chocolate cake makes Monday easier.
9. Live. Love. Cake!
10. Cake is the answer. Who cares what the question is?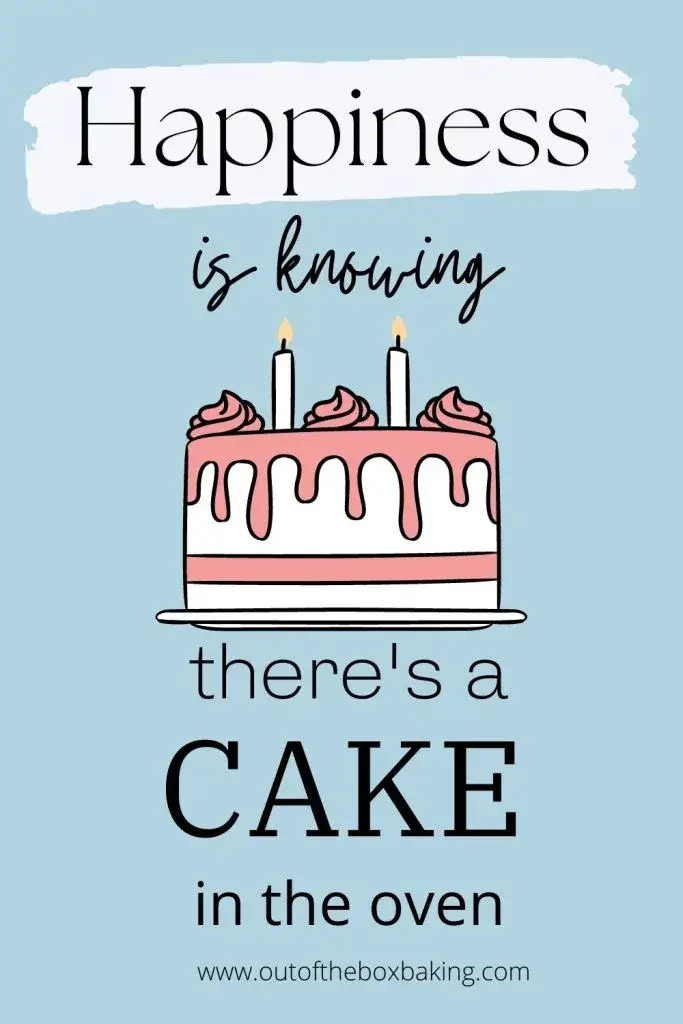 11. Happiness is knowing there's a cake in the oven.
12. Romance is the icing but love is the cake.
13. Life is short. Lick the bowl.
14. Keep calm. There's nothing a slice of cake can't solve!
15. When all else fails, bake a cake.
16. Life is what you bake of it.
17. When life goes crazy, eat a slice of cake.
18. Some things are just wonderful. . .like friendship and chocolate cake.
19. If eating cake is wrong, I don't want to be right.
20. A birthday can never have too much cake.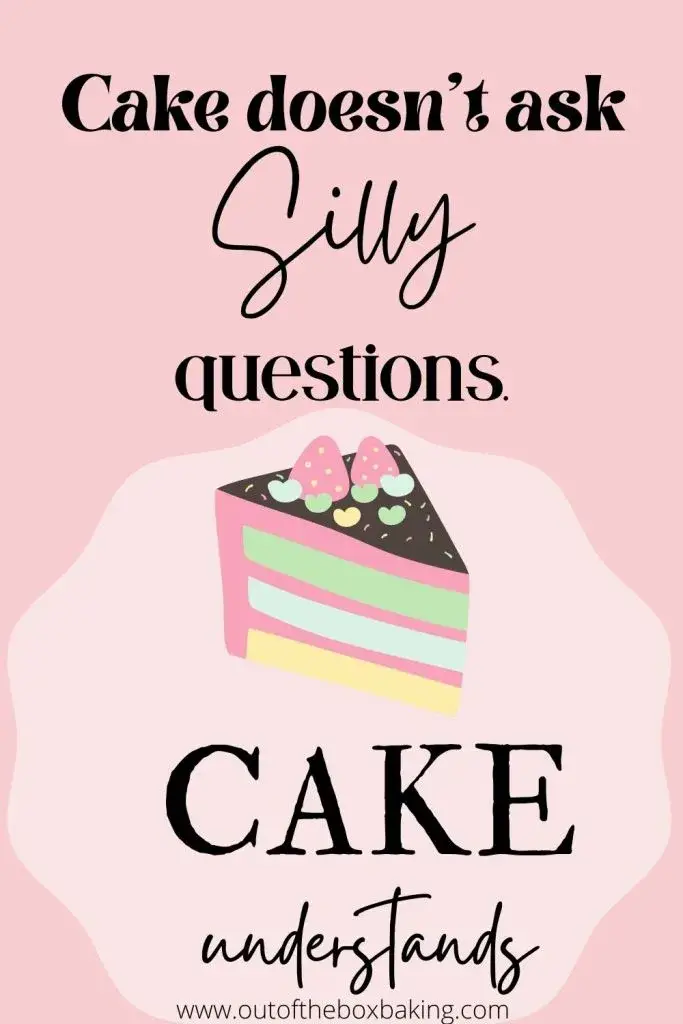 21. Cake doesn't ask silly questions. Cake understands.
22. Eat cake for breakfast!
23. Keep calm and bake on.
24. I am pretty sure that chocolate tastes as good as skinny feels.
25. A birthday can never have too much cake.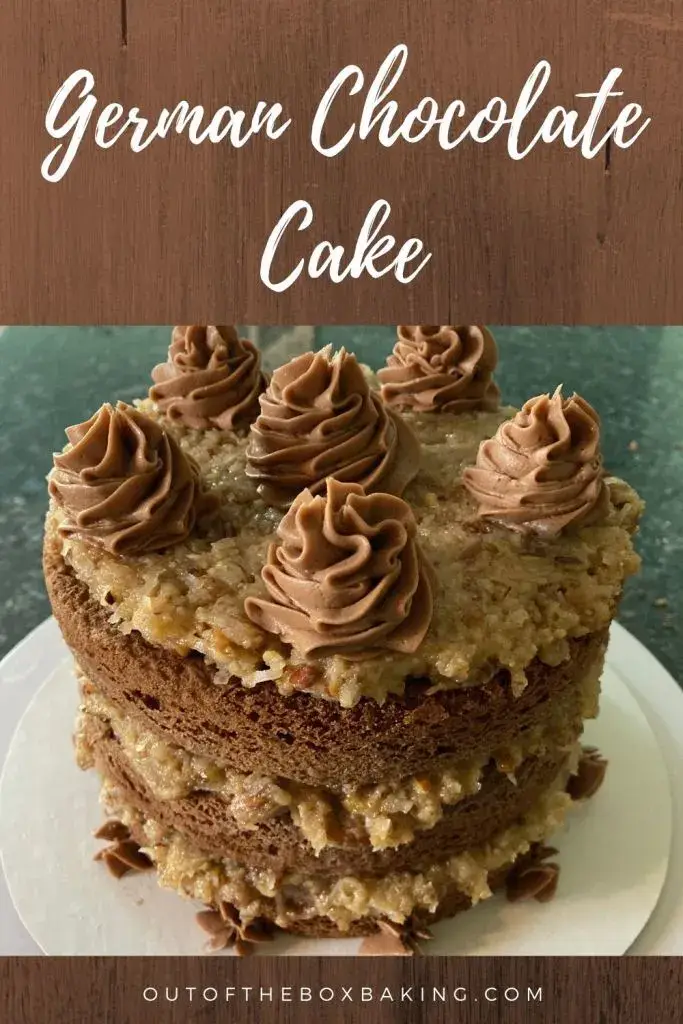 26. Drink coffee and eat cake.
27. Some things can be solved with laughter, but other things need cake.
28. Cake is for life, not just for birthdays.
29. I want to have a nice body but not as much as I want cake.
30. There's no crying in cake decorating.
31. Eat cake. It's somebody's birthday somewhere!
32. I decorate cakes. What's your super power?
33. All I really want to do all day is just eat cake.
34. Bakers make the world smell better.
35. Birthday cake calories don't count.
36. The more you weigh the harder you are to kidnap. Stay safe. Eat cake.
37. Technically, if you don't cut the cake and just eat the whole thing with a fork, you are still only eating one piece.
38. Sometimes you just need to eat some cake.
39. Cake will always be the answer. The question is irrelevant.
40. I bake because punching people is frowned upon.
41. Cake is my happy place.
42. You can't be sad when you're eating a slice of cake.
43. Okay. But first, cake.
44. Life is short. Take the trip. Buy the shoes. Eat the cake.
45. I need cake, because. . .Monday.
46. Life is better with sprinkles on top.
47. Nothing says home like the smell of baking.
48. Make cakes, not war.
49. A balanced diet is a slice of cake in each hand.
50. She discovered she could have her cake and eat it too. She just had to put on her prettiest apron and bake it.
51. Sometimes you just need cake.
52. My policy on cake is pro-having it and pro-eating it.
53. Eat. Sleep. Decorate. Repeat.
54. Life is better with a slice of cake.
55. Bake someone happy.
56. Where there's a whisk, there's a way!
57. Blessed are those who buy me cake.
58. Baking is my super power and my apron is my cape.
59. Count the memories, not the calories.
60. If in doubt, bake a cake.
61. It doesn't matter if you win or lose, it's how you bake the cake.
62. Cake baking is my love language.
63. Trust me. I'm a cake baker.
64. Eat cake for breakfast.
65. Life is short. Make it sweet.
66. Baking is love made visible.
67. Life happens. Baking helps.
68. Make the world a better place one cake at a time.
69. Sugar is my sidekick.
70. Bake it until you make it.
71. Good things come to those who bake.
72. Bakers sugarcoat everything.
73. I'm sorry your opinion wasn't in the recipe.
74. True love = baking someone a cake when you're on a diet.
75. I believe in the power of baked goods.
76. Never trust a skinny cook.
77. Don't be afraid to take whisks.
78. Cake my day.
79. A bad day with cake is better than a good day without it.
80. "Birthdays are nature's way of telling us to eat more cake." (Jo Brand)
81. I love you like a fat kid loves a cake.
82. "Cakes are special. Every birthday, every celebration ends with something sweet, a cake, and people remember. It's all about the memories." (Buddy Valastro)
83. "Nobody gets everything in this life. You decide your priorities and you make your choices. I'd decided long ago that any cake I had would be eaten." (Donald E. Westlake)
84. "There's nothing better than cake but more cake." (Harry S. Truman)
85. "Take the broken pieces of your life, bake a master cake out of it. Don't stand still like a lake; keep flowing like a stream!" (Israelmore Ayivor)
86. "You know you're getting old when the candles cost more than the cake." (Bob Hope)
87. "Life is a cake and love is the icing on top of it. Without love, it becomes difficult to swallow life." Mehek Bassi)
88. "Where there is cake, there is hope. And there is always cake." (Dean Koontz)
89. "What can cake teach you about life? That practice makes perfect, and if you try something once, it probably won't be perfect, and you have to keep working on it if you want to be good at it." (Nicole Byer)
90. "Everyone who knows me knows that I always eat cake. My nutritionist hates it, but I just tell her I like to eat it, and she's not going to stop me!" (Lucy Bronze)
91. "A party without cake is just a meeting." (Julia Child)
92. "All the world is birthday cake, so take a piece, but not too much." (George Harrison)
93. "In any other context, 'icing' is a great and exciting word: The proverbial icing on the cake, for instance, is a bonus — a wonderful thing on top of another wonderful thing." (Steve Rushin)
94. "Cakes are like books. There are news ones you want to read and old ones you want to re-read." (Ellen Rose)
95. "Let's face it, a nice creamy chocolate cake does a lot for a lot of people; it does for me." (Audrey Hepburn)
96. "You know you're getting old when you get that one candle on the cake. It's like, 'See if you can blow this out.'" (Jerry Seinfeld)
97. "I'm not saying I don't enjoy the days that I'm not eating chocolate cake. But I do particularly like those days when I am eating chocolate cake." (Trisha Yearwood)
98. "Cake is happiness! If you know the way of the cake, you know the way of happiness! If you have a cake in front of you, you should not look any further for joy!" (C. JoyBell C.)
99. "Freedom is not to be bound by my wounds. And to be able to eat cake every day." (Amanda de Cadenet)
100. "The great thing about cake is it doesn't feel like work. You forget about work. Kids, adults, they all get the same look in their eye when they're decorating cakes. That's the magic right there." (Duff Goldman)
101. It doesn't matter if you win or lose. It's how you bake the cake.
Thanks for stopping by!
I hope you enjoyed these 101 Fun Cake Quotes. I had a blast putting this post together. Collecting the best cake quotes I could find was a piece of cake, pun intended.
Related Posts
If you liked this one, you're sure to enjoy my Cupcake Quotes for Bakers. They're a lot of fun, too.
Whether you're baking a birthday cake, anniversary cake, wedding cake, or simple putting together a simple cake for tonight's dessert, there's something on this blog to tickle your fancy. And don't ever be embarrassed about using a boxed cake mix. I'm crazy about them.
Here are some of my doctored cake mix ideas to set you off on the right path:
You might also be interested in checking out this tasty Southern Coconut Cake Recipe from Julia's Simply Southern. I'm tempted to make it and eat it, myself!
Check out all of my cake recipes for more terrific ideas! Until we meet again, happy cake-baking!