Cake decorating is a creative and artistic skill that allows you to turn a plain cake into a work of edible art. There are dozens (if not hundreds) of techniques you can use to decorate your cakes these days. In this post we're going to cover several of them, popular for 2024.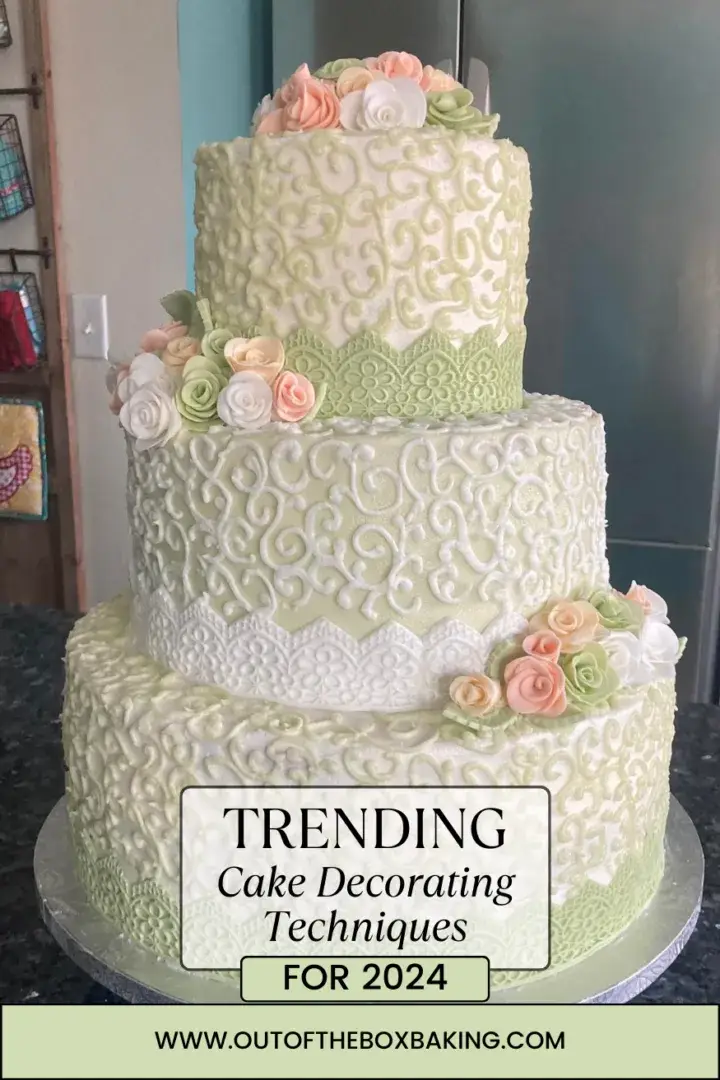 These techniques range from simple designs to over-the-top, intricate works of art. I thought it might be fun to share some trending techniques to get you going!
Buttercream Piping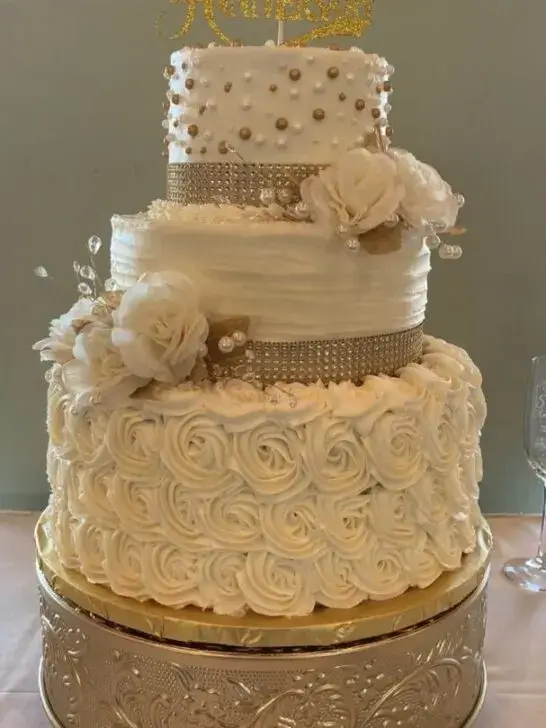 I covered all-things-buttercream piping in an earlier post titled Buttercream Techniques to Try. There are so many individual techniques you can use when you pipe with buttercream frosting. The possibilities are endless!
Remember, my Dreamy Buttercream recipe is a versatile, forgiving icing that can be used for piping most of the designs you see here. Swiss meringue is another type of buttercream that's great for piping.
To recap from earlier posts: Basic buttercream piping techniques include scrolling, ombre effect, rosettes, shells, stars, and borders using different piping tips.
Another popular buttercream technique right now is the naked cake. It's not really naked; you just basically add frosting them scrape most of it off. You want to leave enough on so the cakes don't dry out.
By the way, some folks ask for a "barely" naked cake while others want very little frosting at all. I always find it fascinating, how different people feel about frosting (or the lack thereof).
For more on various buttercream styles, you might also check out my Cupcake Decorating Techniques post, as it covers rosettes (using the Wilton 1M tip) and other styles that also translate well to cakes.
You can get as involved as you like with buttercream, making flowers, leaves, and all sorts of delicate and intricate patterns.
Fondant
Fondant is a smooth, pliable icing that can be rolled out with a large fondant roller and draped over cakes. These fondant covered cakes have a smooth finish.
I have a homemade marshmallow fondant recipe that's fun but it has to be made ahead by a few days. Fondant is like modeling clay. It requires kneading.
But guess what? It's great for creating smooth surfaces and making 3D decorations such as bows, figurines, and cake toppers.
Side note: There are some professional bakers who don't like to cover cakes in fondant because it's difficult. They ice their cakes in buttercream then add fondant decor on top of the buttercream. (Hey, it's the best of both worlds!)
Ganache Drips
Ganache is a liquid chocolate that you pour over an iced cake to create a glossy drip effect. Ganache is really trendy right now and it's such an easy way to dress up an otherwise plain cake!
Here's one cool thing about ganache: You can make it in any color you like, as you will see from the photos below. The most popular is still traditional chocolate (particularly on a groom's cake, a popular offering here in the south) but I love adding it to colorful cakes, too!
By choosing the thickness of your ganache you get to control how long or short the drips are. A really thin ganache will result in long, skinny drips. A thicker ganache will create a shorter, wider drip.
Royal Icing
Some people think that Royal Icing, which dries to a hard, smooth finish, is only used on sugar cookies, but that's not the case. You can use royal icing on your fondant-covered cake to create intricate designs and detailed piping.
It's commonly used for making lace patterns, intricate flowers, and gingerbread houses.
Airbrushing
An airbrush tool can be used to apply edible colors in a smooth and even manner. I use my airbrush on cookies frequently but it's useful on a cake, as well. Using the airbrush you can create gradient effects, stenciled designs, and vibrant backgrounds.
Edible Image Printing
Edible images are printed onto a thin, edible wafer paper using food-grade ink. I have an edible image printer and it wasn't really any pricier than a regular printer. Just remember, you can only use edible ink in it.
(True confession: once my regular printer was broken and I needed to print a book contract. I printed it on my edible ink printer and sent it to the publisher that way. They never knew the difference. That's how amazing those edible images are!)
You can use these images to add photographs, logos, or intricate designs to your cakes.
Textured Effects
I love adding texture to my cakes, most often with a simple off-set spatula. Textured cakes are very trendy right now! You can also use a piping tip, as I did in several of the cakes above!
Embroidery
Embroidery designs are very popular Some involve using a soft brush and edible paint to create delicate, lace-like patterns on your cake. Others, like the one above, are piped on.
Marbling
Marbling involves blending different colored fondants or icings to create a marble-like effect on the cake's surface.
It doesn't really matter what colors you're working with (as you can see from the photos above). The point is to slap on a bunch of different colors and work them together using your bench scraper. (So fun!)
Ruffles and Petals
Create ruffled or petal-like designs by using buttercream, fondant, or even gum paste!
Luster Dust and Metallics
Luster dust and edible metallic paints can add a touch of glamour to your cake, making it shimmer and shine. I often use gold (edible) paint on the edges of my "fancy" cakes (primarily birthday cakes).
Stacking and Tiering
Tiered cakes are all the rage, and not just at weddings. I did a full post on How to Tier a Cake. You'll want to check it out before building a tall cake (or making your own DIY Wedding Cake).
When making multi-tiered cakes, mastering proper stacking and support techniques is crucial for stability and aesthetics.
Isomalt Decorations
Isomalt is a sugar substitute that can be melted and molded to create clear, glass-like decorations such as shards or jewels.
One alternative to isomalt is sugar shards. I created a whole recipe for those!
Sculpted Cakes
These cakes are all the rage right now. Shape your cake to fit the theme of your party!
One of my favorite cakes I ever made was a carrot cake shaped like a garden!
Other Methods
There are so many other ways you can decorate your cake. Use wafer paper to make flowers. Create gum paste flowers in advance and place those on the cake. Work with a variety of flavors, marveled together in a zebra technique.
The possibilities, my friends, are endless! The key thing is this: have fun! Don't get stressed out when things don't go your way. I've suffered through many a cake fail over the years!
Remember that cake decorating is an art form, and practice is so important if you want to improve your skills.
Start Simple and Keep Learning!
Start with simple designs (this is important) and gradually work your way up to more complex techniques as you gain confidence and experience. Don't be afraid to experiment and let your creativity shine through in your cake decorations.
If you're mesmerized by cake decorating videos there are thousands of them on YouTube. I got distracted watching this one!
---
That's it for this post, friends! I hope you enjoyed this delicious recipe.
If you make this recipe and love it, don't forget to leave a review and a comment below. And while you're at it, go ahead and pin some photos to your Pinterest boards!
See this recipe at
Learn more about doctored cake mixes, the theme of this blog.
For the master list of all doctored cake mix recipes on this site, visit Doctored Cake Mix Recipes, Master List.
---
About the Author
Janice Thompson is an author, baker, and all-around mischief maker! She has overcome a host of baking catastrophes, including a toppled wedding cake, to learn more about the baking process. Janice has published over 150 books for the Christian market but particularly enjoys writing recipes and baking devotions. To learn more about Janice or to drop her a note, visit her About the Author page.
Note: This post may contain affiliate links. This means that I make a very small commission off of items you purchase at absolutely no additional cost to you. Please check out my policy page for more information about this blog and the ads that run on it.