If you love muffins for breakfast, as a desserts, or a mid-afternoon snack, have I got a treat for you! In this post I'm going to share my top 23 recipes to make muffins in 2023.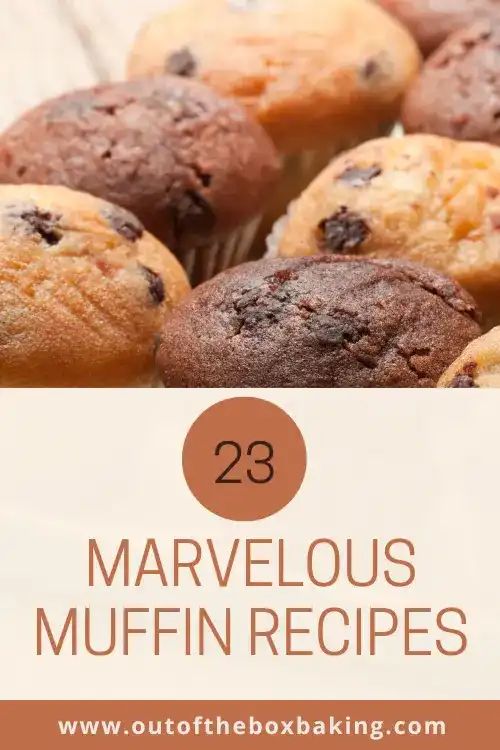 Is it a Muffin or is it a Cupcake?
They look alike, they often taste alike. So, what sets muffins apart from cupcakes? Let's break it down!
A muffin is similar to a cupcake in appearance, but muffins are, as a rule, less sweet. Often, they often contain additional ingredients such as fruits, nuts, or grains. My muffins are usually more dense than my cupcakes, something else that sets them apart.
How are Muffins Made?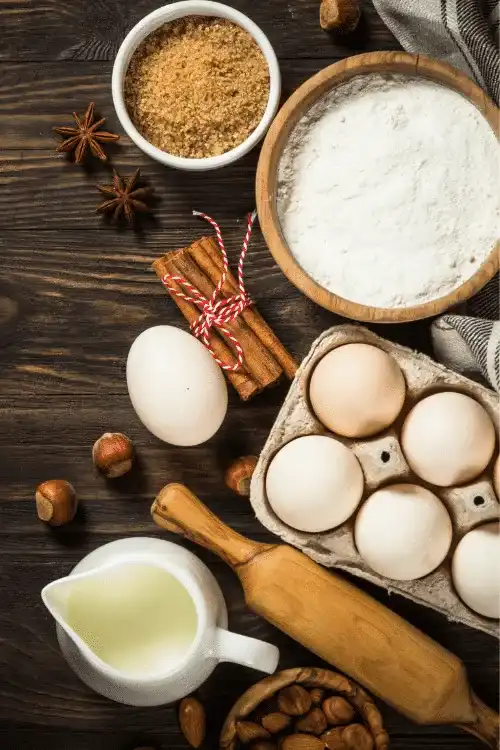 Muffins are typically made from a batter that consists of flour, sugar, eggs, baking powder, and a liquid ingredient such as milk or buttermilk. The batter is mixed together until just combined and then baked in a muffin tin or individual muffin cups.
This is where the confusion comes in. You bake them in a cupcake (or muffin) tin. I don't know about you but I usually don't use liners with my muffins. This sets them apart in appearance, albeit ever so slightly.
What Flavor Muffins Can I Make?
The possibilities are endless!
Muffins come in lot of flavors, including blueberry, chocolate chip, banana nut, bran, and cinnamon, among others. I've made all of these and more. (Peanut butter is a personal favorite. So is chocolate espresso!)
Muffins are often enjoyed as a breakfast or snack food and can be served warm or at room temperature. They're popular in many parts of the world and can be found in bakeries, coffee shops, and supermarkets.
And today? Well, today they're going to be found in your own home. . .if you get busy baking!
FRUIT-FILLED MUFFINS TO BAKE
I love baking fruit into my muffins. Whether we're talking about blueberries, cranberries, bananas, or lemons. . .fruit is perfect in baked goods and even more so in these little bites of perfection!
Here at Out of the Box Baking we've got a wonderful selection of fruit-filled muffins. Just click on any of the pictures or links below to see the full recipes!
If you love the sweetness of blueberries and the rich hearty flavor of a sweet muffin, have I got a treat for you. These traditional Blueberry Muffins are loaded with flavor, have a crunchy topping, and are easy to make!
You love lemon. You love the tangy sweetness of berries. And when you merge the two? Perfection! These luscious lemon berry muffins have the right blend of fruity flavors. They're perfect for breakfast or even for dessert or a mid-afternoon snack!
If you love the rich taste of banana and the crunch of walnuts or pecans, this is the recipe for you! This simple from-scratch banana nut muffin recipe is incredibly easy. It's also delicious and economical!
If you're in the mood for banana muffins but you don't want to take the time to make them from scratch, I have great news for you! You can start with a simple white cake mix and turn it into the best banana muffin you've ever tasted!
If you love a hearty breakfast muffin with oats, but you also love the juicy sweetness of berries, then this is the muffin for you. This delicious muffin isn't your grandmother's breakfast treat, but it is made with something she kept in her cupboard. . .mayonnaise.
If you love caramel apples, apple pie, or monkey bread… You're going to absolutely love this new recipe for apple pie monkey bread biscuits. You can whip them together in minutes just like traditional monkey bread but this recipe focuses on individual portion sized muffins that you can share with your friends and family without the mess!
This is one of those great muffin recipes you'll want to keep in your recipe box! Cookie butter and bananas together in one great package? Yes, please!
Do cranberry and orange go together? You betcha! In fact, there's nothing better than the combination of these two tasty treats. Perhaps it's the tangy citrus of the orange, merged with that not-so-sweet cranberry that does the trick. Regardless, it's a terrific mergence of flavors, one that's very popular, especially during the holidays.
Is there such a thing as a perfect banana chocolate chip muffin recipe out there? The answer, my friends, is a hearty, "Yes!" And you're about to witness it for yourself!
SWEET & TASTY MUFFINS TO BAKE
These muffins don't have fruit, but they're loaded with other yummy things – like cinnamon, peanut butter, chocolate, carrots, and more! Enjoy these sweet and tasty muffins.
If you love the combination of cinnamon and brown sugar and you're in a hurry, these muffins will be perfect for you. They come together (start to finish) in under 20 minutes. And best of all, they start with a simple white cake mix.
These tasty treats carry the warmth of the holiday season. And, because they start with a boxed mix, they're easy to whip up. But the add-ins? Well, they make all the difference!
These Peanut Butter Chocolate Chip Muffins are sweet, tasty, and rich with protein. Best of all, they're easy to make. You've probably got the ingredients in your pantry right now.
In this post I'm going to show you how to take leftover packets of instant oatmeal–in any flavor you happen to have on hand–and turn them into luscious muffins.
You love chocolate. You love coffee. You love muffins. These amazing, gooey Double Dark Chocolate Espresso Muffins merge all three of those things into one delicious bite! You'll swoon, I promise!
If you're looking for an amazing cinnamon streusel muffin with crunchy topping you've come to the right place. This recipe, which features a streusel topping over a moist cinnamon-y muffin, is perfect.
HEALTHY MUFFINS TO BAKE:
It really is possible to have your cake and eat it too, especially when it's a muffin! Enjoy these healthy muffin options, guaranteed to help you on your health journey.
If you're looking for a tasty muffin that you won't have to feel guilty about, you've come to the right place. These bran muffins start with ground oats and finish with a dash of peanut butter, just enough to add flavor and texture.
Rarely do you hear the word "healthy" in the same sentence as the word "muffin" but these yummy Cinnamon Apple Muffins definitely are! They're packed with oats, real apple, cinnamon, and even a banana. (Hey, basically a fruit salad with some oats thrown in!)
You're trying to avoid gluten, but you really miss some of those sweet treats you used to enjoy. You've tried a few recipes, but none of them hit the spot. Then you stumble across this recipe for a gluten free banana nut muffin. . .with chocolate chips! And you're hooked.
COFFEE CAKES YOU CAN TURN INTO MUFFINS
These amazing coffee cake recipes are absolutely perfect as muffins. Just adjust your baking time. Muffins don't take as long to bake. (Usually around 16 minutes or so.)
If you're in the mood for those perfect fall flavors–pumpkin and spice–have I got a recipe for you! This is an easy cake to whip up in a hurry, and it all starts with a boxed cake mix! Whether you're serving it for Thanksgiving, Christmas, or any other time of year, it's the perfect blend of flavors.
If you're in the mood for chocolate and you've got some overripe bananas on hand, this is the perfect recipe for you! You can merge those two tasty items into one delectable Chocolate Banana Bread!
If you're in the mood for a delicious coffee cake rich with maple and walnut flavors, this is the recipe for you! This simple coffee cake is loaded with flavor, easy to serve, and simple to make.
If you love a rich chocolate cake with a hint of coffee flavor, this is the recipe for you! This is a simple recipe, perfect for a quick brunch or even as a dessert.
If you love apple pie but you're in the mood for a delicious coffee cake, one you would be happy to serve at a breakfast gathering or brunch, have I got a great new recipe for you! This "from scratch" cake is light and luscious and covered in a crisp streusel.
---
That's it for this post, friends! I hope you enjoy these delicious muffin recipes!
See these recipes at
---
About the Author
Janice Thompson is an author, baker, and all-around mischief maker! She has overcome a host of baking catastrophes, including a toppled wedding cake, to learn more about the baking process. Janice has published over 150 books for the Christian market but particularly enjoys writing recipes and baking devotions. To learn more about Janice or to drop her a note, visit her About the Author page.