In this post I'm going to teach you how to make a simple and delicious butterscotch muffin. This is a versatile recipe, perfect for muffins, bundt cake, or even cookies! Best of all, this is a low-calorie recipe!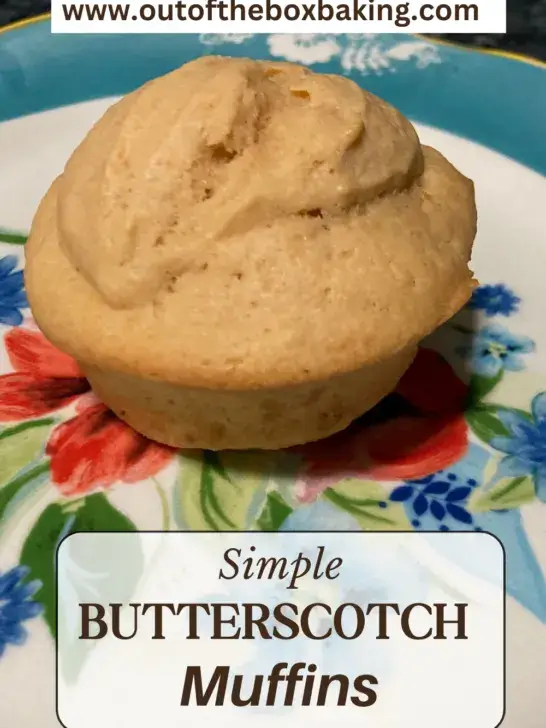 What is Butterscotch?
Butterscotch is made by combining butter and brown sugar. It gets its name from the rich, buttery taste. Butterscotch is often used in candies, sauces, ice creams, and baked goods. Today we're going to use it in muffins!
To make butterscotch from scratch you would melt butter and add brown sugar, which would lead to a syrupy mixture, no unlike caramel. Chefs will often add other ingredients, such as cream, vanilla, or salt. These enhance the flavor.
The butterscotch mixture is heated until it reaches a pourable consistency. It's then poured into molds to create butterscotch candies. Sometimes it's used as a flavoring in dishes like this one.
As I mentioned above, butterscotch is similar to caramel. The main difference is that butterscotch uses butter as a primary ingredient. Caramel relies on caramelized sugar alone.
Can I Bake with Butterscotch?
Absolutely! In fact, butterscotch is a key ingredient in many tasty recipes, including the one I'm happy to share with you today.
I initially stumbled across this recipe at Taste of Home. I happened to have butterscotch pudding on hand, which made the recipe doable.
Because I'm counting calories I skipped the topping but if you like, you can add a streusel topping.
Butterscotch Muffin Ingredients
You will find a full printable recipe card at the bottom of this post but here's a quick peek at what you'll need to make these cookies. These are simple ingredients you might already have on hand in your pantry or refrigerator.
all-purpose flour (or half and half all purpose and almond flour)
sugar (or sugar substitute)
instant butterscotch pudding mix (1 oz, sugar free)
baking powder
salt
water
room temperature eggs
vegetable oil
vanilla extract
How to Make this Butterscotch Muffins Recipe
In a large bowl, combine your dry ingredients.
Whisk them together.
Place the eggs in a small bowl.
Whisk the eggs until they're well incorporated.
Add all of your wet ingredients to the flour mixture.
Mix well. You will have a thick batter.
Spray your muffin tin with nonstick cooking spray and then use an ice cream scoop to place the batter into the muffin cups. Alternatively, you can use paper liners. If you're planning to frost your muffins, liners might be a better option.
Place in a preheated 350 degree oven and bake for 15-20 minutes or until they spring back to the touch. Remove from oven and place on a wire rack to cool.
When you can handle them, remove the muffins from the tin and place directly on the cooling rack until they are the temperature you like. (I like mine warm! I have a soft spot for warm butterscotch!)
Serve and enjoy!
Store leftovers in an airtight container at room temperature. You can also refrigerate or freeze these, if you like.
What to Expect from these Butterscotch Muffins
These are a favorite because of their simplicity! They literally came together in minutes. As you can see from the photos below, they are light and fluffy.
I love the butterscotch flavor a lot and would probably amp it up with the addition of a few butterscotch chips next time.
I think these muffins have great fall flavors, so add them to your lineup during cooler weather. I know I will!
I'm so glad to have found a healthier option! This is one of those easy muffin recipes you can whip up in a hurry! If you enjoy fall baking, this is the one for you.
Variations on this Recipe
This recipe is a great base for cookies, muffins, and even bundt cake and it's incredibly versatile. Here are a few fun additions to consider.
Streusel topping: The original recipe called for a streusel topping. I think it would be delicious to add it to the top to create butterscotch crumb muffins.
Pecans: I love pecans in everything so of course they would be delightful in this.
Sweet Butterscotch chips: This is the most obvious choice, of course! Add a full cup to take the flavor of the muffins up a notch!
Maple syrup: Add maple syrup to the recipe or make a buttercream with maple syrup. This will be a terrific complement to the butterscotch.
Pumpkin butterscotch muffins: Take these up a notch by adding pumpkin puree. You can use it in place of oil, if you like.
Butterscotch banana muffins: This sounds like an amazing idea, doesn't it? Add a couple of mashed ripe bananas and a few butterscotch chips for a lovely banana-butterscotch flavor. (Yum!)
Sandwich cookies: Make this recipe in cookie form then sandwich them together with a butterscotch buttercream.
Tips and Tricks
TIP ONE: Muffins can be frozen (as I mentioned above) but if you've baked up a paper lined muffin it needs to have an actual paper liner, not a foil one. You're probably going to want to pop that muffin in the microwave and that's not possible with a foil liner.
TIP TWO: Swap out the oil for melted butter for additional flavor. Just remember that the fat content in butter is higher, which will lead to a slightly denser muffin. (These will be moist muffins, for sure!)
TIP THREE: If you're not counting calories, substitute whole milk for the water. What a rich muffin you'll end up with!
Other Muffin Recipes from Out of the Box Baking
If you love a simple muffin recipe, I've got you covered. Here are a few of my personal favorites!
---
That's it for this post, friends! I hope you enjoyed this delicious recipe.
If you make this recipe and love it, don't forget to leave a review and a comment below.
See this recipe at
---
About the Author
Janice Thompson is an author, baker, and all-around mischief maker! She has overcome a host of baking catastrophes, including a toppled wedding cake, to learn more about the baking process. Janice has published over 150 books for the Christian market but particularly enjoys writing recipes and baking devotions. To learn more about Janice or to drop her a note, visit her About the Author page.
Note: This post may contain affiliate links. This means that I make a very small commission off of items you purchase at absolutely no additional cost to you. Please check out my policy page for more information about this blog and the ads that run on it.
Butterscotch Muffins
Enjoy this simple and delicious butterscotch muffin. This is a versatile recipe, perfect for muffins, bundt cake, or even cookies! Best of all, this is a low-calorie recipe!
Ingredients
2 cups all-purpose flour
1/2 cup brown sugar
1 package butterscotch pudding mix (1 oz)
2 teaspoons baking powder
1 teaspoon salt
1 cup water
2 large eggs
1/2 cup vegetable oil
1 teaspoon vanilla extract
Instructions
Whisk together all dry ingredients.
In a separate bowl, whisk eggs.
Add all wet ingredients to dry.
Mix well.
Using an ice cream scoop, scoop batter into greased muffin cups.
Nutrition Information:
Yield:

12
Serving Size:

1
Amount Per Serving:
Calories:

228
Total Fat:

11g
Saturated Fat:

1g
Trans Fat:

0g
Unsaturated Fat:

9g
Cholesterol:

44mg
Sodium:

294mg
Carbohydrates:

28g
Fiber:

1g
Sugar:

11g
Protein:

4g
The nutrition information is a product of online calculators. I try to provide true and accurate information, but these numbers are estimates.