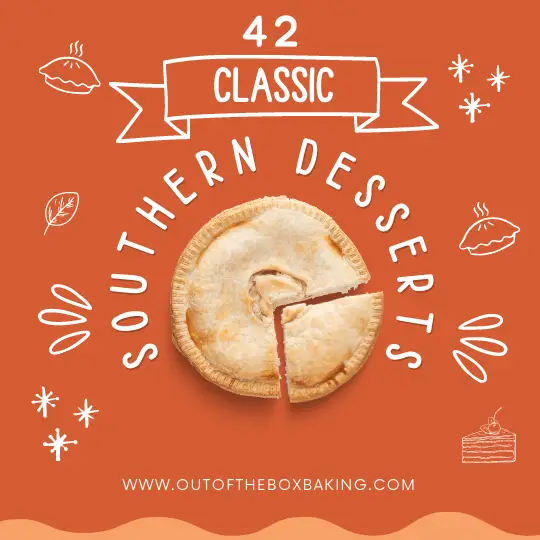 In this post you're going to find 42 sweet treats popular in the south! Whether it's cake, pie, cobbler, cookies, or bars, we've got you covered here at Out of the Box Baking. And best of all, we've got some fan favorites sure to please even the most discriminating southern palate!
Southern Cakes
Bless your heart, y'all!
Those of us who live in the south know a thing or two about cake. We love 'em and we particularly love 'em stuffed full of goodies like nuts, fruits, and so on. We're not afraid to try new things, either. In fact, we're known for throwing in pretty much everything but the kitchen sink.
Here are a few of our favorite cakes here at Out of the Box Baking. Just click on the photos or links to get to the individual recipes.
Butter Pecan Bundt Cake with Praline Topping: We love our pralines down here in the south! This rich butter pecan is loaded with luscious praline topping, heavy on the pecans and caramel.
Traditional Coconut Cake: I plan to make this one for Thanksgiving and fill it with lemon curd between the layers! This delicious southern favorite is already rich with toasted coconut, coconut milk, and cream of coconut. Best of all, it starts with a boxed cake mix so it's easy to make.
Ultimate Coca-Cola Cake: This southern classic is rich with chocolate and the bubbly, effervescent cola adds a whole new experience, adding a feather-lightness to this rich dessert!
Coconut Pecan Cake (Italian Cream Cake): This is my Mama's recipe and it's my personal favorite. Southerners are going to love this one!
Easy Carrot Cake Cupcakes: Holiday spice and everything nice! That's what these carrot cake cupcakes are made of! Best of all, these southern delicacies start with a boxed mix!
Easy Pineapple Coconut Cake with Lime: Pina Colada, anyone? You'll definitely feel that Gulf Coast tropical vibe when you cut a slice of this rich cake.
The Perfect Texas Sheet Cake: If you're looking for a classic sheet cake with rich chocolate cake and luscious chocolate-pecan frosting, you've come to the right place. This will be a big hit at your next gathering, and you don't have to live in Texas to enjoy it!
Old-Fashioned Pound Cake with Whipping Cream: If you're looking for a classic pound cake to serve at your next get-together, you can stop looking! I've got a luscious butter pound cake recipe for you that's going to thrill and delight your southern guests and make you proud to serve it!
Chocolate Mayonnaise Cake: Truly, a go-to cake for those of us in the south! This is one of the best chocolate cake recipes you'll ever try.
Old-Fashioned Banana Bread with Mayonnaise: This Old-Fashioned Banana bread recipe is super easy to whip up in a hurry! It's loaded with flavor. . .and thanks to a secret ingredient (mayonnaise!) it's moist, flaky, and super tasty!
Pineapple Upside-Down Cake: One can of sliced pineapple rings, 1 cup of brown sugar, some maraschino cherries, and the usual ingredients for a boxed cake mix. . .and you're good to go. Talk about an easy southern dessert!
Brown Butter Walnut Cake: This rich yellow cake, loaded with browned butter, toasted walnuts, and vanilla extract will make you swoon. The addition of sour cream makes it sturdy and moist and the milk adds a luscious texture. The brown butter maple glaze on top? Well, that's just the icing on the cake! (Literally!)
Strawberry Lemonade Cake: This Strawberry Lemonade cake is visually stunning and (truly) one of the best cakes you'll ever put in your mouth. And you don't even have to live in the south to enjoy it, though the flavors are perfect for a southern summertime!
Caramel Banana Cake: Warm, buttery, caramelly, sweet. . .and loaded with rich banana flavor. This Caramel Banana Cake is absolutely perfect all year 'round!
Traditional German Chocolate Cake with Coconut Pecan Frosting: If you love the sweet flavor of German Chocolate cake and you're nuts about coconut pecan frosting this southern favorite is perfect for you!
Southern Pies, Cobblers, and Other Desserts
As much as we southerners love our cakes, we adore our pies even more. Those creamy fillings, that crisp crust, those luscious toppings. . .we're fans of any and all of it! You will be too after you take a look at these delicious Southerner favorites.
Easy Coconut Cream Pie: This is my very favorite pie of all time: Coconut Cream Pie. It's lush, rich, sweet, and loaded with coconutty goodness! Perfect for special occasions or any day of the week! You'll love this one on a hot summer day.
Easy Blackberry Pie: If you're looking for a luscious pie with both fantastic flavor and a memorable look, you've come to the right place! This southern blackberry pie is delicious and beautiful.
Fudgy Pecan Pie: Nothing says "the south" like a rich pecan pie. This one is loaded with pecans but it's also got another fan favorite. . .chocolate!
Easy Apple Pie with Homemade Crust: If you love the warm rich flavors of apple and cinnamon and the lovely crisp crunch of a flaky crust, this southern apple pie is the recipe for you!
Old-Fashioned Cobbler with Homemade Pie Crust: If you're looking for a luscious cobbler with that crisp homemade crust you grew up eating, you've come to the right place. This easy recipe calls for canned pie filling but a crust so flaky and delicious you'll swear you're sitting around grandma's table eating it.
Banana Pudding: Nothing says "southern" like a luscious banana pudding. You'll enjoy this easy recipe, which incorporates Biscoff cookies.
Southern Cookies and Bars
Cookies and Bars? Please. . .and thank you! We eat 'em by the hundreds down here in the south. And, just like our cakes, we load 'em up with all the good stuff. Check out some of our favorite southern recipes below!
Old-Fashioned Butter Cookies: If you're looking for a light, crisp buttery cookie, you've come to the right place. In this post I'm going to teach you how to make traditional, old-fashioned butter cookies, just like your southern Granny used to make!
Easy Pecan Pie Cookies: This easy cookie recipe will be particularly exciting during the holiday season.
Ooey-Gooey Chocolate Chip Blondies: Have you ever had a hankering for something sweet but couldn't quite put your finger on what you really wanted? These chocolate chip blondies are perfect for days like that! Not quite a cookie, not quite a brownie, not quite a cookie bar. Gooey, chewy, and crisp on the edges. . .they are (in a word) perfect. . .and not just here in the south!
Old-Fashioned Sugar Cookies: If you're looking for a fluffy, crisp, old-fashioned Sugar Cookie, do I have a treat for you! This is a simple sugar cookie recipe, packed full of flavor, and straight from Grandma's cookbook!
Hello Dolly Bars: These Magic Cookie Bars (sometimes called Hello Dolly Bars) are going to sweep you away with their simplicity and their luscious flavor profile!
Classic Peanut Butter Blossoms: One of our favorite southern cookies! If you love the combination of peanut butter and chocolate, you've definitely come to the right place. Today's recipe is those soft, fluffy peanut butter cookies with luscious Hersheys Kisses on top.
Easy Potato Chip Cookies: Where else would you find potato chips in cookies except in the south? This yummy recipe is chocked full of chips. . .and pecans!
Simple Pecan Pie Bars: If you love the ease of a cookie bar but the luscious richness of pecan pie you're going to flip over this simple pecan pie bar recipe! It merges both of those worlds into one dreamy bite, loaded with flavor and crunch!
Luscious Lemon Bars: They're tart, sweet, crisp and creamy. These luscious lemon bars are all of the above. . .and then some!
Ultimate Chocolate Chip Cookies with Brown Butter: This delicious cookie has the charm of a traditional chocolate chip cookie with something extra–the bliss of browned butter. Only in the south, y'all. Only in the south.
Thumbprint Cookies: This is a fun twist on a traditional Thumbprint cookie that uses cherry preserves (or sour cherry spread) in the center of a delicious almond-infused shortbread cookie.
Cowboy Cookies: I started to call these my "Everything but the Kitchen Sink" cookies because I (literally) throw everything in them that you can think of. Crunchy. Salty. Sweet. Savory. It all goes in these yummy Peanut Butter Ranger Cookies.
Red Velvet Sandwich Cookies: If you enjoy a southern red velvet cake with luscious cream cheese frosting you're going to flip over these yummy Red Velvet Sandwich Cookies. They're simple to make and loaded with rich cocoa flavor.
Easy Mexican Wedding Cookies: Some folks call these soft bites of wonderment Italian Wedding Cookies, Mexican Wedding Cakes, or Russian Tea Cookies, others call them southern pecan butterballs. No matter what you call them, they're delicious and super easy to make.
Perfect Peanut Butter Cookies: These peanut butter cookies about as close to perfection as anything I've ever baked. And they turn out beautifully every single time.
Heavenly Snickerdoodles: If you're looking for the perfect southern Snickerdoodle recipe–light and fluffy and filled with cinnamon and sugar–you've come to the right place.
Old-Fashioned Oatmeal Cookies: We load up our cookies with oats, craisins, and pecans (or walnuts). That's just how we do it here in the south!
Easy Chocolate Chip Brookies: Is it a brownie or a cookie? This luscious southern treat is a mergence of the two!
Southern Candies
A party isn't a party without homemade candy. Here in the south we excel at quite a few favorites. Here are some we think you'll enjoy.
Easy Peanut Butter Snowballs: Oh my stars! These luscious peanut butter snowballs are the closest you'll come to making your own Reese's Peanut Butter Cups, y'all!
Old-Fashioned Divinity: Christmas wouldn't be Christmas without Grandma's Old-Fashioned Divinity recipe! This is a personal favorite.
Easy Peanut Brittle: Straight from my southern Mama's cookbook, this peanut brittle is easy to make and turns out great every time!
---
That's it for our southern recommendations! Let us know which ones are your favorites in the comments below! And since we're talking about southern recipes, let me leave you with a link to some recipes at Southern Living.
---
About the Author
Janice Thompson is an author, baker, and all-around mischief maker! She has overcome a host of baking catastrophes, including a toppled wedding cake, to learn more about the baking process. Janice has published over 150 books for the Christian market but particularly enjoys writing recipes and baking devotions. To learn more about Janice or to drop her a note, visit her About the Author page.