A lot of recipes promise a light a fluffy yeast roll but simply don't deliver. (Ask me how I know.) This recipe, a simple milk bread recipe, produces perfect rolls!
Dinner Rolls. . .or Yeast Rolls?
I'll be honest, I've really struggled with homemade rolls. I love the light, fluffy ones but I've struggled to produce them.
Oh, I've made rolls that were more brioche in texture. Some turned out like my Challah bread, which was fine.
But I was on a quest to find a "perfect" yeast roll, one similar to the rolls we are served at a local restaurant called the Potato Patch.
This particular restaurant has what they call throw'd rolls. They (literally) throw the rolls at you. It's your job, as a patron, to catch them.
The first time I went to the Potato Patch I got hit in the side of the head with a yeast roll.
Not that it hurt. Like I said, their rolls are light and fluffy.
Could I Come up with the Perfect Yeast Roll Recipe?
It seemed impossible.
On the same day I attempted to come up with my Cinnamon Roll recipe, I fought to make yeast rolls, too. I knew if I could find a dough that would be light enough for a yeast roll I could also use it for cinnamon rolls.
It took three attempts and nearly 10 hours of trying, but I finally did it.
I converted my simple Milk Bread recipe, dividing the dough into 12 individual pieces for the second rise. And guess what?
It worked!
I was (finally!) able to produce a yeast roll I'm happy and proud to recommend. This is one of those easy bread recipes you'll use again and again.
Yeast Roll Ingredients
You will find a full printable recipe card at the bottom of this post but here's a quick peek at what you'll need to make these delectable rolls. These are simple ingredients you likely have on hand.
bread flour divided
warm milk
egg yolk
extra egg for brushing.
sugar
salt
dry powdered milk
dried instant yeast (rapid rise)
butter
Note: You can use all purpose flour if you like, but add a bit more powdered milk.
How to Make Light and Fluffy Yeast Rolls
Mix warm milk, yeast, sugar with whisk. Allow to sit for 10 minutes.
In the bowl of a stand mixer whisk together flour, salt, powdered milk at low speed. The powdered milk will soften the dough and cause it to be lighter in texture.
Add egg yolk and dry ingredients to the wet ingredients (yeast mixture).
Use your stand mixer's dough hook attachment and knead for 3 minutes at medium speed.
Remove from the mixing bowl and scrape down the sides of the bowl so no dough is left behind.
Roll into a rectangle, fold envelope style.
Place dough ball in glass bowl. Cover and rise for 30 minutes in a warm place. (Rise time may vary, depending on the yeast you use and the warmth of the location.)
Dough should double in size.
Punch down the dough to release the air.
Divide into 12 equal pieces, 2 oz each. (I weighed each of my dough balls with a kitchen scale to make sure they were the same.)
This is one of those yeast doughs you're going to love working with.
Spray muffin tin with nonstick spray and place balls of dough inside of tray.
(Do your best to get a smooth ball. Mine weren't smooth enough!)
Cover with a tea towel or plastic wrap and let dough rise for an additional 30 minutes in a warm spot.
(Room temperature probably won't cut it. You'll need a slightly warmer spot.)
Whisk egg and brush the tops of the dough with egg mixture.
Bake for 20 minutes at 350 degrees Fahrenheit until lightly golden in color.
Remove and place muffin tin on wire rack to cool.
Brush tops of these soft dinner rolls with butter so that they glisten.
Remove from pan and continue to cool.
Serve these fluffy rolls while warm with butter, honey butter, cinnamon butter, or anything else you enjoy. (I love that buttery flavor!)
Store leftover rolls in an airtight container. They will stay good 2 – 3 days.
Make sure they're 100% cool before you bag them up or they will sweat and go bad sooner.
What to Expect from These Delicious Rolls
This is one of those easy dough recipes you're really going to love!
I was so happy this third (and final) batch of dough worked out! These are the best dinner rolls I've had in ages.
They are crisp on the outside with a lovely texture. Slathered with warm butter, they melted in my mouth, the perfect soft rolls!
There's an amazing feeling when you pull hot bread from the oven. I imagine it's how women on the prairie must've felt as they baked their homemade goodies.
These fluffy dinner rolls will make you feel like a baking champ! This is such a great recipe. Next time I plan to serve them to my whole family. They're going to love them!
It just feels good to know you created something so delicious and wholesome.
Other Breads from Out of the Box Baking
---
That's it for this post, friends! I hope you enjoy this delicious dinner roll recipe. I sure did!
See this recipe at
---
About the Author
Janice Thompson is an author, baker, and all-around mischief maker! She has overcome a host of baking catastrophes, including a toppled wedding cake, to learn more about the baking process. Janice has published over 150 books for the Christian market but particularly enjoys writing recipes and baking devotions. To learn more about Janice or to drop her a note, visit her About the Author page.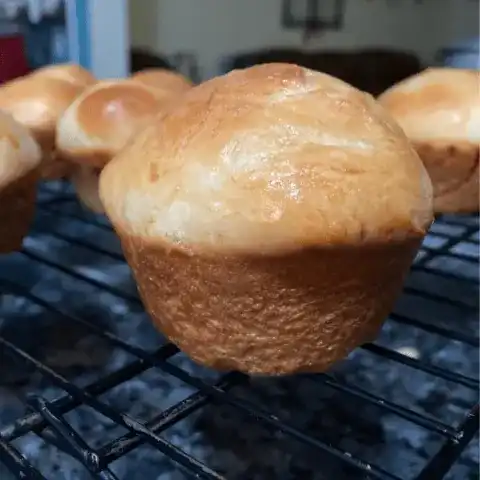 Light and Fluffy Yeast Rolls
Total Time:
1 hour
20 minutes
A lot of recipes promise a light a fluffy yeast roll but simple don't deliver. (Ask me how I know.) This recipe, a simple milk bread recipe, produces perfect rolls!
Ingredients
2 1/2 cups bread flour divided
1 cup warm milk
1 large egg yolk
Extra egg for brushing.
1/8 cup sugar
1/2 teaspoon salt
1 1/2 tablespoons dry powdered milk
1 teaspoon dried instant yeast
2 tbl butter
Instructions
Mix warm milk, yeast, sugar with whisk. Allow to sit for 10 minutes
In separate bowl whisk together flour, salt, powdered milk.
Add egg and dry ingredients to wet
Using dough hook and knead for 3 minutes
Rise for 30 in warm spot
Divide into 12 balls, 2 oz each
Rest for 30 in warm spot
Bake for 20 minutes at 350 degrees.