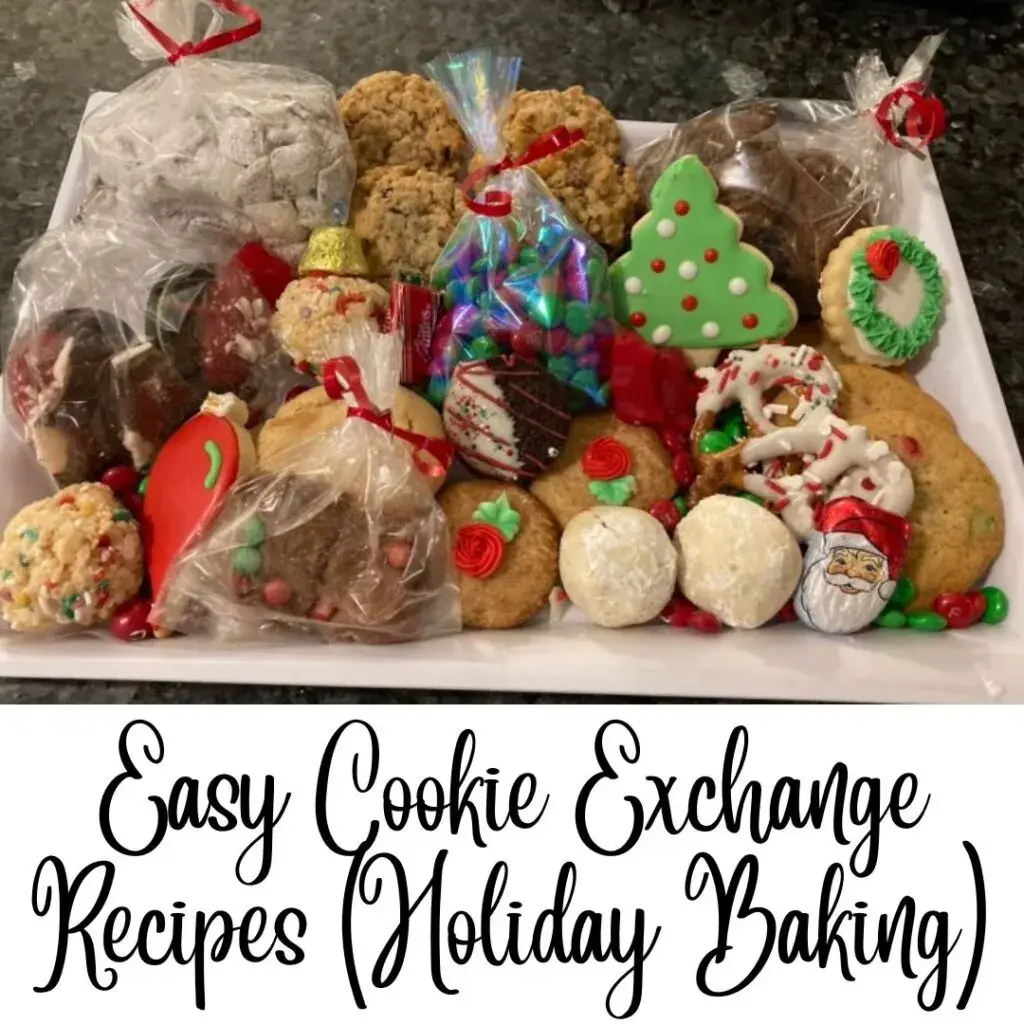 If you're looking for a host of different cookie recipes to fill that holiday cookie exchange tray, you've come to the right place. These sixteen recipes are simple to make and perfect for a swap!
Holiday Baking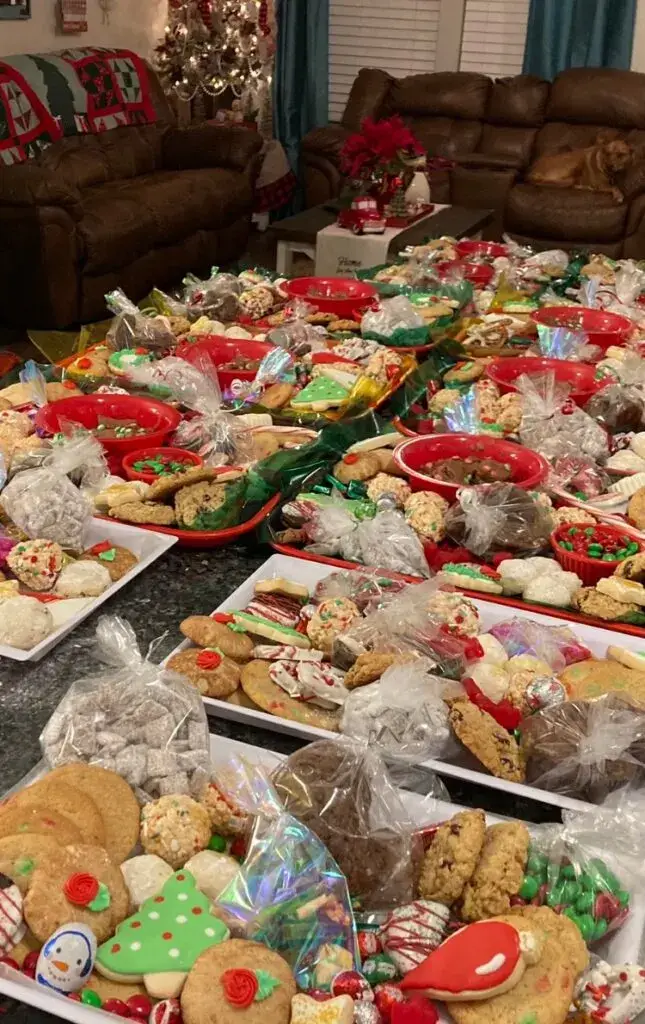 There's nothing more fun than baking during the holidays! This is especially true when it comes to cookie exchanges and holiday trays. (Yum!) Talk about creating a festive spirit! Spreading joy just got a lot easier, thanks to some simple and yummy recipes.
What is a Cookie Exchange?
Simply put, it's a cookie swap. You bring your best recipes and trade with others who've done the same.
According to National Today, December 22nd is the National Cookie Exchange Day. (Who knew?) According to the site:
Cookie exchanges are a centuries-old tradition dating back to medieval times. The classic idea is of a holiday party in which guests bring a selection of homemade cookies to trade with one another. While the festive holiday has sweet beginnings, the etiquette associated with them has become elaborate and strict.
Baking Cookies During the Holidays is So Much Fun!
If you've been following my site for any length of time you know that I love Baking with Friends and Family. I'm also keen on Baking with Kids, and that's especially fun during the holiday season.
No matter who you're baking with you'll want to keep some well-loved cookie recipes in your repertoire but you'll also want some new and exciting options, as well.
This post offers recipes that are perfect for Christmas, Thanksgiving. . .and beyond! Many of these recipes are also adaptable for holidays like Valentine's Day and the 4th of July. Holiday recipes are the best and you're going to love these!
But this whole "cookie swap" thing begs one question: Why cookies? Why not cakes, pies, or other sweet treats?
The History of Cookies
Have you ever wondered where cookies got their start? For sure they're one of society's most popular treats–small enough to be held in the hand, but big enough to hit the spot!
I located an article online found A Brief History of the Cookie, where I found this:
The first cookies are thought to be test cakes bakers used to test the oven temperature. They date back as early as 7th Century A.D. Persia which is now Iran. They were one of the first countries to grow and harvest sugar cane.
With war and exploration eventually sugar was introduced to the Mediterranean area and European countries and so were cookies. And by the end of the 14th century, cookies were common place in European cities. The earliest cooking books from the Renaissance were chockful of cookie recipes.
Cookies are small, compact, and loaded with flavor. They're easy to transport and stay fresh longer than many cakes are pies. They don't require refrigeration, which is a plus! This makes them perfect for an exchange.
No matter which cookies you choose for your Christmas cookie exchange, folks are bound to swoon if you pick recipes from Out of the Box Baking. We've got you covered with sixteen popular Christmas cookies, so let's get going! (These are the best Christmas cookies in town!)
Whether you're making Christmas cookies, Valentines cookies, or Halloween cookies, this cut-out sugar cookie recipe is perfect every time! This buttery shortbread cookie is great for a cookie exchange.
This is my go-to sugar cookie recipe for holiday cookies every single year and people beg for them! You can't go wrong with classic sugar cookies, especially if you cover them in my Easy Royal Icing.
These are fun to shape into Christmas trees or sweaters and hand-paint with colorful icing. (And trust me, these are the cookies folks have come to expect on holiday trays!)
You can bake these with the kids and use buttercream if you prefer! (Great idea, right? Buttercream is less messy.) Start a new family tradition the kids won't soon forget.
Be prepared to hand out the recipe when you show up with these at your next holiday party! But let's be honest: they're great any time of year!
On the surface a lofthouse cookie looks like a simple iced sugar cookie but it's different, not just in texture, but flavor. If you break one open, you'll almost think you're looking at a little cake.
These easy Christmas cookies are absolutely perfect for a holiday cookie tray because you can color them with festive colors like red, green, and white. They're also lovely in ice-blue and silver sprinkles! Talk about festive treats!
If you're looking for the perfect Snickerdoodle recipe–light and fluffy and filled with cinnamon and sugar–you've come to the right place. This is an easy christmas cookie recipe, one that comes together quickly.
Loaded with simple ingredients, these cookies remain on my top five list. It's hard to beat a good Snickerdoodle and this is a great one, perfect for that cookie exchange tray!
To make them more festive, drizzle with red and green royal icing or coat in colored sugars. This is one of those classic favorites that works year-round.
These chunky oatmeal cookies are a fun, chewy variation of a traditional oatmeal cookie. They will leave you feeling like you've gone back to your childhood to Grandma's kitchen and that's exactly how you want to make people feel during the holidays, isn't it?
I always include these chewy cookies on my Christmas cookie trays because they seem to hit the spot during the winter months. But don't be fooled! They're also perfect on a hot summer's day. (One friend even eats these for breakfast! She adds ham and cheese to hers!)
You simply can't go wrong with a good oatmeal cookie and this is the best.
Every baker needs an amazing chocolate chip cookie recipe, one that causes people to stop in their tracks and say, "Oh my goodness, this is the best cookie I've ever eaten!"
This recipe will bring that sort of reaction. It's got the charm of a traditional chocolate chip cookie with something extra–the bliss of browned butter.
It's gooey, it's crisp, it's flaky. . .it's perfect! And best of all, it's an easy no-fail recipe, perfect for your Christmas cookie exchange party.
This is a fun twist on a traditional Thumbprint cookie that uses cherry preserves (or sour cherry spread) in the center of a delicious almond-infused shortbread cookie.
You can choose the preserves of your choice for your cookie exchange platter. A variety of colors would be fun, so consider apricot, cherry, blackberry, or raspberry!
This is one of the best Christmas cookies recipes out there!
If you love the ease of a cookie bar but the luscious richness of pecan pie you're going to flip over this simple pecan pie bar recipe! It merges both of those worlds into one dreamy bite, loaded with flavor and crunch!
I truly have no words to describe how perfect these are. I can't wait to add them to my holiday baking lineup this year!
In short, they celebrate the marriage of these two ingredients. And you'll celebrate too, as soon as you taste the combination in these rich, gooey, minty chocolate cookies.
These yummy bites of deliciousness are "doubly" good because of the addition of cocoa powder. It's chocolate on chocolate on mint. And, oh my! The result is powerful!
I can't even imagine a holiday cookie try (or any cookie exchange, frankly) without these Double Mint Chocolate Cookies. I get more "Wow!" responses from these cookies than any others!
These cookies go by different names. Some call them Mexican Wedding Cookies, some call them Snowballs. Some call them Pecan Sandies, others call them Pecan Balls.
Some folks call these soft bites of wonderment Italian Wedding Cookies, Mexican Wedding Cakes, or Russian Tea Cookies, others call them southern pecan butterballs. No matter what you call them, they're delicious and super easy to make.
They are the ideal cookie for a holiday tray or cookie exchange because they add a pop of color. (If you think about it, most cookies are tan in color. . .a bit bland.) These, though? They're bright white, crisp, and loaded with sweetness!
This is one of my favorite recipes ever!
Light, fluffy, loaded with peanut butter. . .these cookies are the perfect combination of salty and sweet. And, for the true peanut connoisseurs, they're like fluffy clouds of peanut butter heaven, soft pillows of nutty delight. (How's that for a tasty description?)
You can also use this recipe to make pretty peanut butter blossoms. Just roll into a ball and bake then add a Hershey's kiss to the cookie when it comes out of the oven. (I like to drizzle red and green royal icing over mine during the Christmas season to make them more festive.)
Note: Before you add these to a holiday tray make sure you don't have peanut allergies in your group!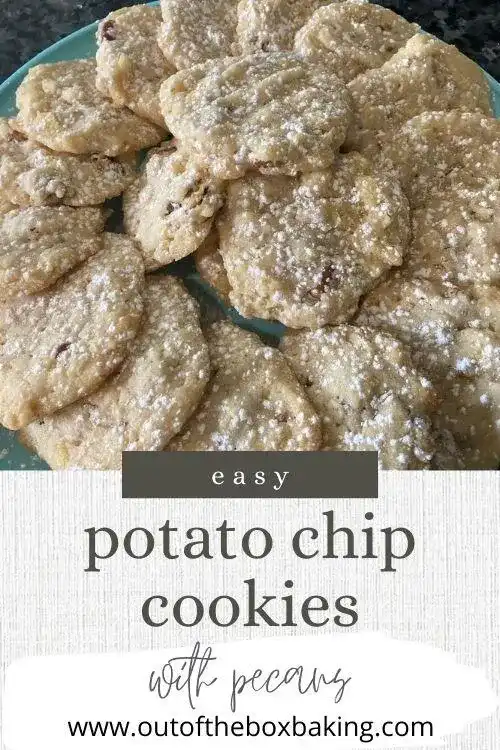 If you love a great pecan cookie, one with a hint of salt, you're going to flip over this Potato Chip Cookie recipe. These are the perfect blend of crunchy and soft, salty and sweet.
I just baked these last week and gave them to a friend. She loved them! I can't wait to bake them for my next cookie swap.
I started to call these my "Everything but the Kitchen Sink" cookies because I (literally) throw everything in them that you can think of. Crunchy. Salty. Sweet. Savory.
Oats. Cornflakes. Walnuts. Coconut. These are just a few of the tasty tidbits in these yummy Peanut Butter Ranger Cookies.
You're going to love them on your holiday tray because they're different from ordinary cookies. They hit all of the notes. (Hint: Throw in some white chocolate chips to add even more flavor!)
You love brown butter. You love pecans. You're thinking about merging the two into a cookie but don't know where to start. You've landed in the right spot!
If you're a nut lover you'll flip over these simple pecan-based cookies. You'll be the toast of the Christmas party. No, really!
If you're really looking to impress your friends and loved ones during the holidays it's simple! Just make these easy Chocolate Covered Oreos. You can buy a variety of molds on Amazon or other places online but I prefer the poinsettias.
Best of all, you can color your chocolate with oil-based colors so your cookie tray can be bright and colorful!
If you love the cinnamon-sugar goodness of cereal but the flaky texture of a great cookie, have I got a new cookie for you! This simple Cinnamon Toast Crunch Cookie recipe merges basic cookie ingredients with something completely unexpected–Cinnamon Toast Crunch cereal!
No one else will be making these for the cookie exchange (likely) and folks will beg for the recipe!
If you want the ease of a boxed bake mix but the flavor and joy of a luscious cinnamon roll, I've got the perfect recipe for your upcoming cookie exchange.
These Flaky Pie Crust Cinnamon Roll Pastries have the look of homemade cinnamon rolls but the taste and texture of a high-end pastry–light, crisp and oh, so cinnamony!
I love the idea of adding these to a cookie tray because they're so different and unexpected. You'll be the life of the party and folks will swoon (and ask for the recipe, for sure).
How to Dress up Your Tray
Add pretty paper under the cookies and throw in some unexpected items, like candy canes, M&Ms, or even red hots!
Arrange your cookies charcuterie style, with emphasis on design. (A picture paints a thousand words, after all!)
Alternate colors: Don't put all of your tan cookies in one spot. Mix it up!
Bake Perfect Cookies
That's it for my easy Christmas cookie recipes, but I want to leave you with an added link to my Become a Better Baker post, which is filled with all sorts of baking hacks. You're going to love these easy suggestions!
Here's one last link to South Your Mouth's recipe for Triple Chocolate No-Bake Cookies. Don't these look delicious?
Wondering why I didn't add classic Gingerbread men to this list? Simple. . .I'm allergic. I can't get anywhere near ginger, so I have to avoid them. That said, you might want a good recipe and the folks over at Sally's Baking Addiction have a great one.
---
That's it for this post, friends! I hope you enjoyed these delicious Christmas cookie recipes you can bake with your friends, family, and loved ones!
I'm excited about the possibilities for a fun cookie exchange this year. If you have other great sharable recipes, let me know in the comments below! Until then, here's a sweet holiday-themed verse:
"Glory to God in the highest heaven, and on earth peace to those on whom his favor rests."
Luke 2:14
---
About the Author
Janice Thompson is an author, baker, and all-around mischief maker! She has overcome a host of baking catastrophes, including a toppled wedding cake, to learn more about the baking process. Janice has published over 150 books for the Christian market but particularly enjoys writing recipes and baking devotions. To learn more about Janice or to drop her a note, visit her About the Author page.