In this post you'll learn how to make easy, edible Christmas trees, guaranteed to wow your party guests!
My Sweet Journey Started so innocently.
I was asked to host a table at our church's annual Christmas dinner, a women's ministry event. I'm not much of a decorator, but I am known for one thing. Well, two, if you count my books. Mostly, though, the church ladies would say, "Oh, Janice Thompson? She's the baker, right?" Hint: I'm known for my sweets!
And They Would be Right
I'm the one who shows up at every event with painted cookies or overly-decorated cupcakes. Or even a tiered cake, on occasion.
Feeling the heat, I tried to think of a centerpiece for my table that would be creative and fun, but not in the usual way. For sure, I didn't want to purchase any special décor or drag things from home. Instead, I finally settled on a unique plan. My table would be called. . .
"The Edible Forest."
It would be filled with Christmas trees. . .every single one edible. If I structured this properly, my guest could nibble on everything from healthy options to the sweetest of sweet treats.
First, I began with several tree foams in a variety of sizes. I purchased them from Hobby Lobby and covered them in plastic wrap. (I didn't want any of the foods to touch them.) Next, to decide what to put on them.
Decisions, Decisions. . .
The first idea seemed like a no-brainer: powdered sugar donut holes. They're cheap and pretty and cover a lot of space. As a result, I figured they would make the perfect flocked tree. Adhering them with toothpicks (two per donut hole) just made sense, and so did adding some mint leaves and cranberries to make them look like holly berries.
Perfection!
But I needed to fill the center of the table with an impressive number of trees to complete the sweet forest I had imagined. So, I decided to cover one in green grapes. Hey, green Christmas tree! Ideal. Another healthy option (for the diet conscious guests)—cheese and tomatoes. Yum. From there, I turned my attention to the sweet stuff. One tree was covered in Rolos, another in truffles. I particularly loved the spice drop tree. I went with red and green drops, which I purchased at the dollar store.
My favorite, though?
The semi-soft peppermints. Y'all. . .they were just too fun. And they made the table smell so yummy!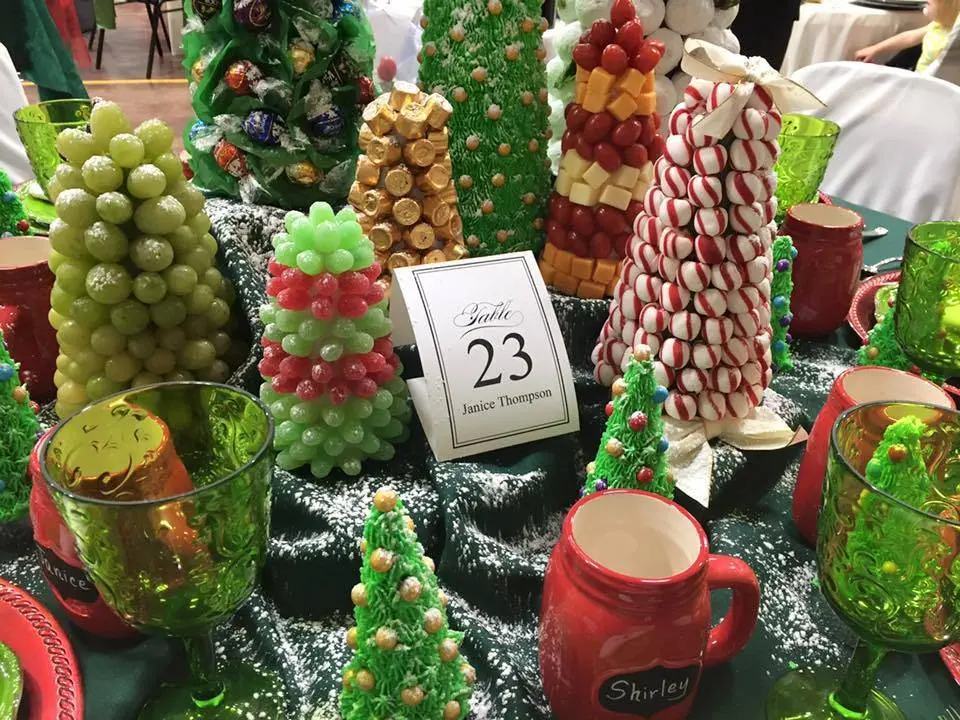 The final touch? Each lady had her very own Christmas tree cupcake at her place setting. They were iced in green buttercream with an upside-down ice cream cone on top, which I piped with green buttercream. A few sprinkles later, and. . .voila! Personal trees!
Our edible forest was a fan favorite at the Christmas dinner, and I don't mind saying, it brought me great joy to give my guests such a fun and yummy option for a centerpiece.
Other Creative Options:
This idea would translate well to a Valentine's event, too. Or a birthday party. Or a children's party. If you use your imagination you'll come up with all sorts of ways to take your guests into the edible forest!
Let's Build Some Trees, Y'all!
Are you ready to tromp through the forest? Well, c'mon! Let's go!
WHAT YOU'LL NEED:
NON-EDIBLE ITEMS:
5-6 foam trees/cones (in a variety of sizes)
Plastic wrap
Toothpicks (lots)
EDIBLE ITEMS:
For the Donut Tree:
Enough powdered sugar donuts to cover the foam base
Sprigs of mint
Fresh cranberries
Other additions: you could use jelly beans or gumdrops as Christmas lights.
For the grape tree:
Enough green or purple grapes to cover the foam base
Any add'l décor you choose
Powdered sugar to sift over finished tree
For the cheese/veggie tree:
Cubed cheeses in a variety of flavors: cheddar, mozzarella, etc.
Cherry tomatoes
Any other veggies you like!
For the spice drop tree:
Several bags of spice drops in the colors of your choice
Powdered sugar to sift over finished tree
For the peppermint tree:
Red/white semi-soft peppermints. (Hard mints won't work.)
If you have trouble adhering these with toothpicks, use melted chocolate (in a piping bag) or cake icing.
For the Rolo tree:
Enough Rolos to cover the foam base
Use toothpicks to adhere them to the tree, wider side down.
For the chocolate truffle tree:
Truffles are pricey, so fill in the gaps with green tissue paper. Add a fluff of paper behind each truffle before adhering it to the foam base with toothpicks.
Individual cupcake trees:
Use the cupcake of your choice (or buy some pre-made at the grocery store). I use Pillsbury chocolate cake for mine. You'll need enough sugar cones to cover your cupcakes and enough buttercream (in a piping bag with a star tip) to pipe the cones. You'll also need some sprinkles and any other decor you choose. You can sift powdered sugar over your trees to "flock" them.
The Best Part?
Building the forest was the fun part. Eating it? Well, that was pure delight. By the end of the meal our forest was looking like a pack of rabid wolves had picked it apart. But I didn't mind one little bit. That was the point, after all!
MORE SWEET TREATS TO ENJOY!
If you enjoyed this fun Christmas idea, you'll love my post about Oreo Trifle. It's the perfect complement to your holiday meal.
And if you're looking for something really special to add to this table, why not bake up some of my yummy Holiday Sugar Cookies in a tree shape?
When you're done with all of that, take a look at Miz Helen's amazing nutty brittle. I can't wait to try this one out for myself!