Enjoy this fun, interactive baking quiz, sure to test your skills (and your memory)!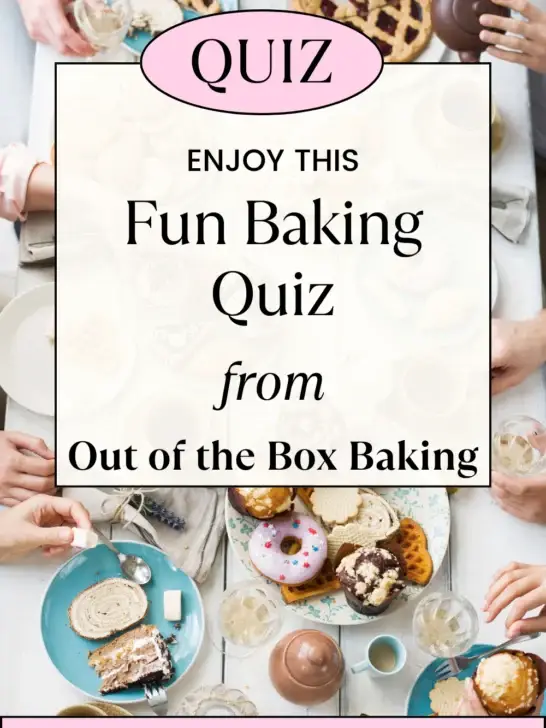 You will find the answers after each question.
Question 1:
What leavening agent is most often used in most traditional bread recipes?
a) Baking Powder
b) Cream of Tartar
c) Baking Soda
d) Yeast
The answer is D: Yeast.
Yeasts are single-celled microorganisms classified as part of the fungus kingdom. (Sounds delicious!) But I can assure you, it adds flavor, texture, and air to bread products, like my Light and Fluffy Yeast Rolls.
Question 2:
Which high protein flour would you choose to bake a loaf of bread?
a) Whole Wheat Flour
b) Bread Flour
c) Cake Flour
d) All-Purpose Flour
The answer is B: Bread Flour
The higher protein leads to a loaf that's more stable and easy to cut, like my Classic Wheat Bread from Scratch. It's a sturdy but delicious loaf.
Question 3:
This ingredient is often used to stabilize egg whites. It also creates volume in baked goods like meringues.
a) Cornstarch
b) Salt
c) Vanilla Extract
d) Cream of Tartar
The answer is D: Cream of Tartar
I use this ingredient a lot in baking, especially in cookies and meringues. I really enjoyed using it in my Seven-Minute Frosting, a delicious sweet frosting made from egg whites and sugar.
Question 4:
What does the phrase "blind baking" mean?
a) Making up a recipe as you go along.
b) Baking a cake with a layer of fondant on top
c) Baking a pie crust before adding the filling
d) Skipping the leavening agent in your recipe.
The answer is C: Baking a pie crust before adding the filling.
I blind baked the crust for my delicious Coconut Cream Pie (my personal favorite). I can't begin to tell you how delicious this one is, folks!
Question 5:
This liquid sweetener is frequently used in baking. It's known for its rich flavor.
a) Agave Nectar
b) Maple Syrup
c) Stevia Extract
d) Corn Syrup
The answer is B: Maple Syrup.
If you haven't used maple syrup in baking you don't know what you're missing! I used it in my 4-Ingredient Maple Shortbread. (Swoon!)
Question 6:
What role does baking soda serve in recipes?
a) It provides flavor
b) It adds color
c) It provides moisture
d) It leavens baked goods
The answer is D: It leavens baked goods.
Most often I use baking soda in my cookies, like my Old-Fashioned Sugar Cookies. They're light and airy and that's (in part) due to the addition of baking soda.
Question 7:
What is the purpose of creaming butter and sugar together in baking?
a) Doing so adds flavor to the finished product
b) Creaming incorporates air and creates a lighter texture
c) Creaming enhances the color
d) Creaming prevents sticking to the pan
The answer is B: Creaming incorporates air and creates a lighter texture.
Sometimes I whip my butter and sugar together for several minutes before adding the flour and leaving. The color of the butter will grow lighter and the cookies will be much softer. I used this technique in my Cut-Out Sugar Cookies, (my most requested cookie).
Question 8:
This type of fat is often used to make flaky pie crusts and soft, light biscuits.
a) Butter
b) Coconut Oil
c) Olive Oil
d) Vegetable Shortening
The answer is D: Vegetable Shortening
Some folks are amazed to hear that bakers often use shortening in their baked goods but there's a solid reason. Shortening always leads to a lighter, fluffier outcome than butter. I discovered this while making my Heavenly Snickerdoodles, a fan favorite.
Question 9:
Why do some recipes call for sifted flour?
a) Doing so removes impurities from the flour
b) Sifting adds air and prevent lumps in the batter
c) Sifting increases the protein content of the flour
d) Sifting decreases the baking time
The answer is B: Sifting adds air and prevents lumps in the batter.
I'll be honest, I'm not a huge fan of sifting, but it's important in many recipes, including my Old-Fashioned Pound Cake with Whipping Cream.
Question 10:
What is the purpose of docking pastry dough before baking?
a) Docking adds pretty decorative patterns
b) Docking prevents over-browning
c) Docking releases steam and prevents puffing
d) Docking creates a crispy crust
The answer is C: Docking releases steam and prevents puffing.
If you skip this step it could easily ruin your pie. I docked my crust in my Easy Blackberry Pie with Decorative Pie Crust. (Can I just say, that is one of the most delicious pies I've ever tasted!
That's it for this fun quiz, folks. I'll be putting up more when things slow down. For now, happy baking!
Other Sweet Treats from Out of the Box Baking
I love to bake and I've been busy in my kitchen. Here are some of the sweet treats I've cooked up:
That's it for this post, friends! I hope you enjoyed this delicious recipe. If you did, be sure to pin it for later using the photo below.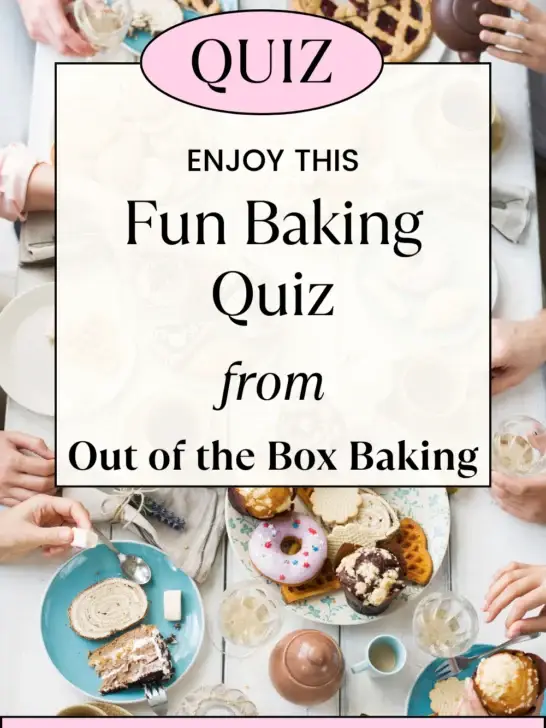 ---
About the Author
Janice Thompson is an author, baker, and all-around mischief maker! She has overcome a host of baking catastrophes, including a toppled wedding cake, to learn more about the baking process. Janice has published over 150 books for the Christian market but particularly enjoys writing recipes and baking devotions. To learn more about Janice or to drop her a note, visit her About the Author page.