Cupcakes are the perfect choice for any special occasion. They're easy to bake, simple to transport, and sanitary to serve. Best of all, they're incredibly versatile. (Truly, the perfect treat!) You'll find them at fancy, high-end weddings, at a toddler's birthday party, and even at your local farmer's market. In this post you'll learn all of the tips and tricks you need to whip up the perfect cupcakes for your event!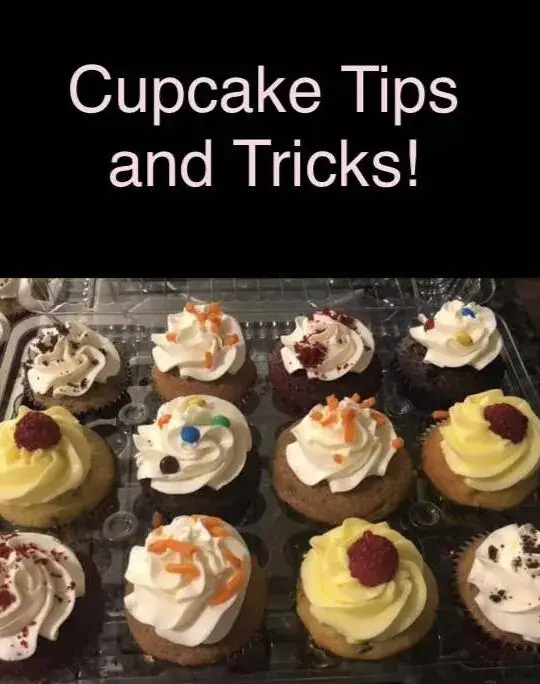 The Perfect Cupcakes!
You can do it, friend! You can make the perfect cupcakes, sure to wow your guests. And yes, cupcakes are just as trendy as cakes. Maybe more so!
Cupcakes are definitely trending! And you want to jump on the bandwagon. But perhaps you've had a few cupcake recipes fail along the way and you're not sure you want to try again.
This post will give you all of the tips and tricks you'll need to feel confident in your cupcake-baking and decorating abilities. Before long, people will be begging you to bring cupcakes to that next event.
YOUR CUPCAKE RECIPE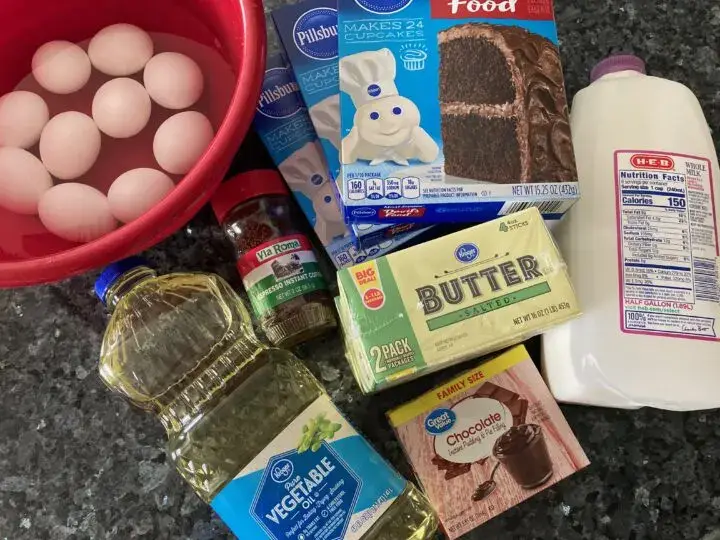 Let's start by talking about cupcake recipes. Since this blog is all about starting with a boxed mix, you're probably not surprised to hear that I'm going to hyper-focus my recipe ideas on those. Hey, a cake mix is handy on cupcake-making day!
I highly recommend my How to Doctor a Boxed Cake mix post for ideas a'plenty. You'll get all of the tools you need for some great flavor profiles.
Here are some of my favorite recipes you can use. There are some great cake recipes here and they'll make terrific cupcakes! Use whole eggs unless you're going for a super white cake.
Just follow the links for all of the recipes! Any and all of these recipes can be converted to cupcakes, no problem! And don't forget to scrape down the sides of your mixing bowl with a rubber spatula. You'll probably find enough spare batter to make an additional cupcake!
One thing you'll need to keep in mind with cupcakes:
Most cupcake batters need to be a little thicker/heavier than some cake batter.
With this in mind, I usually cut back a little on the liquid. Whether I'm using milk or water, I trim it back by an ounce or two.
I did want to add a couple of thoughts about butter: as I've shared in many of my posts, it's always important to use room temperature ingredients (butter, milk, and even eggs). This is especially important with cupcakes. If you use cold ingredients, your cupcakes will end up with a volcanic effect (creating an awkward-looking dome on top).
One more thing: Your recipe has to have structure. One easy trick: add instant pudding to your boxed mix. This adds both flavor and structure.
MIXING YOUR CUPCAKES
Most cake mixes are referred to as all-in-one mixes, because you can pretty much just dump all of the ingredients into the bowl at once and mix them up. If you switch out room temperature butter for the oil, you'll probably want to cream that first. But here's one important thing to keep in mind: you don't want to work too much air into cupcake batter, so don't go crazy creaming it.
Butter will thicken up your batter, but, as I mentioned above, cupcake batters do better if they're slightly thicker. Because they're thicker, you might be inclined to beat it a little longer. Don't! Over-mixing cupcake batter can result in an inflated product that over-rises in the oven, but falls after you take it out.
Undermixing isn't good, either. You need to activate the gluten proteins. And if you don't mix properly, the ingredients won't come together during the bake.
One more thought about mixing: add one egg at a time so you don't split the batter. If you dump them in at once, the batter can curdle.
CUPCAKE VARIATIONS
If you read my Zebra Stripe Cake Technique post you know that adding multiple colors to your batter is not only possible, it's a fun way to offer your party guests a surprise-inside moment. To ombre your cupcake batter, spoon in one color on top of the other. To marble your batter, simply swirl your colors together.
It's always a good idea to surprise your guests!
CUPCAKE LINERS and CUPCAKE PANS
I'm a huge fan of foil liners and not just for the sake of aesthetics. (Though, let's be real–those cute little paper liners aren't worth their salt. You can barely make out the images on them once the cupcake has baked.) A foil liner, though? It looks as good coming out of the oven as it did going on.
One more reason to use foil liners is this: a lot of butter-heavy recipes will "ooze" (for lack of a better term) leaving you with cupcakes that are greasy on bottom. To prevent this, add a few grains of uncooked rice to the bottom of your pan before adding the liners.
BAKING YOUR CUPCAKES
I use a gas convection oven and I set it on 350 degrees for my cupcakes. Most of my recipes cook for 16 minutes. Your times may vary. You can make a lot of cupcakes quickly but rotating pans in and out.
A few things to remember about baking cupcakes:
Use quality ingredients. (Don't get me started on the time I tried to use an off-brand cake mix! Ick!)
Don't Over Mix! If you're using a stand mixer it's easy to let it keep whirring. . .but don't!
How to scoop: There's an easy way to get that batter into the cupcake liners. Use an ice cream scoop for even, consistent sizing.
Don't Overfill! You'll be tempted to want to fill to the top of the liner. Don't! You'll end up with a gooey finished product.
Make sure your cupcake pan isn't hot. Cool down your pans before scooping that next batch. This is the best way to keep the cupcakes from starting the baking process too soon.
Tap out the air bubbles. This will help your cupcakes bake consistently.
Watch your temp! Cupcakes can bubble up like volcanoes if the oven's too hot. My oven bakes evenly, but yours might not.
Watch your baking time! Your oven is going to be different from mine, but my cupcakes bake well in 16 minutes.
To Get an Even Bake: Use your center rack. Too high and they'll burn on top. Too low and they'll be crunch on bottom.
Don't over-bake! You might be tempted to keep on baking. Don't do it! Cupcakes (especially chocolate) dry out in a hurry if they're over-baked. Leave them in the pan for five minutes after they come out of the oven and they will continue to bake there.
Don't overcrowd your oven. If you're baking multiple batches at once you'll be tempted to load up your oven. Don't do it. You want an even distribution of heat all around and beside your pans.
Cool the cupcakes in the pan for five minutes. This helps the cupcakes hold their shape.
Remove from pan and cool on wire racks. (Do this after the five minutes are up!)
FIX YOUR CUPCAKE BAKING PROBLEMS:
Lots of things can go wrong when you're baking cupcakes, but most of these things can be fixed.
Raw in the middle: lower your oven temperature. Cook low and slow. Also, don't overfill your liners. This is a common problem that results in not-quite-done cupcakes. (You might want to invest in an oven thermometer!)
Burnt on bottom: If your oven gets hotter on bottom, then don't use the bottom rack. Or, swap out racks halfway into the bake, moving swiftly so the cupcake don't deflate. Another thing that can cause burnt bottoms is too much oil/butter in the mix.
Cupcakes fall flat. A couple of things can cause this: Adding too much air to the batter (over-mixing) will cause the cupcake to inflate while in the oven but fall once it comes out. Opening the door of the oven while baking can also cause this. If you do decide to switch out your pants, swapping top rack for bottom, do so at the halfway point only.
Cupcakes that stick to the liners: cut back on the liquid in the batter. Add pudding mix. Don't over-whip.
CUPCAKE FILLINGS
I love to fill my cupcakes with my Easy Cheesecake Mousse. It's the perfect consistency. You might choose pudding, ganache, frosting, or even whipped cream.
Some people put candy in the middle of their cupcakes but I have yet to try that.
FROSTING FOR CUPCAKES
You want your cupcakes to be yummy, of course! But what goes on top of the cupcake is equally as important and will help make a great first impression.
Whether you choose my Dreamy Buttercream Frosting, (which has butter, cream cheese, and powdered sugar in it), my Chocolate Frosting, my Ultimate Decorator's Buttercream or my Raspberry Whipped Cream Frosting, you're going to want to start by putting it into a piping bag with a tip. I most often use the Wilton 1M tip for decorating cupcakes. The 1M can create lovely swirls but it's also the tip I use most to create rosettes, like the pink ones below.
Of course, there are other tips you can use, like an open star tip, a simple circle, Russian piping tips, or even a leaf tip. The possibilities are endless.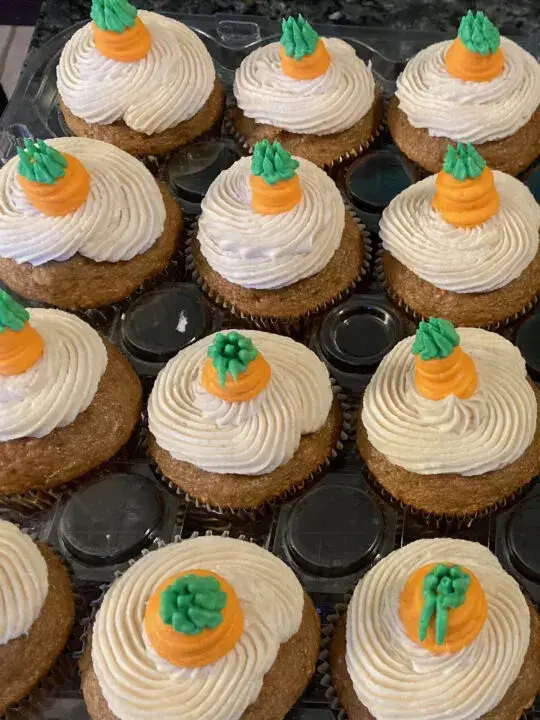 I decorate in the give-away containers so I won't have to touch the cupcakes after they're frosted. (I've messed up many that way!)
One more thing about frosting: You can add cocoa powder to my Dreamy Buttercream Frosting to turn it into a simple chocolate frosting.
Of course, not everyone likes frosting. If you're making these cupcakes for yourself, skip the frosting! Unfrosted cupcakes are divine! (And hey, without the frosting you can call them muffins. Muffins are healthy. . .right?!)
TOPPINGS
If you're wondering what makes professional cupcakes look professional, it's one thing: the way they are decorated. The swirl of icing on top is sheer perfection but on top of that… Well, that's the gold!
Oh my goodness, the possibilities are endless! Crushed cookies, crushed cake bits, chocolate chips, nuts, candy bars, whole cookies, drizzled chocolate, caramel, fondant decor, piped details. . .you can have the time of your life adding toppings to your cupcakes.
And if you will take the time to do this, people will be talking about your cupcakes for weeks to come.
But let's don't stop with the ordinary toppings…
For the holidays, turn your cupcakes into snowmen or reindeer. Get creative!
And now, for a completely different look: Here are some of my favorite decorated cupcakes made with wonderful frosting tips.
UNIQUE DECORATING IDEAS
Seasonal cupcakes are a sure way to impress your guests!
Pull-Apart cupcakes are all the rage right now. Check out the Internet for a variety of ideas. I found a few that I love on Pinterest, like these Baptism Cupcakes. And what about these remarkable Cupcake Cake Ideas? They're amazing!
Here's a peek at one cupcake project I did a few months back.
I especially love making these cupcake wreaths at Christmas time?. ?
PRESENTING/DISPLAYING CUPCAKES
A lovely stand goes a long way in showing off your presentation. There are a multiplicity of stands available at Amazon and other outlets on the web
PACKAGING YOUR CUPCAKES
I love to package my cupcakes in see-through containers. I buy mine on Amazon and like I said, I actually decorate the cupcakes inside of the containers
When it comes to cupcakes, the possibilities are endless.
I will leave you with a photo of some of my favorites from an Eagle Scout Court of Honor. I particularly loved this setup because of the eagle on top, which I purchased from Amazon.
How to Store Your Cupcakes
Put them in an airtight container and store in the refrigerator for up to 4-5 days or in the freezer for up to 2 months.
Now that you have the secret to cupcakes, try them on this list of Cupcakes and Muffins!
I'm excited about baking more cupcakes! What about you? Leave your ideas below and I'll bake even more! I sure wish I could invite you all over for a taste test!
While you're perusing the web, check on Full Plate Thursday on Miz Helen's Country Cottage for more great baking ideas!
---
About the Author
Janice Thompson is an author, baker, and all-around mischief maker! She has overcome a host of baking catastrophes, including a toppled wedding cake, to learn more about the baking process. Janice has published over 150 books for the Christian market but particularly enjoys writing recipes and baking devotions. To learn more about Janice or to drop her a note, visit her About the Author page.