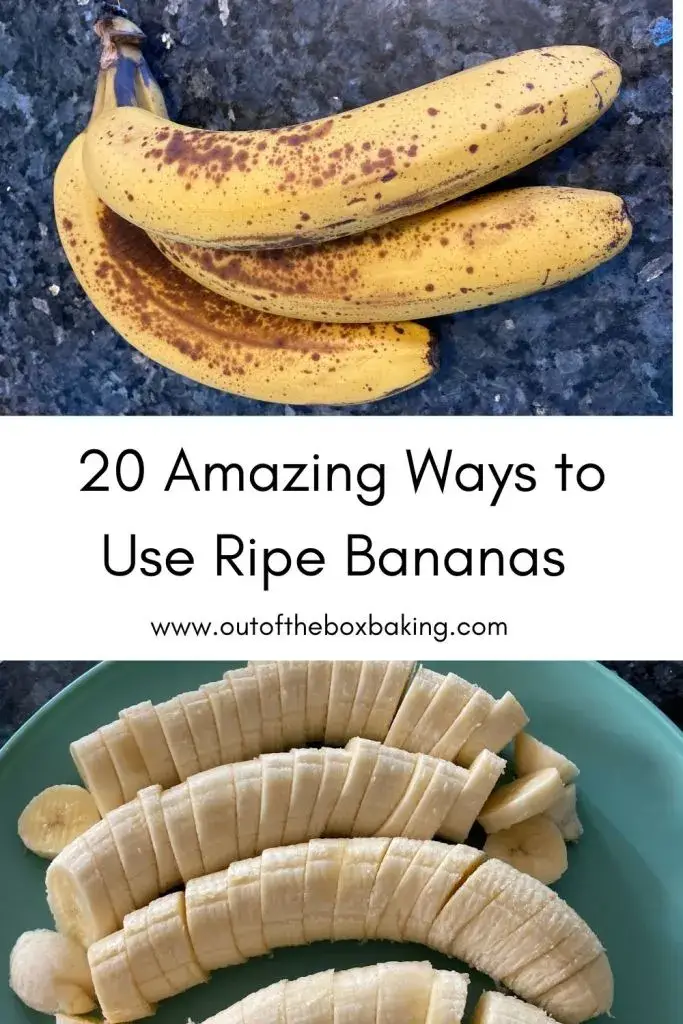 You were absolutely sure you would eat those bananas before they started going bad. But here you are, facing a bunch of bananas that are completely speckled and you don't know what to do with them. Oh, sure, you could make banana bread. Everyone says you should. But you've done that a zillion times and you're ready for something different. . .something more.
Can These Bananas be Saved?
You've come to the right place! There are so many different ways to make tasty treats with those bananas and a few simple ingredients.
In this post I'm going to give you 20 tips and tricks for how to use up those ripe bananas. Some of these will require baking, others will not. All of these ideas will end up with tasty results! After all, ripe bananas have a natural sweetness that's hard to resist.
Let's dive right in, starting with the no-bake options. From there, we'll move to the stovetop recipes, and then (finally) the ones that require an oven.
1. Freeze your bananas and use them in smoothies
My freezer is loaded with frozen fruit and frozen bananas are a staple. I use them daily in a morning smoothie. I combine frozen fruit, water, and Crystal Lite Pure (a healthier option without the aspartame) and mix until smooth. Sometimes I add protein powder. Other additions could include Greek yogurt or fruit juice. If you like, skip the berries and stick with frozen bananas, protein powder, and milk. Banana smoothies are the bomb!
2. Dip frozen bananas in chocolate
An easy formula for chocolate coating is to melt chocolate chips and add a tiny bit of coconut oil or vegetable oil. Dip the frozen banana into hot, melted chocolate and it should harden very quickly. Enjoy!
3. Make Banana Ice Cream
Making ice cream from your frozen bananas is simple! Just place them in your food processor with a smidgeon of milk. Add a dash of vanilla for extra flavor. Blend until the bananas are smooth and creamy. Serve with hot fudge sauce and pecans or walnuts.
4. Whip up Some of my Banana Pudding with Biscoff Cookies
This is a new spin on the a classic banana pudding, using Biscoff cookies in place of Nilla Vanilla wafers. The addition of cinnamon and brown sugar adds a rich warmth to your quintessentially southern banana pudding. Try my Best Banana Pudding with Biscoff Cookies once and you'll never go back! For the best results, use the bananas before they're overly ripe.
5. Consider Making Protein Balls
This is an easy way to use up those bananas, and what a simple recipe! Combine mashed bananas (which have gotten softer and sweeter during the ripening process), oats, nuts, protein powder, cocoa powder, and anything else you like (like dates, goji berries, cinnamon chips, or dried apricots). Roll into balls and refrigerate.
6. Stir up a Banana milkshake
Combine milk, frozen bananas, vanilla extract, and a pinch of sugar (and cinnamon, if you so choose) and blend until creamy.
7. Make an Old-Fashioned Banana split
The old standby! Place three scoops of vanilla ice cream in a bowl: add bananas (avoiding brown spots), pineapple, strawberry topping, and hot fudge, along with whipped cream. Top with a cherry!
8. Whip up a Tasty Bananas Foster
Heat sliced bananas and walnuts in butter and brown sugar, then serve warm over ice cream. Yum!
9. Make my Healthy Banana Pancakes
These Banana Pancakes are my go-to recipe for the perfect breakfast and dessert! Mash (or slice) your bananas and add them to your favorite pancake batter. Yum! Serve with maple syrup and slice bananas. And remember, bananas are good for your blood pressure! (This pancake recipe is a quick breakfast treat!)
10. Consider Making Banana French Toast
Use the bananas foster mixture above over your favorite French Toast. Talk about a tasty treat!
11. Make my Oreo Trifle. . .but with Bananas
I'm a trifle fanatic and using bananas in a luscious trifle dessert would be just the ticket. Follow the ingredients in my Mint Oreo Trifle recipe but skip the mint and use regular Oreos and chocolate pudding. Layer in the bananas with the Oreos, pudding, and whipped cream. Yum! A real sweet treat, perfect for any occasion.
12. Whip up a Banana Cream Pie
Start with a vanilla wafer crust in the bottom of your pie dish, then layer banana pudding, bananas, and whipped cream.
13. Have some Heart-Healthy Banana Muffins
If you're trying to cut back on calories and carbs, this healthy muffin recipe (which also includes apples) is perfect! It's an oats-based recipe, rich with protein and vitamins. And remember: Ripe bananas are sweet bananas, which means they're terrific for baking and you don't have to add much sugar. (Talk about a healthy dessert!)
If you need to go gluten free, my friend Debby over at Southern Home Express has a Banana Nut Muffin Recipe with a gluten free option.
14. Bake up my Banana Chocolate Chip Muffins
If you're not as worried about going healthy, then consider these easy banana chocolate chip muffins. I tried many recipes over the years, finally settling on this one, which is loaded with chocolate chips. It's also great in a loaf pan as banana bread. It's a great recipe (truly, a favorite recipe that I'm delighted to share).
15. Turn those Muffins into Classic Banana Bread
You can use my Chocolate Chip Banana Muffin recipe, as I stated above, or you can check out this Mama's Banana Bread recipe from South Your Mouth. Sounds like a recipe the whole family will enjoy.
16. Make a Tray of my Banana Biscoff Cookies
These soft Banana Biscoff Cookies are delicious. They're soft and cake like with a distinct banana and biscoff flavor.
17. Turn Those Cookies into Banana Ice Cream Sandwiches
If you've got a big bunch of over ripe bananas, consider making my Banana Biscoff cookies, then sandwich them with vanilla ice cream. Freeze until set.
18. Bake up this Amazing Caramel Banana Cake
Warm, buttery, caramelly, sweet. . .and loaded with rich banana flavor. This Caramel Banana Cake is absolutely perfect all year 'round!
19. Create a Southern Favorite. . .Hummingbird Cake
A quintessential southern favorite, this style of cake combines bananas, pineapple, and a variety of other rich flavors to create a delicious, textured cake. (Hint: If you choose my Hummingbird Cake recipe, substitute bananas for the cranberries.)
20. Bake a Simple Banana Cake
Add sliced bananas to your favorite cake mix. For more on how to used a boxed mix to create your own recipes, see my How to Doctor a Boxed Cake Mix post. You can use the pan of your choice. I often find this fruit bakes up best as a banana bundt cake. (Cook low and slow if your choose the bundt pan option.) A cream cheese frosting is perfect for a banana cake. (Are you drooling yet?)
One More, Just for Fun: Make a tropical fruit bowl!
Use mangoes, pineapple, grapes, berries, sliced bananas, orange slices, and more! Stir in yogurt or whipped cream for an easy dessert.
Lots of Banana Options, my Friends!
There are a ton of other things you might choose to make with your ripe bananas but this list should get you started! Follow the links to find recipes galore! And while you're browsing, check out Miz Helen's Full Plate Thursday! She's got some great offerings this week.
Please leave more ideas in the comments below. I'm dying to see what you come up with!
---
About the Author
Janice Thompson is an author, baker, and all-around mischief maker! She has overcome a host of baking catastrophes, including a toppled wedding cake, to learn more about the baking process. Janice has published over 150 books for the Christian market but particularly enjoys writing recipes and baking devotions. To learn more about Janice or to drop her a note, visit her About the Author page.