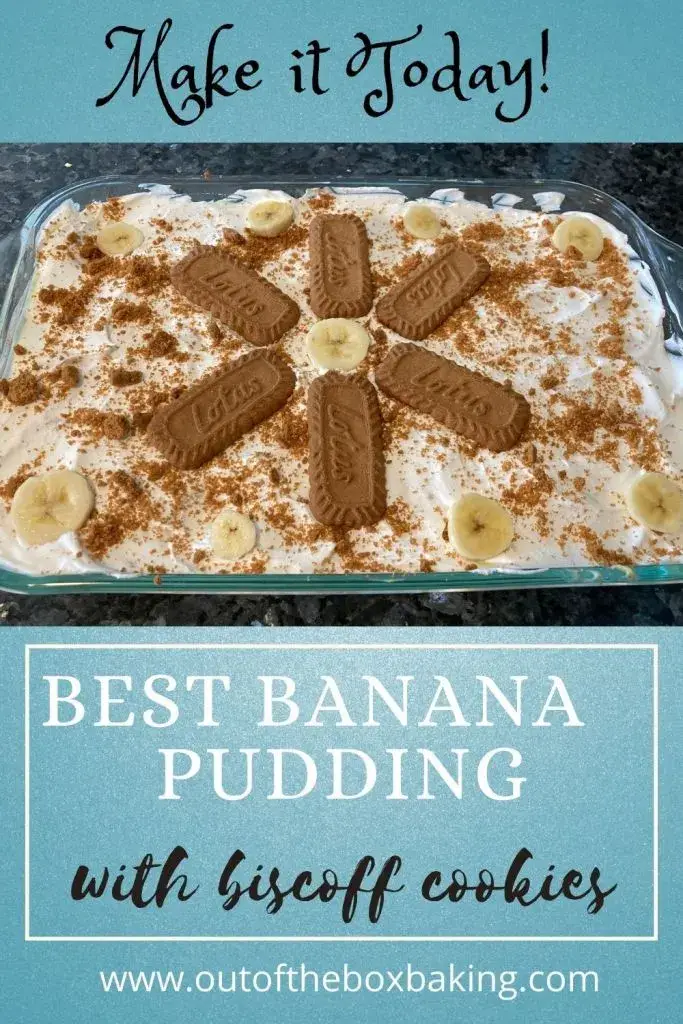 If you love Banana Pudding but you're looking for a twist, one that involves the warmth of a Biscoff cookie, you've come to the right place! This creamy pudding will leave your guests swooning. Best of all, it's simple to make and requires no cooking whatsoever.
Here at Out of the Box Baking we don't hesitate to start with a box. Usually it's a boxed cake mix. But today we're starting with a box of instant vanilla pudding. That's the basis for our recipe.
You could make homemade pudding using egg yolks, milk, and sugar if you like, but I was in a hurry so I went with instant. I promise, when you want to whip up a recipe in a hurry, this one is absolutely perfect! Start to finish, it takes just 20 minutes.
Banana Pudding With a Twist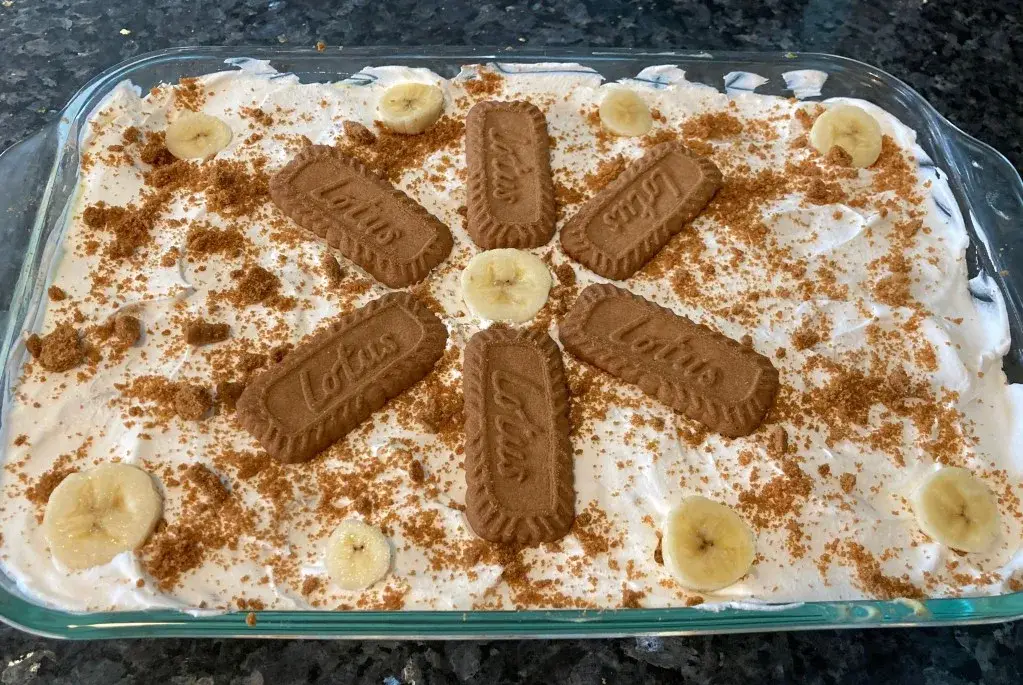 If you're from the south, you know what a good banana pudding tastes like. It's got the perfect layering of fresh bananas, creamy vanilla pudding (sweetened with homemade whipped cream or Cool Whip), ripe bananas, and Nilla Vanilla wafers.
I'm a huge fan of bananas, so I grew up eating this quintessential southern concoction. There's something about all of those layers that just makes me think of home and family. I'm a trifle girl, as you probably noticed if you've been following me for any length of time. You might recall my Mint Oreo Trifle recipe, or perhaps my Cookie Butter Trifle Recipe.
This one really takes the cake, though! It merges the traditional southern favorite, banana pudding, with a cookie that is packed with flavor–Biscoff speculoos cookies.
What is a Biscoff Cookie?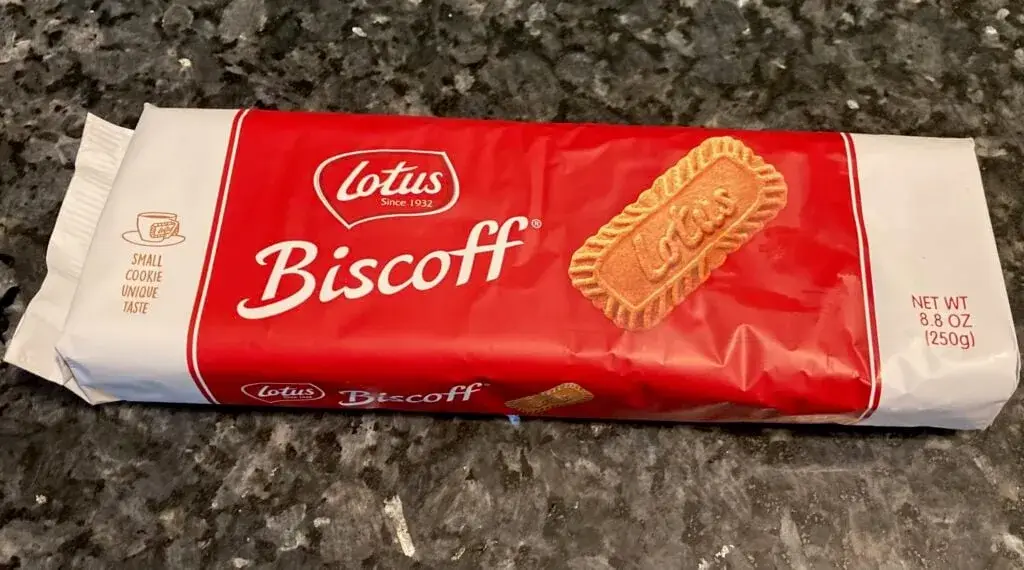 If you've ever been on an airplane, you've likely received one of these little cookies. They're often given to passengers as a snack. They're perfect for dunking in coffee or tea, but they're also great all by themselves.
Biscoff cookies are rich with brown sugar and cinnamon. Once you've eaten one you'll want to keep going back for more.
Why I Added Biscoff Cookies to my Banana Pudding
This past Christmas I purchased a large box of Biscoff cookies, anticipating a lot of baking. I ended up making a ton of things, like my Holiday Sugar Cookies, Chocolate covered Oreos Using a Mold, Peppermint Bark, and Christmas Cupcakes.
Other than my Cookie Butter Trifle, I didn't end up making anything that required those Biscoff cookies. So, I stuck them in the cupboard and forgot about them. Until this week. I pulled them out and decided to come up with some recipes to use them up. I started with an original: Biscoff Banana Cookies. Yum.
But I still had a ton of cookies left over. I also had some pudding mixes that needed to be used, as well as some ripe bananas. And whipping cream. (Hey, I've always got leftovers! I'm sure every baker has this problem!)
So, I came up with what I thought was an original idea to use Biscoff cookies in place of vanilla wafers in a banana pudding. Turns out, my idea wasn't so original after all! Scour the web and you'll find many versions of this recipe.
Here's what I added to my version. These ingredients are simple to pull together. You'll find a printable copy of the recipe at the bottom of this post, complete with measurements.
Banana Pudding with Biscoff Cookies Ingredients
ripe bananas
vanilla pudding mix
milk
whipping cream (or tub of whipped cream)
Biscoff cookies
sweetened condensed milk
1/4 cup powdered sugar
How to Make this Yummy Banana Pudding
First, take all but six of your cookies and place them in a large ziplock bag. Using a rolling pin, smash them into small pieces. (Sure, you can do this in a food processor, but it's more fun to take out your aggression on the baggie!)
Slice the four bananas.
Next, make your vanilla custard. Place the pudding mix in a large bowl and add the milk. I used a whisk to mix mine but noticed a few pin-point lumps after-the-fact. I didn't care, to be honest, but you might. Opt for a hand mixer if your pudding's texture isn't to your liking. Mix at medium speed. After your pudding is mixed, place it in the refrigerator to chill.
Next, it's time to make your whipped cream! Put the heavy cream (whipping cream) into your stand mixer with the whisk attachment and beat until stiff peaks form. Add sugar and mix until incorporated.
Next, you'll want to fold your cold pudding and half of your whipped cream together with a rubber spatula, setting aside the other half to use as a topping later on.
Pour the sweetened condensed milk into the pudding/whipped cream mix and fold until incorporated.
I added a couple of dots of yellow food coloring gel at this point.
Mix until incorporated and you have a light yellow color.
Let's start layering! I opted for a 9 x 13″ pan but you can easily use a trifle bowl. Make even layers in this order:
Start with half of the pudding mixture
Next, add half of the crushed cookies
Now add half of the sliced bananas
Repeat and top with whipped cream!
For a final touch, I did a little decorating with some leftover crumbs and the six remaining cookies. If you're going to use bananas as a decoration, wait until you're ready to serve because they will turn brown.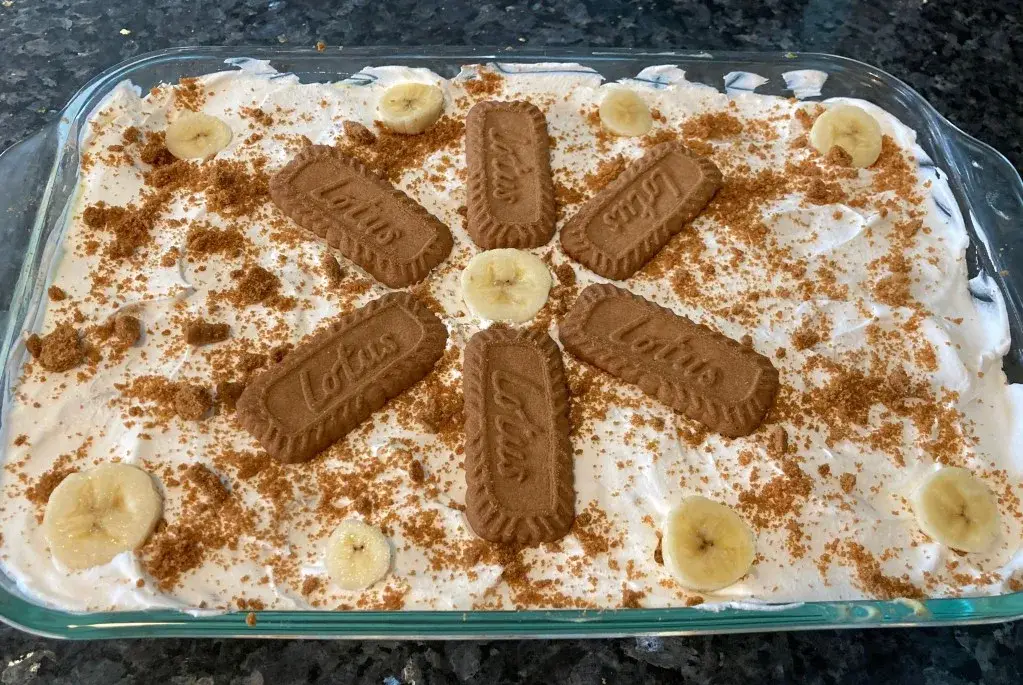 That's it! This yummy no bake dessert was gifted to a friend and got rave reviews. The addition of the cinnamon and brown sugar was the perfect complement to the creamy pudding and luscious bananas.
Note: this recipe is best when chilled in an airtight container for a couple of hours.
Variations on this Banana Pudding Recipe:
If you want to add more cinnamon, sprinkle some into your pudding mixture.If you're not into cinnamon or brown sugar, use shortbread cookies. They have a crisp buttery flavor that will blend perfectly with the creamy pudding.
If you really want to make people swoon, use chocolate covered graham crackers. (Yum!) Chocolate Teddy Grahams would be a great option, too!
If you want a stronger banana flavor, opt for a banana pudding instead of vanilla.
Use French Vanilla pudding in place of regular vanilla.
Make a Biscoff Banana Cream Pie. Start with a crushed cookie base (completely crushed) in a pie dish, then layer your other ingredients on top.
To make your pudding even richer, make a cream cheese mixture using the sweetened condensed milk, room temperature cream cheese, pudding mix, and milk.
Instead of making one large banana pudding, opt for little parfaits.
There are a variety of homemade pudding recipes on the web. This Best Vanilla Pudding Recipe from Yummly looks amazing!
Other Banana Recipes
If you have bananas that need to be used, you're going to love my post on the subject. Stayed tuned, as that post will be coming soon! In it, you'll find all of the recipes and ideas you need to use up those ripe bananas!
---
About the Author
Janice Thompson is an author, baker, and all-around mischief maker! She has overcome a host of baking catastrophes, including a toppled wedding cake, to learn more about the baking process. Janice has published over 150 books for the Christian market but particularly enjoys writing recipes and baking devotions. To learn more about Janice or to drop her a note, visit her About the Author page.
Best Banana Pudding with Biscoff Cookies Recipe
Ingredients
• 4 ripe bananas
• 1 box instant vanilla pudding mix (5.1 oz)
• 2 cups whole milk
• 2 cups whipping cream (or tub of whipped cream)
• Biscoff cookies (8.8 oz package)
• 1 can sweetened condensed milk (11 oz)
• 1/4 cup powdered sugar
Instructions
Crush all but 6 of the cookies
Slice all 4 bananas
Make the pudding by mixing 2 cups of whole milk with the pudding powder. Set aside in refrigerator to chill.
Make homemade whipping cream: place heavy whipping cream in mixer and whip until stiff peaks form. Add powdered sugar until incorporated.
Fold pudding mixture into half of the whipped cream. Set the rest of the whipped cream aside to use as topping.
Add the can of sweetened condensed milk.
Add a couple dots of yellow food coloring.
In a 9x13" pan begin the layering process.
Put half of the pudding mixture on bottom.
Now add half of the crushed cookies.
Now add half of the sliced bananas.
Repeat
Top with the remaining whipped cream.
Garnish with six remaining cookies and any leftover cookie crumbs. If you decided to use fresh bananas as a topping don't add them until you're ready to serve. They will turn brown.
Cover and chill for a couple of hours until time to serve.