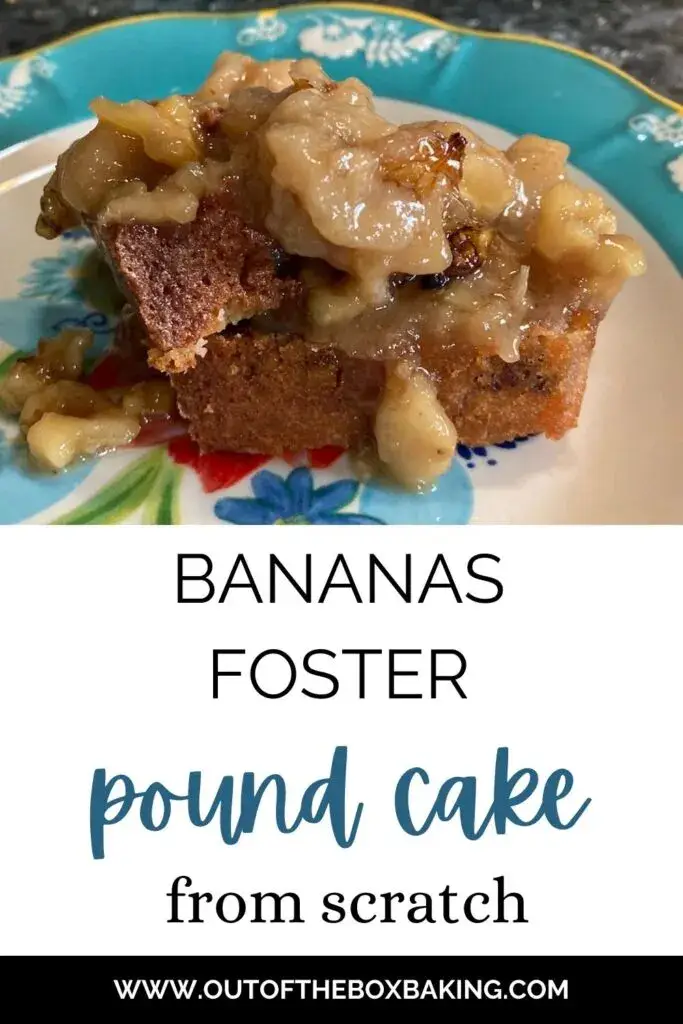 If you find yourself with overripe bananas, have I got the perfect recipe for you! This Bananas Foster Pound Cake is sublime–loaded with bananas, brown sugar, butter, and walnuts.
Best of all, it comes together easily and the recipe is big enough to make two full loaves of cake! You'll have one for the family and another to give to a friend.
Can I Add Bananas to Pound Cake?
You can, and you should! It will change the texture, making a moister cake, but you'll love the outcome. There's something so special about the mixture of bananas, brown sugar and walnuts.
This is a twist on a traditional banana bread and I think you're going to love the outcome, since it starts with a rich, decadent southern dessert, Bananas Foster.
If you read my Bananas Foster Cinnamon Rolls post you know that I took a deep dive into the history of Bananas Foster. Here's a condensed version of that story:
Brennan's restaurant in New Orleans was expecting a special guest. The owner asked his sister to come up with a new dish to surprise and delight their guest. She happened to remember a dish her mother made when they were kids–one where she split a banana down the middle, added butter and brown sugar–then sautéed it.
She created a dish loosely based on mama's recipe, one that was covered in liqueur and rum table side and set ablaze. Voila! Bananas flambe!
You won't be setting anything on fire. Well, not on purpose, anyway. If that happens you'll have to open your own restaurant.
For sure, you'll make this bananas foster again and again, whether you add it to pound cake, cinnamon rolls, caramel banana cake or other sweet treat.
Bananas Foster Pound Cake Ingredients
You'll find a full list of the ingredients in the printable recipe at the bottom of this post. For now, here's a quick glance at what you'll need. You probably have most of these items in your pantry or refrigerator now!
CAKE INGREDIENTS
1 cup (2 sticks) salted butter, softened
3 cups white granulated sugar
6 large eggs, room temperature
3 cups Swans Down Cake Flour, sift before measuring
½ teaspoon vanilla extract
½ pint heavy whipping cream
BANANAS FOSTER FILLING:
3 sliced bananas (be sure to use ripe bananas)
1/2 cup brown sugar (light or dark brown sugar is fine!)
1 stick butter
1 cup walnuts
rum extract (optional)
How to Make this Luscious, Moist Bananas Foster Pound Cake
Start by Making the Bananas Foster Filling!
Melt one stick of butter in a sauce pan. I used salted but unsalted butter is fine, too. It's just a matter of preference.
Add the brown sugar and stir. Simmer over low to medium heat.
Slice three bananas and add them to the mix. (If you prefer you can add mashed bananas.)
Chop your walnuts and add them to the filling mix. If you like, you can add a teaspoon of rum flavoring.
Put your filling into a bowl and set in the refrigerator to cool. (Try not to eat it. This is my favorite way to serve bananas and it's a treat, all by itself!)
Mix Up Your Cake!
This is one of the richest, moistest cakes you'll ever eat. It has a sturdy crumb but is oh, so moist. Here's how to bake it up!
Preheat your oven to 325 degrees. Prepare two loaf pans or one bundt pan by spraying with non-stick spray. (I use baking spray that has flour in it. This is particularly important in pound cakes, which are very heavy. You don't want them to stick to the pan.)
Start by creaming the two sticks of room temperature butter. You can use a stand mixer with the paddle attachment or your electric mixer.
Work in the sugar. Add your vanilla extract. I use Watkins, a luscious brand! (It's a secret in my arsenal!)
Crack your room temperature eggs into a separate bowl. (This is always safest to make sure the eggs are healthy.)
One by one, add the eggs to the mix.
Check out that batter, y'all! Luscious!
The batter will look thin at this point, but don't worry! It's time to work in the flour.
Alternate the flour and heavy cream. Add half of the flour, then half of the cream, mixing well between each. Now add the remaining flour and the remaining milk.
You'll end up with a batter that is so creamy it will take your breath away! (This is truly a luscious cake batter, y'all!)
Now it's time to add your bananas foster to the batter. Make sure it's at room temperature.
Add about 1/2 of the banana mixture to your batter and fold in gently so as not to break the air bubbles. You'll save the rest of the bananas foster to serve over the cake. (You can also use it in my Bananas Foster Pocket Pies, which are yummy!)
Scrape down sides of bowl to get everything, then fill your prepared baking pan. (This recipe makes two loaf pans or one bundt.)
Place in preheated oven and bake at 325 Fahrenheit for 1:05 – 1:10.
Start checking it at the one hour mark. Every oven is different.
Use a cake tester to make sure it's done in the middle. This will be a damp/moist cake (thanks to the bananas, brown sugar, and butter) but it's a good moist, I promise!
Once the cake is baked, set the pan(s) on a wire rack for 10 – 15 minutes until you can handle the pan.
Flip the pan upside-down and let gravity do its work.
Once the cake is fully cooled, slice and serve!
I think it's best to slice it while still slightly warm and serve with the warm filling on top or off to the side. (This stuff is delicious, y'all)
Other Ways to Serve this Cake:
This is a delicious dessert that you're going to love but there are always other ways to serve any good recipe! Here are some suggestions:
Butter your slices and place them in the toaster oven to crisp up. (Delicious!)
Use it as a base for French toast. (Sounds yummy, right?)
Spread with peanut butter.
Add chopped bananas and chocolate chips in place of the bananas foster filling.
Serve with a scoop of vanilla ice cream (covered in more of the filling)
Add a dash of dark rum or banana liqueur to the glaze. (Flambe, anyone?)
Bundt cakes are always fun! Serve this one up bundt-cake style!
Looking for a tart flavor? Add sour cream in place of whipping cream.
Serve with fresh banana slices and caramel sauce. (Yum!)
Other Pound Cake Recipes
I've been on a roll making pound cakes lately. This is the third! Here are the first two:
I hope you enjoyed this bananas foster cake recipe! (I literally just made it up yesterday!) Feel free to add your thoughts if you bake it. I'm excited to see what you think!
---
About the Author
Janice Thompson is an author, baker, and all-around mischief maker! She has overcome a host of baking catastrophes, including a toppled wedding cake, to learn more about the baking process. Janice has published over 150 books for the Christian market but particularly enjoys writing recipes and baking devotions. To learn more about Janice or to drop her a note, visit her About the Author page.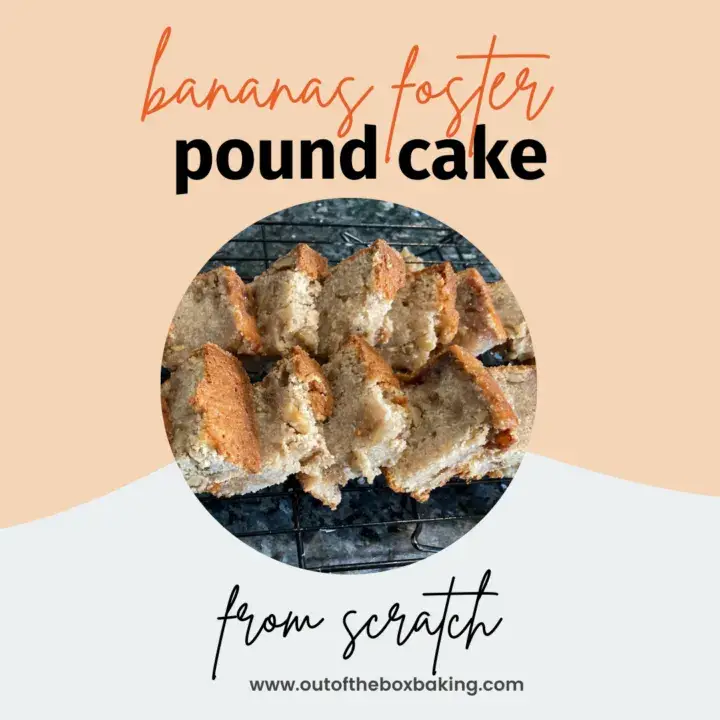 Bananas Foster Pound Cake
Cook Time:
1 hour
15 minutes
Total Time:
1 hour
30 minutes
If you find yourself with overripe bananas, have I got the perfect recipe for you! This Bananas Foster Pound Cake is sublime--loaded with bananas, brown sugar, butter, and walnuts. Best of all, it come together easily and the recipe is big enough to make two full loaves of cake! You'll have one for the family and another to give to a friend.
Ingredients
Bananas Foster Pound Cake Ingredients
You'll find a full list of the ingredients in the printable recipe at the bottom of this post. For now, here's a quick glance at what you'll need. You probably have most of these items in your pantry or refrigerator now!
FOR THE CAKE:
* 1 cup (2 sticks) salted butter, softened
* 3 cups white granulated sugar
* 6 large eggs, room temperature
* 3 cups Swans Down Cake Flour, sift before measuring
* ½ teaspoon vanilla extract
* ½ pint heavy whipping cream
FOR THE FILLING:
* 3 bananas
* 1/2 cup brown sugar
* 1 stick butter
* 1 cup walnuts
* rum flavoring (optional)
Instructions
How to Make this Luscious, Moist Bananas Foster Pound Cake


Start by Making the Bananas Foster Filling!
Melt one stick of butter in a sauce pan.
Add the brown sugar and stir. Simmer over low heat.
Slice three bananas and add them to the mix.
Chop your walnuts and add them to the filling mix. If you like, you can add a teaspoon of rum flavoring.
Put your filling into a bowl and set in the refrigerator to cool.


Mix Up Your Cake!
This is one of the richest, moistest cakes you'll ever eat. It has a sturdy crumb but is on, so moist. Here's how to bake it up!
Preheat your oven to 325 degrees. Prepare two loaf pans or one bundt pan by spraying with non-stick spray. (I use baking spray that has flour in it. This is particularly important in pound cakes, which are very heavy. You don't want them to stick to the pan.)
Start by creaming the two sticks of room temperature butter.
Work in the sugar.
Check out that batter, y'all! Luscious!
Add your vanilla extract. I use Watkins, a luscious brand! (It's a secret in my arsenal!)
Crack your room temperature eggs into a separate bowl. (This is always safest to make sure the eggs are healthy.)
One by one, add the eggs to the mix.
The batter will look thin at this point, but don't worry! It's time to work in the flour.
Alternate the flour and milk. Add half of the flour, then half of the milk, mixing well between each. Now add the remaining flour and the remaining milk.
You'll end up with a batter that is so creamy it will take your breath away!
Now it's time to add your bananas foster. Make sure it's at room temperature. Add about 1/2 of the banana mixture to your batter and fold in gently so as not to break the air bubbles. You'll save the rest of the bananas foster to serve over the cake. (You can also use it in my Bananas Foster Pocket Pies, which are yummy!)
Place in preheated oven and bake at 325 Fahrenheit for 1:05 - 1:10. Start checking it at the one hour mark. Every oven is different.
Use a cake tester to make sure it's done in the middle. This will be a damp/moist cake (thanks to the bananas, brown sugar, and butter) but it's a good moist, I promise!
Once the cake is baked, set the pan(s) on a wire cooling rack for 10 - 15 minutes until you can handle the pan.
Flip the pan upside-down and let gravity do its work.
Once the cake is fully cooled, slice and serve! I think it's best to slice it while still slightly warm and serve with the warm filling on top or off to the side. (This stuff is delicious, y'all)