In this post you'll find 101 of the best quotes about cinnamon, one of our favorite fall spices! These quotes are perfect for bakers and everyone who loves cinnamon!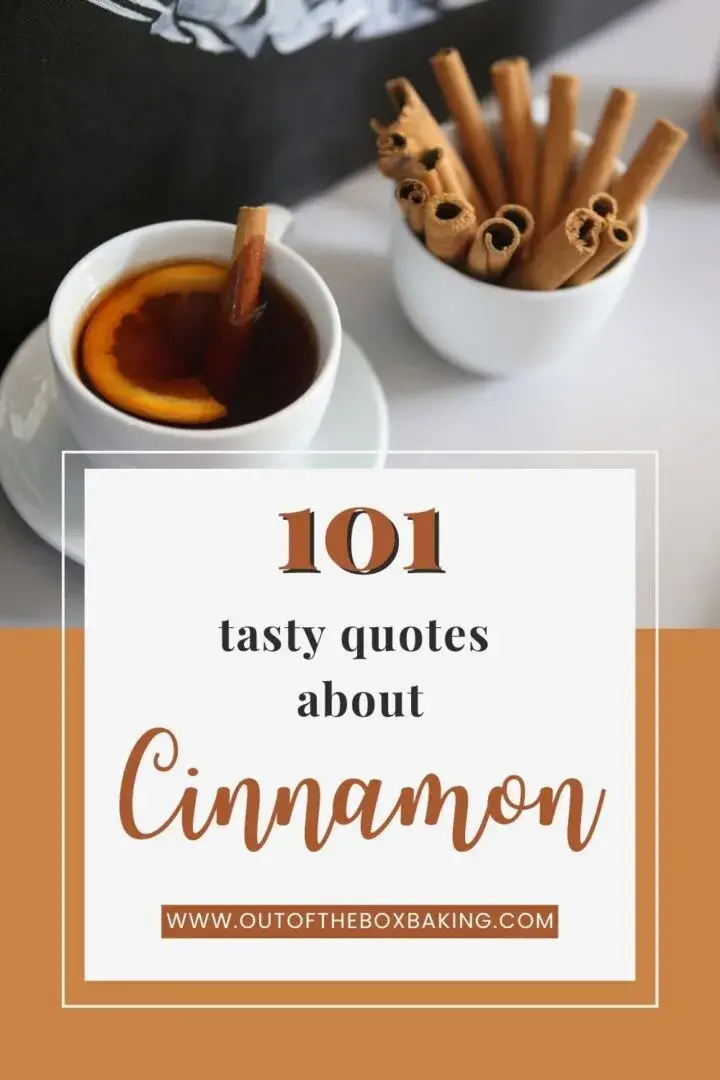 Cinnamon, the Perfect Spice
If you're like I am, you're crazy about cinnamon! It's perfect, especially in the fall!
There are two main types of cinnamon: Ceylon cinnamon, which has a mild and sweet taste, and Cassia cinnamon, which is stronger and more common.
No matter which type you use, cinnamon spices up your baked goods and offers tremendous flavor, especially when paired with sugar.
I use an amazing brand of Vietnamese Cinnamon, which I get from Amazon. I can't really explain what makes this so much better, but it's light years above every other brand I've tried.
Why do People Use Cinnamon?
People use cinnamon in cooking and baking to add flavor to dishes like desserts and stews. It's also found in spice blends and drinks like hot chocolate.
Cinnamon has been used for its potential health benefits, like helping with blood sugar and inflammation, but more research is needed to be sure.
In short, cinnamon is a tasty spice that comes in different types and is used in various foods and drinks. It might have some health advantages, but we need more evidence to be sure.
101 Great Quotes about Cinnamon
Without further ado. . .let's get to those quotes!
1. "Cinnamon is not only the spice of life; it's also the spice of every season." – Unknown
2. "Cinnamon is like the punctuation mark in the sentence of food; it adds flavor and warmth." – Unknown
3. "Cinnamon rolls: proof that sweet, comforting, and indulgent things exist in the world." – Rachel Nichols
4. "Cinnamon is the kiss of the kitchen; it leaves a lingering sweetness in the air." – Unknown
5. "Life is better with a little bit of cinnamon." – Unknown
6. "Cinnamon is the fragrance of all seasons." – Unknown
7. "Cinnamon is the spice of passion; it ignites the senses and warms the soul." – Unknown
8. "A sprinkle of cinnamon can turn an ordinary dish into something extraordinary." – Unknown
9. "Cinnamon is the secret ingredient that makes everything taste better." – Unknown
10. "Cinnamon is the spice that makes memories taste better." – Unknown
11. "Cinnamon is like a hug for your taste buds." – Unknown
12. "Cinnamon is the gentle reminder that there's sweetness in every day." – Unknown
13. "Cinnamon and sugar, a match made in culinary heaven, creating moments of pure sweetness." – Unknown
14. "The dance of cinnamon and sugar on warm toast is a morning symphony for the senses." – Unknown
15. "Cinnamon and sugar: two ingredients that turn ordinary into extraordinary." – Unknown
16. "In the kitchen, cinnamon and sugar are the dynamic duo that transform recipes into cherished memories." – Unknown
17. "Cinnamon and sugar: the perfect partnership, the sweetest love story." – Unknown
18. "Cinnamon coffee cake: the reason breakfast meetings should always include a sweet treat." – Unknown
19. "Life is sweeter when you add a little cinnamon and sugar to it." – Unknown
20. "Cinnamon and sugar: the magic wand of bakers, turning every bite into a treat." – Unknown
21. "Cinnamon and sugar are the sweet notes that make the dessert of life truly delicious." – Unknown
22. "In the world of flavors, cinnamon and sugar are the timeless classics, always in style." – Unknown
23. "Cinnamon is the spice of life that adds sweetness to our every moment." – Unknown
24. "Cinnamon, the spice that whispers of far-off lands and cozy firesides." – Unknown
25. "A pinch of cinnamon is like a hug for your taste buds." – Unknown
26. "Cinnamon is the secret ingredient that turns ordinary recipes into extraordinary delights." – Unknown
27. "In the world of spices, cinnamon reigns as the king of warmth and flavor." – Unknown
28. "Cinnamon, the spice that turns every dish into a fragrant symphony." – Unknown
29. "Life is richer and warmer with a sprinkle of cinnamon." – Unknown
30. "Cinnamon is the cozy sweater of spices, wrapping your senses in comfort." – Unknown
31. "Cinnamon is the spice that awakens the soul and warms the heart." – Unknown
32. "Cinnamon: a tiny spice that packs a big punch of flavor." – Unknown
33. "Baking with cinnamon is like a warm embrace from the oven." – Unknown
34. "Cinnamon and baking are a match made in heaven, filling the kitchen with love and nostalgia." – Unknown
35. "In the world of baking, cinnamon is the sweet symphony that makes every recipe sing." – Unknown
36. "The aroma of cinnamon baking in the oven is the sweetest form of anticipation." – Unknown
37. "Baking with cinnamon is like adding a dash of magic to your recipes." – Unknown
38. "Cinnamon in the batter, love in the oven, and warmth in every bite." – Unknown
39. "Baking with cinnamon is a delicious journey into the heart of comfort and home." – Unknown
40. "Cinnamon: the baker's secret weapon for turning everyday treats into extraordinary delights." – Unknown
41. "The scent of cinnamon baking is the promise of happiness rising." – Unknown
42. "Baking with cinnamon is like creating a symphony of flavor in your kitchen." – Unknown
43. "The scent of cinnamon is a fragrant whisper from the kitchen that warms the heart." – Unknown
44. "Cinnamon's scent is the gentle reminder that life is sweet, even in the smallest moments." – Unknown
45. "Inhale deeply, and let the scent of cinnamon take you on a journey to cozy memories." – Unknown
46. "The scent of cinnamon is like a hug for your senses, wrapping you in comfort and nostalgia." – Unknown
47. "Cinnamon's scent is a love letter from the kitchen, written in warmth and sweetness." – Unknown
48. "Cinnamon is the spice that turns the air into a delicious embrace." – Unknown
49. "Close your eyes and breathe in the scent of cinnamon; it's a reminder that life is full of simple pleasures." – Unknown
50. "The scent of cinnamon is the promise of something delicious about to happen." – Unknown
51. "Cinnamon's scent is like a cozy blanket for the soul, soothing and comforting." – Unknown
52. "There's something magical in the way the scent of cinnamon can transport you to cherished memories." – Unknown
53. "A cinnamon-infused breakfast is a sweet and spicy way to start the day." – Unknown
54. "Cinnamon in the morning is like a warm hug for your taste buds." – Unknown
55. "Cinnamon rolls for breakfast: the ultimate indulgence that makes every morning special." – Unknown
56. "Breakfast with cinnamon is breakfast with a touch of magic." – Unknown
57. "Cinnamon toast: where simplicity meets deliciousness in the morning." – Unknown
58. "There's something comforting about the aroma of cinnamon wafting from the kitchen in the morning." – Unknown
59. "Cinnamon in your breakfast cereal is the secret to a brighter morning." – Unknown
60. "Cinnamon pancakes: because mornings should always be sweet and warm." – Unknown
61. "Cinnamon and breakfast go hand in hand, creating a symphony of flavors to start your day right." – Unknown
62. "Start your day with a dash of cinnamon, and watch your morning bloom with flavor." – Unknown
63. "Cinnamon is the sweet kiss that desserts crave, leaving a trail of warmth and flavor in every bite." – Unknown
64. "In the world of desserts, cinnamon is the secret ingredient that turns ordinary into extraordinary." – Unknown
65. "Cinnamon desserts are a symphony of sweetness and spice, dancing on the taste buds." – Unknown
66. "Life is short; eat dessert first, especially if it's sprinkled with cinnamon." – Unknown
67. "Cinnamon and desserts: a match made in culinary heaven." – Unknown
68. "Desserts with a dash of cinnamon are like love notes to the taste buds." – Unknown
69. "Cinnamon swirls through desserts like a delicious ribbon of warmth." – Unknown
70. "Cinnamon desserts are a delightful reminder that life is sweeter with every bite." – Unknown
71. "Cinnamon is the finishing touch that makes desserts memorable." – Unknown
72. "There's something enchanting about the way cinnamon elevates the sweetness of desserts." – Unknown
73. "Cinnamon is like a culinary sunrise, brightening dishes with its golden warmth." – Unknown
74. "Cinnamon is the spice that brings history to life on your taste buds." – Unknown
75. "Cinnamon is the compass that guides us on a flavorful journey around the world." – Unknown
76. "Cinnamon is the silent storyteller in the kitchen, adding tales of flavor to every recipe." – Unknown
77. "A sprinkle of cinnamon is the bridge between a good dish and an unforgettable one." – Unknown
78. "Cinnamon is the spice that unites cultures and flavors in a harmonious blend." – Unknown
79. "In the world of spices, cinnamon is the eternal flame of culinary creativity." – Unknown
80. "Cinnamon: where sweet meets spice in perfect harmony." – Unknown
81. "Cinnamon is the ingredient that turns ordinary meals into extraordinary feasts." – Unknown
82. "Cooking with cinnamon is like painting with a brush of flavor." – Unknown
83. "Cinnamon is my secret weapon in the bakery, adding a comforting and aromatic touch to my creations." – Anonymous Baker
84. "Baking with cinnamon is like adding a sprinkle of love to every recipe; it warms the heart and delights the senses." – Unknown Baker
85. "Cinnamon is the spice that brings a sense of nostalgia to my baked goods, reminding people of home and happiness." – Professional Baker
86. "As a baker, I've learned that cinnamon can transform a simple pastry into a masterpiece of flavor." – Pastry Chef
87. "Cinnamon is the spice that gives my pastries that 'wow' factor, making them truly unforgettable." – Passionate Baker
88. "Cinnamon cookies: where warmth and sweetness come together in perfect harmony." – Unknown
89. "Baking cinnamon cookies is like wrapping your kitchen in a cozy, fragrant embrace." – Unknown
90. "Cinnamon cookies are a little bite of happiness, leaving traces of spice and nostalgia." – Unknown
91. "In a world full of cookies, cinnamon cookies stand out as the true comfort food." – Unknown
92. "Cinnamon cookies: the reason cookie jars were invented." – Unknown
93. "Biting into a cinnamon cookie is like taking a journey to the heart of coziness." – Unknown
94. "Cinnamon cookies are the edible equivalent of a warm hug." – Unknown
95. "The aroma of freshly baked cinnamon cookies is the sweetest invitation to indulge." – Unknown
96. "Cinnamon cookies are a reminder that life is sweeter when you savor the simple pleasures." – Unknown
97. "One cannot resist the allure of cinnamon cookies; they're a symphony of flavor in every bite." – Unknown
98. "Cinnamon coffee cake: where the warmth of cinnamon meets the comfort of morning." – Unknown
99. "A slice of cinnamon coffee cake is like a cozy morning in dessert form." – Unknown
100. "Cinnamon coffee cake is the delicious excuse to have dessert for breakfast." – Unknown
101. "The aroma of cinnamon coffee cake is the alarm clock for your taste buds, announcing a delicious day ahead." – Unknown